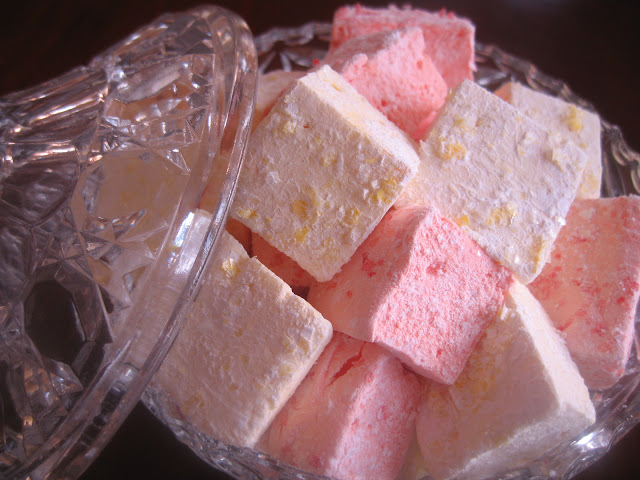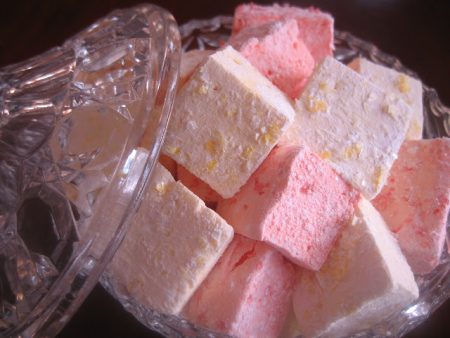 I've never tried making homemade marshmallows before because I've always thought they would be to difficult to make. I heart Cooking Clubs: Kids at Heart was my inspiration to throw caution to the wind and make these fluffy confections with my kids.
First, let me give you a little background on I Heart Cooking Clubs. This club is a stress-free cooking club with a revolving roster of chefs.
Every six months, a new chef is chosen out of a line up of 4-5 well known culinary aficionados. This round club members will be cooking from Giada De Laurentiis's repertoire. Each week a theme is chosen and anyone interested in participating can link a recipe that fits that weeks theme.
"This cooking club aims to grow and change with its members and explore other cooks and books in the future."Click here for more...The blogroll is filled with an array of food bloggers and chefs. Stop by the site to learn more, and become a part of this wonderful cooking club.
Giada De Laurentis: I admire her professionalism and her effortless way behind the camera, she has such a easy manner in the kitchen and her happy spirit is contagious.
Staying true to the theme this week I tackled Giada's recipe for:
Homemade Orange Marshmallows
This is a recipe that I'll be keeping in my kitchen for those cold winter days when we're all stuck inside and the kids need a "sweet" diversion.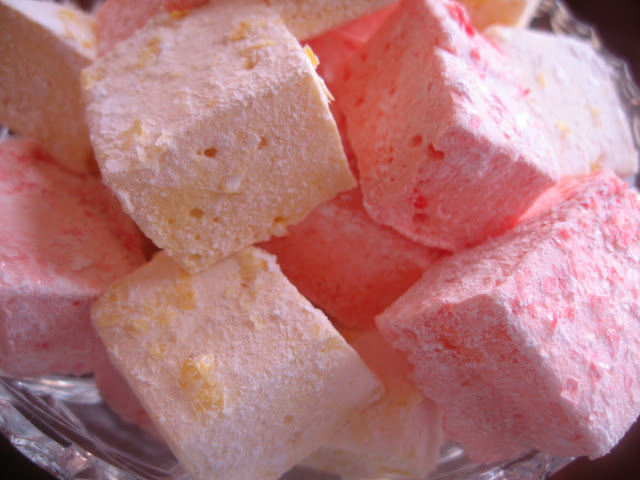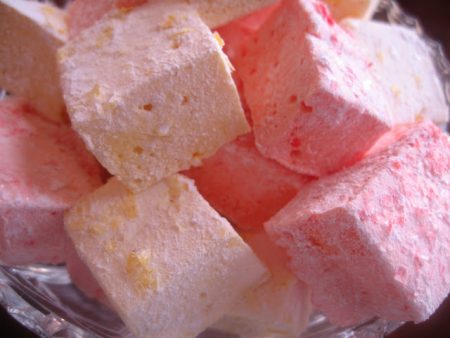 The kids and I decided to make our marshmallows with orange and lemon flavoring and add a few drops of food coloring.
Orange & Lemon flavored marshmallows
Butter, for greasing the pan
Powdered sugar, for dusting
½ cup water, plus ¼ cup
3 tablespoons (3 packets) unflavored gelatin
2 cups sugar
½ cup evaporated milk
Giada's recipe: 1 large orange, zested
My recipe: 1 ½ teaspoon pure orange or lemon extract
1 teaspoon pure vanilla extract
Colored decorating sugar
*can be found at cake decorating stores*
Special equipment: a candy thermometer
Directions
Butter the bottom and sides of of an 8 by 8-inch straight sided baking pan. Dust liberally with sifted powdered sugar and set aside. Really...dust very liberally or they will stick to the pan like glue!
Pour ½ cup water into bowl of stand mixer fitted with the whisk attachment. Sprinkle the gelatin over water and allow to soften, about 10 minutes.
In a 3-quart saucepan, combine sugar, evaporated milk and ¼ cup water. Stir over medium heat until sugar is dissolved. Bring the mixture to a simmer and cook, without stirring, until candy thermometer registers 240 degrees F, about 10-12 minutes. Pour hot syrup over gelatin mixture. Beat the mixture at low speed until incorporated. Increase the speed to high and beat until thick, fluffy and triple in volume, about 10-12 minutes. Beat in orange zest or lemon extract and vanilla extract, add a few drops of food coloring, mix until combined. Using a spatula, scrape the mixture into prepared pan and smooth the surface. Sprinkle with decorating sugar. Allow the mixture to set, uncovered, in a cool place (not the refrigerator) for at least 8 hours or overnight. Using scissors, dusted with powdered sugar, cut the marshmallows into 1-inch squares. Dip cut sides into powdered sugar to prevent sticking. Store in an airtight container for up to 2 weeks.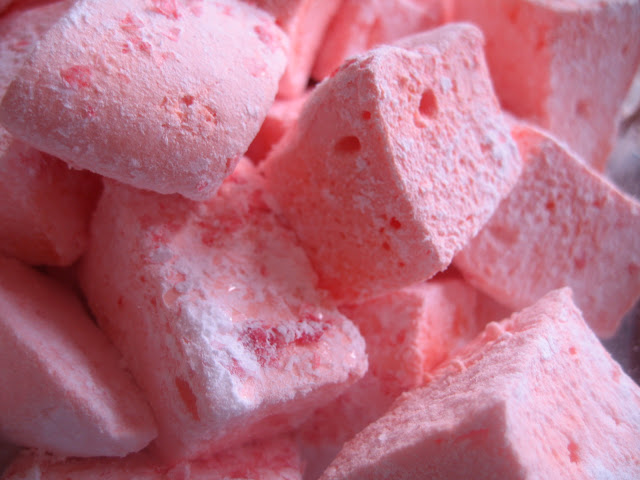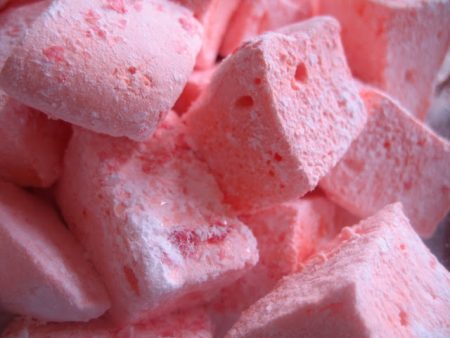 These marshmallows are light and fluffy and really taste like...marshmallows! I don't know what else I had expected them to taste like but it felt like a culinary victory to achieve the real deal! Creamy and soft, these sweet little morsels would be a perfect accompaniment to any hot drink or just eat them right out of the bowl like we did! It made the kid in me happy and you can bet, my kids were doing the happy dance! Literally! Sugar high! Note to self: Have all sledding stuff ready before making marshmallows...
Prep Time: 15 minutes
Inactive Prep Time: 8 hours
Cook Time: 12 minutes
level: Easy...if I can make these anyone can!!
Serves: 6 - 8
Thanks to Giada for this easy and fun, kid friendly recipe and to I Heart Cooking Clubs for the inspiration!