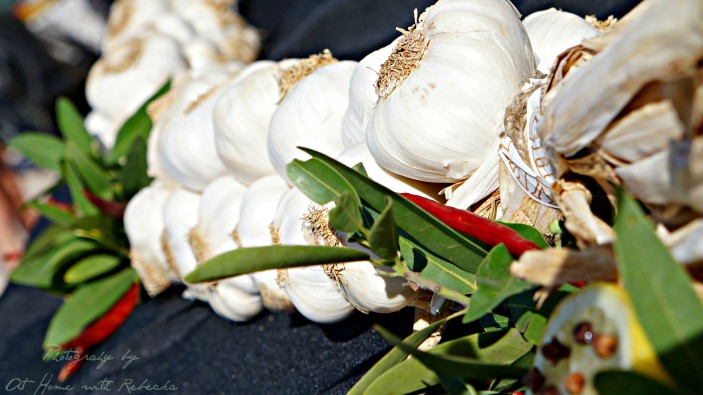 The Gilroy Garlic Festival just celebrated its 37 years with the third annual Great Garlic Cook-Off.  I had the pleasure of attending the event where I met up with several of my foodie friends for the very first time. It was the most competitive garlic cook-off the event has ever seen.
Eight home cooks vied for the coveted title, Garlic Queen/King, cooking some very impressive dishes for the five celebrity judges; Jason Gronlund, Executive Chef, Smokey Bones BBQ, Jason Lavinsky, Executive Chef, Hyatt at Fisherman's Wharf, Adam Sanchez - The Milias Restaurant, Bryan Martinez, Executive Chef, Raley's, and Carl Stewart, Executive Chef, Raley's. Master of Ceremonies: Dan Green, Kate Callaghan & Wendy Brodie, HAAC, Executive Chef.
Contestants, Jodi Taffel, Lauren Katz, Tresa Hargrove, Merry Graham, Sherri Williams, Gloria Bradley, Loanne Chiu, and Margee Berry, wowed the audience and judges with their garlic-infused recipes. The outdoor stage was set with two jumbotrons giving spectators a birds-ey view of all the cooking action. The air was filled with mouthwatering aromas of charred meats and my favorite kitchen staple, garlic.  Once the smoke settled, the judges crowned Jodi Taffel, first place for her stunning breakfast dish, Shakshuka with Deep Fried Garlic. Second place went to Lauren Katz with her Glazed Garlic-Buttermilk Fried chicken and Savory Waffled grits. Third Place went to Tresa Hargrove for her, Chipotle Cilantro Chimichurri Steak on Enchiladas with Roasted Salsa Verde.
I became friends with Tresa, Sherri, and Merry, five years ago over our shared interest in food competitions, and Facebook groups. What a pleasure for me to finally meet them all in person as well as, the other competitors. Making new friends and sharing this special day with my fellow foodies was a true blessing.
The day was made more enjoyable hanging out with my dear friend Nancy Judd, winner of the 2013 World Food Championships, Dessert category, and contestant on Chopped Grandma's.  She and I cooked together in my home during the Real Women of Philadelphia-Cooks Across America-Colorado Cooks video promotion. To see more from that event, watch our Youtube videos HERE and HERE.
Unfortunately, I wasn't chosen to compete with my Benedict Florentine with Roasted Garlic Hollandaise and Garlic Basil Oil this year, but I hope to be on stage at next year's competition, cooking alongside my friends.