This marinated herb cheese appetizer is the perfect recipe to make for any holiday party or special occasion.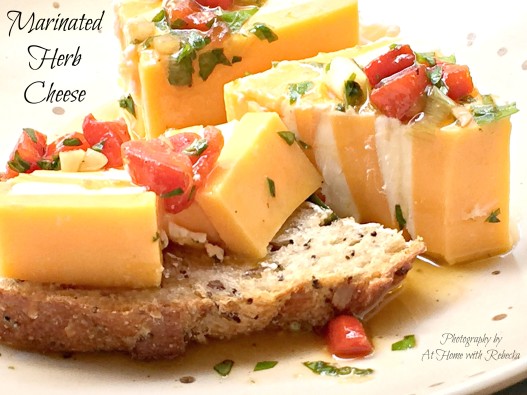 Marinated herb cheese appetizer is simple, yet elegant. The stunning presentation is backed by the luscious flavors of simple blocks of sharp cheddar and cream cheeses doused with summer fresh herbs, then combined with loads of fresh garlic and a mixture of balsamic and cider vinegars. The combination of creamy cheeses and tart-herb infused goodness, transforms the simple, into sublime.
A little prep work is in order when making the marinated herb cheese dish, but is well worth the chorus of o's and ah's from your guests.
A few borage or other edible flowers can be used to add further visual appeal and taste. I used the purple flower from Society Garlic, which grows profusely in California; the flowers are spicy with a strong garlic flavor.
"IDENTIFICATION: Society Garlic is a fast-growing, bulbous plant about two feet tall. Leaves are long, narrow, strap-like, slightly fleshy and smell strongly of garlic when bruised. They grow from fat, tuberous roots which spread to form clumps of plants. The pinkish to mauve, tubular flowers, clustered into umbels of up to twenty flowers are on flower stalks above the leaves. They smell of garlic when picked. Triangular capsules replace the flowers and are grouped into a head. When ripe they split to release flattened, hard black seeds." Source: eatweedsandotherthingstoo.com
I served the marinated herb cheese appetizer for my friend's sons graduation party; it was a huge hit with the guests. I paired the appetizer with a soft whole grain bread. However, you may choose to toast the bread or serve the cheese with rustic crackers for a crisp accompaniment. I prefer bread to soak up all the delicious marinade.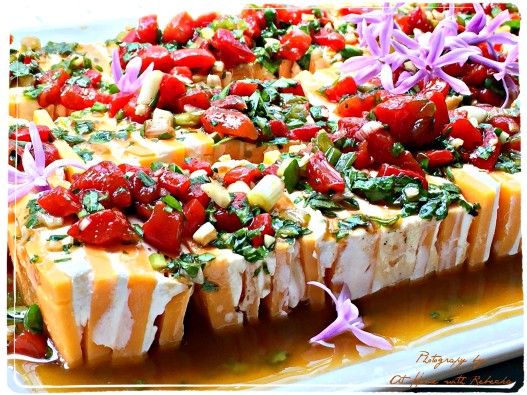 I hope you enjoy this marinated herb cheese appetizer recipe!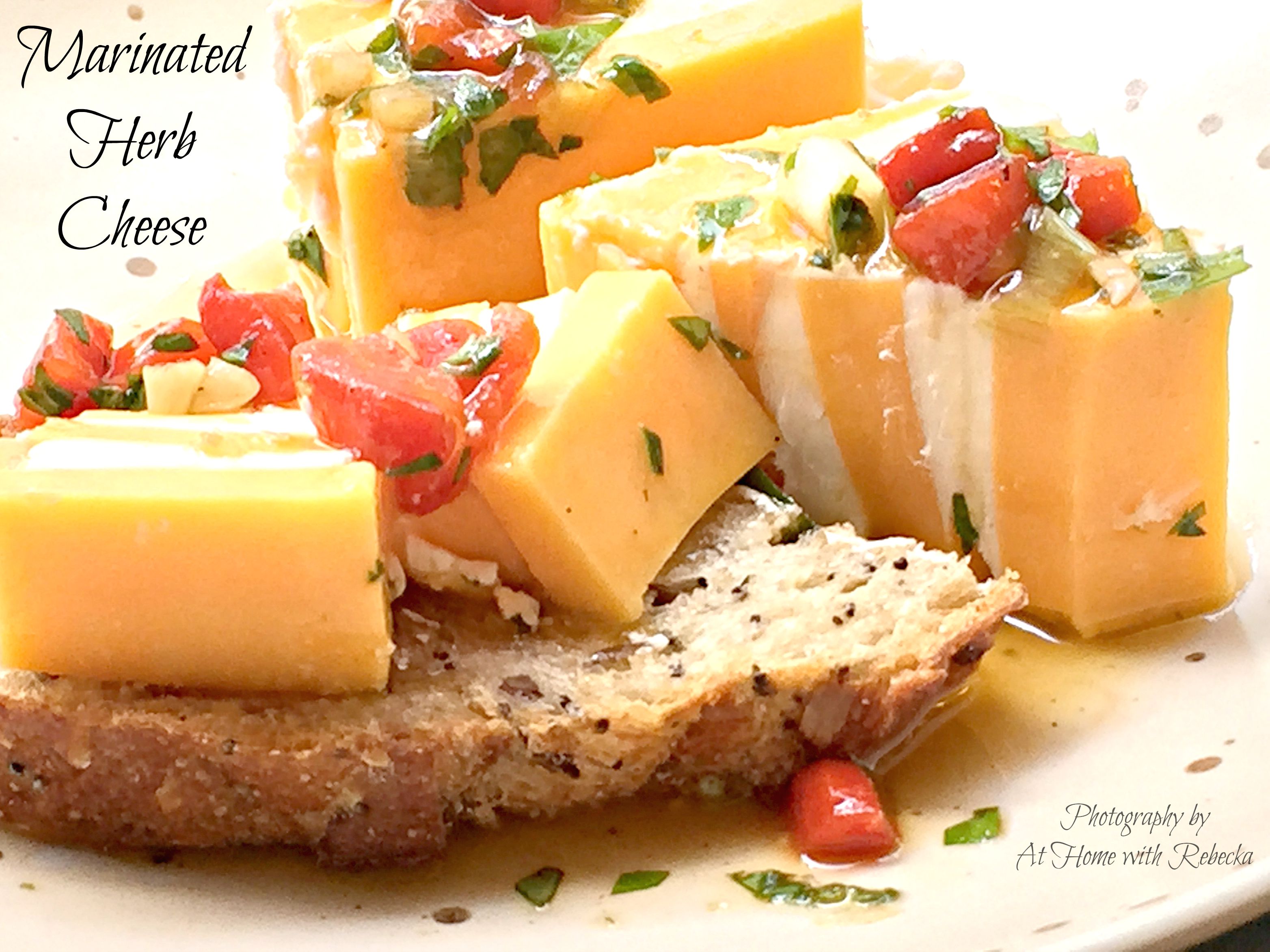 Marinated Herb Cheese Appetizer
Ingredients
8

ounce

block sharp cheddar cheese

8

ounce

block ream cheese

1

teaspoon

sugar

1 6

ounce

jar pimentos

red peppers

4

cloves

garlic

4

tablespoons

Italian flat leaf parsley

1

bunch green onions

both green and white parts

3

tablespoon

fresh chopped basil

2

teaspoon

fresh chopped oregano

½

cup

good quality balsamic vinegar

¼

cup

cider vinegar

¾

cups

good quality olive oil

Salt and pepper to taste
Instructions
Cut cheeses into ¼ inch squares then in half again

Arrange slices on their ends, alternating one piece cheddar then one piece cream cheese. Make sure cheese is very cold before slicing or it may be necessary to spread the cream cheese over the cheddar with a knife. (see photos in blog post)

Mince garlic and dice pimentos (red peppers), finely chop fresh herbs.

Combine herbs, and peppers in a small bowl, add all remaining ingredients, blend well to combine

Salt and pepper to taste

Pour marinade over arranged cheese, cover and refrigerate overnight.

There will be a lot of liquid at first but it will absorb into the cheese during the marinating process.

Serve with whole grain bread or crackers
Notes
Adjust to your preference with flavored balsamic and olive oils. I've also used Meyer Lemon olive oil, and blueberry balsamic
Adapted from food.com
Another delicious cheese appetizer to try is my
Hot Artichoke and Pimento Cheese Dip.