Gilroy Garlic Festival Cook-off 2016 WOOT...I'm In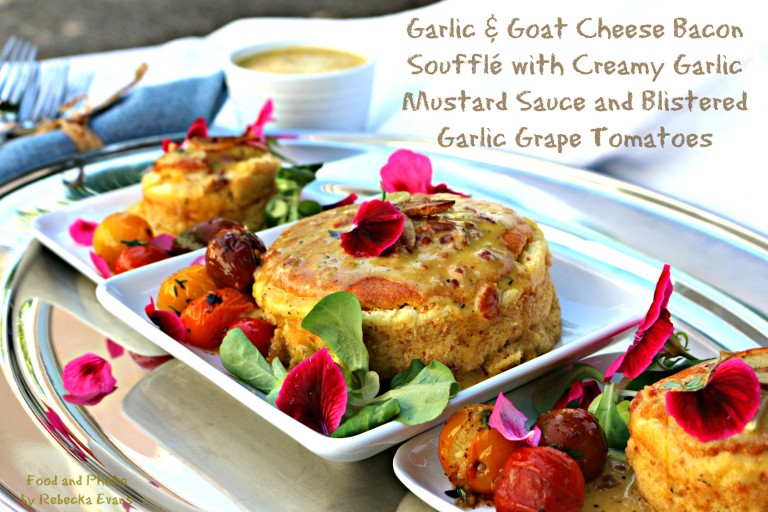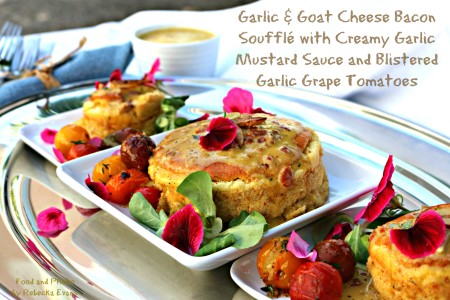 I'm pleased to announce that I'll be competing for the highly coveted Gilroy Garlic Crown and a chance to win $5000.00 in cash, at this years Gilroy Garlic Festival Cook-off.
Gilroy's preliminary judges choose only eight finalists to battle it out in the Garlic Kitchen Arena at this years Festival, set for July (29, 30, 31) held in Gilroy California.
The dish that got me chosen as one of the final eight...Garlic & Goat Cheese Bacon Soufflé with Creamy Garlic Mustard Sauce and Blistered Garlic Grape Tomatoes.
Thank you Gilroy Garlic Judges for choosing my dish!!
I tried my best to get a recipe accepted last year unfortunately, the recipe wasn't what the judges were looking for. Instead of competing, I decided to use my media credentials to cover the event for a super-exciting blog post and the chance to see a few of my fellow competitors for the first time in the flesh! Sherri Williams, Merry Graham, Lauren Katz, Tresa Hargrove, and Nancy Judd, all seasoned food competitors were there, offering me the chance to give them all "real-time" hugs and share in some serious cooking moments.
I met Jodi Taffel, a.k.a. The Bacon Babe, for the first time last year and watched as the judges crowned her, First Place Winner for her stunning breakfast dish, Shashuka with Deep Fried Garlic. Second Place went to Lauren Katz, with her Glazed Garlic-Buttermilk Fried chicken and Savory Waffled Grits. Third Place went to Tresa Hargrove, for her Chipotle Cilantro Chimichurri Steak on Enchiladas with Roasted Salsa Verde. For detailed run down of last years contestants and recipes and full photo gallery click HERE!
By the way, did I mention that the top three winners get the coolest looking Garlic Crown ever? It's all about the crown baby and the catalyst to create a dish that the judges would find acceptable for this years competition! Thankfully, they said yes and I'm in this year. Now we wait to see if I'll come home with a Garlic Crown and $5000.00 cash prize!
Please stay tuned for my recipe (sorry, I can't share it until after the event)
If you live near Gilroy California, come on down and watch the cook-off in person.