Homemade Chicken Noodle Soup with Semolina Egg Noodles; there's no better way to warm the frost from your fingers, and purge the cold from your bones! A simple chicken broth, laced with white meat chicken and tender semolina egg noodles, this easy homemade soup recipe is a winter, winner!
The perfect dinner meal for Colorado's fourth installment of winter weather and it's not even November yet. The cold has come early to our state and promises to bring a winter wonderland before we know it. This nasty weather calls for plenty of comfort food; roasts, stews, and soups, like my homemade chicken noodle soup.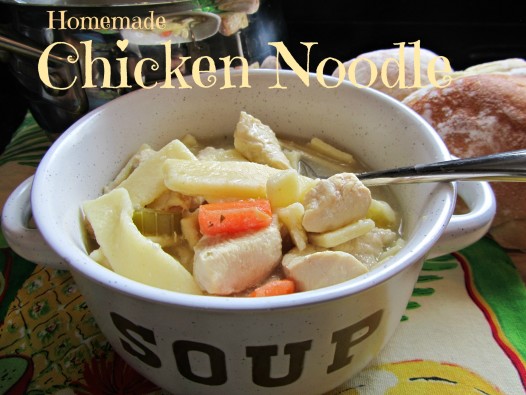 Dreary, wet and icy, the past two days have taken their toll, impugning my acrid mood. To make matters worse, the early frost, fraught disaster on our visit to the Pumpkin Patch. We arrived in high spirits, hopeful to snap a few cute photos with my sweet granddaughters; the temperature was a perfect 65 degrees, bright and sunny, not a cloud in the sky. How could anything dispel our happy mood? Simply done, our mood was soured as we walked through a wasteland of frozen pumpkins. Rows and rows of squishy, mushy, misshapen orange skinned fruit! What a let down to see the dry ground littered with hundreds of rotting pumpkins. Thankfully, there was no nasty smell to go with the rotting mess, and there were still some leaves on the trees to set the stage for a few family photos!
Even my poor puppies felt the brunt of our chilly weather. Both took a horrible tumble-down our back stairs yesterday, slipping on black ice that had settled soundly there overnight; using the basement door ever since, afraid to endure another speedy slide to the potty place. Thankfully, there were not harmed, just shaken.
My dire need to comfort my mood lead me to a hot bowl of homemade chicken noodle soup with homemade egg noodles.
I'm slowly on the path to mental wellness after supping a few bowls of the hot and satisfying stuff.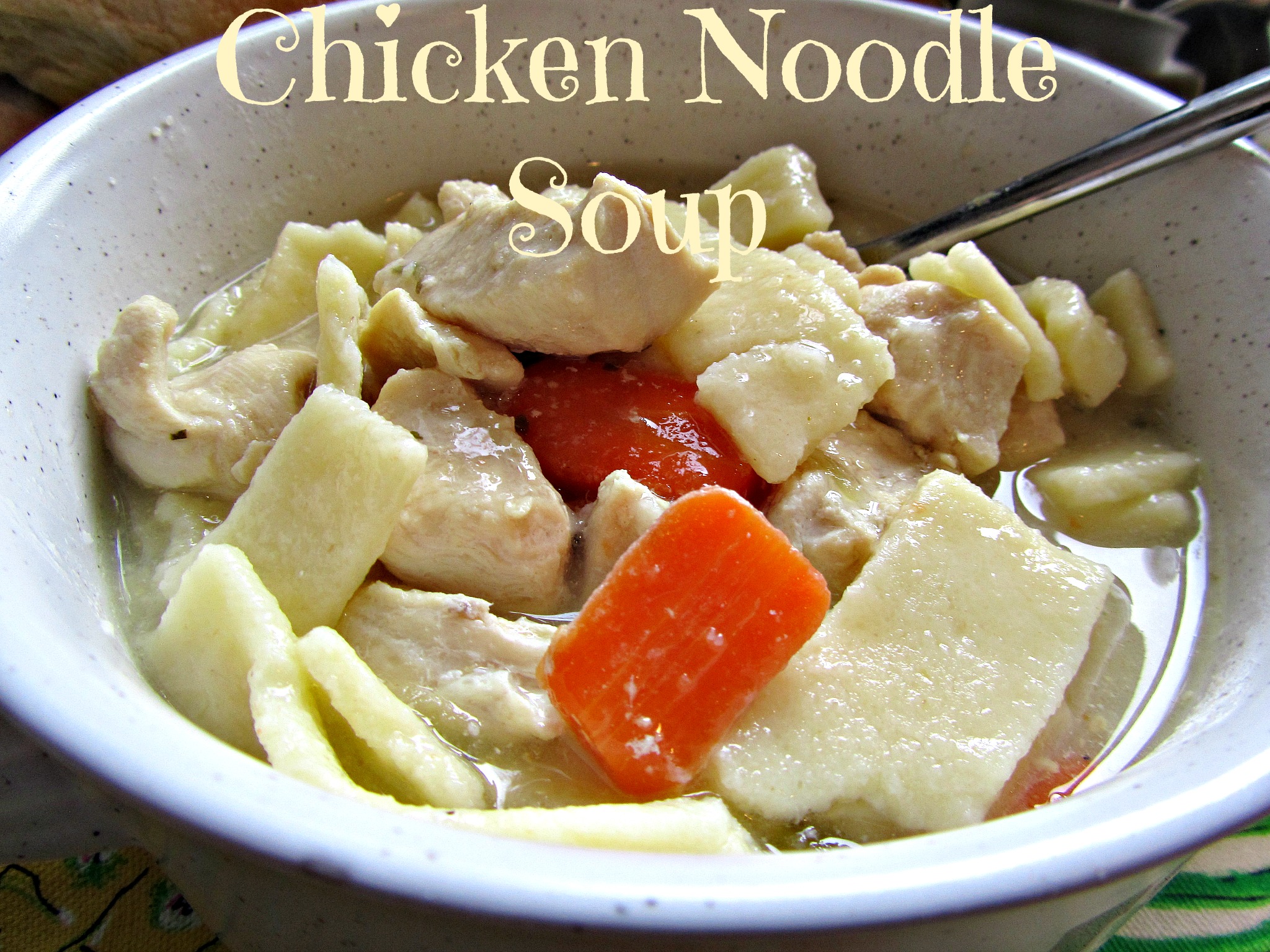 Chicken Noodle Soup with Homemade Egg Noodles
Ingredients
For the Soup
1

pound

chicken breast

cubed

1

large onion

chopped

2

stalks celery

chopped

1

carrot

chopped

4

cups

chicken stock

3-4

cups

water

1

teaspoon

garlic salt

1

teaspoon

pepper

½

teaspoon

celery salt

1

bay leaf

1

tablespoon

olive oil
For the Noodles
1 ½

cups

semolina flour

2

eggs

2

tablespoons

water

2

tablespoons

olive oil
Instructions
For the Soup
Heat 1 tablespoon olive oil in medium stockpot over medium heat, saute onions, celery and carrot for 5 minutes, stirring occasionally

Stir in cubed chicken, cook for additional 5 minutes

Add chicken stock, cover and cook for 1 hour

Remove cover, add additional water 3-4 cups and seasoning to taste, bring back to a boil then reduce heat

Add noodles and cook for 5 minutes or until noodles are tender
For the Noodles
In a mixing bowl, add all ingredients, mix until dough comes together in a ball, pour out onto a lightly floured surface, knead 10-20 times, until dough is elastic

Return to bowl, cover and rest for 20 minutes

Cut dough in half, on a lightly floured surface, roll dough out until ⅛ inch thick, using a sharp knife slice ¼ inch strips, cut strips into fourths to make short flat noodles

Toss cut noodles in a tablespoon flour, set aside until ready to use
Notes
Noodles can be made ahead and frozen in ziplock freezer bags for up to 1 month
Soup can be frozen in airtight containers for up to 1 month