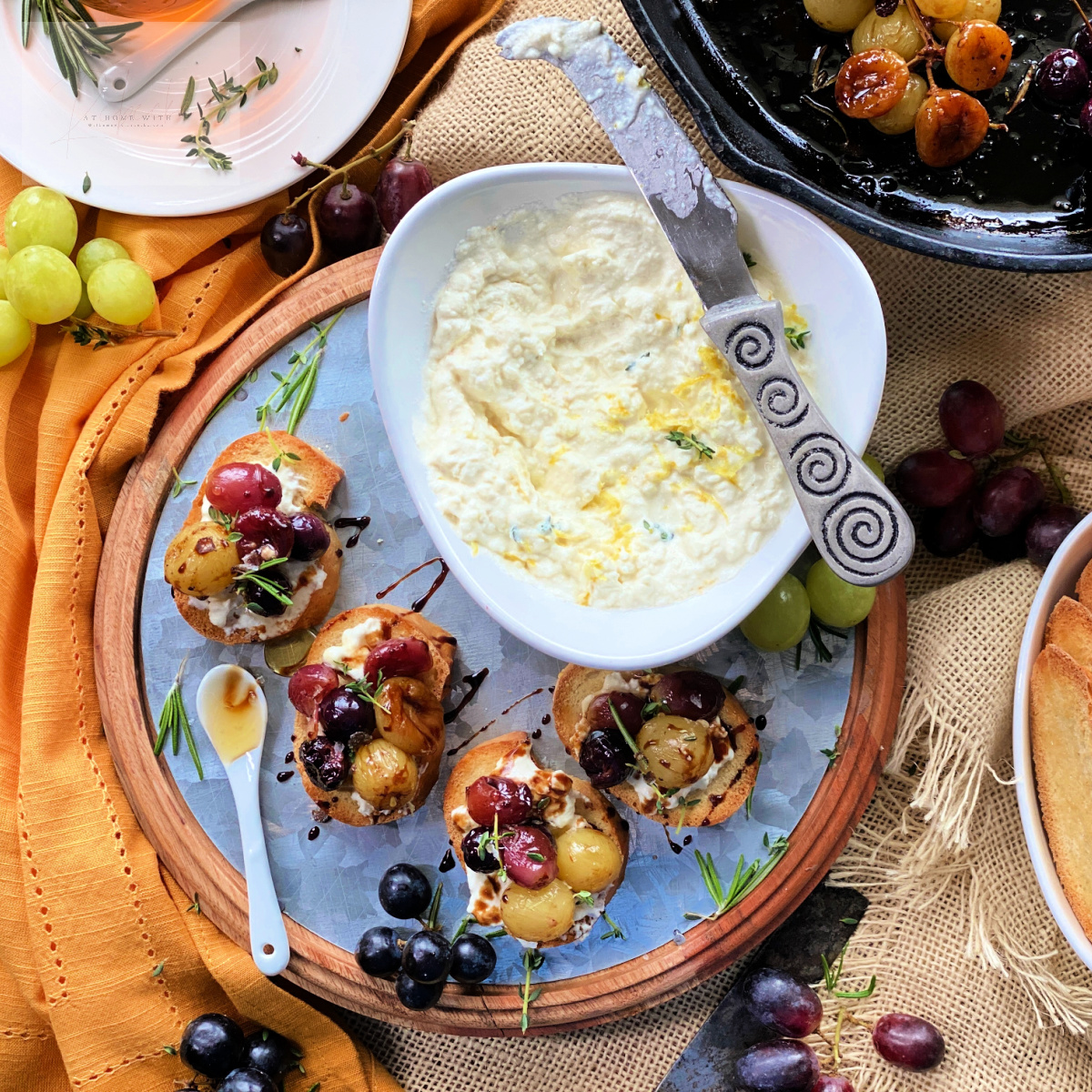 True Ricotta Cheese
True Ricotta is made from the whey that's left over from making mozzarella and other fresh cheeses. To make ricotta, the whey is heated often with fresh milk and citric acid. Then the curds are harvested. In the absence of leftover mozzarella whey our homemade ricotta recipe utilizes whole milk and citric acid to harvest the curds.
Ricotta has a mild flavor and a creamy, non-homogenous, texture. The fresh flavor is hard to beat not to mention, when infused with herbs, fruit, sea salts, sugar, or aged, the flavor variations are endless.
Serve With Roasted Grapes on Toasted Crostini
Roasted Grapes on Crostini (RECIPE LINK COMING SOON to FYI50+ Magazine May/June Edition) Optional-Blueberry Fig Jam recipe HERE. It's so good.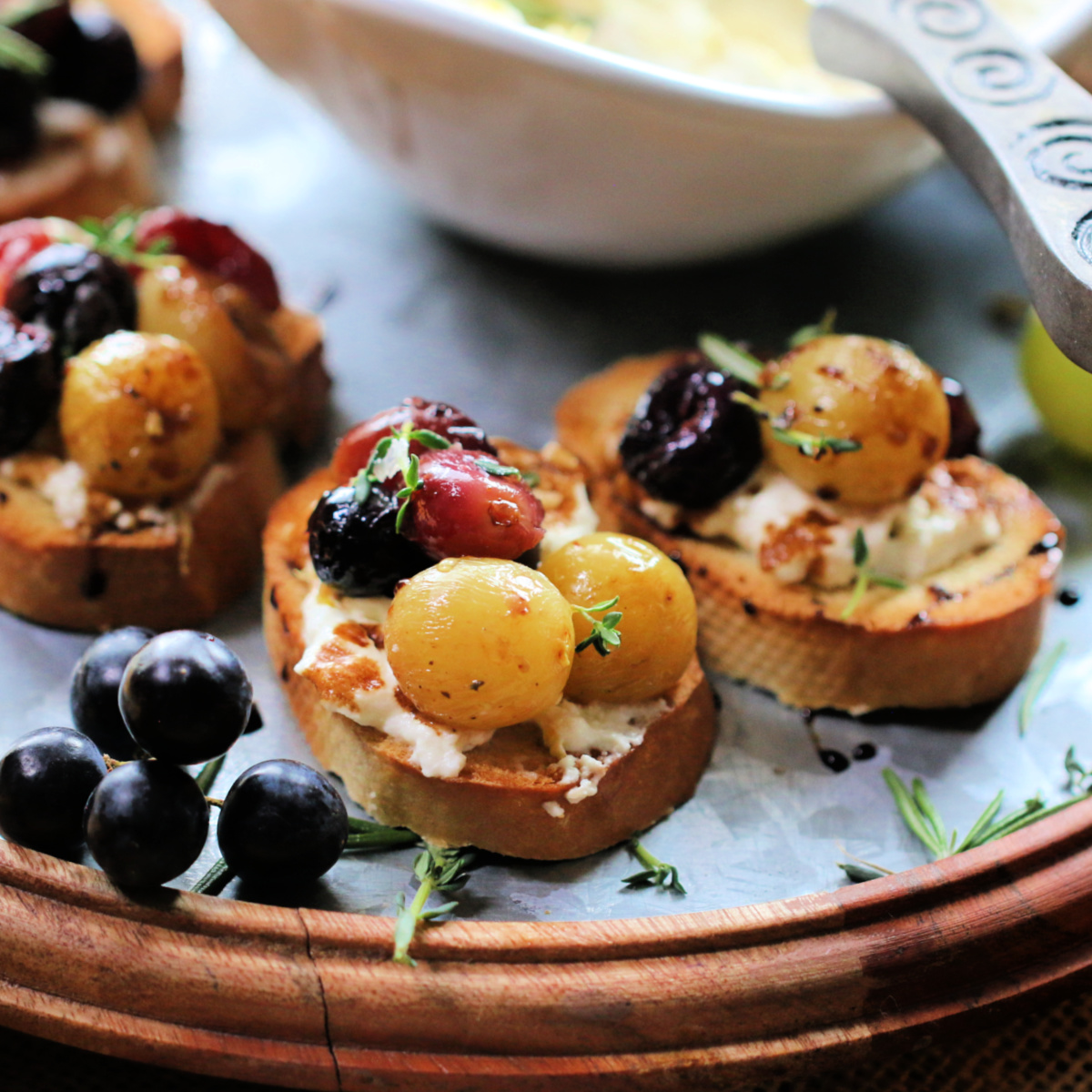 Keep The Whey
Whey is the thin liquid that's leftover from the coagulation of proteins and fats in milk and cream during the cheese-making process. It can be used to cook with, as a beauty aid, and even in the garden to amend the soil and pest control.
Before using the left over whey it's important to determine the kind of your working with. Sweet whey and acidic whey are derived from different dairy items and can be used in different ways.
Acid Whey...
Acidic whey comes from products that have used bacterial action to acidify the food, like goat cheese, yogurt, sour cream. Use acidic whey for these sorts of things:
Skin care: The acidity of whey tones skin, so add it to your bath water or swab on with a cotton ball for dewy skin.
Condition your hair: If you're using an alkaline shampoo, whey acts as a balancer, neutralizing the pH. Rinsing your hair with whey can make it smoother and shinier.
Salted Whey...
Soup stock: Whey adds a deep flavor as a base in soups and stews, much like a stock. Replace part of the stock or water in a soup recipe with whey.
Bake with it: The acidity of whey has a softening effect on glutenous bread and pizza dough. Some recipes even call for whey in the ingredient list. Adjust your salt in the recipe accordingly.
I love to use whey milk in my pancake batter. The flavor is very similar to buttermilk and the result is a beautifully fluffy pancake.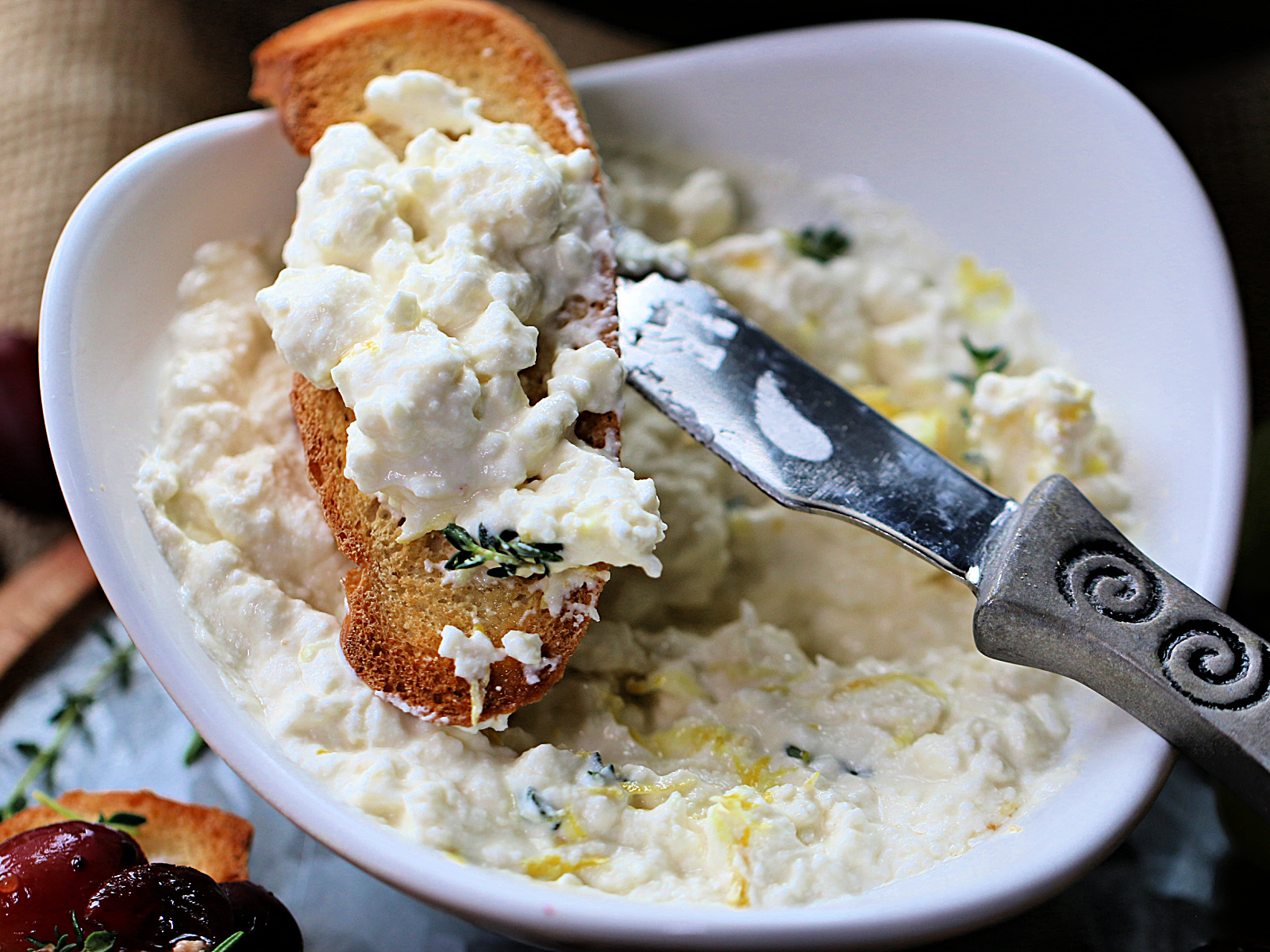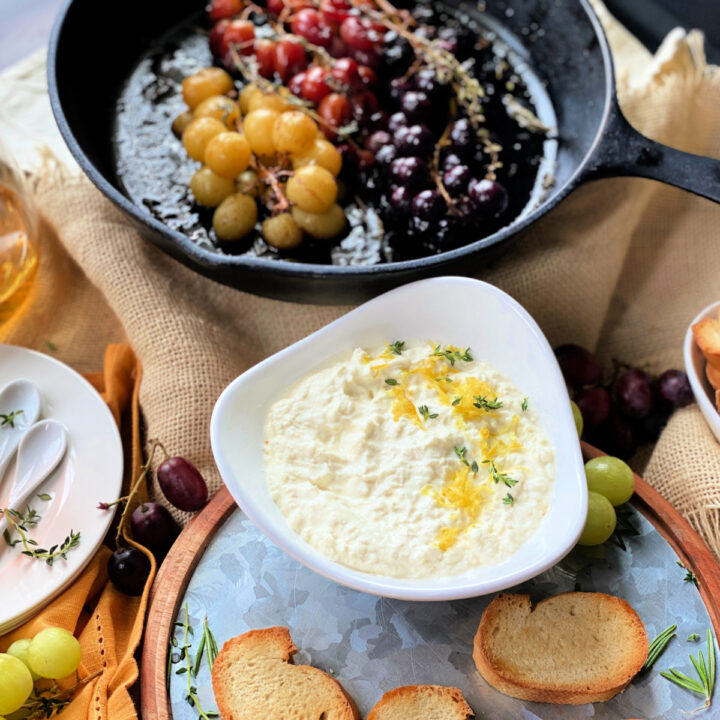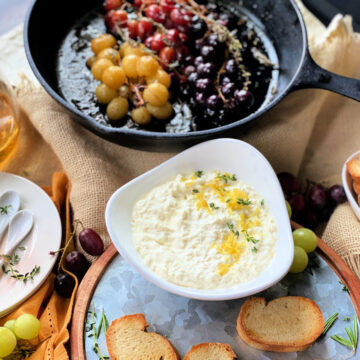 Homemade Lemon Ricotta Cheese
Equipment
4 Layers Cheese Cloth

1 Strainer
Ingredients
8

cups

whole milk

a mixture of 6 cups whole and 2 cups heavy cream can

½

cup

fresh lemon juice or white vinegar

1

lemon, zested

2

sprigs

thyme or rosemary
Instructions
Line a colander with 4 layers of cheesecloth, draping the edges over the sides, set in a large bowl

Add milk and thyme to a large stock pot. Bring to just under a boil over medium-high heat, about 5 minutes, stirring often with a wooden spoon to prevent scorching.

Reduce heat to medium low, add lemon zest and juice, and gently stir until curds form. This can take from 30 seconds to 2 minutes. Do not over stir.

Pour the liquid and curds over the cheesecloth lined sieve.

Gather corners of cheesecloth together and gently squeeze out liquid, tie the opposite corners of cloth together to make a sack, and hang it form a large kitchen spoon or chop stick, suspended over a deep bowl. Set aside at room temperature until excess liquid has thoroughly drained from cheese, about 1 ½ hours.

Transfer sack to plate, untie sack and untie cheesecloth, and loosely drape corners over cheese.

Place a large heavy pot on top of cheese, then set aside for 30 minutes to compress cheese. Keep the whey in a large jar with tight fitting lid.

For a creamier ricotta skip the last step adding the curds to a container with a tight fitting lid and refrigerate until ready to use
Garnish cheese with more grated lemon zest and fresh herbs. ENJOY!