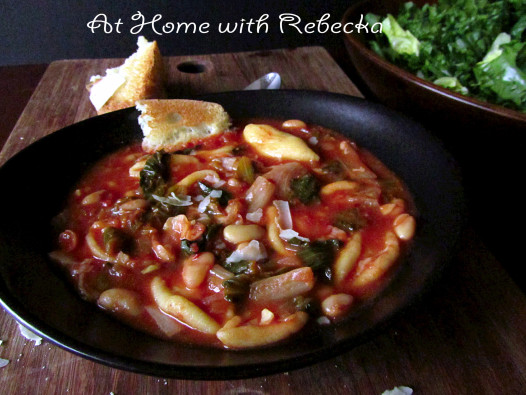 My impression has always been that oreccheite are difficult to make, to my surprise nothing could be further from the truth.  Although, time-consuming the technique is simple and well worth the effort.  I added the delicate pasta to my robust and garlicky, Italian Escarole soup; with a hint of spice from the escarole, the tiny orecchiette elegantly enhanced the soup by gathering the flavors into their soft folds.
For the pasta
Makes - several dozen (unused pasta can be frozen)
2 cups semolina flour, plus more for baking sheet
1 cup all-purpose flour
1 teaspoon coarse salt
1 cup water, divided, plus more if needed
Method
Mound semolina and all-purpose flours and salt in 3 separate piles on a large, clean work surface.
Using your fingers, swirl ingredients together until combined.
Gather flour mixture into a pile, and create a well in center. Pour ½ cup water into well.
Gradually incorporate flour mixture into water using your fingers.
Once all the water is absorbed, continue adding water, 1 tablespoon at a time, until mixture begins to form a dough.
Start to gather and knead dough, working it until no dry flour remains on work surface.
Continue to knead until smooth and elastic, about 5 minutes.
Divide dough into 16 equal portions, and cover them with a clean, damp kitchen towel.
Roll 1 portion of dough into an 18-inch-long rope.
Use a knife to cut and drag a ⅓-inch piece of dough from end of rope facing you -- a grainy wooden cutting board helps grip the dough.
Holding knife at a 45-degree angle to work surface, press and roll dough toward you.
Unfurl each piece of dough over your thumb in the opposite direction to form a concave shape, and transfer to a rimmed baking sheet lightly sprinkled with semolina flour. Repeat with remaining dough. Orecchiette can be stored at room temperature in a single layer overnight; cover with a clean kitchen towel or plastic wrap.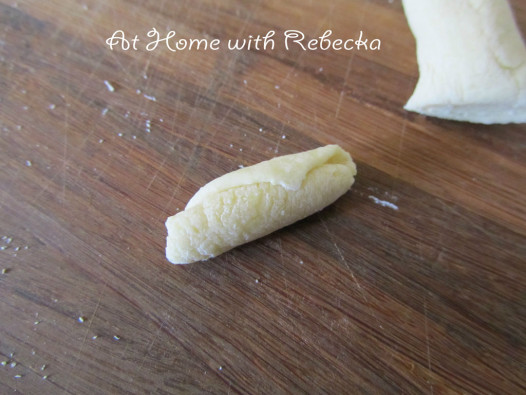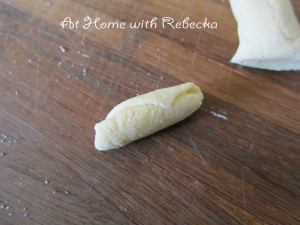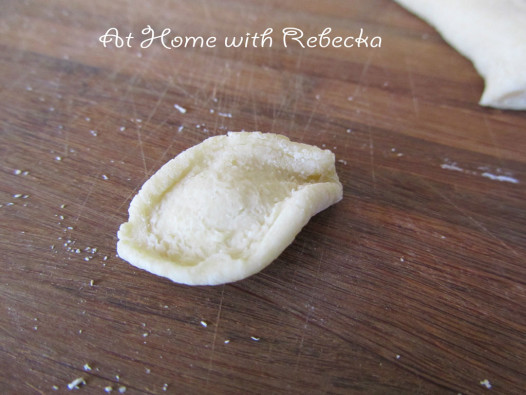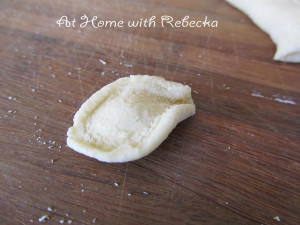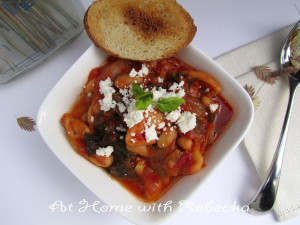 I followed the recipe without deviation, finding my results to be pretty near perfect.  It's a great thing to find a recipe that actually turns out looking like the photo and tasting delicious at the same time. The only thing that I would pay closer attention to, is my measurement of the pasta. The more orecchiette I made, the bigger they got resulting in 'Belle Grandi' Orecchiette!  The pasta gets bigger as it cooks so my sweet 'little ears' plumped up into large ears however, they still tasted fantastic.
For the Soup
serves 6
2 ½ tablespoons olive oil
1 medium onion chopped
6 garlic cloves, minced
8 cups roughly chopped escarole
7 cups water
2 tablespoons chicken base plus more to taste
2 cans (15 ounce) cannellini beans, drained and rinsed
1(16) ounce can good quality diced tomatoes
salt and pepper to taste
Method
Heat oil in a large stock pot over medium heat. Add onion to pot and cook until translucent stirring frequently, add garlic and cook 1 minute.  Add water, chicken base, beans, and diced tomatoes, bring to a boil, reduce heat to low and cook for additional 30 minutes
Increase heat to bring soup bake to the boil, add orecchiette and cook for 5 minutes, add escarole and cook additional 15 minutes or until pasta is al denti.
Serve with crusty Italian bread and a sprinkle of shaved Parmesan cheese or homemade ricotta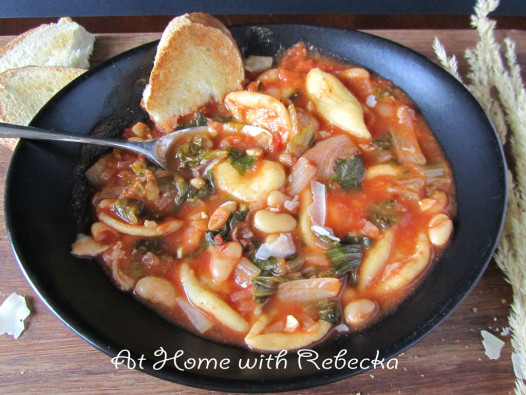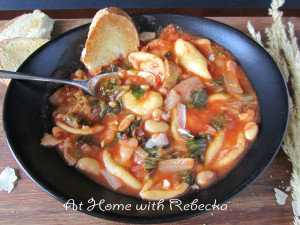 Sources:
Martha Stewart Living October, 2012 page 74-76.  Written by Lucinda Scala Quinn
wikipedia
This recipe is being entered in the Cooking with Nonna Columbus Day Recipe Contest: Theme: Homemade Soups