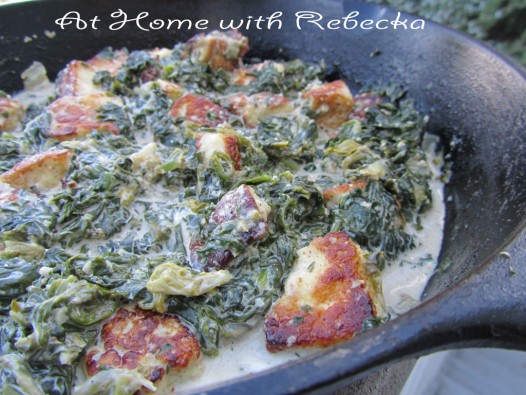 I always anticipate a moment of repose with the arrival of my subscription of Saveur magazine. I slip away to a quiet corner, curl up with a hot beverage and peel back the pages of this fine food magazine to be instantaneously swept away to lands I've only dreamt about. The recipes and photos popping off the pages never disappoint, coming full circle with stories and recollections shared by each writer. Pulling from the pages experienced travelers recipes from around the world, without fail, one or two recipes become new additions to my kitchen repertoire.
The SAVEUR magazine October 2012 edition is full of recipes I want to try but one in particular caught my eye, SAAG PANEER. A traditional dish eaten in South Asia with bread such as roti or naan also; Sag aloo is a common dish in Pakistani/Indian cuisine, made with handcrafted Paneer. A creamy soft cheese fried in ghee, added to a sumptuous creamy broth and fresh cooked spinach or other hearty green leaf vegetable.
The Recipe was easy to follow and turned out beautifully; another sumptuous recipe to add to my family favorites.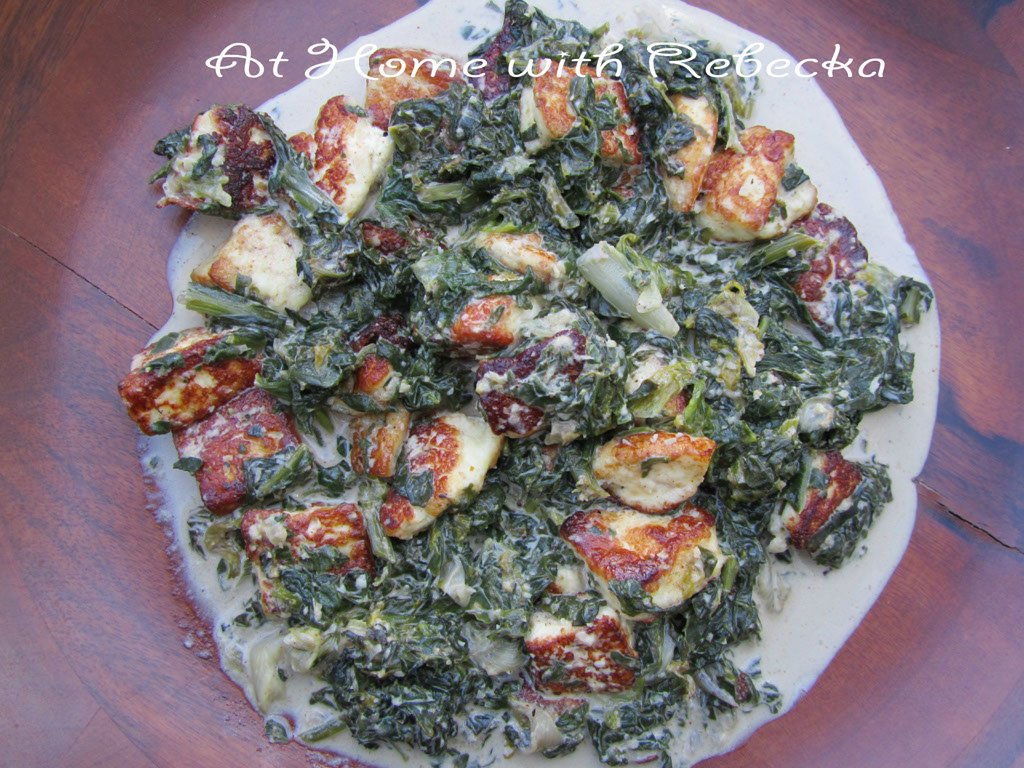 Saag Paneer
Homemade saag paneer North Indian melting soft cheese and spinach
Ingredients
For the Cheese (or 7 oz. of store-bought paneer may be used instead)
8

cups

milk

1

⁄4 cup fresh lemon juice

6

tbsp.

ghee or canola oil
For the Spinach
4

cloves

garlic

chopped

1

serrano chile

stemmed and chopped

6

cups

finely chopped spinach

Kosher salt

to taste

6

tbsp.

heavy cream

1

⁄2 tsp. garam masala

1

⁄4 tsp. cayenne

1

1" piece of ginger, peeled and chopped
Instructions
Make the cheese: Line a colander with 4 layers of cheesecloth, draping it over sides, and set in a sink. Bring milk to just under a boil in a 4-qt. saucepan over medium-high heat, stirring often with a wooden spoon to prevent it from scorching. Reduce heat to medium-low, add juice, and gently stir until large curds form, about 30 seconds. Pour milk mixture into colander and gently rinse off under cold running water any foam and residual lemon juice from curds. Gather corners of cheesecloth together and gently squeeze out liquid. Tie opposite corners of cheesecloth together to make a sack, and hang it from a large kitchen spoon suspended over a deep bowl. Set aside at room temperature until excess liquid has thoroughly drained from cheese, about 1 1⁄2 hours. Transfer sack to a plate, untie cheesecloth, and loosely drape corners over cheese. Place a large heavy pot on top of cheese, then set aside for 30 minutes to compress cheese. Remove pot and unwrap cheese. Cut into 1⁄2″ x 1″ pieces. Heat ghee in a 12″ nonstick skillet over medium heat. Working in batches, add cheese, and fry until golden brown, about 6 minutes. Using a slotted spoon, transfer cheese to a plate and set aside; reserve skillet with ghee.

Make the spinach: Place garlic, ginger, chiles, and 1⁄4 cup water into blender and purée into a smooth paste. Return skillet with ghee to stove, and heat over medium-high heat. Add ginger-garlic paste, and cook, stirring, until fragrant, about 30 seconds. Add spinach, salt to taste, and cook, stirring often, until spinach wilts, about 1 minute. Reduce heat to medium-low, cover, and cook, stirring often, until spinach is very soft, about 15 minutes. Stir in cream, garam masala, and cayenne.

Add cheese to skillet, cover, and continue cooking until liquid thickens and spinach is soft, about 15 minutes. Serve with flatbread or rice, if you like.