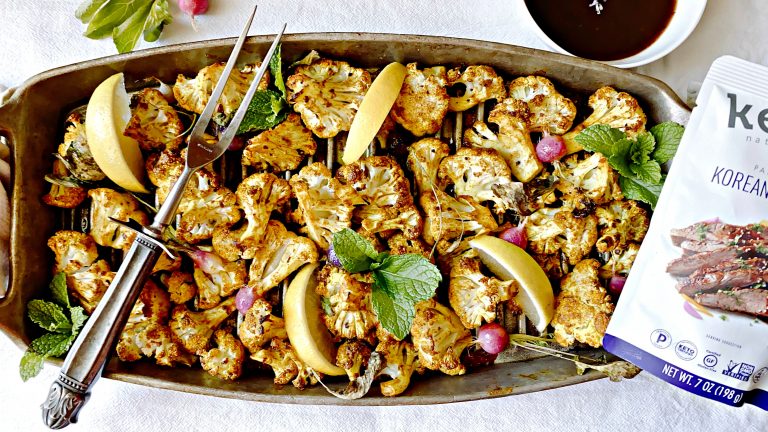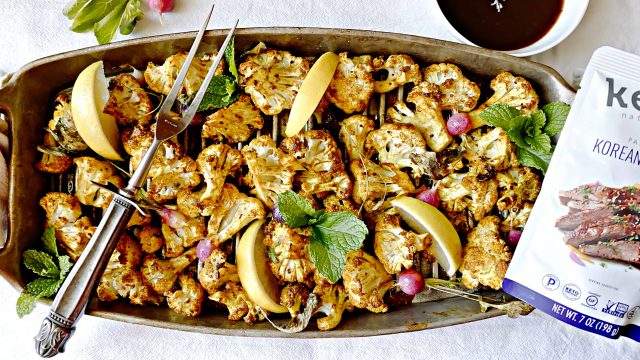 I'm thrilled to be invited to compete in Kevin's Natural Foods' Blogger Recipe Challenge, Eat Clean, Live Happy.
My final recipe, Korean BBQ Cauliflower Wings is entered in the VEGETABLE CATEGORY for a chance to win $500.00.
SELECT SAUCES
Kevin's Natural Foods makes 8 all-natural sauces that make meal prep a cinch: Thai Coconut, Korean BBQ, Lemongrass basil, Cilantro Lime, Teriyaki, Tikka Masala, Classic Taco, and Tomatillo Taco.
Just sautee your favorite meat or vegetables, add a package of Kevin's delicious sauce, and serve.
The product allows you to incite your inner creativity and develop a satisfying dish that features gourmet flavors.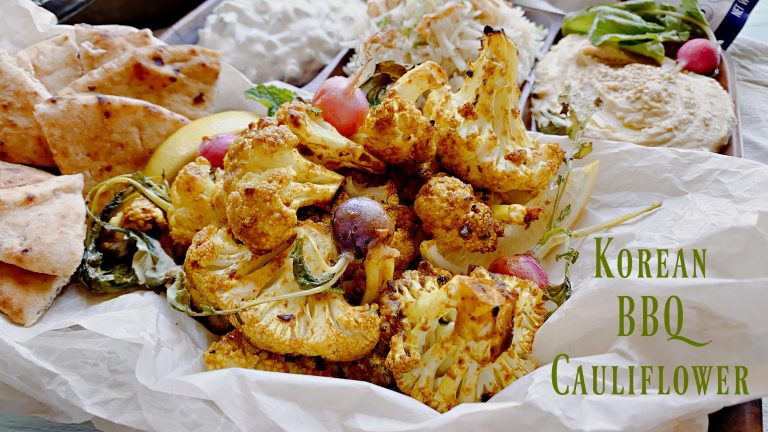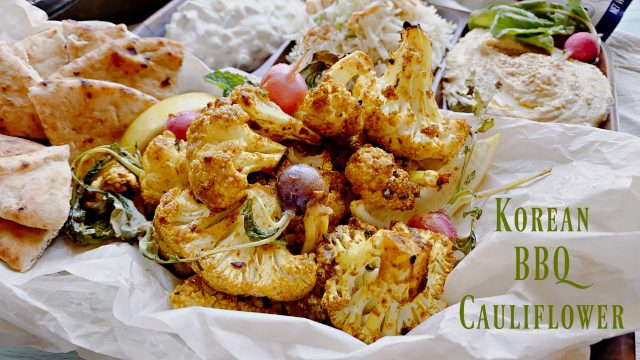 DELIGHTFUL FLAVOR
Participating in this challenge has been lovely, and I'm blessed to have been afforded the opportunity to cook with Kevin's Paleo and Keto-Certified, Non-GMO Verified, pre-made sauces. Each individual flavor combination is delicious as they're made without refined sugar, dairy, gluten & soy-free ingredients; allowing you to develop a savory meal that you can feel good about eating.
KEVIN'S STORY AND PRODUCTS
Kevin's also makes frozen pre-made meals and has a collection of 6 premixed Spices. For a full list of products and Kevin's Story visit them at https://www.kevinsnaturalfoods.com/pages/kevins-story.
MOUTHWATERING FLAVOR
I'm blown away by the authentic flavors of Kevin's pre-made sauces. I've enjoyed all of the flavors and recipes I've created for this challenge but love the versatility of Kevin's Korean BBQ Sauce. The taste is amazing on beef, chicken, and salmon as well as, enhancing vegetables like cauliflower, to create vegan, and keto certified recipes.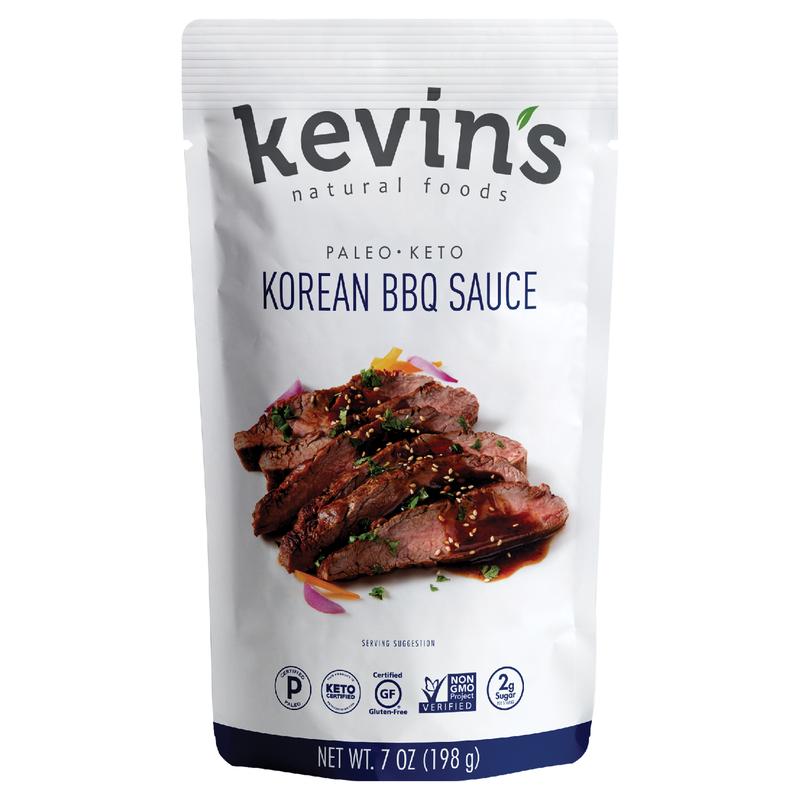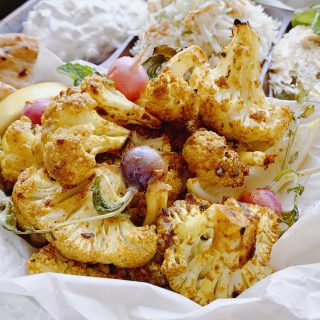 Korean BBQ Cauliflower Wings
Vegan, Keto Certified, Vegetarian Cauliflower Wings will blow you away with Kevin's Pre-made Korean BBQ Sauce. This meal is on the table in less than 35 minutes and the flavor is better than take out!
Ingredients
1

package Kevin's Korean BBQ Sauce

divided

1

large head cauliflower

washed and cut into "wing" florets

2

tablespoon

olive or coconut oil

3

tablespoon

Kevin's Korean BBQ Sauce

1

teaspoon

ground coriander

1

teaspoon

ground cumin

1

teaspoon

curry powder

¼

teaspoon

salt

¼

teaspoon

black pepper

zest from 1 lemon

1

small bunch mini radishes with stems

alternative, sliced radishes
For The Cucumber Dipping Sauce:
1

cup

sour cream or plain yogurt

½

cup

chopped

peeled cucumber

1

teaspoon

chopped green onions

1

teaspoon

chopped fresh mint

more mint for garnish
Instructions
Pre-Heat oven to 425F.

In a medium bowl combine, 3 tablespoons Kevin's Korean BBQ Sauce, oil, coriander, cumin, curry powder and mix well.

Wash cauliflower in cold water. Pat dry with clean towel. Remove root and all green parts. Cut cauliflower into Bite sized florets (wings)

Toss the cauliflower and mini radishes in the spice mixture until well coated

Grease a large baking sheet with more oil. Pour seasoned cauliflower and mini radishes onto greased baking sheet and bake for 15-20 minutes in pre heated oven. Using long tongs, flip cauliflower half way through the cooking process.

Once cauliflower is fork tender and nicely browned, remove from oven and season with salt, pepper and lemon zest
To Make Cucumber Dipping Sauce:
In a small mixing bowl, combine sour cream or yogurt with ½ cup chopped cucumber, green onion and mint. Stir to combine

Heat the remaining Korean BBQ Sauce in a small microwave safe bowl for 30-45 seconds. Drizzle the hot sauce over the cooked cauliflower and serve with Cucumber dipping sauce.

ENJOY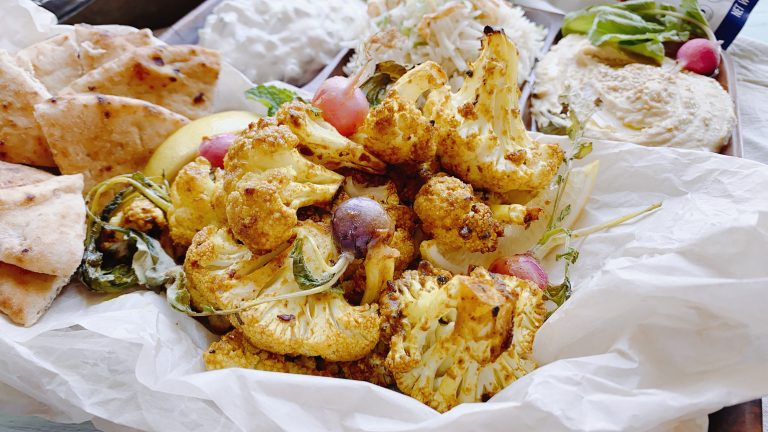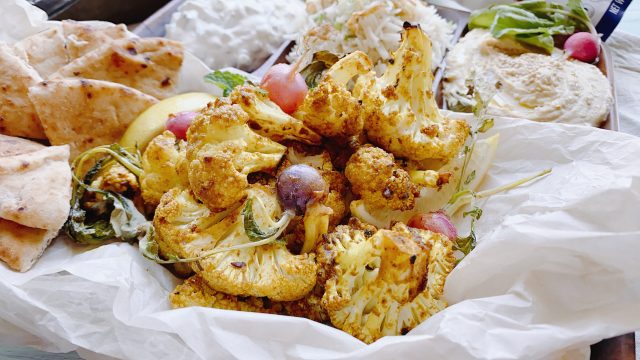 FOLLOW KEVIN'S ON SOCIAL MEDIA
For contest results, recipes, and ways to purchase Kevin's Natural Foods products follow them at the social media links below.
Facebook: https://www.facebook.com/Kevins-Natural-Foods-111435896926979/
Instagram: https://www.instagram.com/kevins.natural.foods/