Kevin's Natural Foods - Blogger Recipe Challenge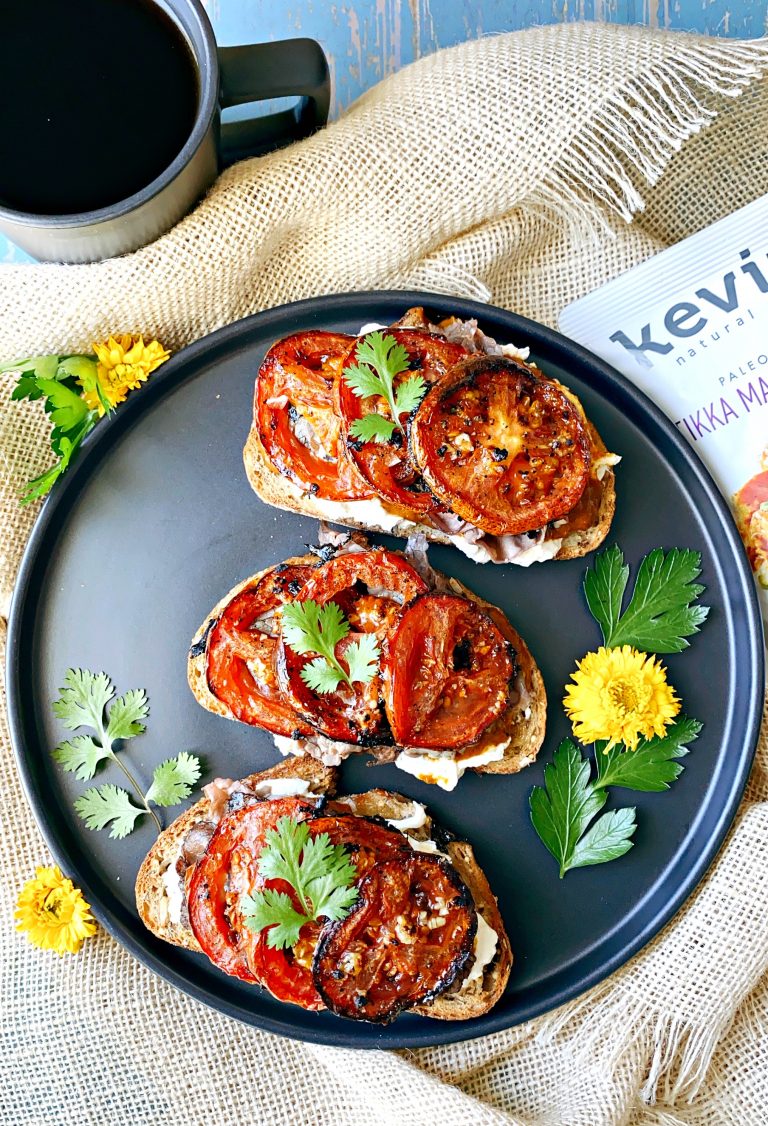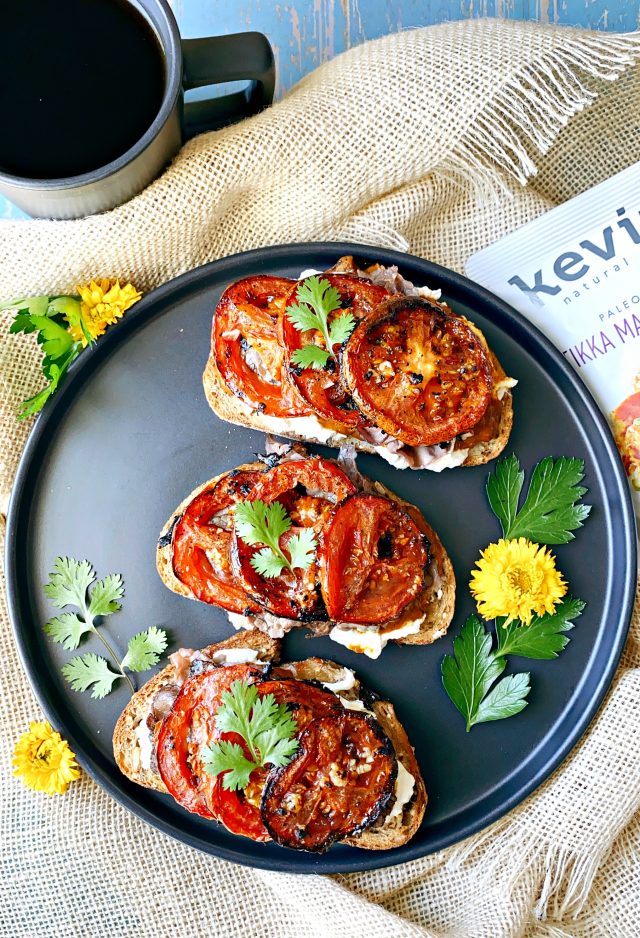 I'm thrilled to be invited to compete in the Kevin's Natural Foods' Blogger Recipe Challenge, Eat Clean, Live Happy.
This recipe is entered in the Beef Category for a chance to win $500.00.
SELECT SAUCES
Kevin's Natural Foods makes 8 all-natural sauces that make meal prep a cinch: Thai Coconut, Korean BBQ, Lemongrass basil, Cilantro Lime, Teriyaki, Tikka Masala, Classic Taco, and Tomatillo Taco.
Just sautee your favorite meat or vegetables, add a package of Kevin's delicious sauce, and serve.
The product allows you to incite your inner creativity and develop a satisfying dish that features gourmet flavors.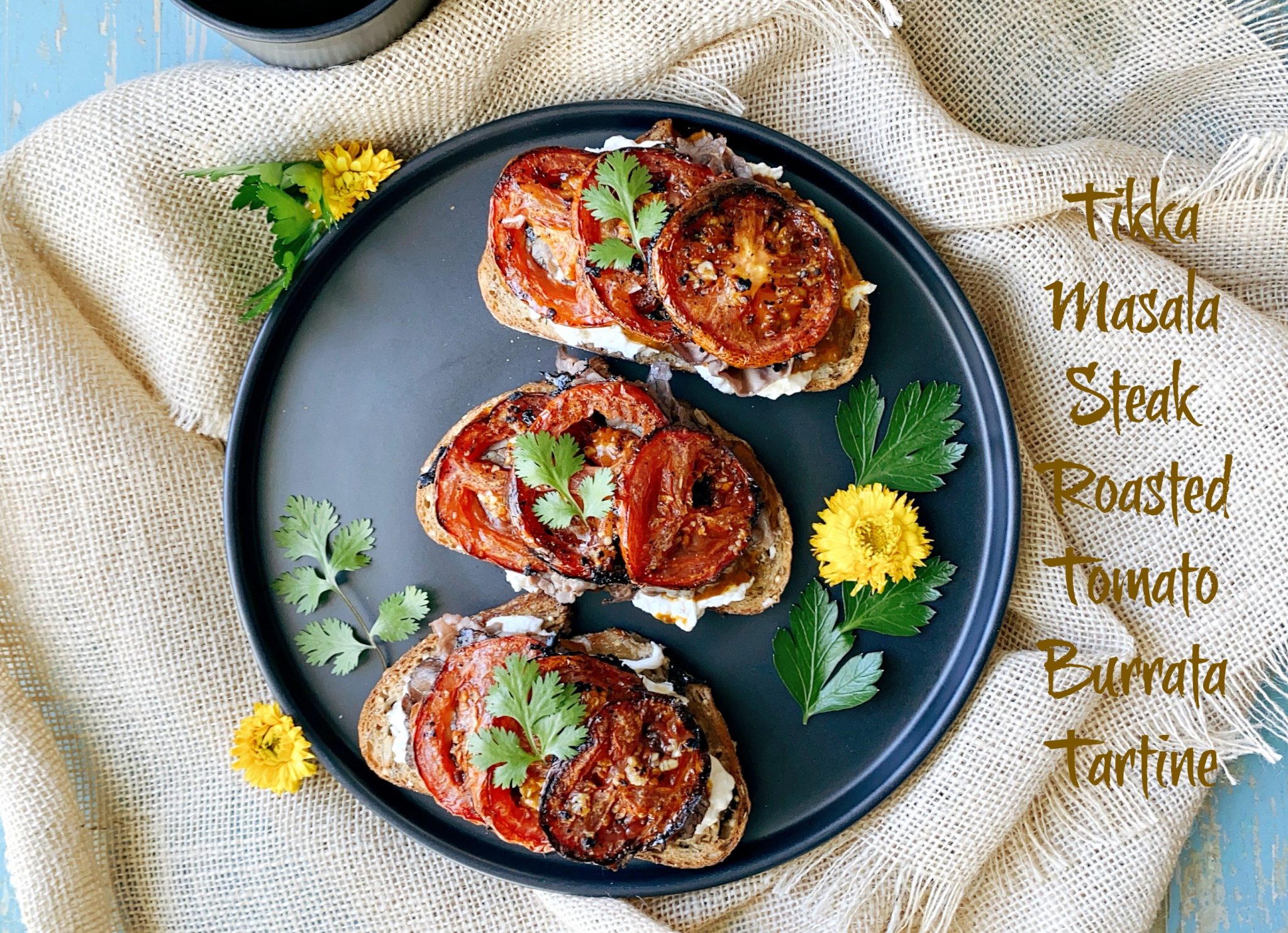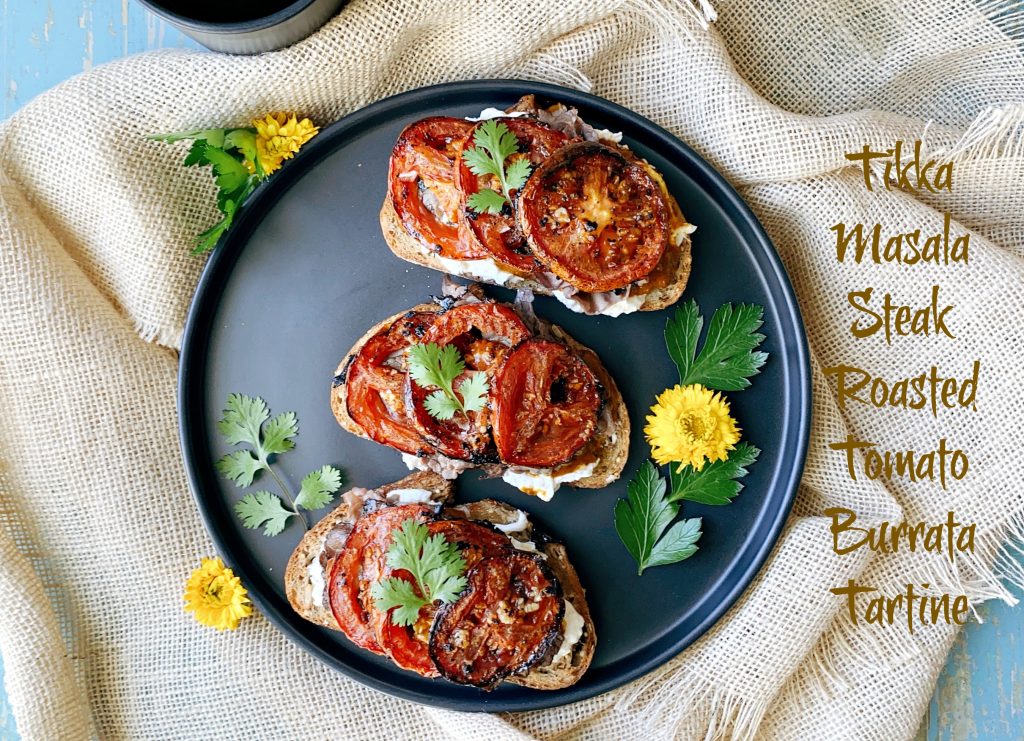 DELIGHTFUL FLAVOR
Participating in this challenge has been lovely, and I'm blessed to have been afforded the opportunity to cook with Kevin's Paleo and Keto-Certified, Non-GMO Verified, pre-made sauces. Each individual flavor combination is delicious as they're made without refined sugar, dairy, gluten & soy-free ingredients; allowing you to develop a savory meal that you can feel good about eating.
KEVIN'S STORY AND PRODUCTS
Kevin's also makes frozen pre-made meals and has a collection of 6 premixed Spices. For a full list of products and Kevin's Story visit them at https://www.kevinsnaturalfoods.com/pages/kevins-story
MOUTHWATERING FLAVOR
I'm blown away by the authentic flavors of Kevin's pre-made sauces. I've enjoyed all of the flavors and recipes I've created for this challenge, but my favorite is Kevin's Tikka Masala Sauce.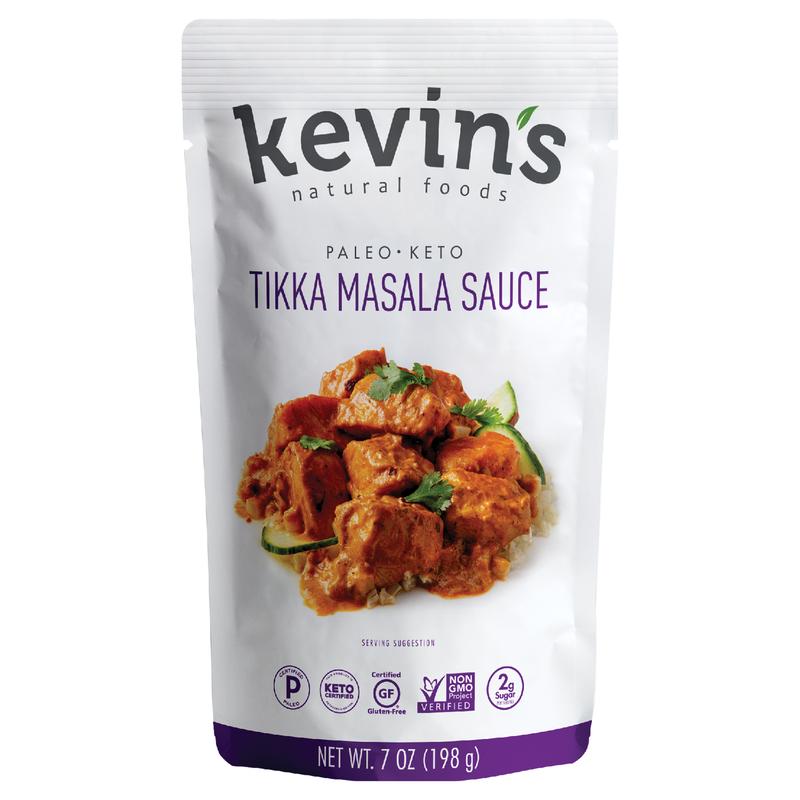 TIKKA MASALA-YUM
The Tikka Masala Sauce is rich and thick, pairing perfectly with my Tikka Masala Steak Roasted Tomato Burrata Tartine: a delicious mouthful of bursting flavors.
The robust, slightly spicy Tikka Masala Sauce is nestled on top of whole-grain toasted bread that's been smeared with creamy burrata. The burrata is topped with sliced, sauteed prime beef and a finishing touch of juicy-sweet, roasted tomatoes. Holy YUM!
This is my new favorite HEALTHY sandwich.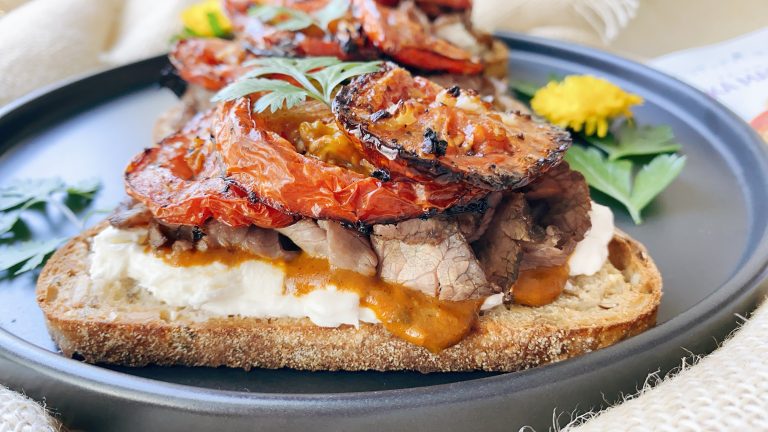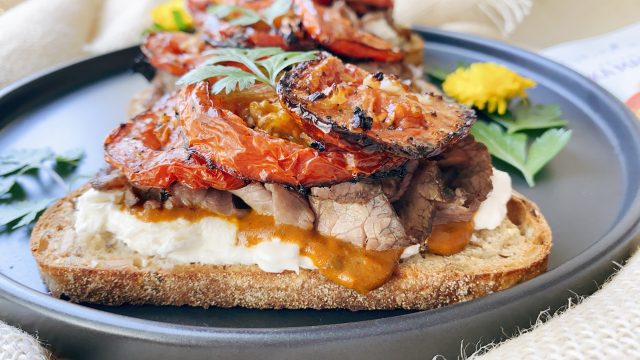 Print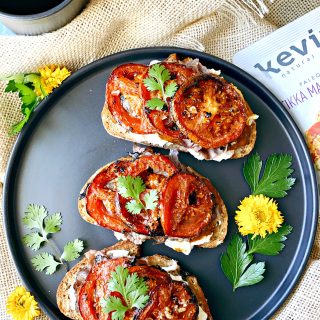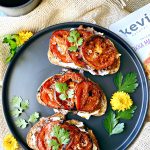 Tikka Masala Steak Roasted Tomato Burrata Tartine
Author:

Rebecka Evans

Prep Time:

5

Cook Time:

20

Total Time:

25 minutes

Category:

Healthy

Cuisine:

Indian
---
Description
Kevin's Natural Foods-Tikka Masala Sauce is rich and thick and pairs perfectly with my Tikka Masala Steak Roasted Tomato Burrata Tartine: a delicious mouthful of bursting flavors.
---
1 7-ounce package Kevin's Tikka Masala Sauce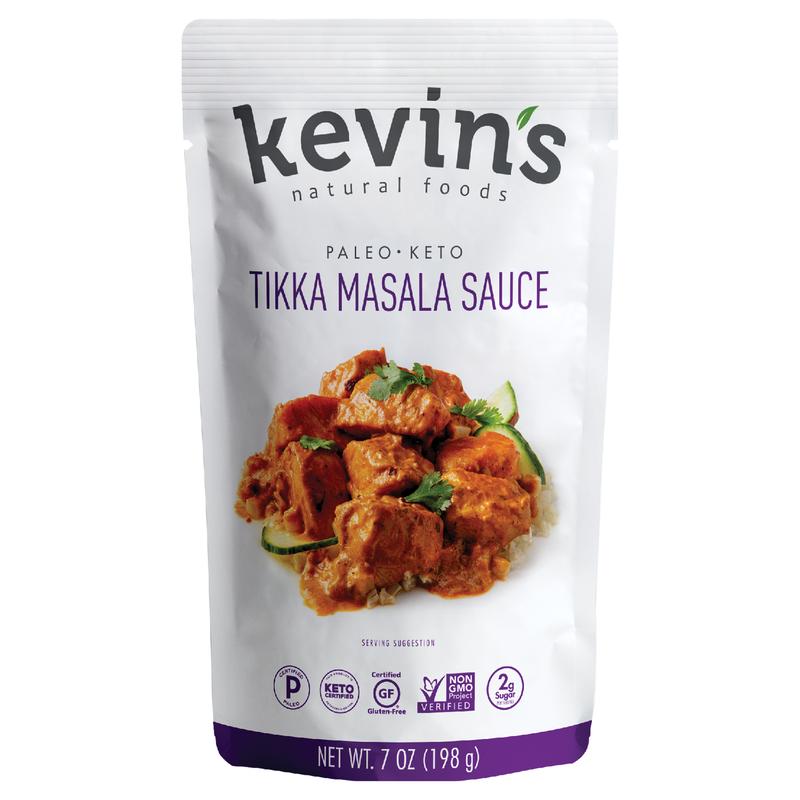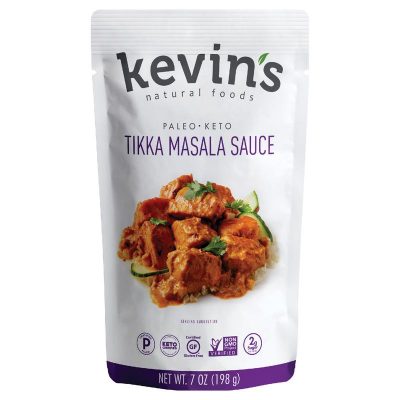 6 slices whole-grain bread
2 teaspoon coconut oil, divided
1 large burrata cheese ball, drained
¼ - ½ pound thinly sliced Prime roast beef
4 medium tomatoes, sliced
1 teaspoon olive oil, more for drizzle
2 cloves minced garlic
¼ teaspoon salt
¼ teaspoon Pepper
cilantro for garnish
---
Instructions
Open Tikka Masala Sauce pouch and pour contents into a small saucepan. Heat sauce over low heat until ready to build the tartines
Preheat oven to 475F
Slice tomatoes and place them on a parchment-lined baking tray about an inch apart. Sprinkle tomatoes with salt and pepper and evenly distribute minced garlic over them.
Drizzle olive oil over tomatoes and bake for 20 minutes or until the tomatoes are slightly charred. Remove from oven and set aside until ready to build tartine.
Spread a thin layer of coconut oil over slices of bread and toast until bread is golden brown.
Drain burrata. Gently pull the burrata apart placing equal amounts of cheese in the center of each piece of toast. Spread burrata over the surface of the bread with a knife
Spoon heated Tikka Masala over burrata
In a small non-stick pan, melt 1 teaspoon coconut oil. Quickly sautee sliced roast beef in oil. Distribute evenly over toast. Top toasts with roasted tomatoes, garnish with cilantro, and a good drizzle of olive oil. Enjoy!
---
---
Keywords: Vegetarian, Healthy Food, Sandwich, Kevin's Natural Foods
FOLLOW KEVIN'S ON SOCIAL MEDIA
For contest results, recipes, and ways to purchase Kevin's Natural Foods products follow them at the social media links below.
Facebook: https://www.facebook.com/Kevins-Natural-Foods-111435896926979/
Instagram: https://www.instagram.com/kevins.natural.foods/
Pinterest: https://www.pinterest.com/KevinsNaturalFoods/
BEAUTIFUL TASTY TARTINE