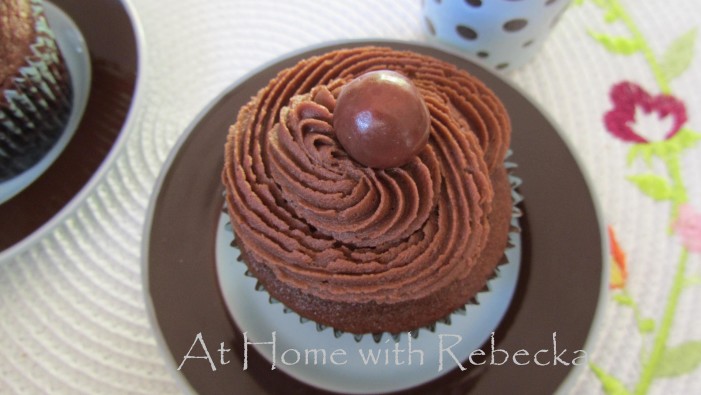 I can't believe I'm just now getting around to posting the recipe for these delicious little cupcakes. I made them for Mother's Day, which seems like an ion ago. Life has really taken a few crazy turns since then, leaving me very little time for blog posts, food photography and such.
Maybe someday, I will take the time to relay a few of the details but for now...I'll share a chocolate moment, Malted Milk Chocolate Cupcakes. Times like these, demand many chocolate moments!!
The picture above, is my cupcake with the first batch of frosting. Sadly, I ran out of butter and decided to use some lard instead... what the heck was I thinking? I scrapped it off and made a new batch after a short trip to the market. The new batch was born, much lighter in color and a lot more tasty. I hope you enjoy the rich flavors of powdered malt in your chocolate as much as I do!
Note to self: don't use lard in frosting, it tastes nasty!
Malted Milk Chocolate Cupcakes
Ingredients
Preheat oven 350 degrees

line cupcake tins with cupcake foils or papers

2

cups

all purpose flour

2

cups

sugar

2

teaspoon

baking powder

1

teaspoon

salt

1

cup

malted milk powder

6

ounces

semi sweet chocolate

½

cup

butter

¼

cup

vegetable oil

1 ¾

cups

whole milk

room temperature

3

large eggs

2

teaspoons

vanilla extract

FROSTING

12

ounces

milk chocolate

1

cup

malted milk powder

1

cup

heavy cream

¼

cup

cream cheese

room temperature cut in 1 teaspoon chunks

1

cup

confectioners sugar

1

stick

½ cup butter, room temperature
Instructions
In a large mixing bowl, combine flour, sugar, baking powder, salt and malted milk powder, whisk to combine.

Microwave, chocolate and butter in a glass bowl for 30 seconds on 50% power setting, stir after each interval until mixture is completely melted

Add chocolate mixture and milk and eggs to the dry ingredients, blend on slow speed until mixture is combined, occasionally scrapping down sides of the bowl

Add vanilla and continue mixing on medium speed until mixture is blended and smooth, about 3 minutes

Fill prepared cupcake foils with batter, leaving ¼ inch head space, use a measuring cup or ice cream scoop to divide batter evenly

Bake at 350 degrees for 15-20 minutes, or until the top springs back when gently pressed or a toothpick inserted in the middle comes out clean, do not over bake.

Transfer cupcakes to a wire rack and cool before frosting
To make the frosting
Add chocolate to the bowl of stand mixer

Combine malted milk powder and cream in a saucepan, cook over medium heat stirring constantly, bring mixture to a simmer, do not boil

Pour hot mixture over chocolate, cover bowl with foil or plastic and set aside for 3-5 minutes, remove cover and whisk mixture until smooth.

Place bowl back on stand mixer, using whisk attachment

Add confectioners sugar, and blend until combined

Alternate: adding chunks of cream cheese and butter, 1 teaspoon at a time, until all butter and cheese are incorporated, more confectioner sugar may be added to adjust for thickness, frosting can also be chilled if necessary.

Fill large pasty bag with a fitted decorative tip, pipe frosting over cupcakes, garnish with malted milk balls if desired.
Notes
Adapted from Recipe loosely adapted from Southern Foods