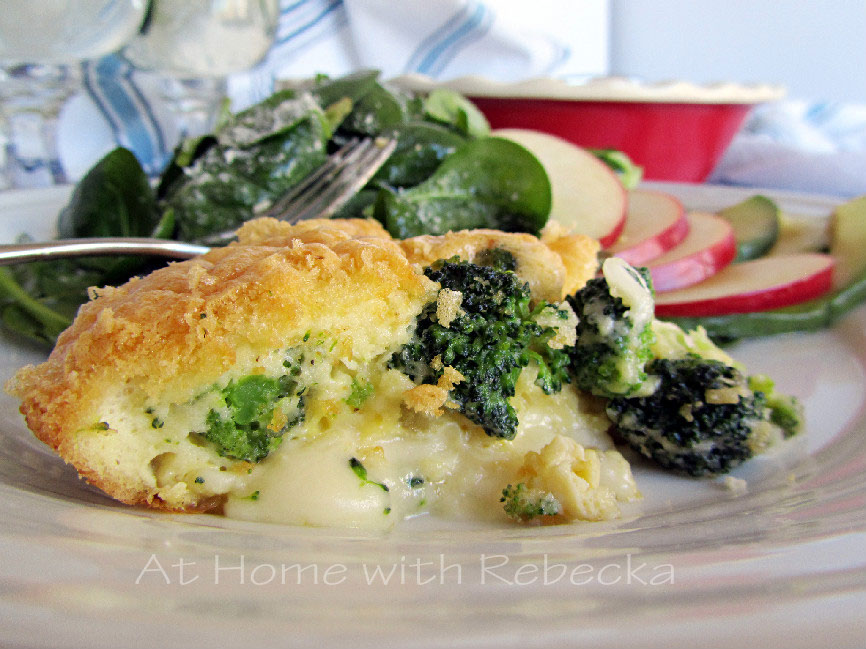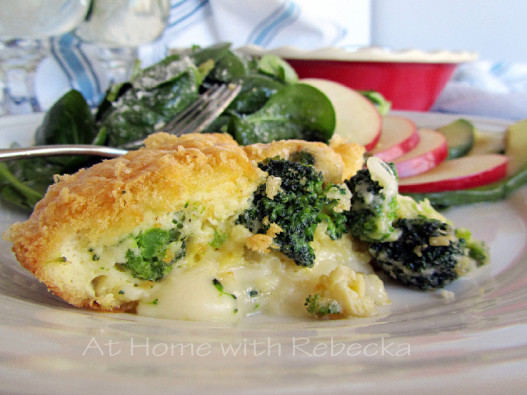 Quiché was born to be dressed up, or down depending on what goodies might be lurking in your refrigerator that day; bacon, left-over baked chicken, mushroom, assorted cheeses, and veggies, are a few options when making this delicious dish; add a crisp salad with a light lemon dressing, and my tummy is satiated until dinner, no grumblings or cravings and a sure way for me to shed undesired weight.
I'm a true carnivore, so when motivated to lose a few pounds I follow a modified Atkins diet. When I stick to a meal plan rich in protein and green leafy foods, the pounds melt away allowing my body to perform at its best.   
With regret, I have to admit that my body craves carbohydrates,  the more I eat the more my body wants.  A slice of toast in the morning and I'm apt to devour a plethora of starchy foods throughout the day.    I'd like to say that I am able to maintain a strict low carb diet but eventually, I fall off the wagon and gorge myself with those great tasting, but really bad for me carbohydrates.  I have no will power once I've started the roller coaster of carb loaded foods; ice cream, donuts, chips, fries and whatever else I can shove in my mouth.
I wish I could view food as fuel; eat like a rabbit and be "that" person who was born, driven to exercise. Unfortunately, I'm too busy doing life, too tired to do what I need to do to keep my body fit, and did I mention, I really love to eat?
Needless to say, I've been really battling the bulge this year. No matter how much I hope to get back to the "good old days" of wearing short shorts, and rocking a flat tummy, it's an uphill battle to eat right and stay fit. 
I'm a fifty-three year old, 5" foot 3' inch mother of five, grandmother to two beautiful baby girls; I'm short-waisted, top-heavy, and my ideal weight is 130 pounds. I'm currently tipping the scales at 160 pounds. For my small frame, thirty pounds of excess weight is just too much.  I feel tired, dumpy, and my clothes are gripping me in places I'd prefer not gripped!
Compacting my issues of weight loss, is the inordinate amount of stress that's related to all of my life's happenings.
I've read a host of health reports that show stress as the leading cause of belly fat, and heart disease.  
"If stress itself is a risk factor for heart disease, it could be because chronic stress exposes your body to unhealthy, persistently elevated levels of stress hormones like adrenaline and cortisol. Studies also link stress to changes in the way blood clots, which increases the risk of heart attack."  
Below are some common warning signs and symptoms of stress.
| | |
| --- | --- |
| Physical signs | Dizziness, general aches and pains, grinding teeth, clenched jaws, headaches, indigestion, muscle tension, difficulty sleeping, racing heart, ringing in the ears, stooped posture, sweaty palms, tiredness, exhaustion, trembling, weight gain or loss, upset stomach |
| Mental signs | Constant worry, difficulty making decisions, forgetfulness, inability to concentrate, lack of creativity, loss of sense of humor, poor memory |
| Emotional signs | Anger, anxiety, crying, depression, feeling powerless, frequent mood swings, irritability, loneliness, negative thinking, nervousness, sadness |
| Behavioral signs | Bossiness, compulsive eating, critical attitude of others, explosive actions, frequent job changes, impulsive actions, increased use of alcohol or drugs, withdrawal from relationships or social situations |
Source: WebMD
It's impressive how stress affects our bodies.  

The reasons why low carbohydrate diets work best for my body: "Carbohydrates are sugar as far as your body is concerned; carbs are actually saccharides, di, tri or poly -saccharides and they break down into sugar almost immediately after ingestion. Carbohydrates, once in the body are converted to glucose in the blood stream to be used as quick fuel. An increase of glucose in the blood causes a release of insulin. Insulin is a hormone in the body that has many functions, one of which is to regulate blood sugar by converting the newly arrived sugar in the blood into fat for storage in fat tissue." Protein Power Plan  by  Michael R. Eades, M.D., and Mary Dan Eades, M.D., are the authors of the New York Times bestseller Protein Power and The Protein Power LifePlan Gram Counter. They practice bariatric (weight loss) medicine in Boulder, Colorado.
If I consume carbohydrates in small portions and eat high protein foods, I crave them less, and I can still maintaining a balanced diet by supplementing the loss of grains with fresh greens, an assortment of veggies and healthful fruits. Proving over the years to work wonders on my waistline. However, I almost always stray back to starchy foods in the winter months, gain at least 10 pounds and feel bloated, sad and look like a chunk mister by spring! 
Recipe: Crust-less Broccoli Swiss Quiché and Simple Spinach Salad
For the Quiché

6 large eggs
2 cups broccoli florets (substitute any 2 cup combination cauliflower, onion, mushrooms etc.)
5 teaspoons butter
1 ½ cups shredded Swiss cheese
1 cup milk
salt and pepper to taste
For the salad
2 cups mixed spinach and field greens
1 large lemon juiced
zest from lemon
1 teaspoon extra virgin olive oil
salt and pepper to taste
Toss greens with a few dribbles of mixed lemon juice, zest and olive oil, salt and pepper, about 1 tablespoon
Method
Pre-heat oven to 375 degrees
Prepare pie baking dish with 1 teaspoon butter
Roughly chop vegetables, sauté over medium heat in 4 teaspoon butter until wilted, do not over cook (about 5 minutes)
Mix eggs, milk until well combined, add cheese and seasoning pour into baking dish
Bake for 35-40 minutes or until center is firm to the touch
Serves 4
[mpprecipe-recipe:13]
 
Crust-less Quiché accompanied by a simple spinach salad really hits the mark when it comes to a flavorful low carbohydrate meal.  It's just one of the many recipes I enjoy when my mind is in the right place and I'm taking care of my body and soul!