This angel food cake recipe originates with the mother of my best friend Donna Collins Yamini aka The Jelly Queen. I've adapted it by adding my favorite mascarpone whipped cream, my infamous Microwave Lemon Curd, and dressed it in fresh berries, mint, and dried edible roses. The cake is my go-to recipe for gatherings year-round and is truly foolproof.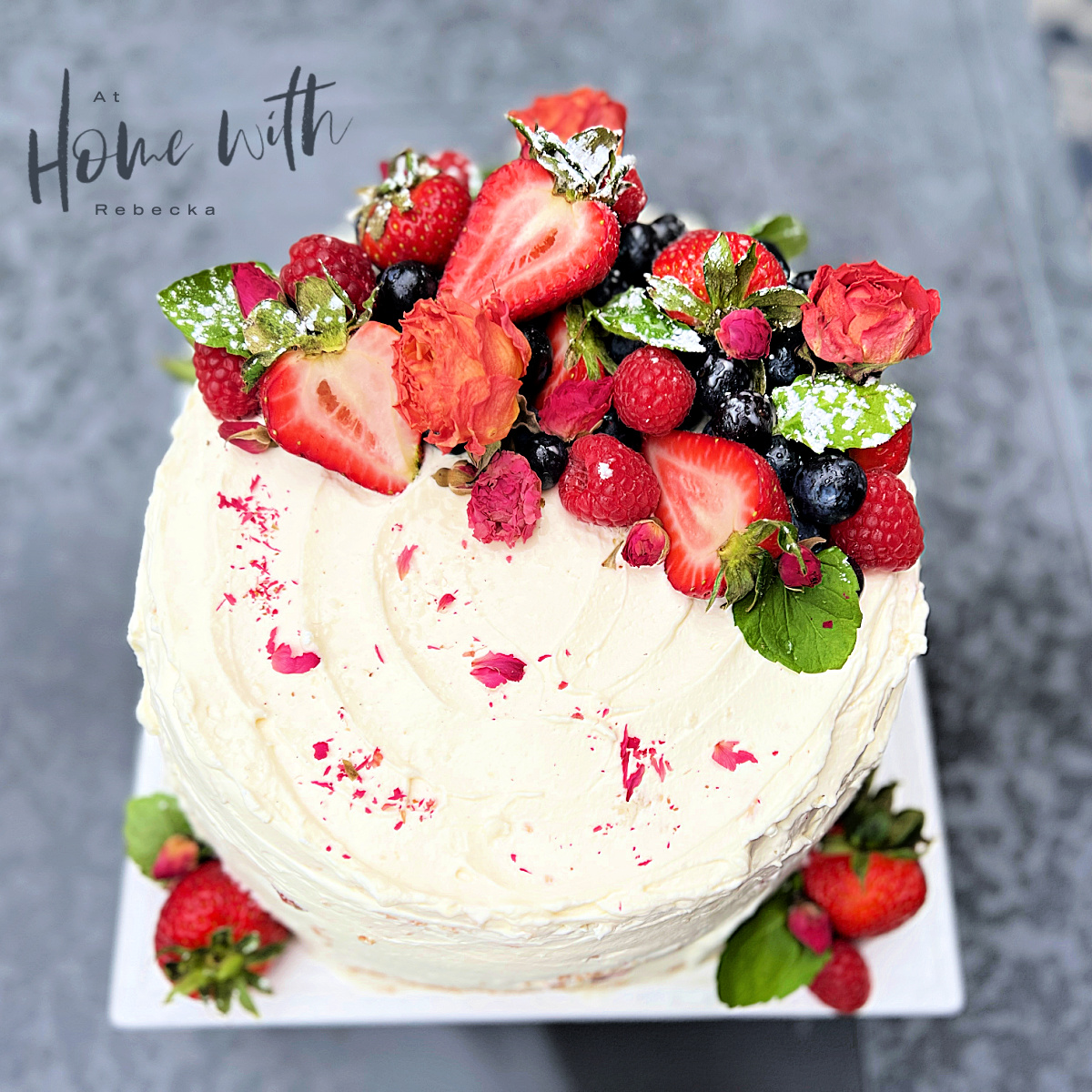 Bible Study and Women's Luncheon
I had the pleasure of sharing this cake with my bible study group this week. I absolutely adore these fine women of God. They have welcomed me with open arms, prayers, and support this past year after moving from Texas to Colorado, dealing with the death of my brother, and renovating my new home. God is so good to me!
Less Is More When Decorating A Cake
When I make a recipe for my blog or entertainment, I always have the best intentions of keeping it simple, however, I never know when to stop. The adage that less is more lurks in the back of my mind, but my fingers and eyes have different ideas. In this instance, the cake made me do it!
Bible study meets in the mornings, so I decided to make the cake a day in advance. I loved the first rendition of the cake simply with fruit and mascarpone icing but as the soft sponge rested overnight in the fridge under the asymmetrically placed fruit, it caved under the pressure.
The Mess I Made
When morning broke, I knew I had to fix the lopsided cake, so I started "fixing it" by sprinkling powdered sugar over the top of the cake. What was I thinking? The sugar melted leaving the cake looking wet, so I decided to take a break...
After I drank my second cup of coffee, I decided to use my edible dried roses to fix the mess I made with the powdered sugar. I carefully added the flowers trying not to overdo it. Thankfully, it worked, the cake looked delightful, and the ladies loved it!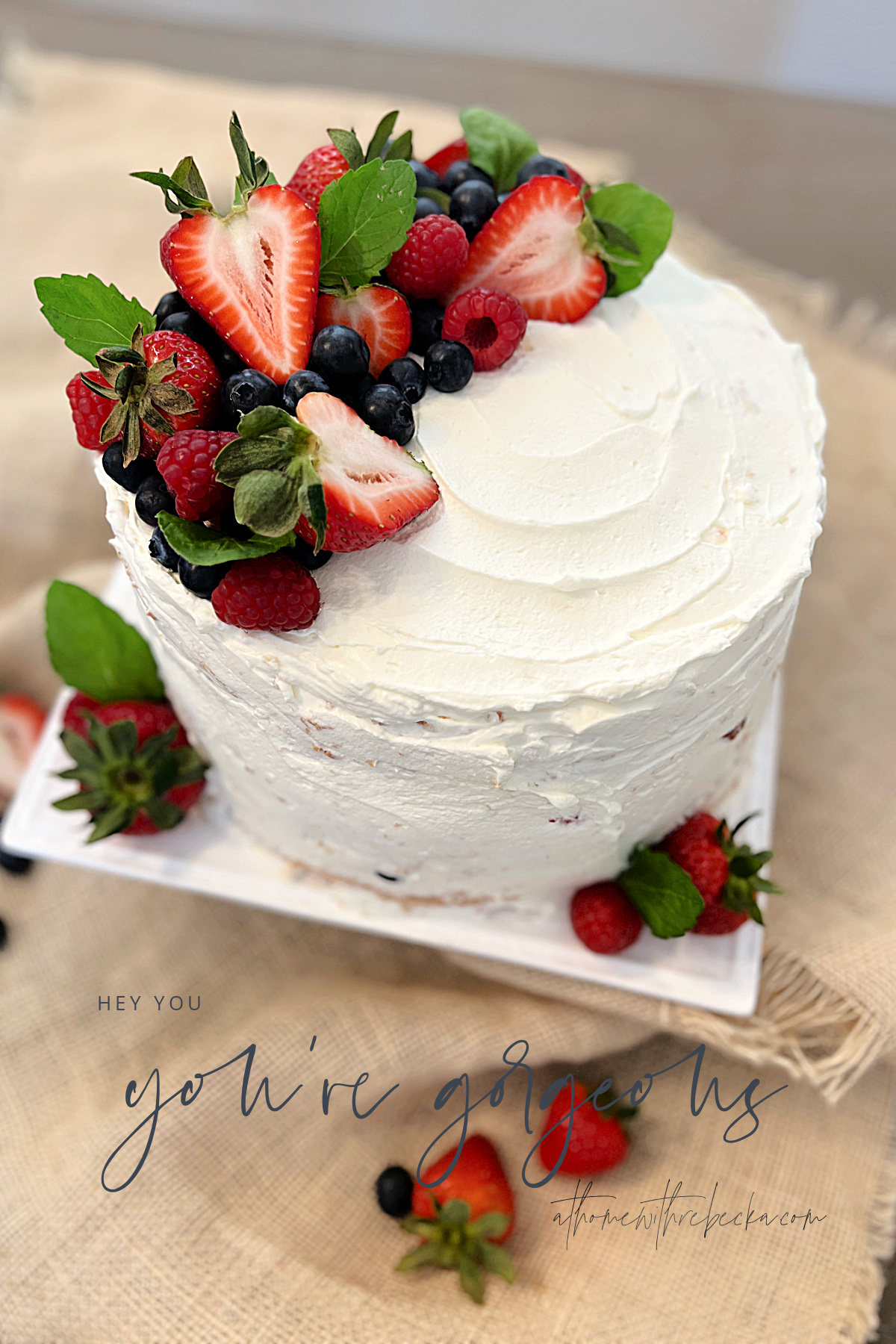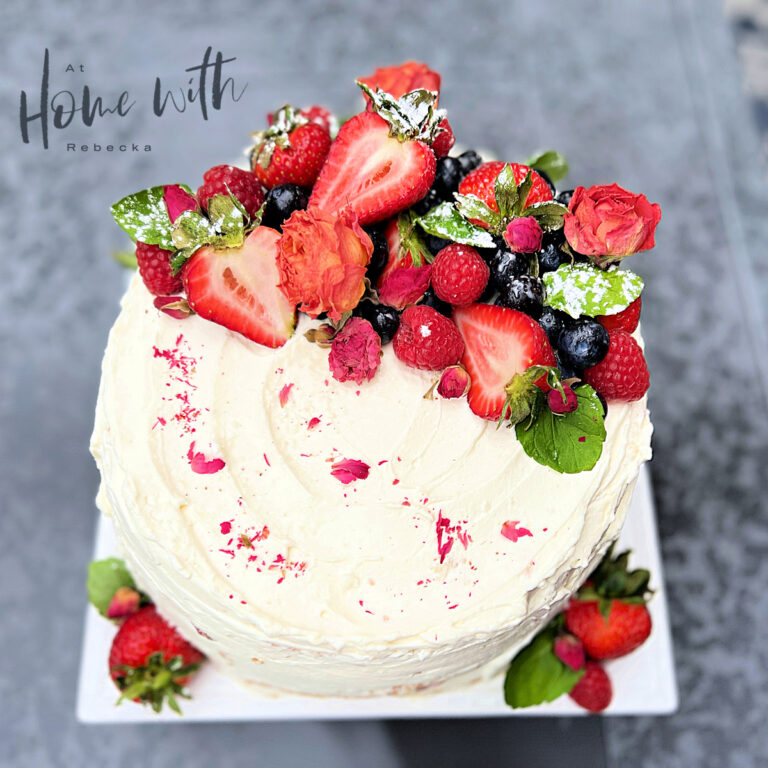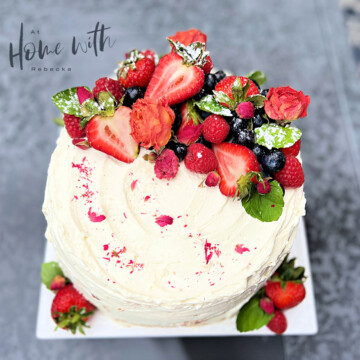 Mixed Fruit Angel Food Cake
Equipment
1 Large Tube Pan

1 offset spatula
Ingredients
1-¼

cups

large egg whites (about 9)

1-½

cups

sugar divided

1

cup

cake flour

1-¼

teaspoons

cream of tartar

1

teaspoon

vanilla extract

¼

teaspoon

almond extract

¼

teaspoon

salt
Mascarpone Whip Cream
½

cups

granulated sugar

2

cups

heavy whip cream

1

teaspoon

vanilla extract

¼

teaspoon

almond extract

1

6-ounce

container of mascarpone cheese

1

cup

mixed raspberries

blueberries, 1 12-ounce containers of fresh strawberries washed and patted dry

mint for garnish

Microwave Lemon Curd (link for the recipe)

https://athomewithrebecka.com/easy-microwave-lemon-curd/
Instructions
Place egg whites in a large bowl; let stand at room temperature for 30 minutes.

Sift ½ cup sugar and flour together twice; set aside.

Place the oven rack in the lowest position. Preheat oven to 350°.

Add cream of tartar, extracts, and salt to egg whites; beat quickly until soft peaks form.

Gradually add the remaining sugar, about 2 tablespoons at a time, beating on high until stiff peaks form.

Gradually fold in the flour mixture, about ½ cup at a time.

Gently spoon into an ungreased 10-in. tube pan. Cut through the batter with a knife to remove air pockets. Bake until lightly browned and the entire top appears dry, 35-40 minutes.

Immediately invert the pan; cool completely, about 1 hour.

Run a knife around the side and center tube of the pan. Remove the cake to a serving plate.

Wash and pat strawberries dry. Pick the very nicest berries (about 15) in various sizes and set aside until ready to build the cake.

Combine heavy cream, sugar, mascarpone cheese, ½ cup of sugar, and extracts in a large bowl.

Whip until stiff peaks form.
Build the Cake
Once the cake is cooled, use a sharp serrated knife to cut the cake into three equal rings/slices

Place the first and largest slice of cake on a dessert plate cut side up. Spread about 2 tablespoons of microwaved lemon curd evenly over the cake. Then, evenly spread 1 cup of the whipped cream mixture over the curd. Evenly distribute a few sliced strawberries, blueberries, and raspberries over the cream. Continue until in the same manner for the next slice.

Place the last and smallest slice of cake cut side up. Frost with remaining whipped cream smoothing with an offset spatula. Frost the sides of the cake with a thin layer of whipped cream to create a beautiful "Naked Cake"
Notes
NOTES
Use a tube pan when making any angel food cake recipe. The delicate egg batter needs the tall sides of the pan to cling to or else it will collapse. Another way to keep your cake from collapsing is to slowly add the sugar to the egg whites. Going slowly allows a beautiful foam to build. Adding too much sugar at one time can deflate the air you've worked so hard to incorporate.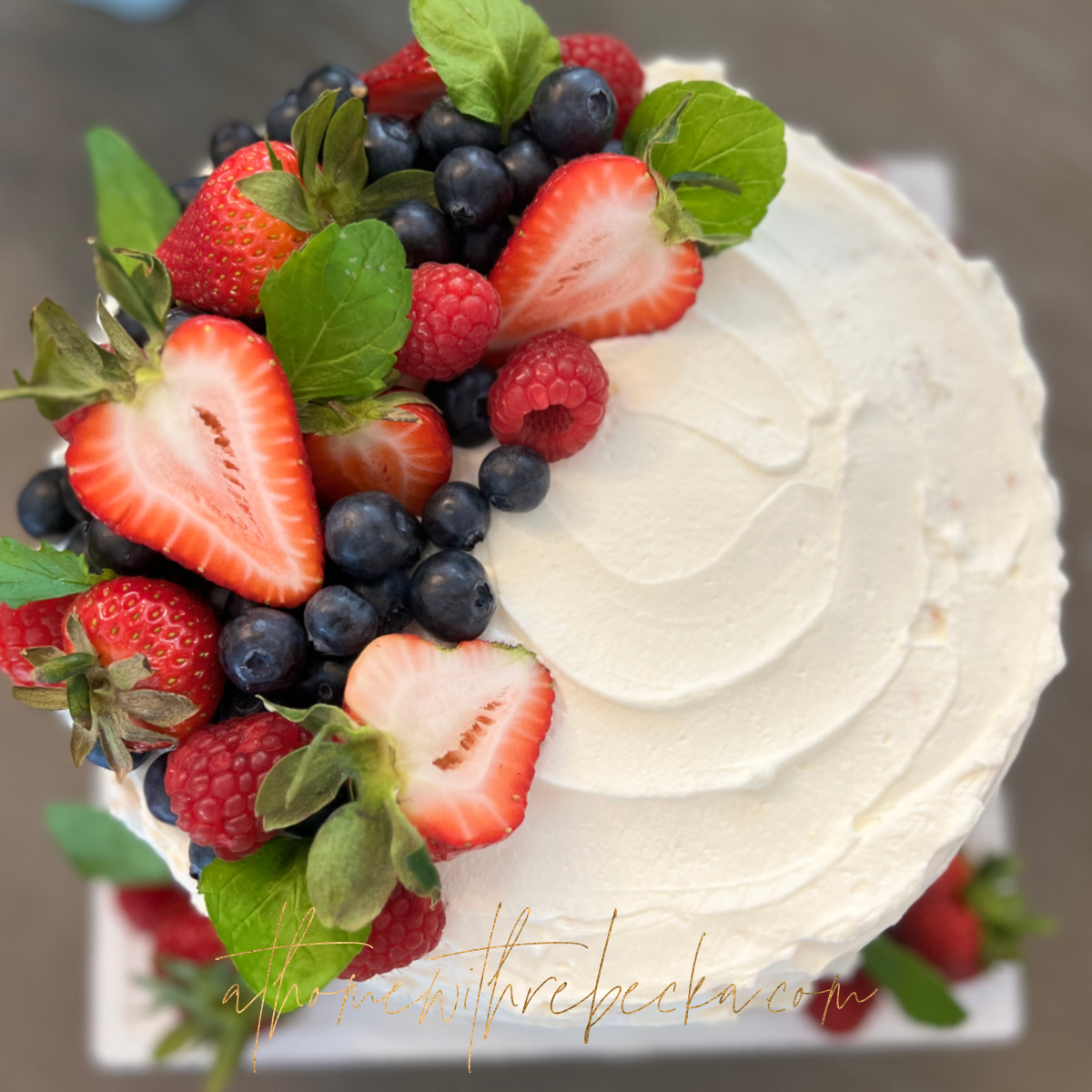 Let Them Eat Cake!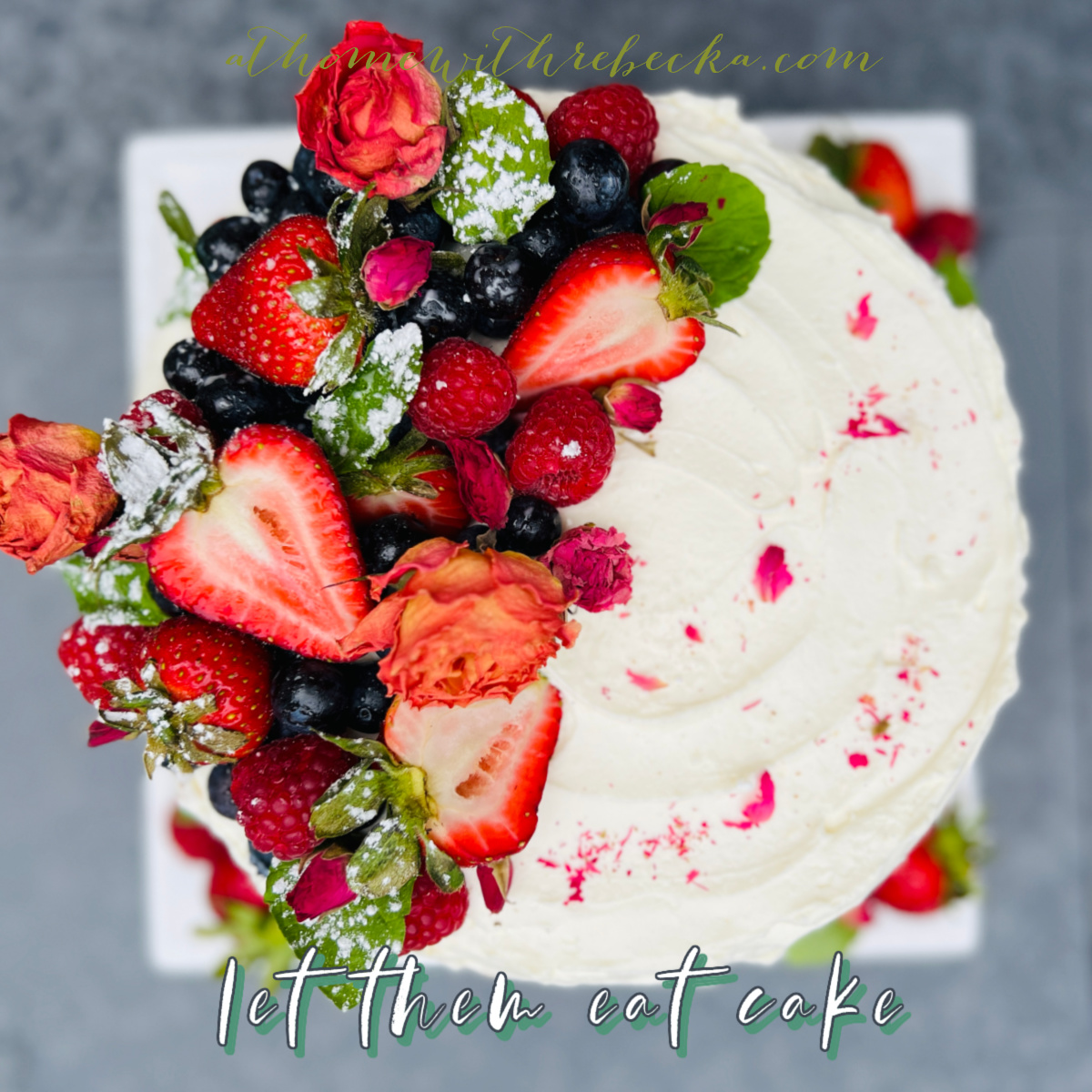 More Delicious Cake Recipes...by At Home with Rebecka