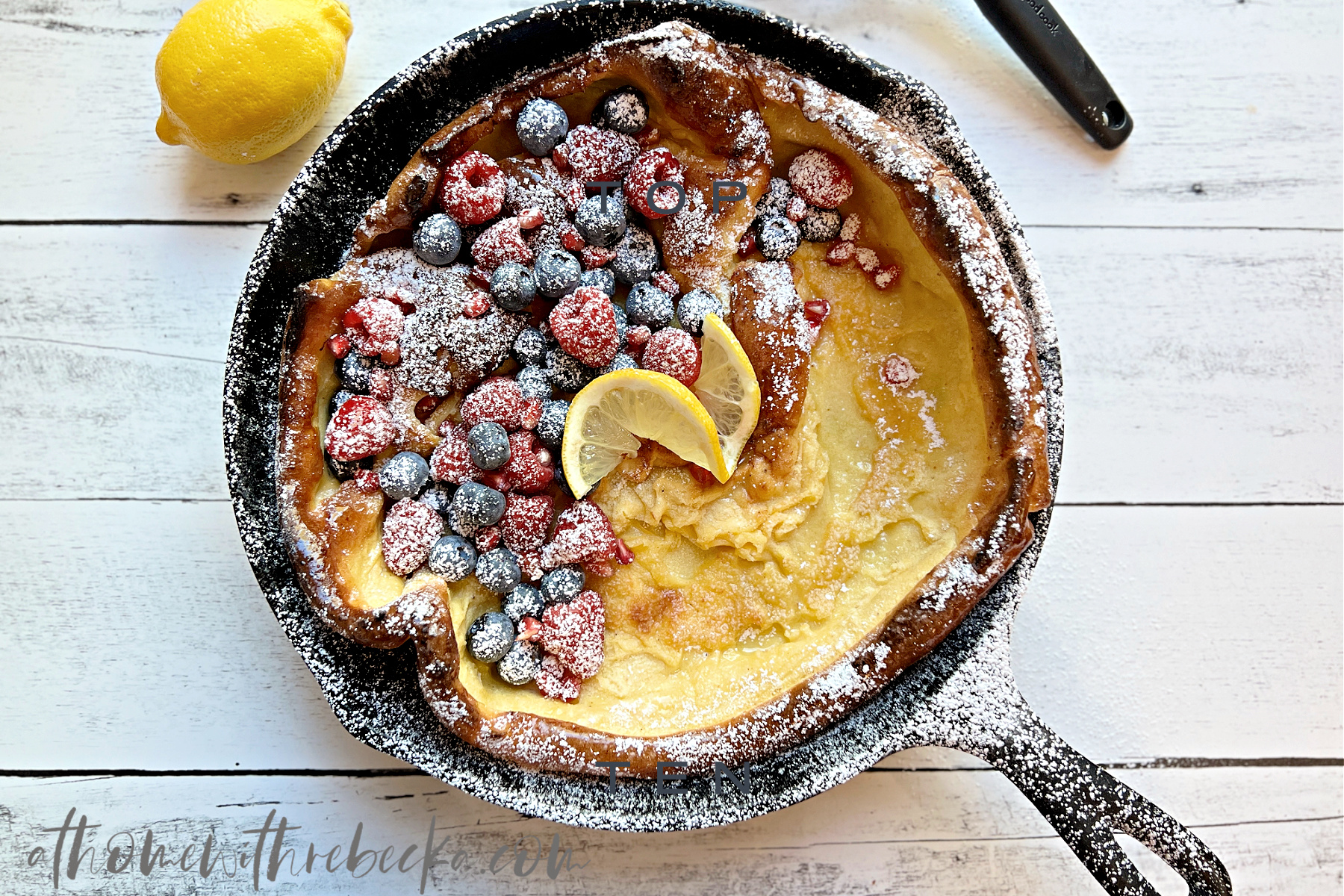 Quick Easy Delicious Food
Dutch Baby or German Pancakes are quick and easy meal, that is incredibly delicious and a true showstopper.
This post is featured in the incredibly informative publication, fyi50+ Magazine a Senior Life Magazine committed to inspiring, informing, and entertaining the 50+ audience. To read my monthly recipe article(s), subscribe to the online magazine, or order the hard copy version, visit this LINK.
What's a Dutch Baby?
A combination of a popover and a crepe, Dutch Baby or German pancakes can be served for breakfast, brunch, lunch, and dessert, and even made savory for a delightful savory supper.
One savory application is Yorkshire pudding, the recipe is baked individually in roast beef drippings and served during the holidays. The versatility of this dish is endless and has proved to be one of my most award-winning recipes. See stories below.
History
According to Sunset magazine, Dutch babies were introduced in the first half of the 1900s at Manca's Cafe, a family-run restaurant that was located in Seattle, Washington owned by Victor Manca. While these pancakes are derived from the German pancake dish, it is said that the name Dutch baby was coined by one of Victor Manca's daughters, where "Dutch" perhaps was her pronunciation of the German deutsch. Manca's Cafe claimed that it owned the trademark for Dutch babies in 1942.

https://en.wikipedia.org/wiki/Sunset_(magazine)
Raspberry Blueberry Pomegranate
I've added fresh raspberries, blueberries, and ruby-red pomegranate seeds (known as arils) but any variation of fresh fruit or jam will do. I've garnished the pancakes with lemon slices and served them with buttery pomegranate syrup. The combination is out of this world.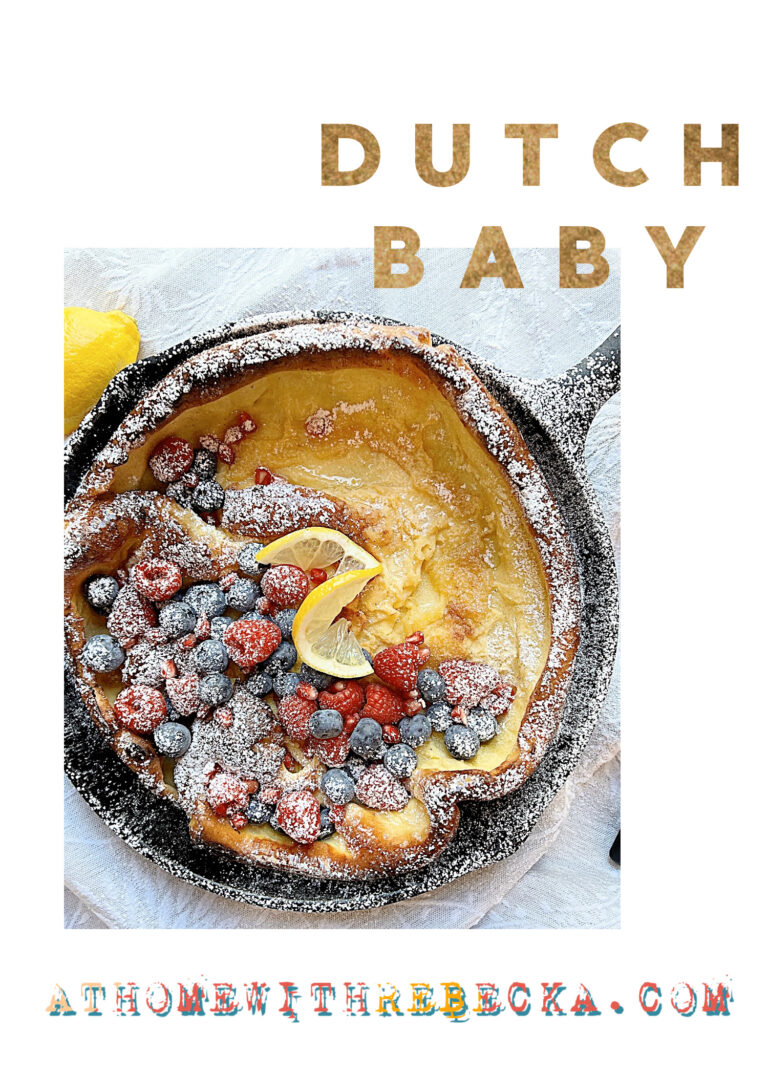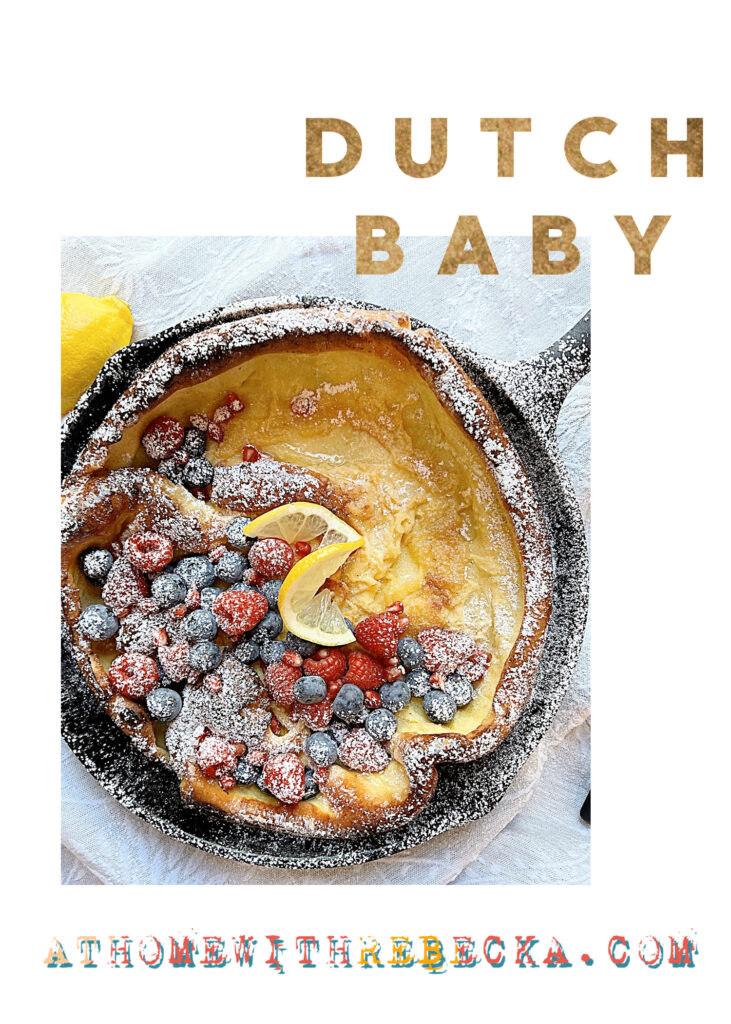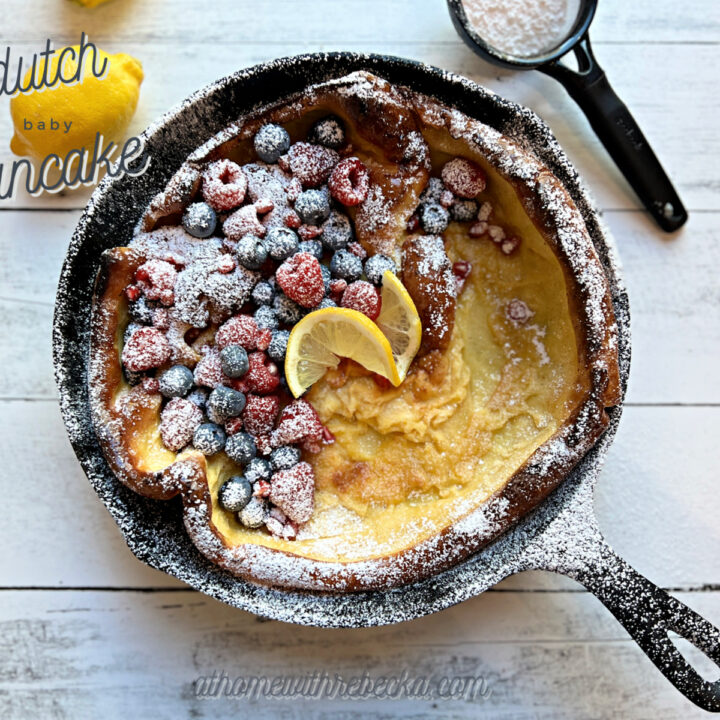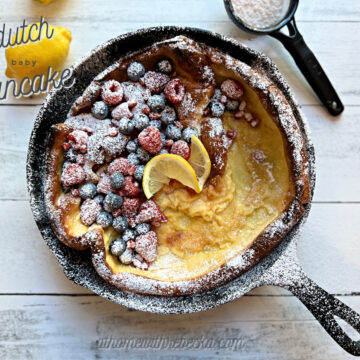 Dutch Baby
A combination of a popover and crepe, Dutch Baby or German pancakes can be served for breakfast, brunch, lunch, and dessert, and even made savory for a delightful supper.
Ingredients
3

large

eggs

room temperature

½

cup

all-purpose flour

½

cup

whole milk

room temperature

1

tablespoon

sugar

pinch

nutmeg

¼

teaspoon

vanilla

4

tablespoons

butter

1

cup

mixed fresh fruits

raspberries blueberries, pomegranates,
Pomegranate Syrup
1

pomegranate, seeded, skin, and pith removed

use half of the seeds for the butter syrup and the other half to garnish the pancake

4

tablespoons

butter

¼

cup

corn syrup
Instructions
For the Dutch Baby
Combine eggs, flour, milk, sugar, nutmeg, and vanilla in a blender jar and blend until very smooth. The batter may be mixed by hand.

Place butter in a heavy 10-inch cast iron skillet and place in the oven. As soon as the butter has melted add the batter to the pan, return the pan to the oven and bake for 20 minutes, until the pancake is puffed and golden. Lower the heat to 300 degrees and bake 5 minutes longer

Remove pancake from oven. Garnish with fruit, and powdered sugar and serve with Pomegranate syrup
Pomegranate Syrup
In a small saute pan, melt butter with syrup and pomegranate seeds. Cook for 2 minutes. Remove from heat and serve over pancakes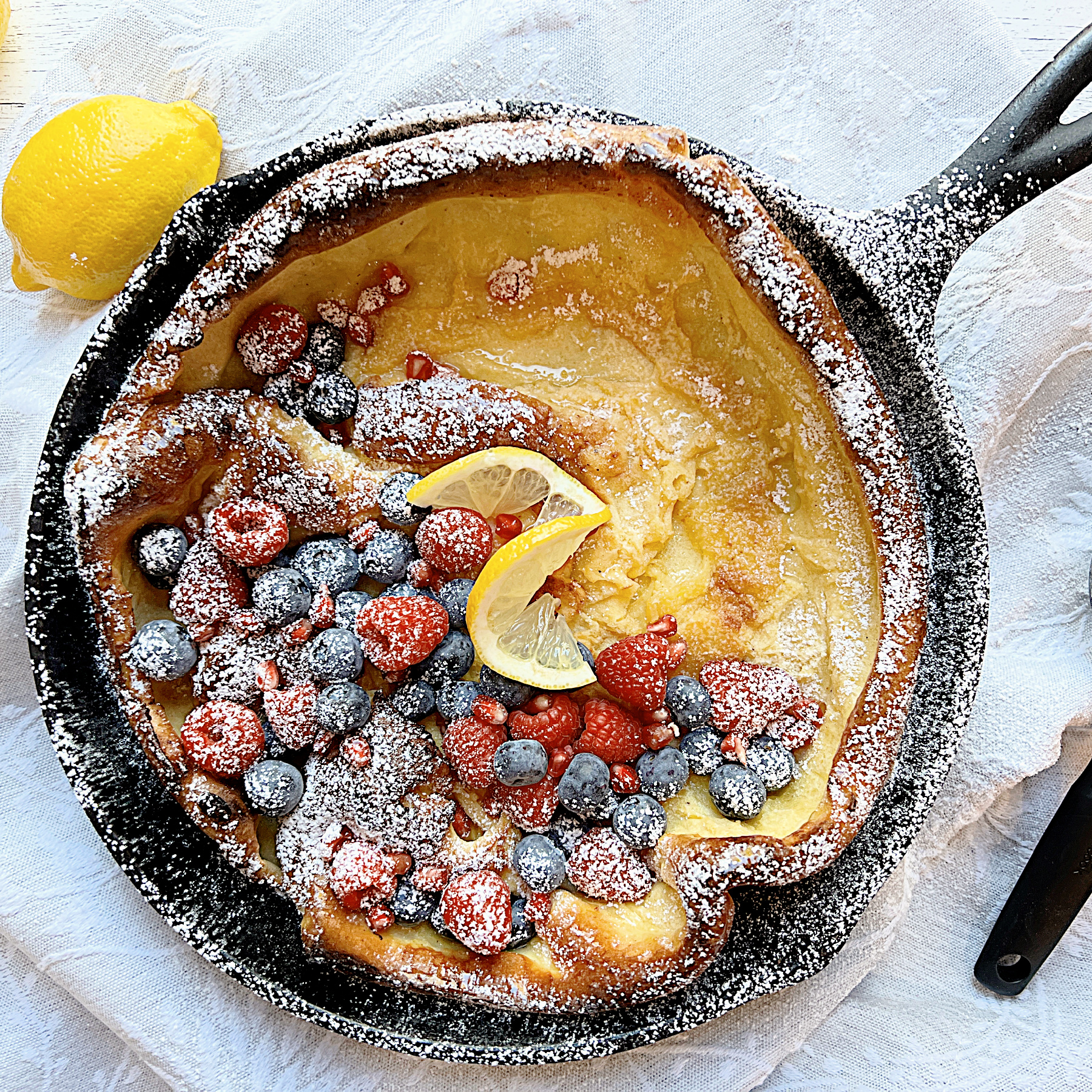 Award Winning Dutch Baby
My recipe for dutch baby pancakes has earned me over 14K in cash and prizes over the years. My first win utilizing the dutch baby base recipe was in 2015 at my very first large-scale competition, the World Food Championships, held in Kissimmee, Florida. I placed 4th in the world with the help of my first-round dish, Blackberry Hoisin Bacon Dutch Baby. This savory-sweet pancake was a huge hit with the judges.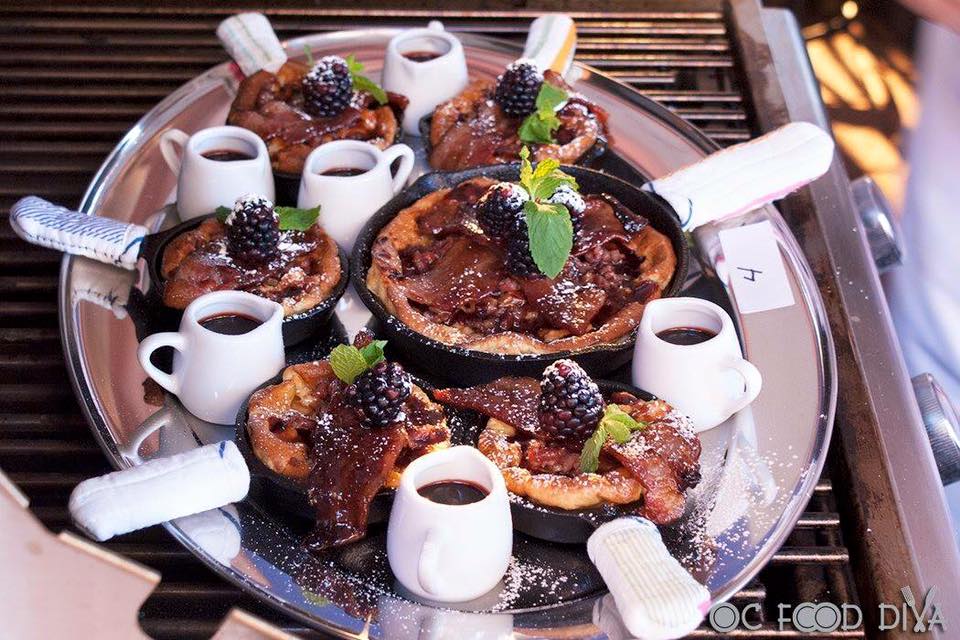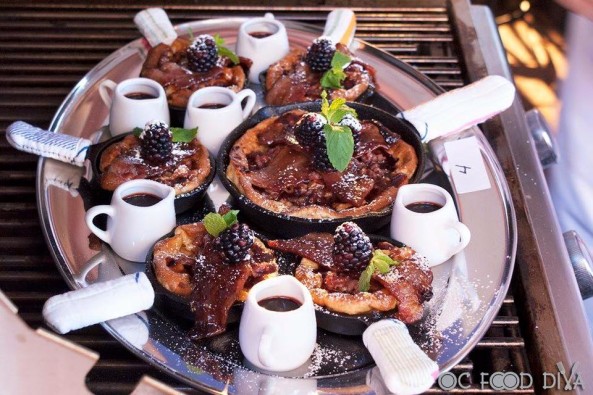 My next big win with my dutch baby recipe was in 2017 at the World Food Championships, held in Orange Beach, Alabama with my Dutch Crunch Pancakes with Peachy Pecan. I won the title of Bacon World Champion 10K in cash and prizes and a trip to the Final Table, held in Bentonville, Arkansas where I placed 8th among the Top Ten World division winners. Needless to say, dutch. baby pancakes are very near and dear to my heart! I hope you enjoy my recipe as much as I do.