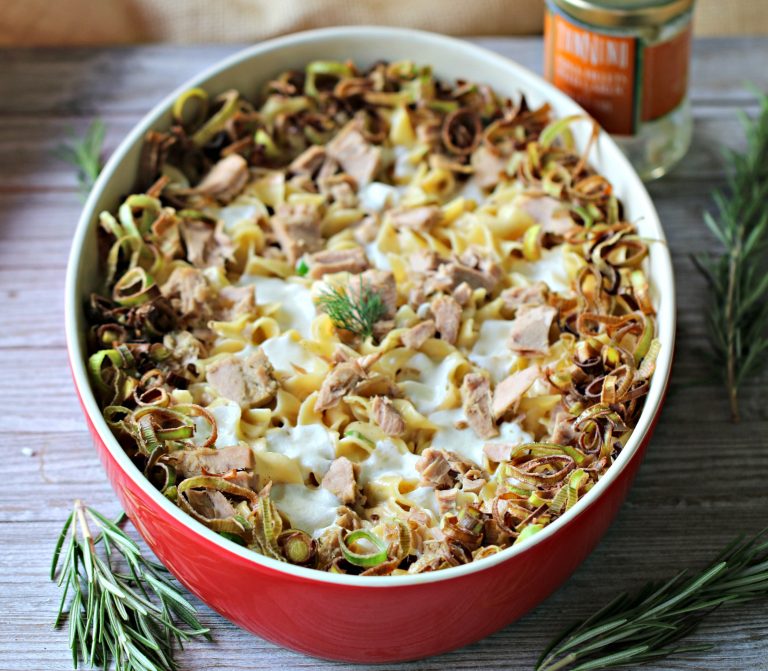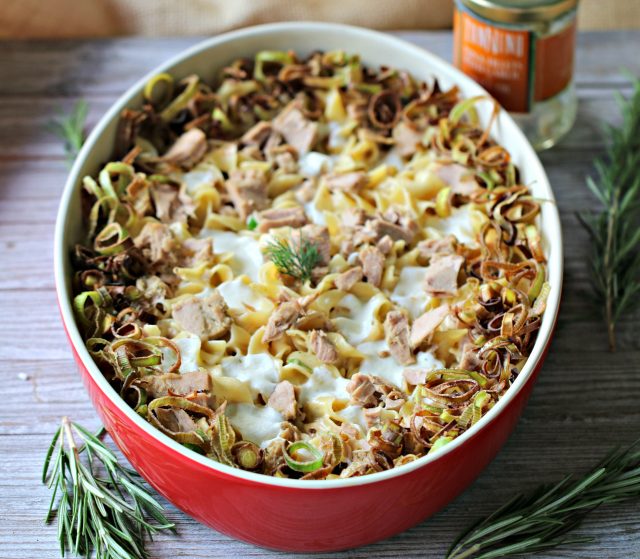 When I was young and single, I would spend my Sundays making several meals that were easy to store for several days in the refrigerator that I could later reheat and eat quickly.
One of my go-to meals was my Mother's Tuna Noodle Casserole. It was economical and pretty darned tasty despite the fact it was made with boxed pasta, undiluted canned soup and freeze dried onion strings.
The recipe I'm sharing today for the Inaugural Tonnino Tuna Blogger Recipe Challenge was inspired by my family recipe, yet is dramatically different and in my opinion tastes better too.
This is not yo momma's tuna noodle casserole!
This is my third and final recipe submission for the Entrée/Main Course Category. I chose to use the Tonnino Garlic Tuna for this recipe.
About The Contest
Tonnino Tuna is looking for inspirational ideas to create "Simply Better Tuna Recipes" that occur when creativity is fused with unexpected flavors and ingredients that are made with the best tuna served either hot or chilled that makes everyday dishes into gourmet dishes.

https://www.instagram.com/tonnino.tuna/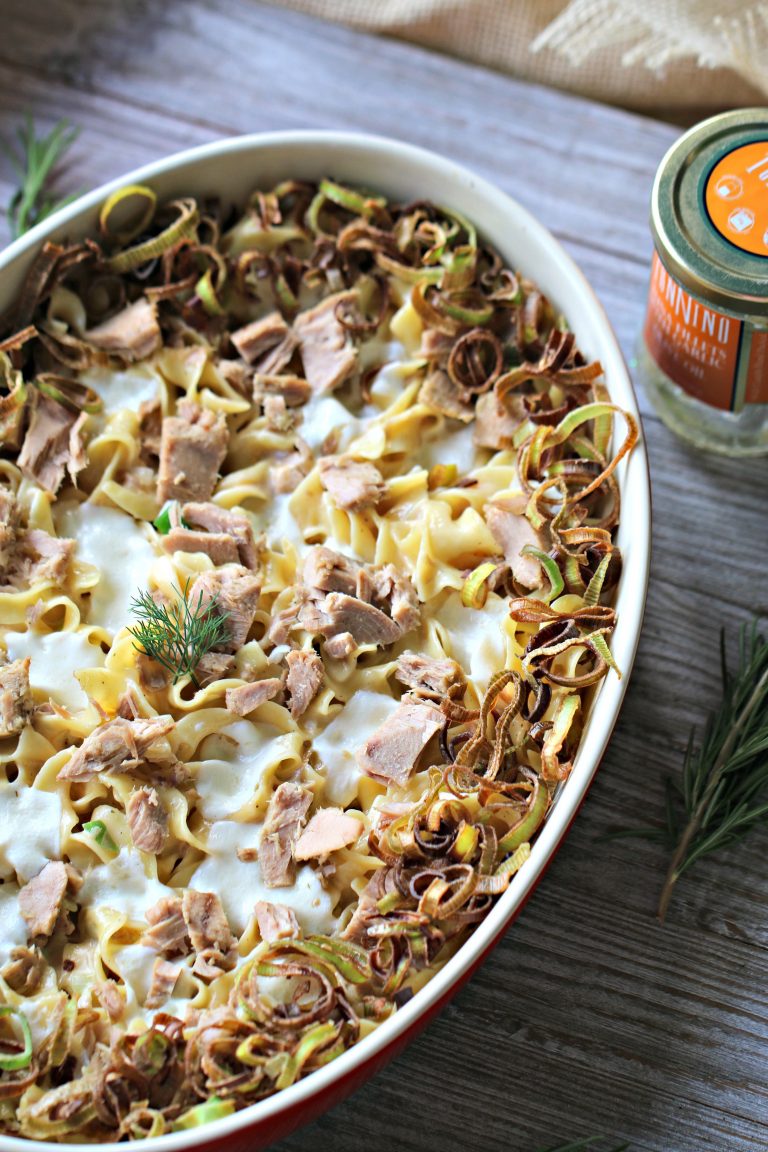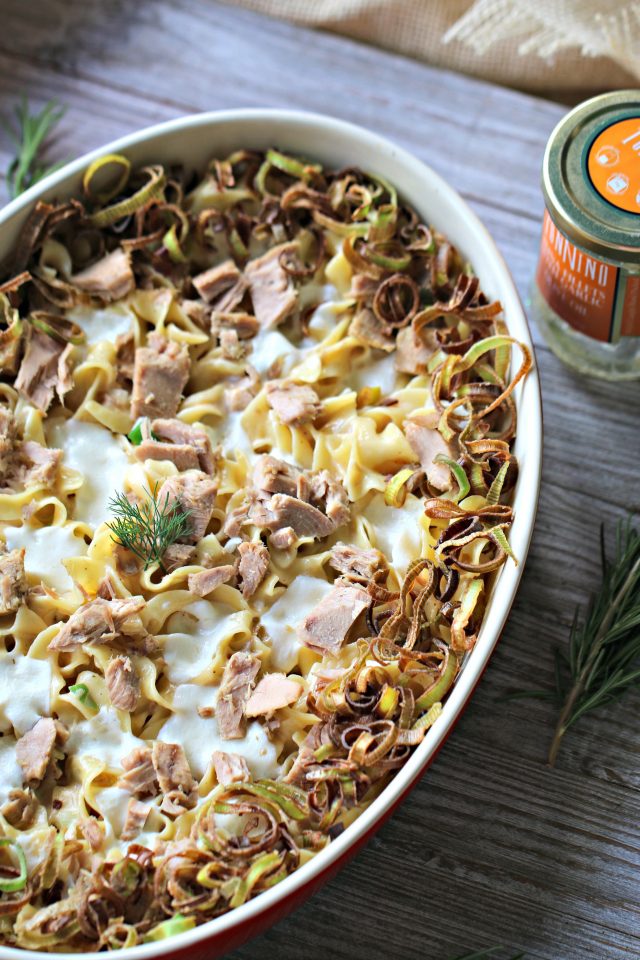 Simply Better Tuna Recipes
I think my recipe is simply a better tuna recipe given the fact I'm using Tonnino Tuna; some of the finest cuts of wild-caught yellowfin tuna in the world as their of the highest quality and made with fresh ingredients.
No more canned, undiluted soup or processed freeze dried onion strings; everything is made from scratch in my recipe. The combination of cream cheese, fresh mozzarella, heavy cream, shredded cheddar cheese and butter gives this tuna noodle casserole a decadent, creamy and rich personality. Sliced leeks are quick fried to make the best crunchy onion topping around and they are a cinch to make.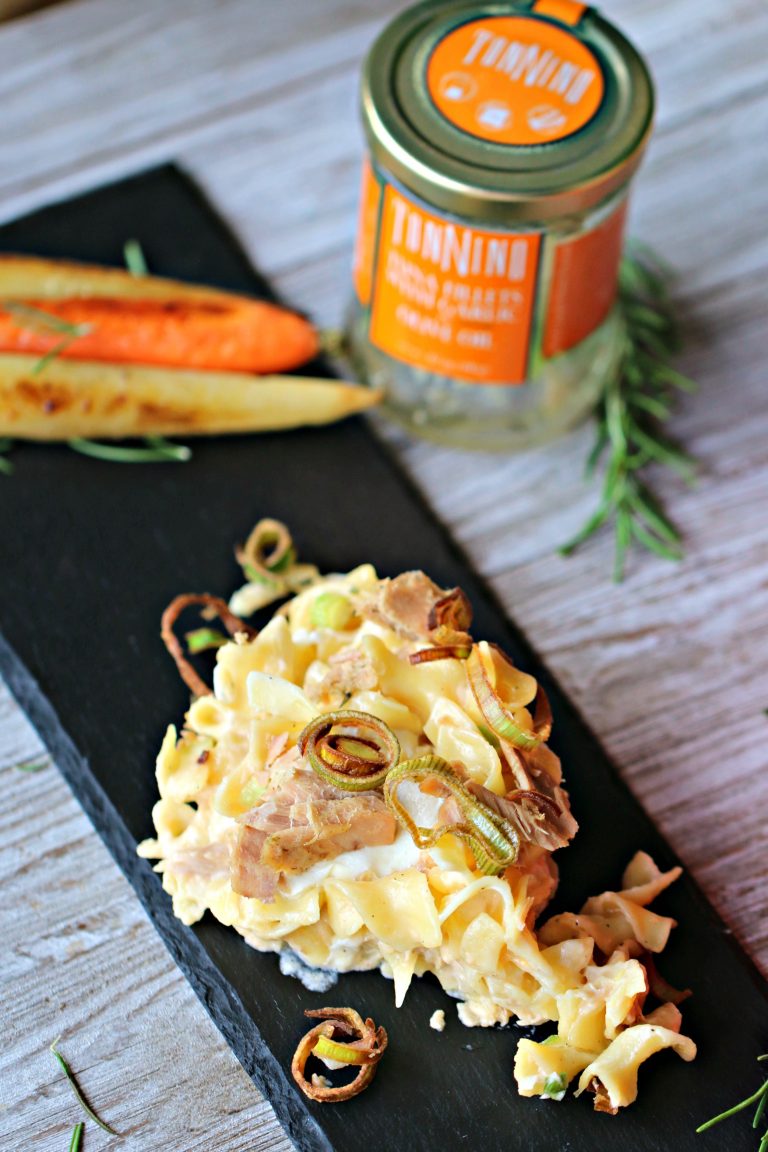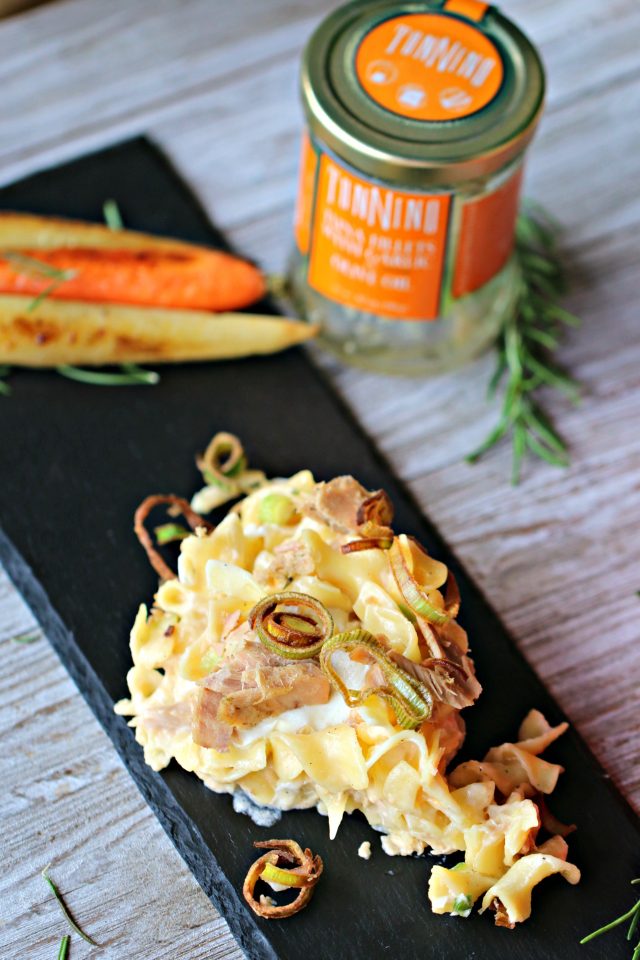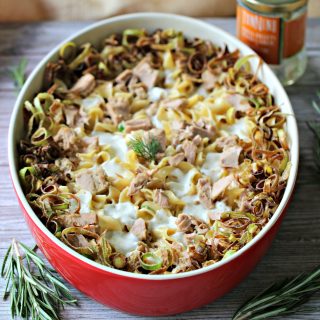 Not Yo Momma's Tuna Noodle Casserole
Tonnino Tuna Blogger Recipe Challenge - Entrée/Main Course Category
Ingredients
2 6.7-

ounce

jars Tonnino Garlic Tuna Filets

drained, divided

1 12-

ounce

package wide egg noodles

cooked and drained

2

tablespoons

butter

4

ounces' room temperature cream cheese

½

cup

heavy cream

½

cup

whole milk

½

teaspoon

garlic salt

½

teaspoon

celery salt

½

teaspoon

onion powder

½

teaspoon

white pepper

1

cup

shredded cheddar cheese

2

cups

leeks

sliced thinly, white and tender green parts only

½

cup

flour

¼

teaspoon

season salt

1

cup

vegetable oil for frying

1 8-

ounce

package fresh mozzarella

cut into chunks
Instructions
Pre Heat oven to 350 F.

Cook wide egg noodles to manufacturer's instructions. Once the noodles are tender and drained, return them to the boiling pot. Add 2 tablespoons butter and stir hot noodles to coat and keep the noodles from sticking.

Drain oil from Tonnino Garlic Tuna Filets. Discard oil.

Flake tuna into large pieces. Divide tuna in half.

In a separate medium bowl, combine cream cheese, cream, milk, garlic salt, celery salt, onion powder, white pepper, half the Tonnino Garlic Tuna, and cheddar cheese. Blend with a spatula or hand mixer to combine.

Add the mixture to the noodles and stir until the noodles are coated and the mixer is well dispersed. If the noodles seem dry, add ¼ cup milk

Lightly butter a 12 ¼" x 8 ¾" x 2" deep casserole dish. Pour noodle mixture into dish.

Cut the mozzarella into large chunks. Dot the top of the noodle mixture with flaked tuna and mozzarella cheese.

Cover the casserole with foil and bake for 30 minutes.

While to casserole is baking: Wash leeks very well in cold water, removing sand and debris. Slice leeks very thinly up to the tender green area of the leeks. Dark green leek leaves are very tough.

Pour ½ cup flour into a shallow dish and stir in season salt. Add sliced leeks and toss them in the flour mixture, coating all sides.

Heat oil in a medium sauce pan 375 degrees F (190 degrees C). Shake off any excess flour and fry leeks in hot oil until lightly browned, about 2-3 minutes. Drain on a paper towel

Right before serving the casserole, top with fried leeks.

Enjoy!
Notes
The leeks cook very quickly. Be sure to watch them closely and stir often
By Rebecka Evans
FOLLOW AND PURCHASE TONNINO TUNA
You can purchase Tonnino Tuna at Whole Food Markets and follow Tonnino Tuna on Instagram and Facebook:
https://www.instagram.com/tonnino.tuna
/https://www.facebook.com/TonninoTuna/
#temptingyourtaste #tonninobloggerchallenge