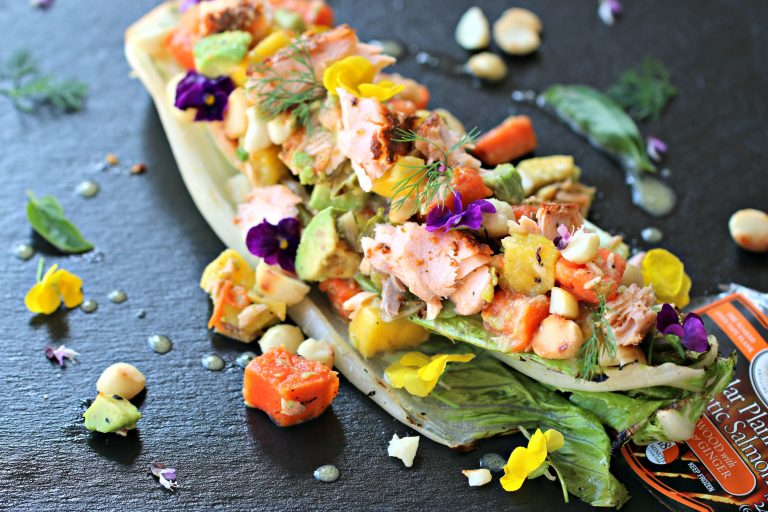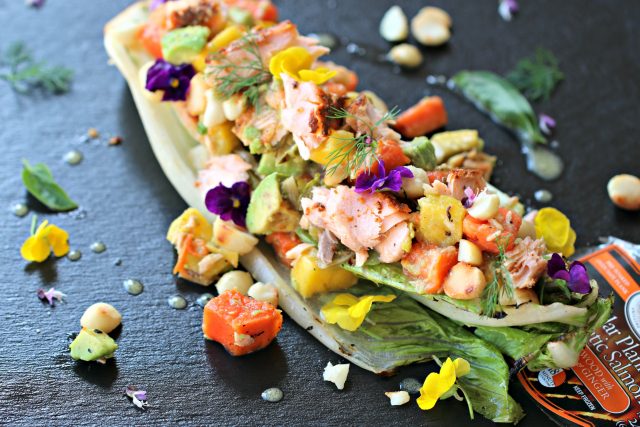 Cedar Planked Grilled Salmon Salad is so refreshing this time of year, and a cinch to make using Cedar Bay Grilling Company's pre-seasoned cedar planked salmon.
Cedar Bay Grilling Company takes all the guess work out of preparation when it comes to seasoning and grilling planked salmon. Cedar Bay salmon products come pre-seasoned and ready to be placed directly into the oven or onto the BBQ with little-to-no preparation required.
This recipe is my third and final submission for the Blogger Recipe Challenge, entered in the Grilling Category.
About the Challenge
This recipe was created for the inaugural Cedar Bay Grilling Blogger Recipe Challenge and open to 50 bloggers. I was honored to be chosen to create up to three recipes and compete for a chance to win up to $1500.00.
Listed below are the three categories within the challenge:
One Grilling Category Winner: $500.00 Cash Prize
One Entree Category Winner: $500.00 Cash Prize
One Entertaining / Appetizer Category Winner: $500.00 Cash Prize
Bloggers received two free samples for testing and recipe creation: Sugar & Spice 24 oz Cedar Planked Atlantic Salmon and one 24 oz Applewood with Orange & Ginger Cedar Planked Atlantic Salmon. Both flavors are absolutely delicious and a breeze to make.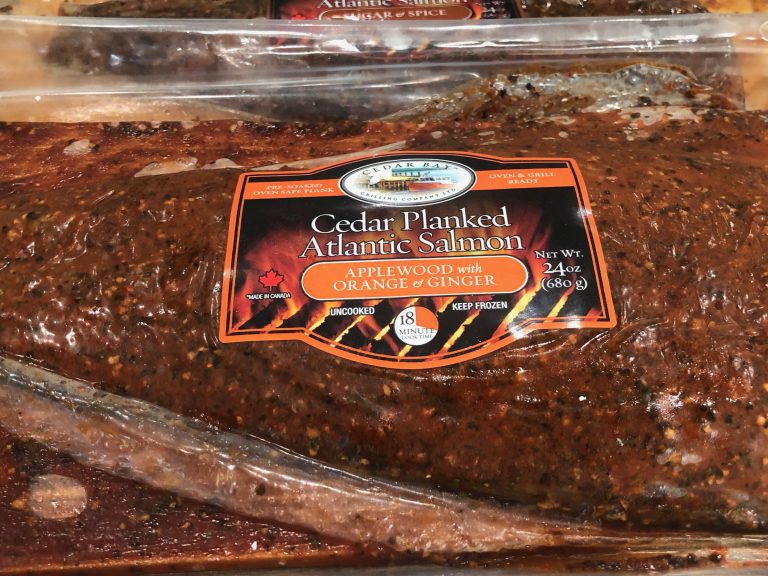 The flaky texture of the Orange Ginger Cedar Planked Atlantic Salmon is accentuated by the addition of grilled Hawaiian fruits, avocado and toasted macadamia nuts; bringing a delicious texture along with a smokey flavor of summer to the dish.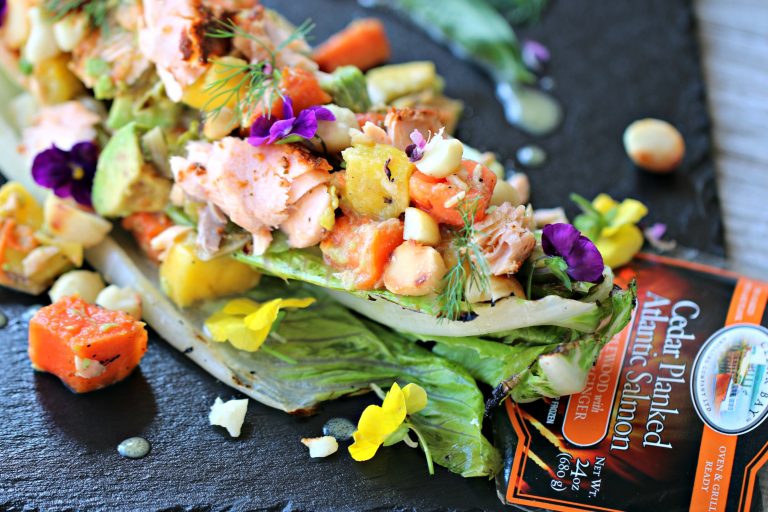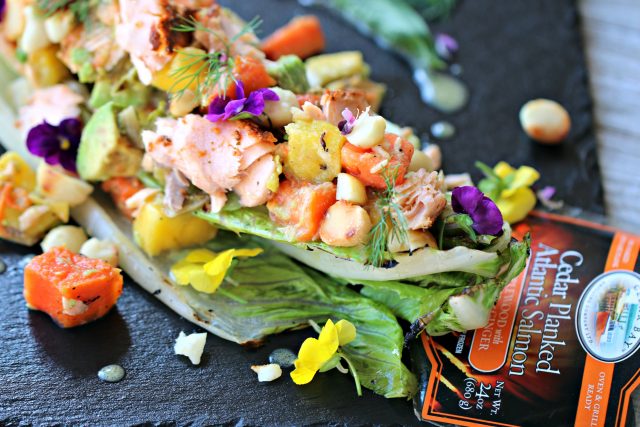 FINEST QUALITY PRODUCT
The folks at Cedar Bay Grilling Company have really out-done themselves producing the highest quality and flavors for their pre-marinated and planked salmon. It's the best I've ever made or tasted.
At Cedar Bay, we do extensive research and recipe testing to establish flavor selections that will appeal to varying taste preferences. Only the best grade of Atlantic Salmon passes our quality assurance testing – we hand-select every piece that makes it into our production process.

Source: Cedar Bay Grilling Company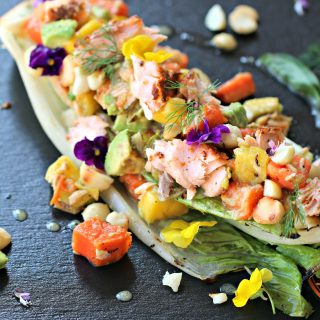 Cedar Planked Grilled Salmon Salad
Cedar Bay Grilling Company Blogger Recipe Challenge: Entry Grilled Category Cedar Planked Grilled Salmon Salad
Ingredients
2

cups

Cedar Bay Grilling Company Orange Ginger Cedar Planked Salmon

flaked

2

Heads Romaine lettuce

cut in half lengthwise

½

cup

chopped mango

1

cup

chopped pineapple

1

cup

chopped avocado

1

cup

chopped papaya

seeds removed

1

cup

toasted macadamia nuts

1

teaspoon

olive oil

Dressing

⅓

cup

rice vinegar

2

tablespoons

brown sugar

¼

cup

olive oil

¼

teaspoon

sea salt

⅛

teaspoon

dry mustard

1

tablespoon

mayonnaise
Instructions
Grill Cedar Bay Grilling Company Orange Ginger Atlantic Salon to manufacturer's instructions. Remove from grill and allow to cool slightly before flaking with a fork.

Cut Romaine lettuce in half lengthwise, leaving the root uncut so all leaves stay together.

Cut mango, papaya, pineapple into 1 ½ inch-thick slices.

Cut avocado in half and remove pits.

Brush lettuce, fruit and avocado with 1 teaspoon olive oil

Grill lettuce cut side down on 400-degree for 2-3 minutes. Don't overcook.

Grill fruit and avocado until nicely charred with grill marks. Grill only the cut side of avocado and remove peel before chopping.

Chop grilled fruit into bite sized pieces.

Combine dressing ingredients and pulse in a small food processor until emulsified.

Toast macadamias in a dry pan for 2-3 minutes. Chop roughly and set aside.

Add ½ cup flaked Cedar Planked Salmon, grilled fruit and avocado to a large mixing bowl. Pour dressing over and gently toss ingredients together.

Serve the mixed salad over grilled Romaine lettuce wedges. Equally divide remaining grilled salmon chucks and sprinkle over wedges.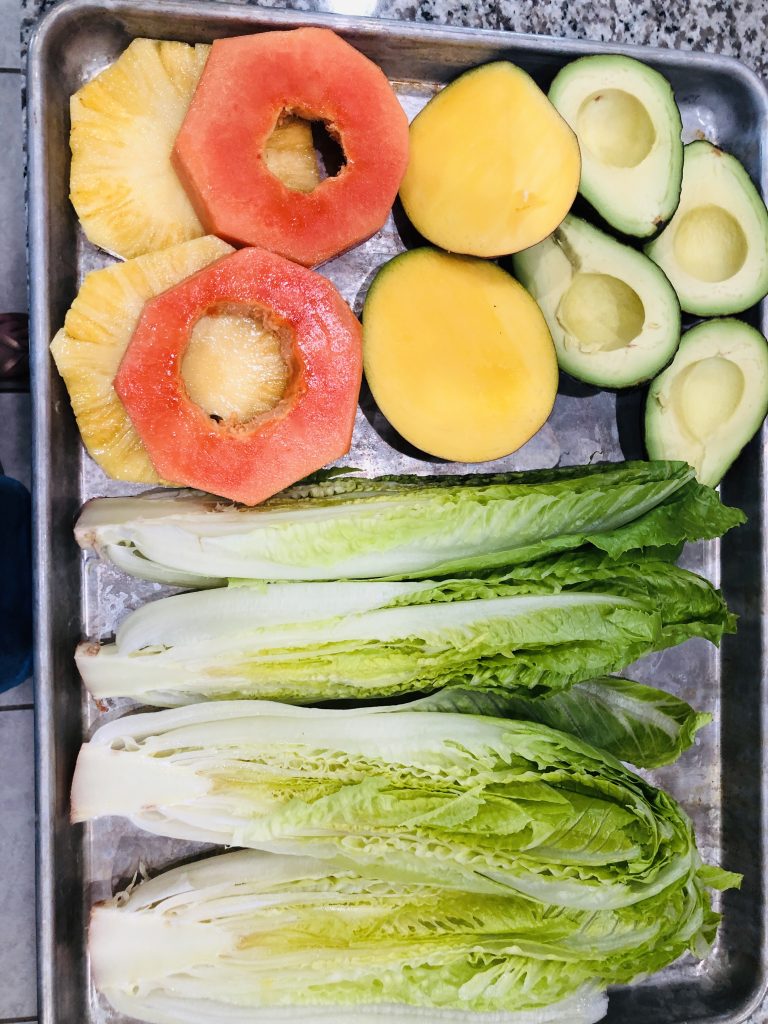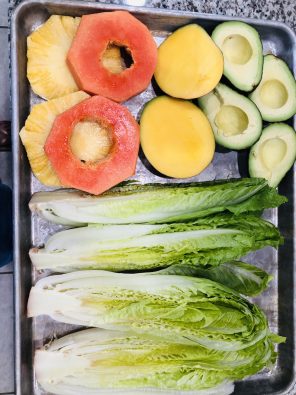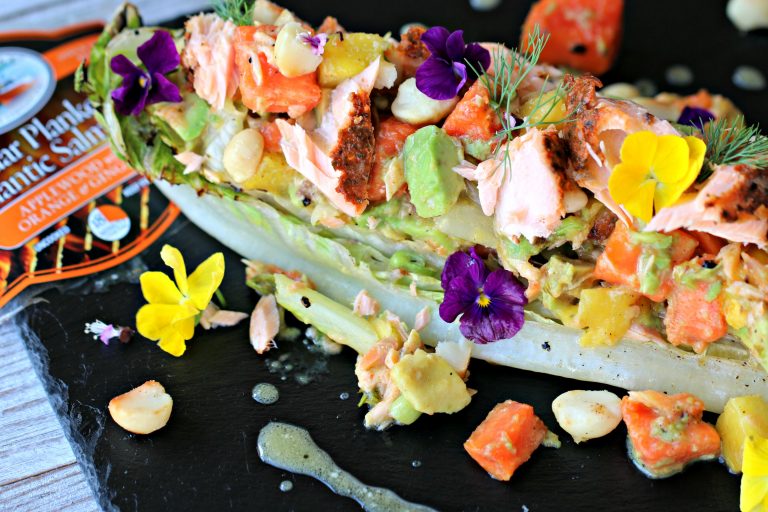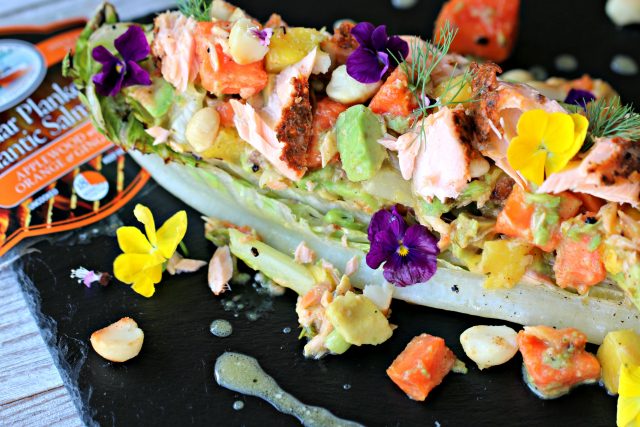 AT A GROCER NEAR YOU
You can find Cedar Bay Grilling Company products at these local area markets: Kroger, Publix, Hannaford, Safeway, Albertsons, Fred Meyer, Ralph's, Giant, Giant Eagle, Stop n' Shop, and Roche Bros.
FOLLOW CEDAR BAY GRILLING COMPANY
Facebook: https://www.facebook.com/cedarbaygrilling/
Twitter: https://twitter.com/cedar_bay
Instagram: https://www.instagram.com/cedarbaygrillingcompany/
#cedarbaygrilling #cedarbaysalmon #cedarbayrecipechallenge