Creamy Horseradish Filet Mignon with Hot Raspberry Dressed Broccoli Rabe and Sugar Plum Tomato Saute`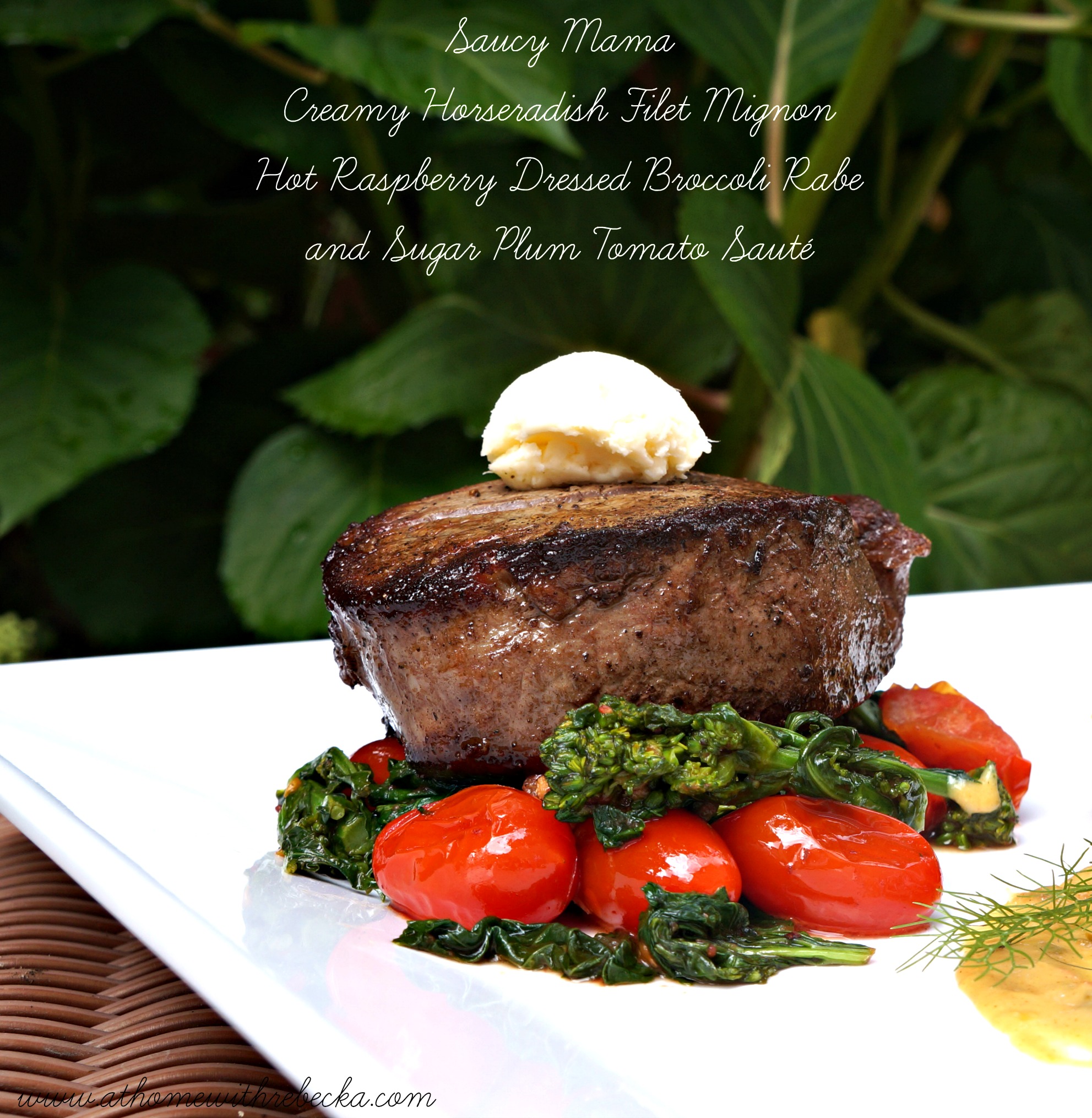 After taste testing the individual mustards and sauces Barhyte's Speciality Foods sent me to use for their World Food Championship qualifying recipe contest, I was inspired to make this dish: Creamy Horseradish Filet Mignon with Hot Raspberry Dressed Broccoli Rabe and Sugar Plum Tomato Saute`. A real mouthful for a recipe title and a tasty one to boot!
I was thrilled with the flavors and final result of the recipe. However, I made a cardinal error when shooting my photos of the dish. As you may have already noticed, I forgot to place the Saucy Mama products used in the recipe when shooting the completed dish, making the horseradish filet mignon recipe ineligible for the contest.
Feeling deflated and frustrated with myself, I had to consider my options. After all that work, the only way I could use this recipe as an entry in the competition was to go back to the grocery and buy another set of ingredients and get them cooked and re-photographed. Ugh! I knew that recreating the dish and setting up to photograph would take another full day away from other recipe creations. The real kicker, and final decision maker, was the fact that filet mignon is NOT cheap! I had to stop right there; I knew this recipe was not the "one" for the competition because it was so expensive to recreate.
The good news... I'm sharing the horseradish filet mignon recipe because it is freaking delicious!
A little more costly than your regular weeknight dinner but perfect for entertaining guests or your special someone.
I'm picturing the Saucy Mama products I used in the recipe with links to their website.
First up: Saucy Mama Creamy Horseradish, used to make creamy horseradish compound butter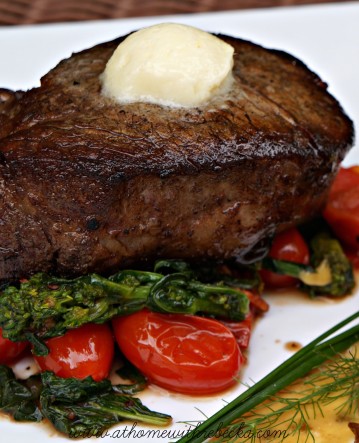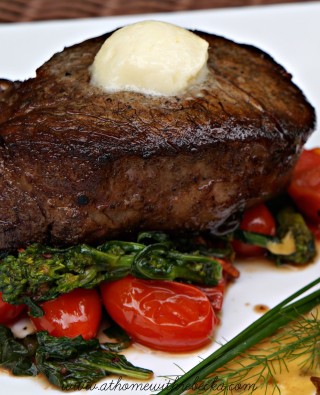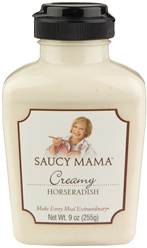 Next Up: Saucy Mama Raspberry Vinaigrette Dressing, used to make hot raspberry dressed broccoli rabe and sugar-plum tomato sauté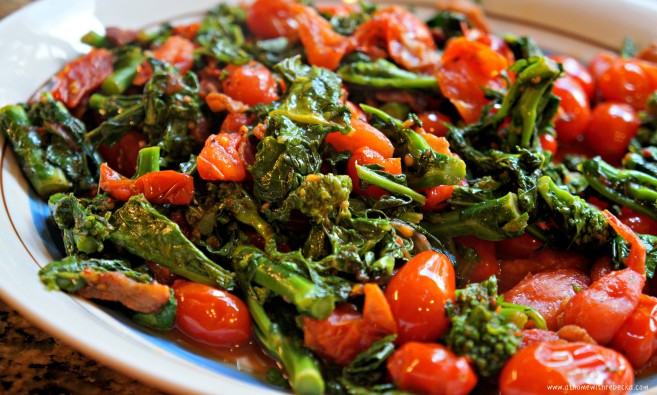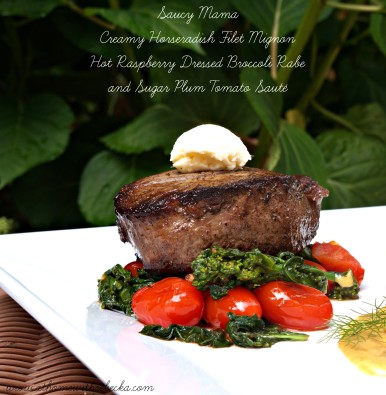 Saucy Mama Creamy Horseradish Filet Mignon with Hot Raspberry Dressed Broccoli Rabe and Sugar Plum Tomato Saute
2015-05-31 21:43:34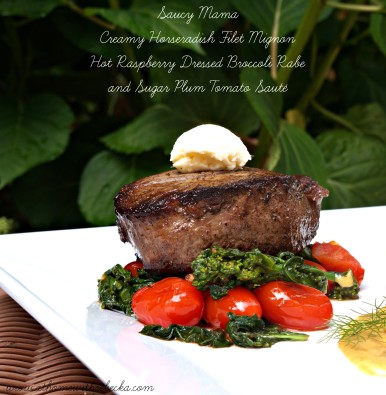 Serves 4
Ingredients
4 1 inch thick cut filet mignon
1 bunch broccoli rabe
2 cups sugar plum grape tomato
1 minced shallot (about 1 tablespoon)
1 tablespoon brown sugar
½ cup Saucy Mama Raspberry Vinaigrette
1 ½ tablespoon olive oil
3 tablespoons unsalted butter
salt and pepper to taste
For the Compound Butter
1 tablespoon Saucy Mama Creamy Horseradish sauce
1 sticks unsalted butter
For the Compound Butter
Let 1 stick of butter rest at room temperature for 30 minutes, whisk with Saucy Mama Creamy Horseradish until until smooth, cover and refrigerate until ready to use
For the Broccoli Rabe
Rinse broccoli rabe and tomatoes in cold water, let drain on clean towel
Roughly chop broccoli rabe
Heat large nonstick or cast iron skillet over medium high heat
Add 1 tablespoon olive oil to hot pan
Add shallots and tomatoes, blister tomatoes in shallot oil until very hot and skins begins to burst, add broccoli rabe, toss to combine and continue cooking over medium high for 3 - 5 minutes or just until broccoli begins to wilt, reduce heat to medium
In a small bowl combine Saucy Mama Raspberry Vinaigrette and brown sugar, blend well to combine
Pour vinaigrette over cooked broccoli rabe,
Cook for 1 minutes tossing to coat, season with salt and pepper
For the Filet
Season both sides of filet with sea salt and fresh cracked black pepper, set aside
Heat a heavy bottom or cast iron skillet over medium high heat
Add ½ tablespoon olive oil to pan, very shortly after add 2 tablespoons butter (adding butter to hot olive oil raises the smoke point of butter allowing for less buring over higher heat)
Once the butter has stopped bubbling add the filets, cook one side for 6 minutes without turning, while the meat is cooking, braise meat by spooning hot butter over the top of each filet
Add 1 more tablespoons butter to the pan, turn filets over and cook additional 4 minutes for medium cooked steaks
Allow filets to rest 4-5 minutes prior to serving
While steaks are resting, dollop a tablespoon of the cold compound butter onto each filet
Serve with sauteed broccoli rabe
AT HOME WITH REBECKA https://athomewithrebecka.com/
Creating recipes for the Saucy Mama's World Food Championship qualifier has been an incredible experience for me. The products are superb and lend themselves to a myriad of different uses when combining flavors, creating new dishes.