Meringue crepes with strawberries foster flambe is an elegant dessert, perfect for any special occasion!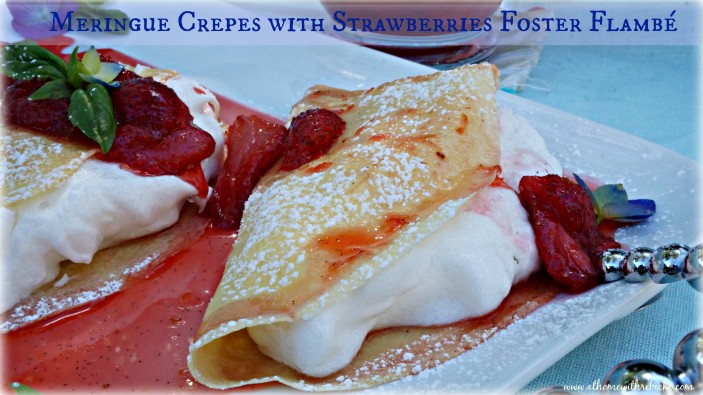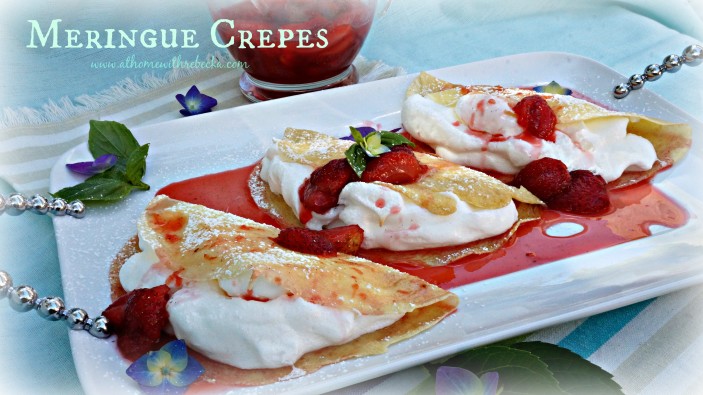 Recipe Redress, Meringue Crepes and an Interactive Dinner Party: Today I'm sharing a little recipe redress after failing miserably to teach a group of women how to make meringue crepes at an interactive dinner party a few weeks ago. My friend Valerie, the owner of Good Life Food & Events, asked me to assist her in the kitchen for this event and share my expertise in canning rose petal jelly, and finish the evening off by teaching the ladies how to make stunning meringue crepes with strawberries foster flambe.
I had the meringue crepes recipe all worked out in my mind and felt confident in my skills. So much so, I didn't take the time to practice the recipe before helping with the event. My brilliant idea for this recipe was to make a vanilla bean meringue. My mind's eye imagined how lovely the meringue would be, dotted with vanilla bean flecks, all puffed and golden on the top, then drizzled with a sweet strawberries foster and finally, flambed to create an end of the evening wow factor.
As a recipe creator, I spend hours going over ideas like this in my mind. Some work out beautifully and others do not. Since Valerie was expecting great things from me, and these were her clients, I should have taken the time to make the recipe before committing to it heart and soul. Lesson learned!
What I didn't consider in my imagination, was the cardinal rule for ALL meringues...NO OIL of any kind, or it will fail. It failed because vanilla bean has a ton of natural oil in the pod. Had I taken just a few seconds to flip through the pages of my cooking memory knowledge, I may have reconsidered the idea for "vanilla bean" meringue, but I didn't.
Sadly, what came out of the oven that night was a flat mess. I served meringue crepes that were overcooked and tough, with a meringue that was flat like a pancake. What made the moment doubly embarrassing, was the final flaming of the strawberries foster. The special moment was not a spectacular one, it was more like a firework dud! We forgot to turn off the lights, so the big finale was a bust as well!
It's not in my nature to let things go, and as a professional in a teaching environment such as this, I was mortified by my mistake. Afterwards, I knew exactly what had happened, but it was too late to fix it. That's what I get for being thick headed. Thankfully, the ladies were gracious and ate the dessert without a harsh word, even remarking kindly on the flavor. Valerie, was the consummate professional and most graciously understood that sh*# happens. Thank you my friend!
So now, for all the ladies that attended the event, and for my friend Valerie, I'm recreating the dish with all the original components, and in the right context. I need to mention, it took me three tries to get it right in my kitchen during recreation. Next time I think we should make pie!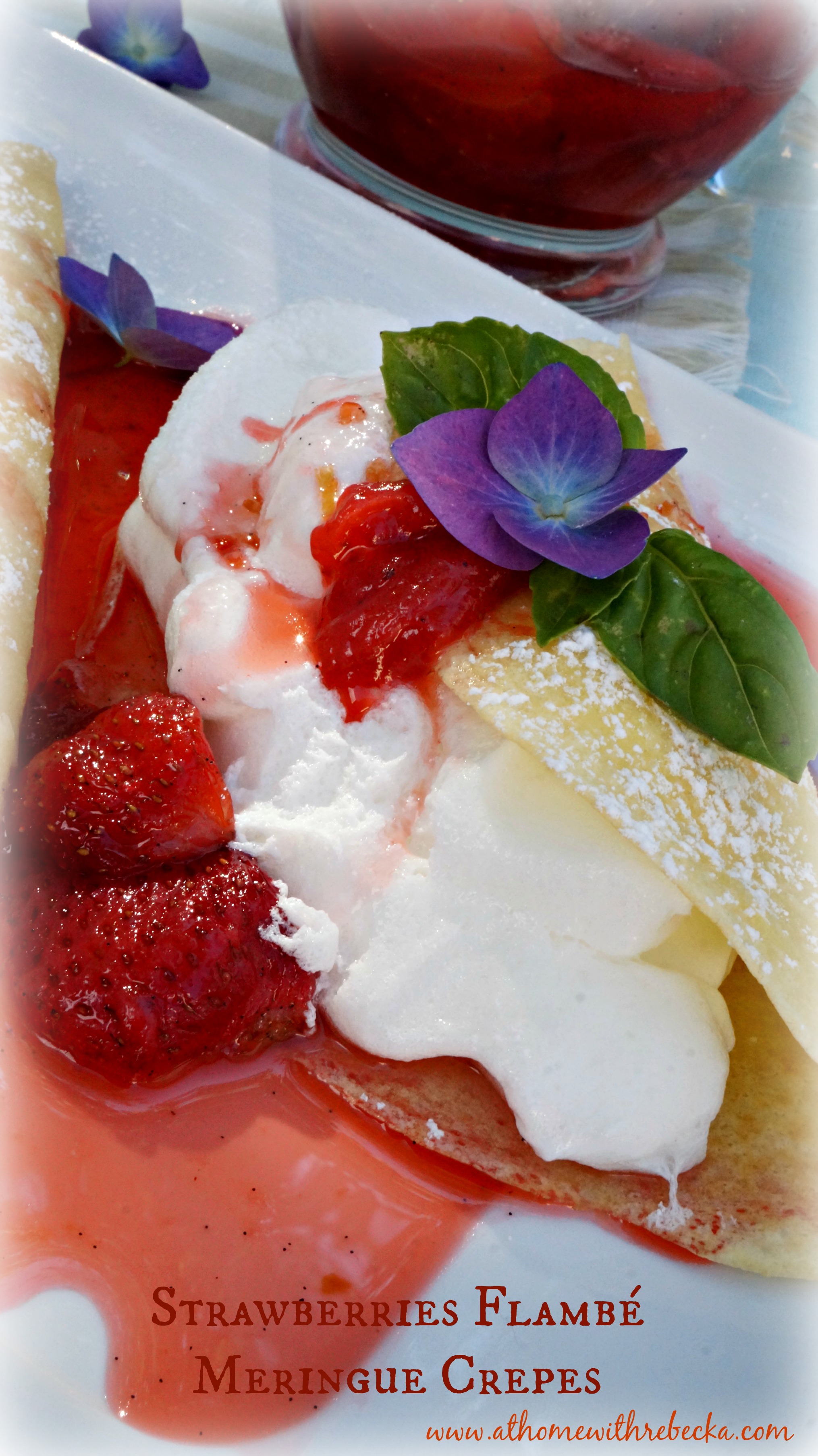 Meringue Crepes with Strawberries Foster Flambe
The recipe for the crepes is attributed to Valerie from Good Life Food & Events
Ingredients
For the Crepes
2

large eggs

1

cup

milk

½

teaspoon

salt

1

cup

flour

2

Tablespoon

flour

½

vanilla bean split and scraped
For the Meringue
3

large eggs whites

1 ½

Tablespoon

sugar

1

teaspoon

cream of tartar

pinch

salt
For the Strawberries Foster Flambe
2

cups

strawberries

1

teaspoon

butter

1

cup

sugar

Zest of 1 lemon

½

vanilla bean split and scraped

¼

cup

Cointreau Liqueur

or brandy

⅛

cup

brazilian cachaca

or brandy

confectioner sugar for dusting
Instructions
For the Crepes
Place all ingredients in a blender and blend well

Allow batter to rest for 30 minutes (batter can be made the night before and kept in the refrigerator)

Place a 8 inch nonstick skillet over medium heat, spray pan with non-stick oil

Place ¼ cup of batter into center of hot pan, and swirl the batter to coat the pan, making a thin pancake

When edged start to dry, lift edge gently with spatula and flip to other side and cook for one minute

Repeat and stack crepes until batter is gone (crepes can be made ahead of time, wrapped in plastic and refrigerated)
For the Meringue
Preheat oven to 350 degrees F. place rack in middle position

In a very clean glass or metal bowl beat pinch salt and egg whites with hand mixer on medium high setting, until they just hold stiff peaks

Add cream of tartar, continue beating for a few seconds to disperse

Slowly add sugar and beat till hold stiff peaks

Line a cookie sheet with a silpat or parchments (if using parchment, spray with nonstick oil)

Place crepes on baking sheet

Divide meringue mixer evenly, spooning it over only one half of the crepe. Genlty fold the other half of the crepe over the filling to rest on top. Bake until filling is set, and slighlty browned about 8-12 minutes

Top crepes with strawberries foster and dust with confectioners sugar
For the Strawberries Foster Flambe
Using a drinking straw, poke the straw through the small end of the strawberry through to the other side, removing the green flowery stem. Wash and pat dry

Slice strawberries in quarters, smaller berries can be cut in half

Heat a large saucepan over medium high heat, melt butter in one side of the pan, add the vanilla bean and whisk until thoroughly combined

Pour strawberries over butter, keeping to one side of the pan

In the other side of the pan, begin to melt the sugar (sugar will not totally melt, the idea is to get some of the sugar to caramelize)

Toss the berries in the butter and vanilla bean mixture to coat while sugar is melting

When sugar has slightly melted add lemon zest and combine all the ingredients together

Cook stirring for about 1 minute

Carefully add the liquor and ignite with stick lighter. Watch the flame until it subsides (remember to turn off the lights)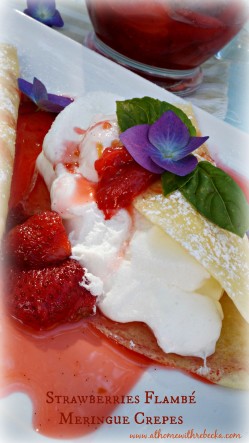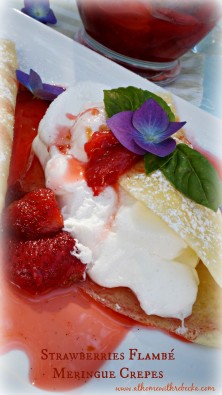 Despite the few mishaps, the evening was a great success.
Here's a quick look at Valerie's' Menu and a few photos of the dishes the ladies learned to make and more information about Good Life Foods & Events
Spring's Bounty
Cocktail
Cucumber Gimlet
Appetizers
Rose Petal Jelly with La Tour Cheese & Crackers
Italian Stuffed Artichokes
Salad
Grilled Beet Salad with Creamy Goat Cheese, Almonds & Edible Flowers
Main Course
Asparagus Risotto
Pumpkin Seed Crusted Mahi Mahi
Lemony Sugar Snap Peas with Cucumber, Mint & Feta
Dessert
Strawberries Foster with Crepes & Vanilla Bean Meringue (see the new recipe Meringue Crepes with Strawberries Foster Flambe)
More information about Good Life Foods & Events:
Good Food...Good Friends...Good Times
Essential to a good life is gathering with friends and family
around a beautiful table filled with delicious food. Good Life Food & Events can help you enjoy all the special occasions in your life. With fabulous food, years of
event planning experience, and personalized service, you are assured only the best!
Catering & Event Planning
Interactive Dinner Parties
Private Cooking Lessons
(925) 451-9176
[email protected]
My mission is to deliver exceptional cuisine and outstanding service
so my clients can experience "Good Food...Good Friends...Good Times."~ Chef Valerie