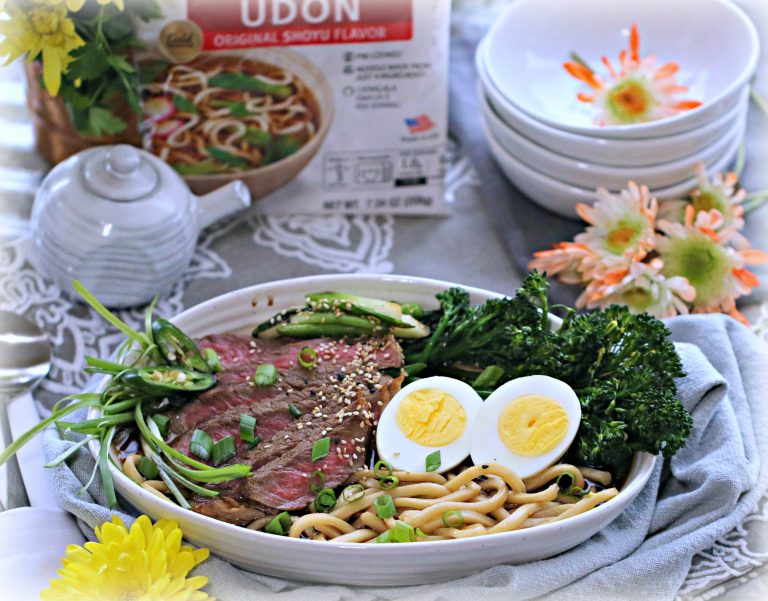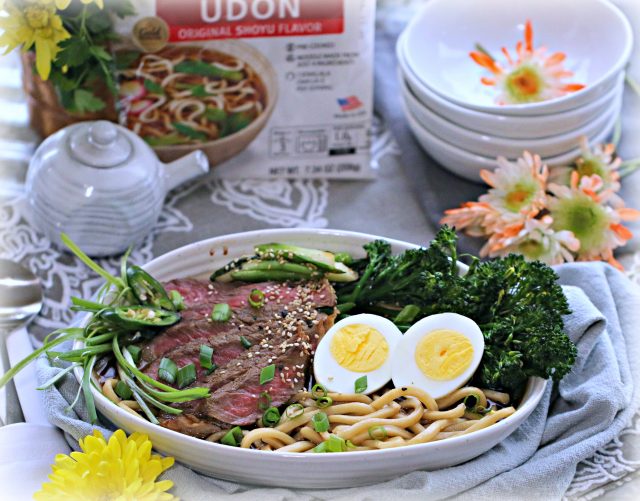 Fortune Noodle Company
I was invited by the folks at Fortune Noodle Company to participate in their most recent blogger recipe challenge, "SOUP". The contest involved the creation of inspired soup recipes using Fortune's Udon noodles, which come in 3 delicious flavors: Original, Chicken and Mushroom. I chose the Original flavor for my recipe; Shoyu Steak and Egg Udon with Ginger Chili Broccolini.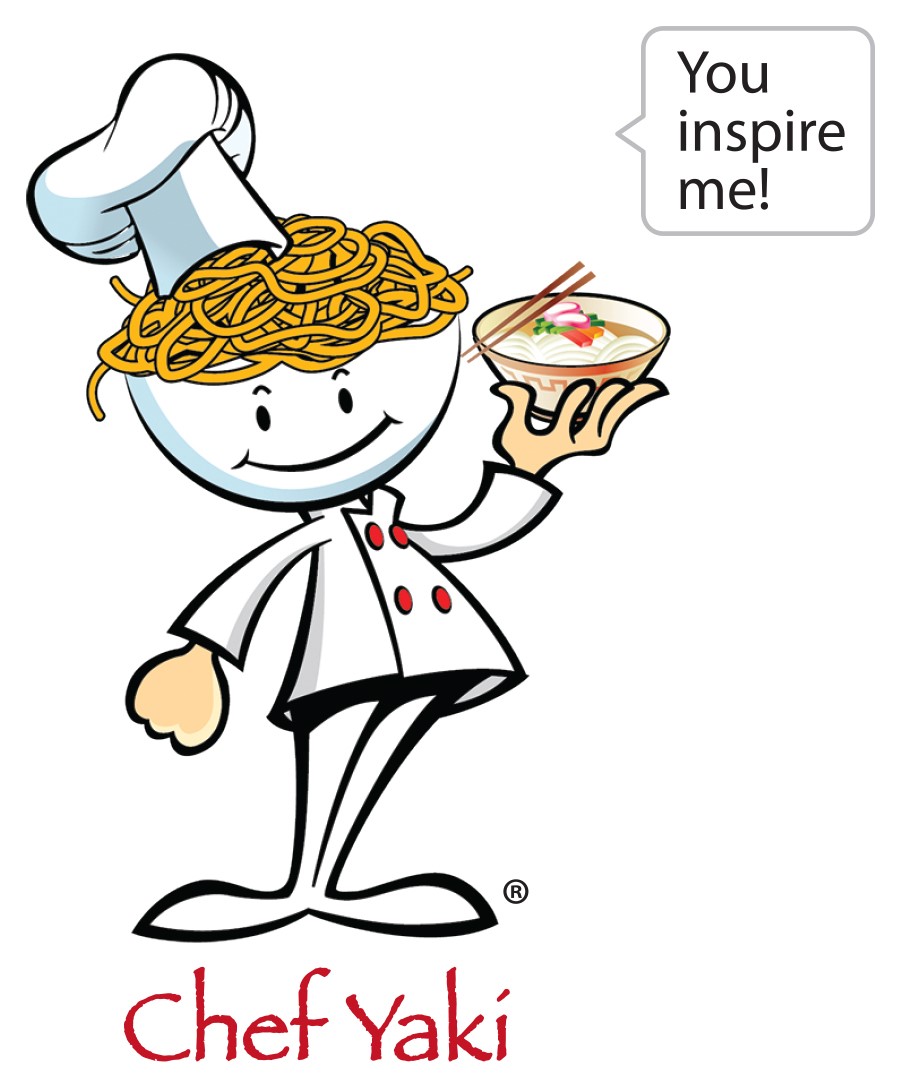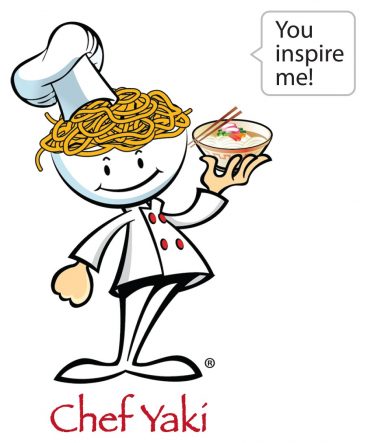 Inspired by Fortune Noodle Original Flavor
Inspired by the Fortune Noodle Original Shoyu Flavor, I utilized half of the included flavor packet, combined with a touch of salt and pepper to season a 15-ounce New York Strip steak. The steak is then seared to a medium temperature in sesame oil. I also decided to toss a few spring onions in the pan to add fresh flavor and color before finishing the steak with a splash of soy sauce.
The broccolini receives a flare of spice from fresh ginger and sliced Serrano chili's, which is then balanced by the creaminess of boiled eggs. In order to create a rich brown broth, I added a cup of beef stock in addition to a cup of water with the remaining Shoyu season packet and of course, the Fortune Udon Noodles.
My Shoyu Steak and Egg Udon with Ginger Chili Broccolini is the perfect meal for a cold winter night!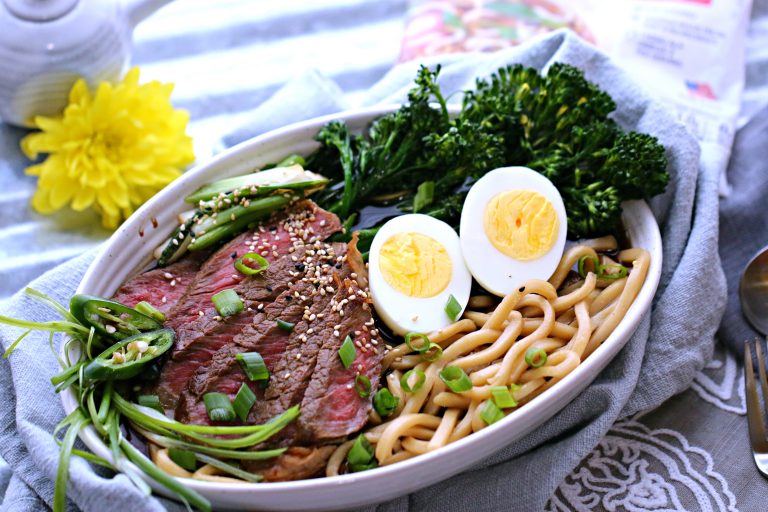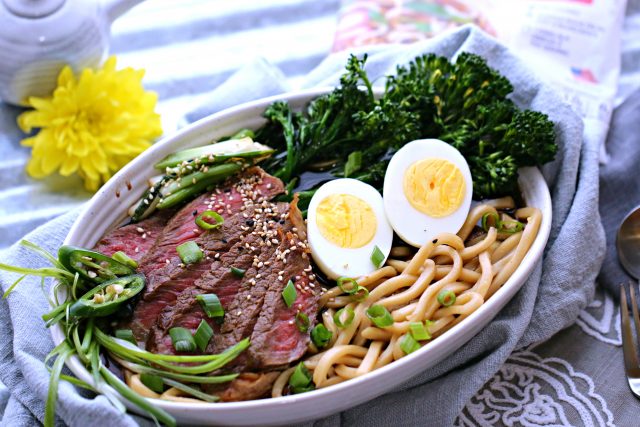 Chase Away the Winter Blues
The best way to chase away the winter blues is with my mouthwatering and delicious soup. It's easy to recreate, great for just one or your entire family.
Prizes
Prizes for the challenge are listed below.
1st - $1,000.00 Cash Prize
2nd - $500.00 Cash prize
(2) - 3rd - $250.00 Cash Prize (2 Winners)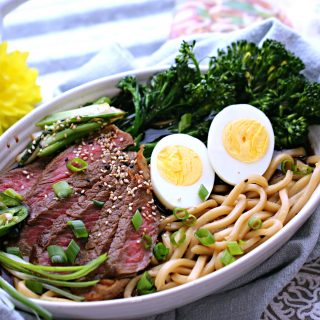 Shoyu Steak and Egg Udon with Ginger Chili Broccolini
Ingredients
1

package Fortune Noodle Original Shoyu Flavor Udon

1 15

oz

New York Strip

1

cup

beef broth

1

cup

water

1

bunch broccolini

2

serrano peppers

6

slices

fresh ginger

1

bunch spring onions

2

hard boiled eggs

1

teaspoon

sesame oil

divided

1

teaspoon

soy sauce

salt and pepper to taste
Instructions
Remove season packet from Original flavor Udon noodles. Pour half of the season packet into a small bowl and combine with a pinch of salt and pepper. Season both sides of the steak with the mixture.

Heat a medium cast iron pan over medium high heat until very hot. Add ½ teaspoon sesame oil making sure the pan is well coated. Peel and slice ginger thinly. Slice 1 serrano pepper and add both to the hot pan. Toss in broccollini and cook, stirring for 3 minutes or until broccolini is just tender.

Remove cooked broccolini to a plate and keep until ready to plate

Bring pan back up to heat and add another ½ teaspoon sesame oil. Sear the first side of the NY steak for 3 minutes. Flip the steak and add the spring onions.

Cook steak for another 3 minutes.

Using a tong, also sear both fatty sides of the steak.

Remove the onions from the pan and set aside

Add 1 teaspoon of soy sauce to the pan. NOTE: The soy sauce will splatter so be careful at this step. Cook the steak for 30 seconds and flip it over and turn off the heat. Spoon onions and pan juices over the steak. Allow the steak to rest while making the soup.

De-glaze the steak pan with 1 cup beef broth, Add water and bring to a boil.

Add the remainder of the udon seasoning packet and udon noodles to the hot broth. Stir to combine and cook noodles for 3-5 minutes.

Divide the cooked noodles into bowls and then ladle broth over. Serve with sliced steak, hard boiled eggs, cooked broccolini and chopped spring onions.

 
Notes
Garnish with more serrano peppers and sesame seeds.
ENJOY
Coupon
For more consumer recipes and coupon for FREE Fortune Noodles, click the link below: http://www.jslfoods.com/NoodleClub/login.cfm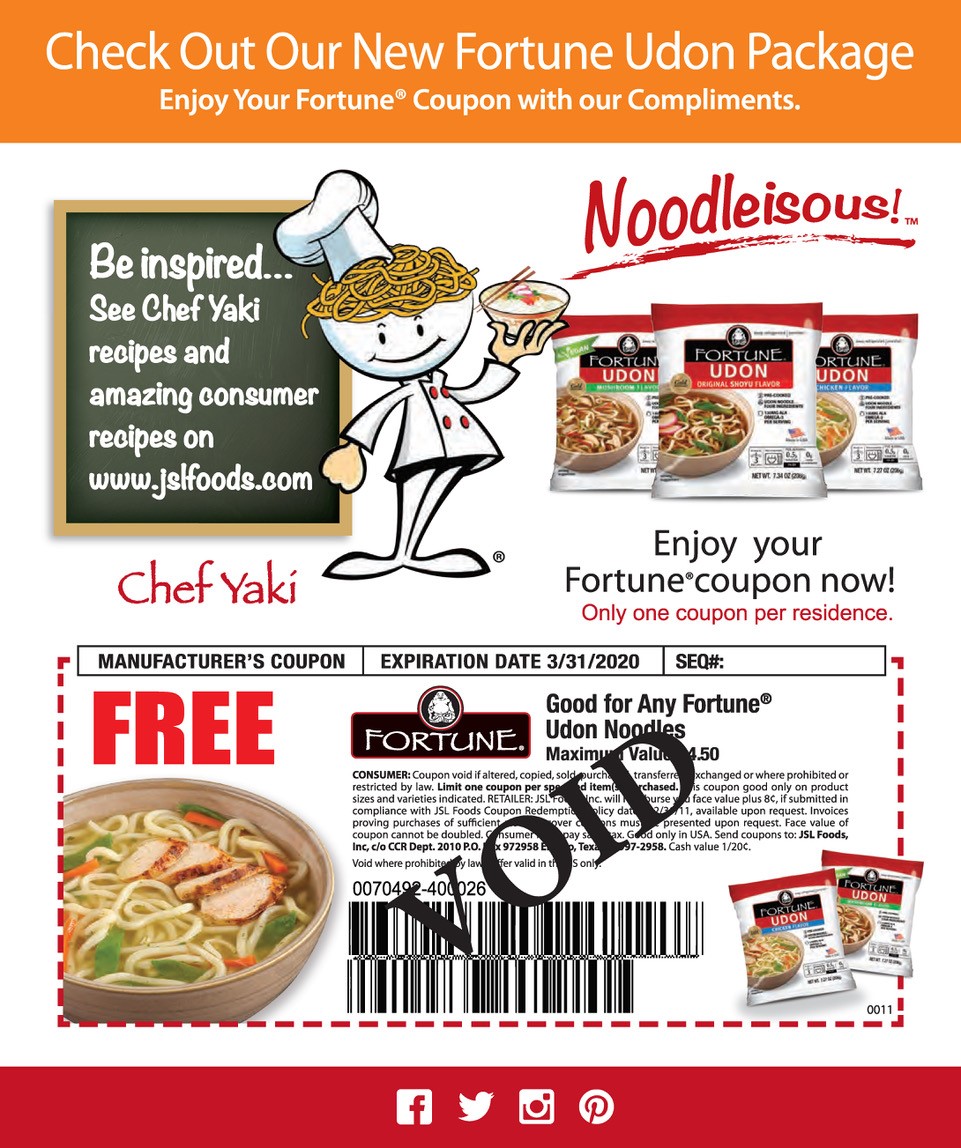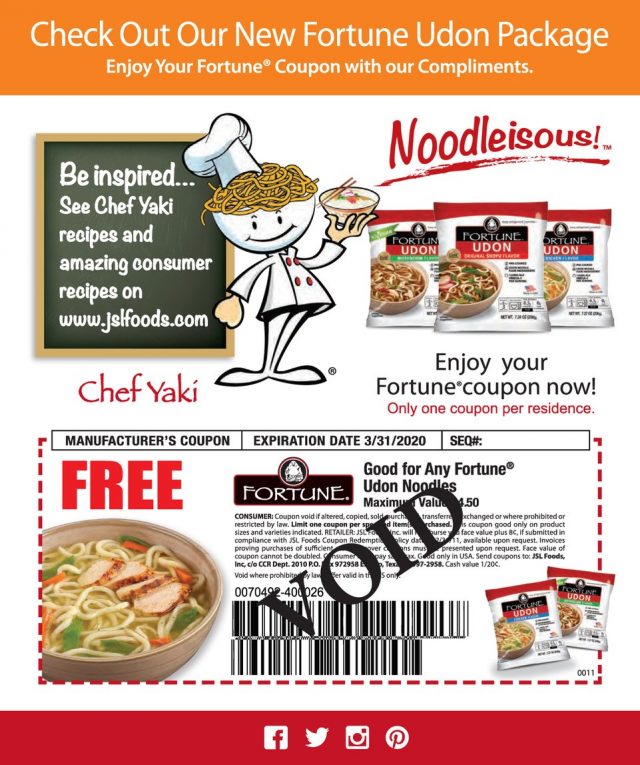 You can purchase Fortune Udon noodle products at:
United Supermarkets, HEB Supermarkets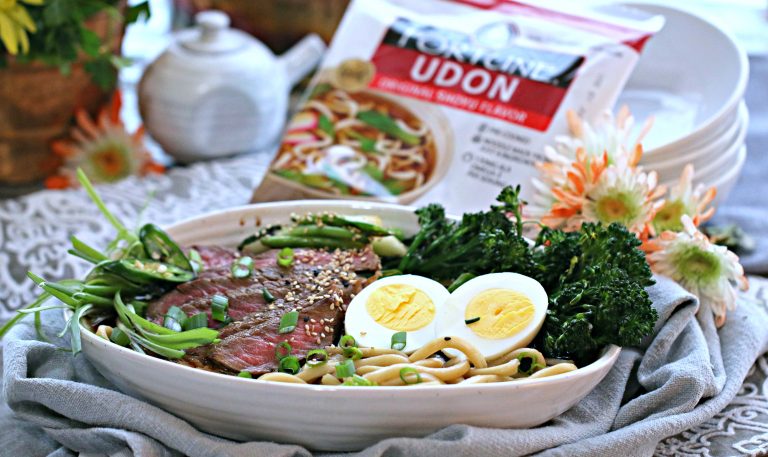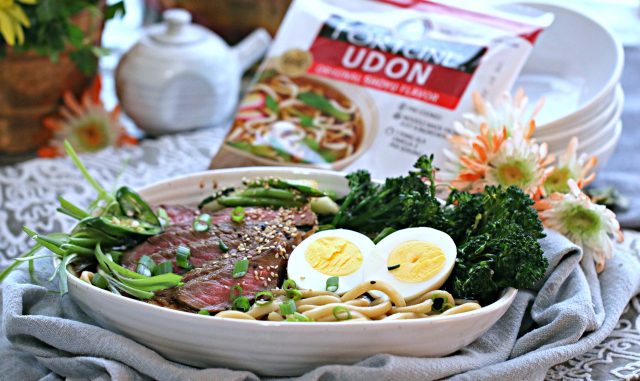 Follow JLS Foods
Instagram: https://www.instagram.com/jslfoods/
Website: http://www.jslfoods.com/
Twitter: https://twitter.com/JSL_Foods
Facebook: https://www.facebook.com/JSLFoods/
Want More Udon Contest Recipes?
This will be my sixth contest recipe submission to Fortune Noodle Blogger Challenges. You can find my previous recipe submissions in the related searches below this post, or just type "Fortune Noodles" into the SEARCH bar for the list of links.