https://www.facebook.com/WorldFoodChampionships/posts/2789097224456042
Video courtesy of Walmart and MMA Creative
About the Program
I was chosen to host Chef demos for the Walmart Community Table Program in Dallas, Texas Nov. 8-10, 2019. I was welcomed with open arms by the Walmart Neighborhood Market staff and associates located at 1501 Buckingham Rd, Richardson, TX 75081. Thank you for hosting me, it was an honor.
This amazing new program is a celebration of how food brings families and communities together, and an invitation for you to join the campaign by submitting your family recipes and stories using #WalmartCommunityTable.
Join Us
We invite you to share your family recipes in the comments section below or click this LINK to post to my At Home with Rebecka Facebook page post using your photos and the hashtag #WalmartCommunityTable!
To view the three NEW and INCREDIBLY fresh recipes I featured last week in Dallas, Texas visit the following link http://walmart.com/jennifergarner
My Story
In keeping with the Walmart Community Table Program, I'd like to share the story behind my Ten Thousand Dollar 2017 Bacon World Championship dish, and the recipe for my first incarnation: Dutch Apple Baby Pancakes with Blackberry Hoisin Bacon.
Qualifying for the World Food Championships 2015 was truly a life changing experience. I entered the Penobscot McCrum, Seafood #TaterTalent Recipe Challenge and won Second Place and a Golden Ticket to compete in the Seafood Category at World Food Championships with my Clam-Baked Twice Baked Potatoes.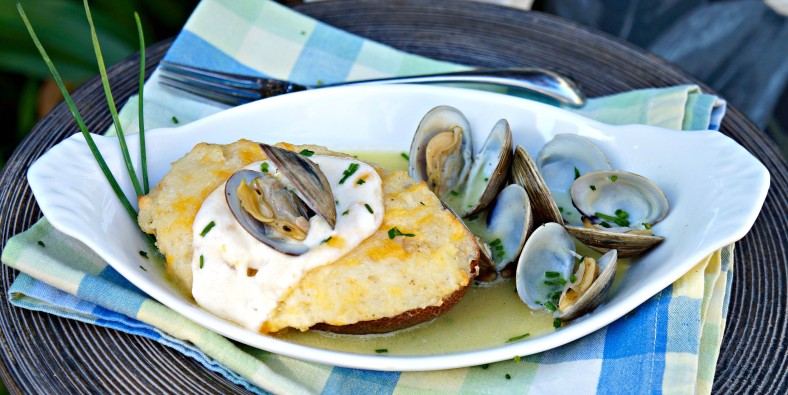 I was so ready to compete and armed with three new recipes for the Seafood Category when I learned that I had won a second Golden Ticket for the Bacon Category (click Just A Pinch – Bacon Recipe Challenge with my Dutch Apple Baby with Blackberry Hoisin Bacon to see more on this dish).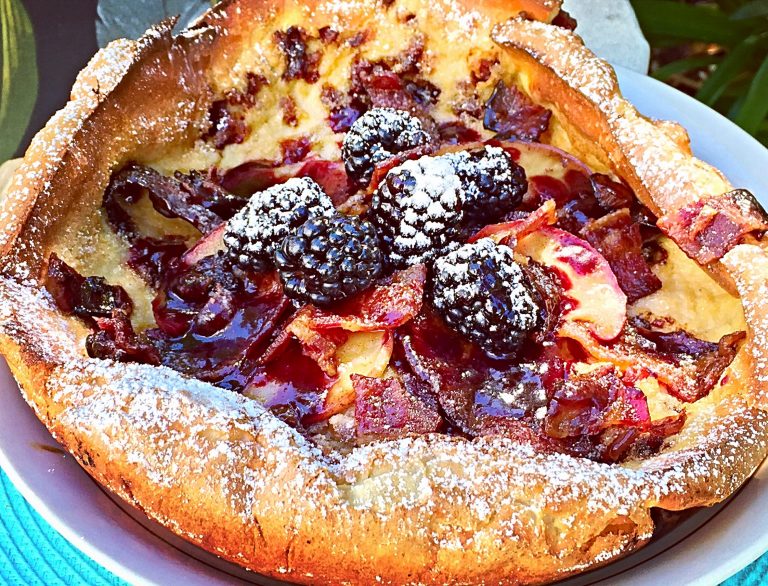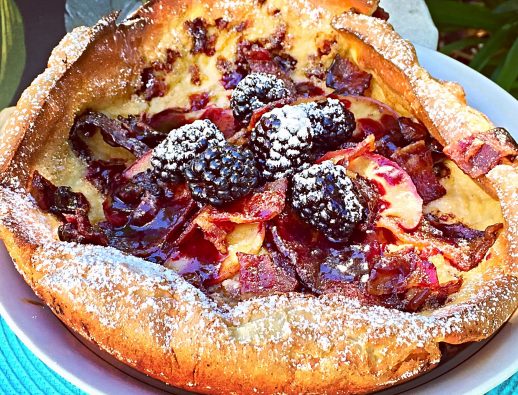 Choosing a WFC Category
The WFC Rules state you can only compete in one category, so I was faced with choosing between Seafood and Bacon. I thought it would be difficult to decide since I had already created and practiced three seafood recipes. However, the idea of cooking savory, smoked bacon dishes as opposed to seafood recipes was too hard to pass up.
A couple days later I received a message from my Facebook foodie friend, Kim Banick. Kim graciously offered to be my sous chef and we finished in the Top Ten my very first year. Thankfully, I had worked on several seafood recipes because that year's Bacon Top Ten Round infused ingredient was fresh whole snapper (click American Red Snapper Bacon Mushroom Hash and Bacon Parsnip Porridge to see that year's Top Ten Round dish).
The flavors in my initial three recipes at WFC served me well, as did Kim Banick's help in WFC Kitchen Arena. I placed Fourth in WFC 2015 with my bacon infused dishes.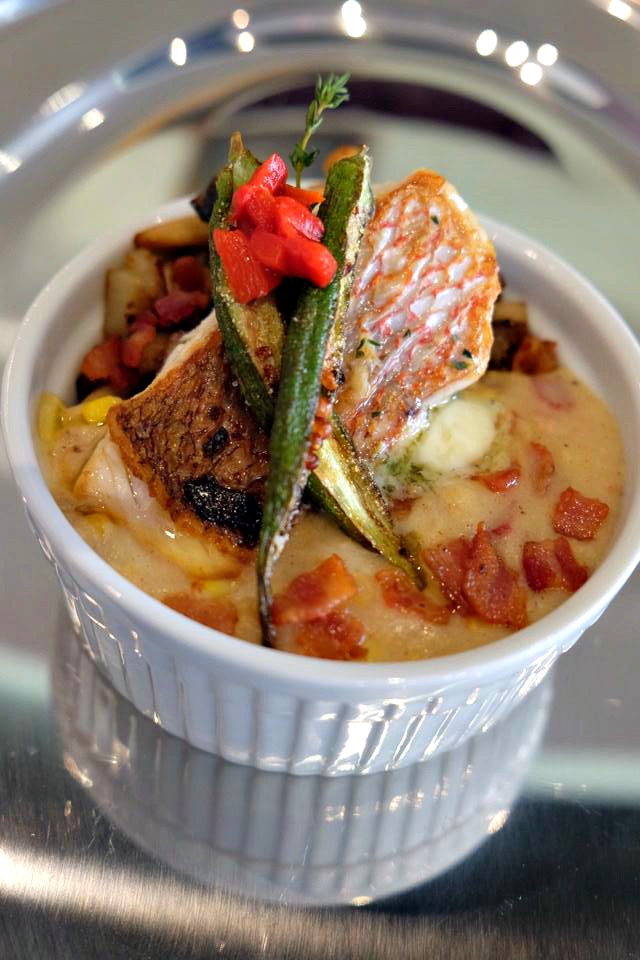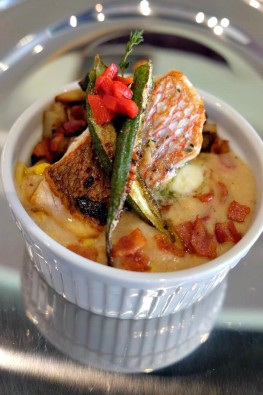 Spark to Flame
That year sparked the flame of my Food Sport Journey, and is a fire that has continued over the past five years; ultimately leading to a win in the 2017 Bacon World Championships (see BACON DUTCH CRUNCH PANCAKES with Peachy, Pecan, Spiced Syrup for more information).
That very same year, my dear friend Kim Banick won First Place in the Seafood Category. You should have seen us as we jumped on the bed in our condo with our giant 10K checks.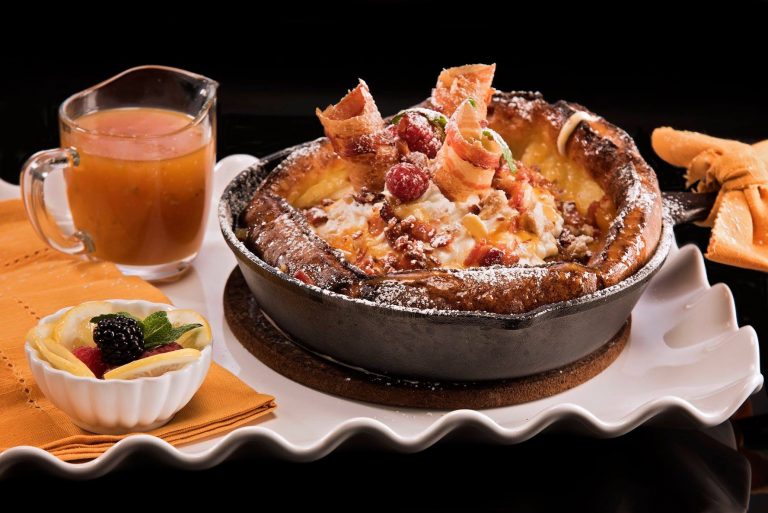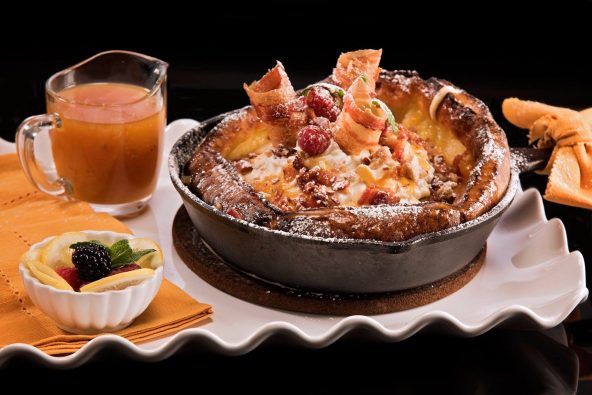 Transformations
Traditional Dutch Baby Pancakes are regularly served with fresh lemons and a generous dusting of powdered sugar. However, they are the perfect base for a myriad of fruits, sauces and even savory toppings. I followed my instincts and favorite flavor profiles, as I combined sweet and savory flavors to create an award winning dish. As you can see in the gallery above, my recipe has undergone major transformations since it's early days in our home.
Community
The community involved in the making of my award winning recipe is innumerable, and the family and friends involved in it's metamorphosis are priceless. Its crazy how one decision and one recipe can touch the lives of so many people.
I hope you enjoy Dutch Apple Baby with Blackberry Hoisin Bacon recipe as much as my family and friends have over the years!
Dutch Apple Baby with Blackberry Hoisin Bacon
2019-11-15 22:24:56
Serves 6
Ingredients
1 lb thick slice bacon
2 large apples
4 Tbsp granulated sugar divided
1 tsp ground cinnamon
1/2 tsp ground ginger
1/3 c unsalted butter
3/4 c flour
1/2 tsp salt
1/4 tsp ground nutmeg
1 c milk
1/2 tsp vanilla extract
5 large eggs
1 c blackberry jam
1/4 c hoisin sauce
2 Tbsp coarse ground mustard
· powder sugar garnish
· maple or blackberry syrup
For the Bacon
Preheat oven 500 degree F.
Place 10 slice bacon on a parchment lined baking sheet lengthwise, pull bacon to stretch about half its original length (this helps with shrinkage during the cooking process) don't allow bacon to go over sheet pan edges
In a small bowl add, mustard, blackberry jam, hoisin sauce, and 2 tablespoon brown sugar, stir to combine
Spoon 1 teaspoon of jam mixture over each piece of bacon, using a basting brush spread the jam mixture to coat the entire side of bacon, flip bacon over and repeat this process.
To cook, cover the bacon with an additional sheet/baking pan laying the bottom of the pan directly on top of the bacon
Place pans in oven and par-cook bacon for 5-6 minutes or until hot and bubbling but not browned
Remove from oven and set aside until ready to use
Reduce oven heat to 400 degrees F.
Brown remaining bacon slices and crumble for garnish
For the Batter
Peel and core apples, cut them into slices then slice into halves and thirds (about 3 cups apples) In a small mixing bowl combine 3 tablespoon sugar with cinnamon and ginger, set aside until ready to use
Cut butter into chunks and place in a deep cast iron skillet. Put the skillet into the oven for 3-4 minutes or until the butter is melted and skillet is hot. Remove skillet from oven, sprinkle bottom of pan with about 1/3 brown sugar mixture. Carefully spread apples over the bottom of the skillet and sprinkle remaining sugar over apples. Put skillet back into the oven, cook for 5-8 minutes to caramelize apples (you should be able to complete the next step while apples are caramelizing)
Whisk flour with remaining tablespoon sugar, salt and nutmeg. Gradually add milk, whisking constantly to avoid lumps. When flour batter is smooth, beat in vanilla and eggs one by one. Beat by hand for approximately 2 minutes. Let batter rest for 5 minutes. Remove apples from the oven
Add one strip of bacon to the bottom of the skillet at a time trying not to overlap the pieces, arrange in a star or spoke pattern so that when sliced each piece will have a slice of bacon cooked into the batter. It may be necessary to cut bacon to fit skillet. Try not to go over the edge of the skillet to keep bacon from becoming too darkened while cooking. Pour batter over bacon and caramelized apples, bake in the 400 degree oven for 20 minutes or center is set and sides are golden brown. The pancake will puff dramatically while baking but fall within a few minutes after baking. Slice pancake into 6 pieces, sprinkle with powder sugar, bacon bites and serve with blackberry or maple syrup
AT HOME WITH REBECKA https://athomewithrebecka.com/