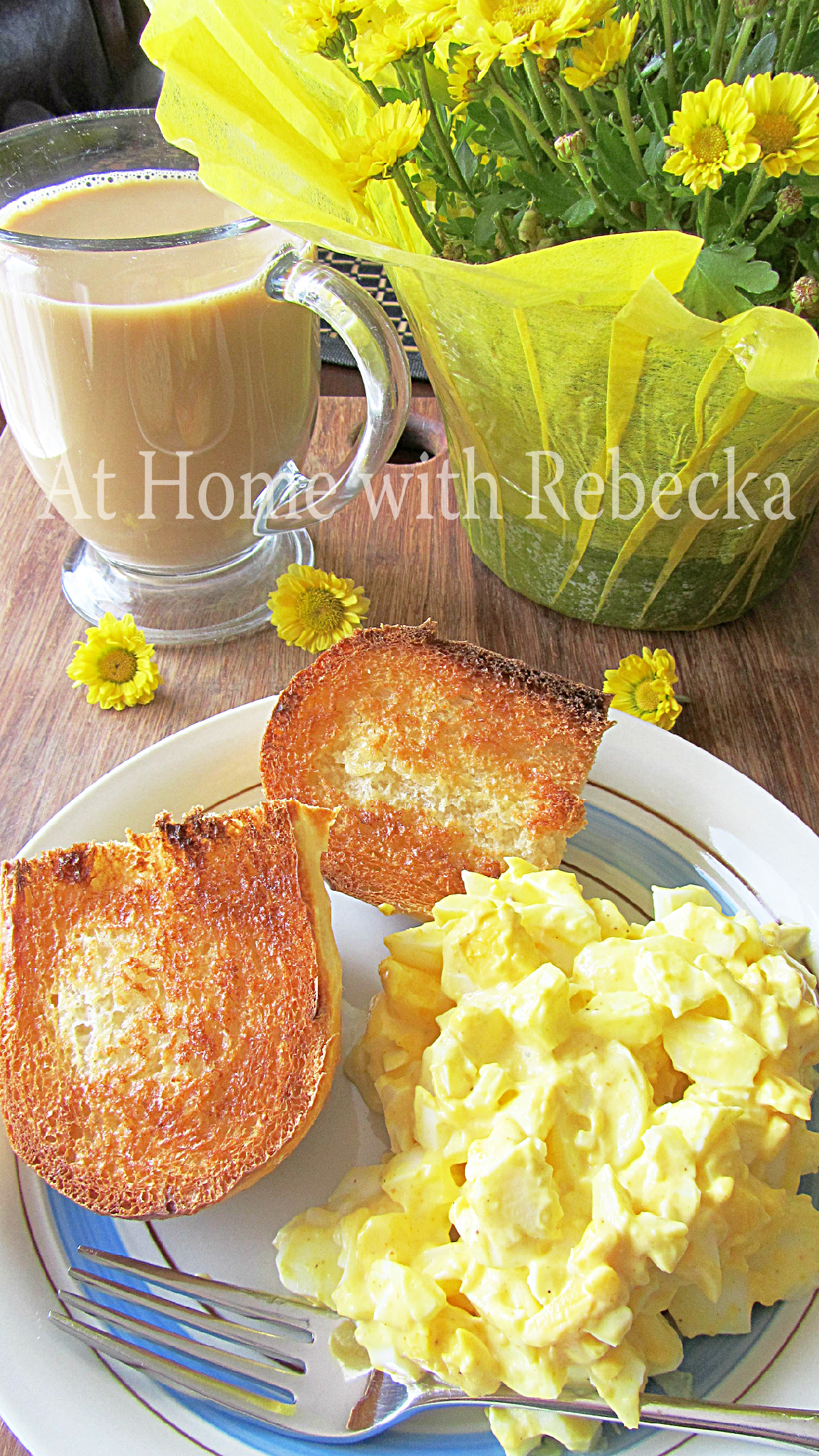 Curried Egg Salad with Toasted Baguette
Life has been bearing down on me the past few months, I've been overwhelmed, unable to get into the kitchen to cook anything other than simple meals for my family. As a result, my blog has suffered with a lack of new recipe submission, beautiful food photos, and personal correspondence with my loyal readers.
Recently returning to the comforts of home, home cooked meals, clean laundry, and the nurture of family, two of my older children have come back to the nest. In need of some time with mom, and dad, and time to gather themselves before moving on to bigger and brighter things, we've welcomed them back into the fold. We're happy to lend a hand in their time of need, because we love them, and this is what families do however, their presence has made it pertinent for me to adjust my grocery budget.
When life deals us crises after crises, health issues and or family traumas, my suggestion is to cook and "Eat Simple"!
I love eggs! They are my favorite superfood; simple but versatile, inexpensive, and delicious used in a variety of recipes.
My recipe for Curried Egg Salad with Toasted Baguette, grew out of my love of traditional egg salad sandwiches. The creamy, rich mixture of mayonnaise, sweet pickle relish, a touch of yellow mustard, smeared on a crusty slice of french bread, is one of my favorite soul-satisfying comfort foods. I'm truly, a comfort eater!
Showing off their versatility, protein rich eggs are transformed into an entirely new recipe with only a few more spices or ingredients. Adding the warm exotic flavor of Curry spices to ordinary egg salad, turns an old standby recipe into a new and delightful treat! If you like curry spice and love eggs, you might like my recipe for Divinely Devilish Deviled Eggs, also made with curry spice.
[recipe title="Curried Egg Salad " servings="2″ time="20 mins" difficulty="easy"]
Ingredients:
6 hard-boiled eggs (how to cook the perfect boiled egg)
3/4 cup real mayonnaise
1/4 teaspoon dried mustard
1/2 teaspoon curry powder
salt and pepper to taste
1 toasted french baguette or prefered bread
Directions:
Cook and chop hard-boiled eggs

In a medium mixing bowl, blend together remaining ingredients

chill for 20 minutes, serve with baguette

optional: serve with crackers, soft bread, in celery or leaf lettuce cups
[/recipe]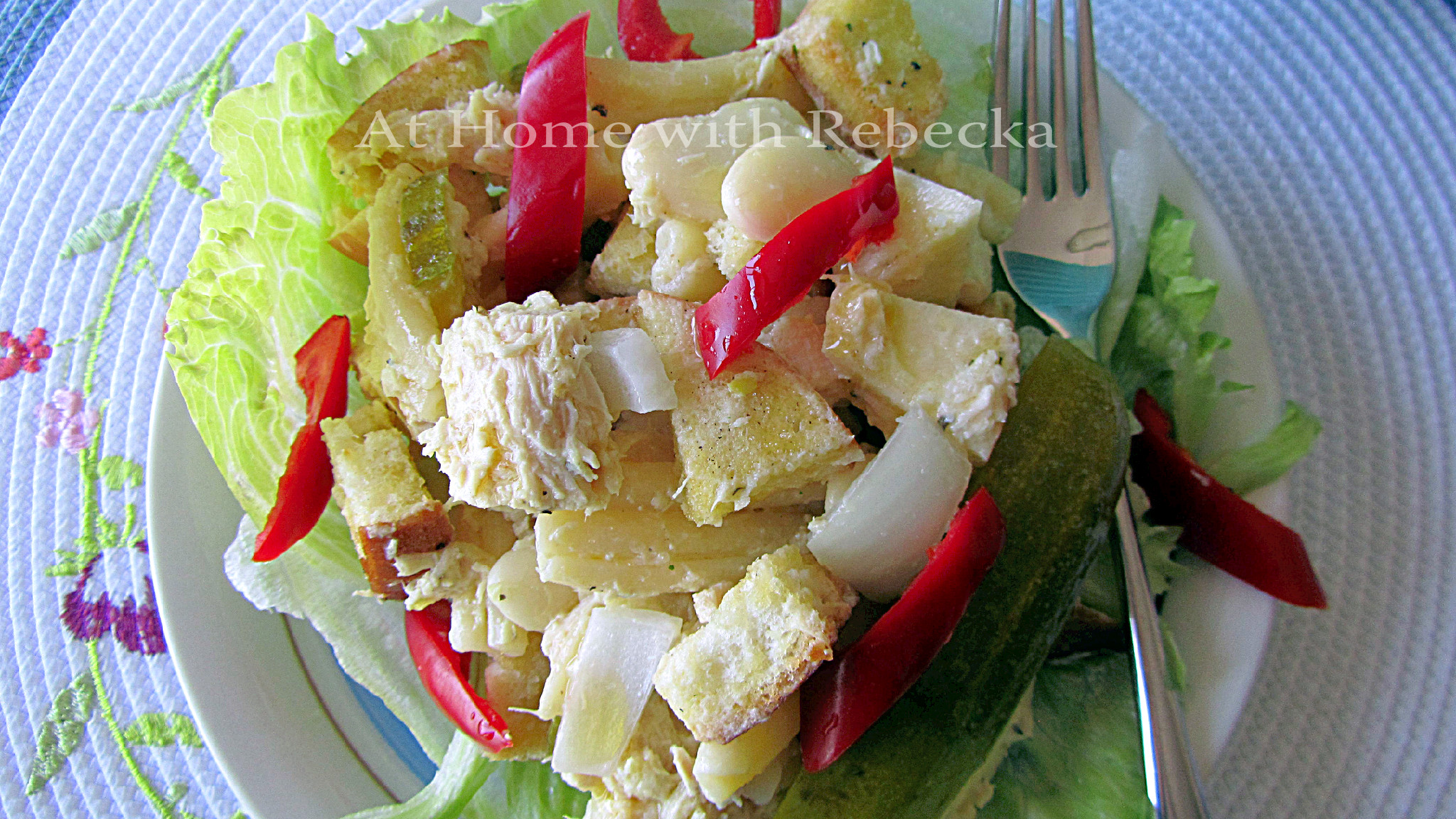 Butter Bean, Tuna Noodle Panzanella

For this dish, I used ingredients found in my under stocked pantry; day old bagels, canned tuna, onions, pickles, butter beans, and a couple of cups of cooked pasta, transformed these basic staple foods into this delightful summer salad. Optional ingredients include, a handful of tomatoes, apples, olives, sweet peppers, pignoli nuts.
Traditionally, Panzanella was based on onions, not tomatoes, until the 20th century.Modern panzanella is generally made of stale bread soaked in water and squeezed dry, tomatoes,olive oil, vinegar, salt, and pepper. Onions and basil are often added. Other ingredients—lettuce, olives, mozarella, white wine, capers, anchovies, celery, carrots, red wine, red onion, cucumber, tuna, parsley, boiled eggs, mint, bell peppers, lemon juice, and garlic— are sometimes used, but Florentine traditionalists disapprove of them. Source Wikipedia
[recipe title="Butter Bean Tuna Noodle Panzanella" servings="2″ time="10 mins" difficulty="easy"]
1 day old bagel, cut into chunks
4 tablespoons olive oil
1 teaspoon Lawry's garlic or sea salt
2 cups cooked pasta
1/4 medium sweet onion chopped
1/2 medium crisp apple, chopped
1 14 ounce can butter beans, rinsed and drained
2 spears dill pickle, chopped
1/4 cup pickle juice
1/4 cup red wine vinegar
1/4 cup real mayonnaise
1/2 teaspoon dried basil or 2 tablespoons freshly chopped
1/2 teaspoon Lawry's garlic salt
1/2 teaspoon fresh ground pepper
Directions:
cut bagel crosswise into thin slices

cut slices into small cubes

sprinkle with salt, 1/4 teaspoon pepper, 1/4 teaspoon garlic salt, and 2 tablespoons olive oil

toss ingredients together

place seasoned bagel cubes on a cookie sheet, toast in a 400 degree oven for 10 minutes, turning every 3-4 minutes until golden brown

set aside
In a medium bowl mix together
2 tablespoons olive oil

3/4 teaspoon garlic or sea salt

blend together next 11 ingredients

add toasted bagel chunks

stir to combine, test for seasoning and add more if desired. Serve
[/recipe]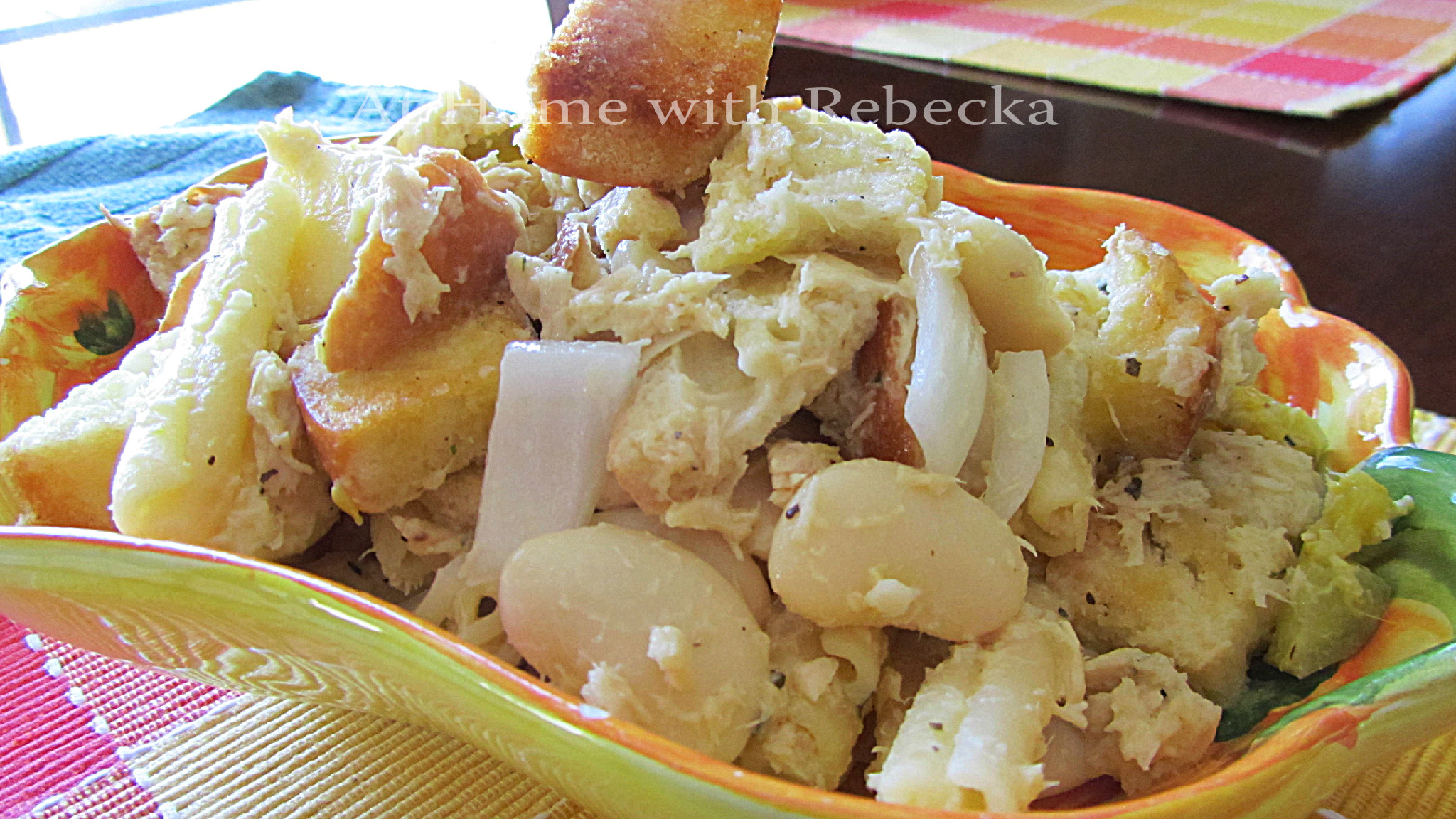 My life is really crazy now but I know it will get back to normal before too long, and just in time for the next crisis, and or life event. When life gets crazy, cook and eat simple! See you all very soon with another yummy recipe!