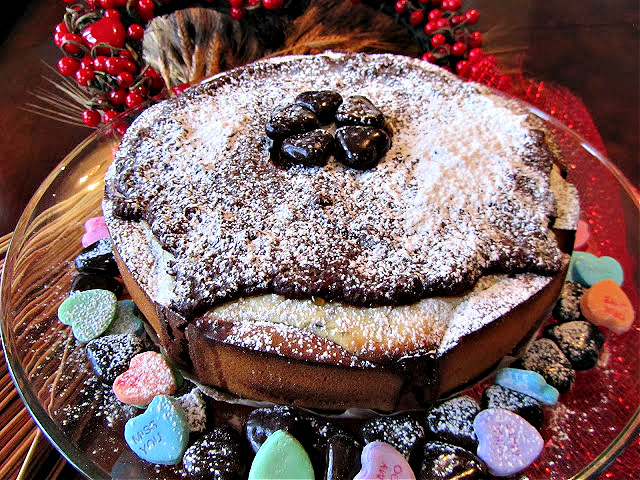 Valentines Day Recipe
Valentine's Day is fast approaching, making this month a sweethearts delight. Recipes and gifts for 'all things chocolate will plague markets, television shows and cooking web sites, tempting us to indulge to our hearts content.
Aphrodisiac
Chocolate has long been linked to Valentine's Day for it's rumored aphrodisiac qualities, not to mention it tastes damn good! So where did the idea of giving chocolates on Valentine's Day come from? From the moment chocolate was discovered!
This scrumptious dessert has been entered in Cooking with Nona Valentine Chocolate Dessert Contest. Click here for more details and to visit the contest photo gallery.

The history of chocolate begins in Mesoamerica. Chocolate, the fermented, roasted, and ground beans of the Theobroma cacao, can be traced to the Mokaya and other pre-Olmec people, with evidence of cacao beverages dating back to 1900 BCE.
Chocolate played a special role in both Maya and Aztec royal and religious events. Priests presented cacao seeds as offerings to the gods and served chocolate drinks during sacred ceremonies. All of the areas that were conquered by the Aztecs that grew cacao beans were ordered to pay them as a tax, or as the Aztecs called it, a "tribute".
The Europeans sweetened and fattened it by adding refined sugar and milk, two ingredients unknown to the Mexicans.

Source: Wikipedia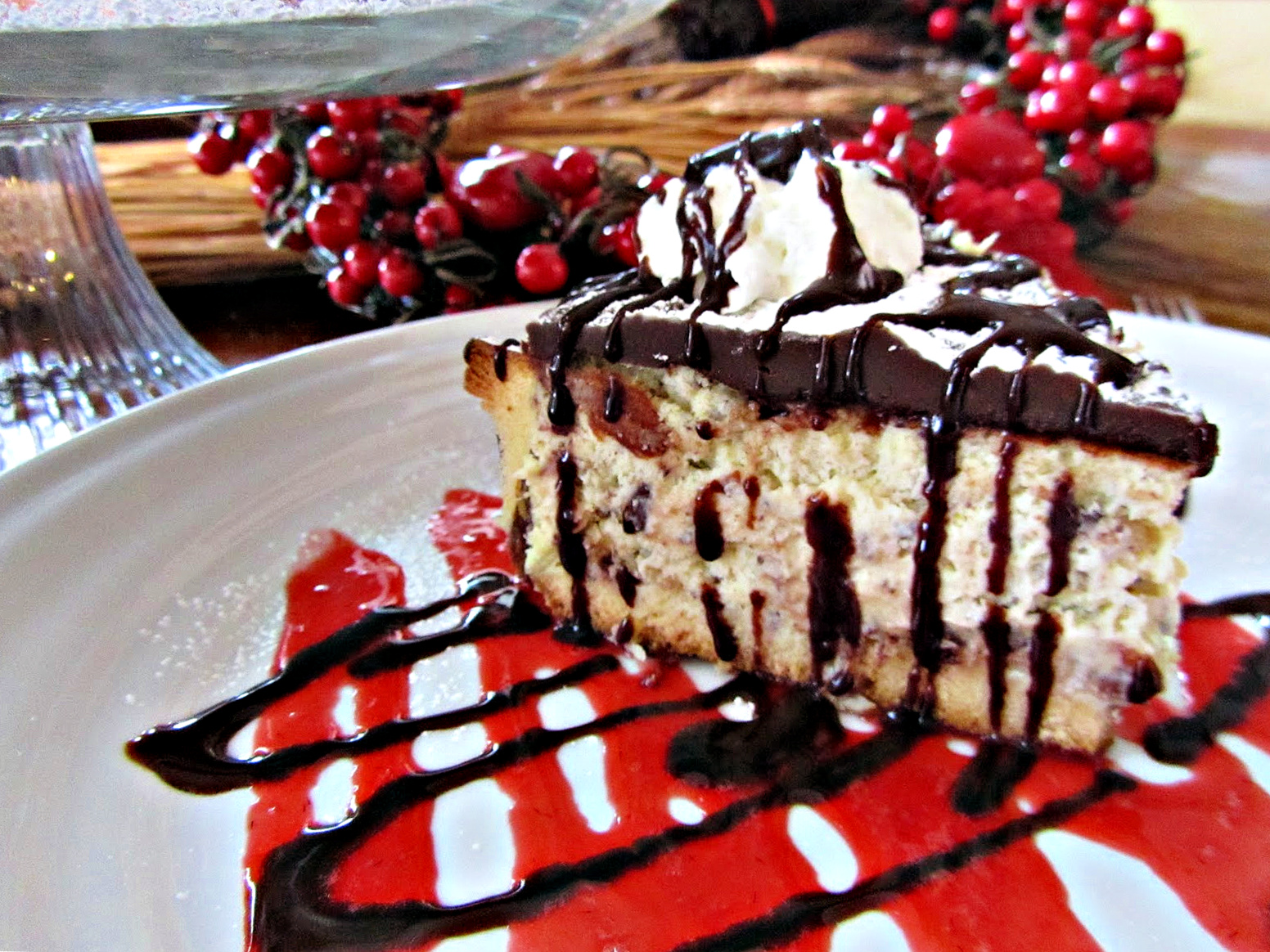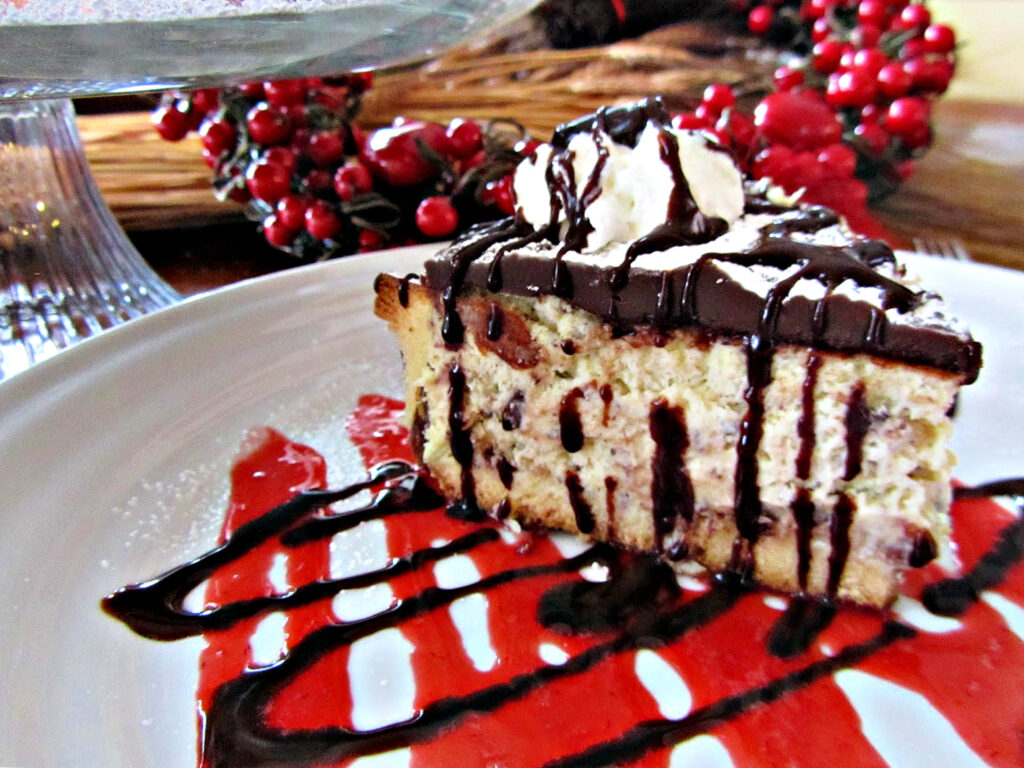 Cassata is one of the world's first cheesecakes
A classic Sicilian cake, rumored to be linked to the island's Arab period because of the candied fruit mixed into the ricotta cream, among other things, it's actually much older: The word Cassata derives from the Latin Caseus, which means cheese. In other words, Cassata is one of the world's first cheesecakes.

Cassata is a traditional sweet from the province of Palermo, Sicily (Italy). It is similar to the French gateau. The word "Cassata" comes from Arabic gashatah (cf. Latin caseata, anything made of cheese) and was first introduced during the Arab rule in Sicily from the 9th to the 11th century.


Source: Wikipedia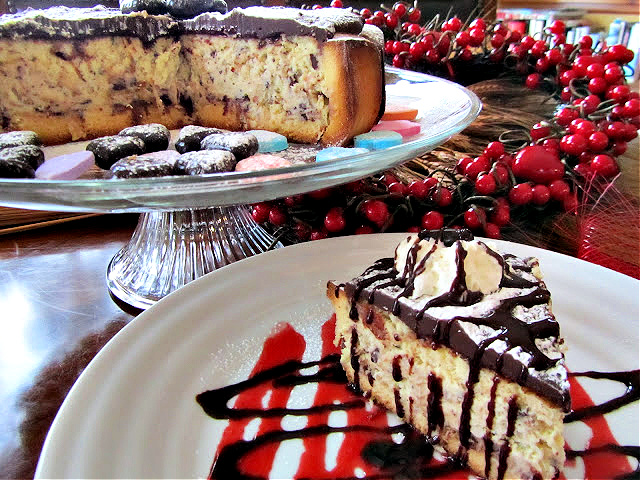 Traditional Sicilian Cassata Torte
I've made a few changes to this Traditional Sicilian Cassata Torte to suit my taste. I've omitted the candied fruit, substituting freshly grated lemon zest, sliced almonds and diced semi-sweet chocolate and Nutella and chocolate chip frosting top my Cassata Torte in grand fashion!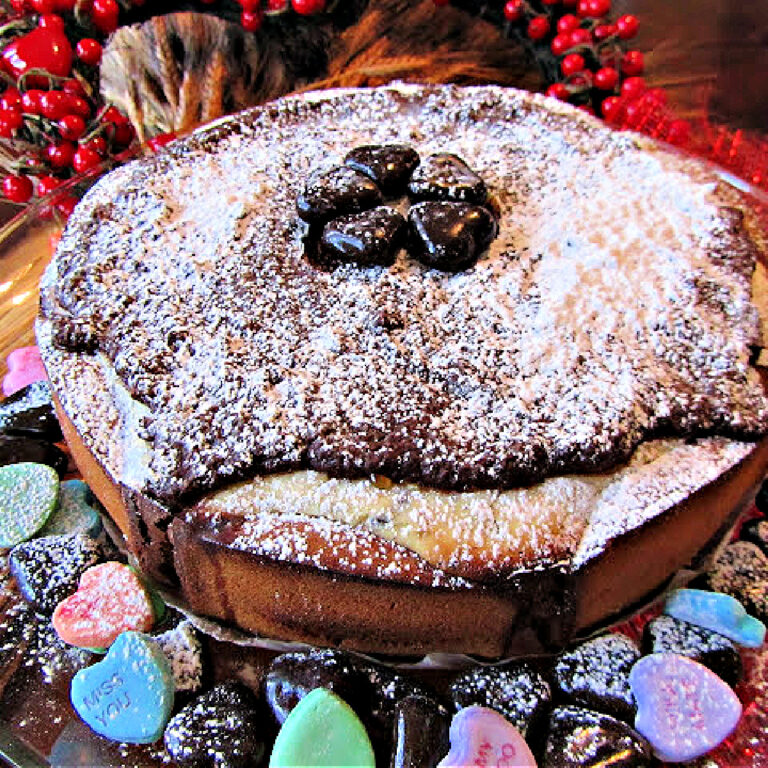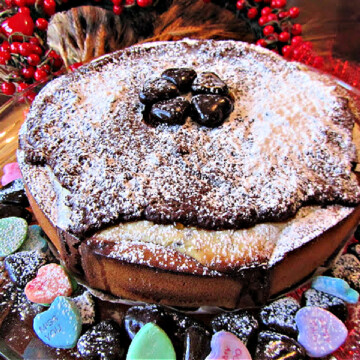 CASSATA TORTE
Traditional Sicilian Cassata Torte
Ingredients
FOR THE CAKE FILLING
2 10

ounce

loaf frozen pound cake

thawed

5

tablespoons

Galliano Liqueur

2 8

ounce

packages cream cheese

1

cup

whole milk ricotta cheese

¾

cups

sugar

3

tablespoons

flour

3

eggs

½

cup

semi-sweet chocolate chips

chopped

⅔

cups

slivered almonds

1

whole

zest lemon

1

teaspoon

vanilla extract

⅛

teaspoon

almond extract

juice from ½ lemon
FOR THE TOPPING
1

cup

Nutella

½

cup

semi sweet chocolate chips
Instructions
Cut pound cake into 16 ½-inch slices (there will be about ¼ cake left) Sprinkle both sides of sliced pound cake with 3 tablespoons Galliano Liqueur.

butter the bottom and side of a 9-inch spring form pan, cut a round of parchment paper to fit bottom of pan and butter, place parchment in pan

Arrange cake slices around sides of pan. Add remaining slices to the bottom of pan cutting pieces to fit, set aside
FOR THE CAKE FILLING
In a large bowl combine cream cheese, ricotta cheese, ¾ cups sugar, and flour. Beat with electric mixer on medium high until smooth and fluffy (about 2 minutes)

Add eggs, almonds, chopped semi-sweet chocolate chips, 2 tablespoons Galliano, lemon zest, lemon juice, vanilla and almond extracts. Beat until just combined

Pour cake into lined pan and spread evenly.  Bake for 35-40 minutes or until edges appear to be set and center appears nearly set when gently shaken.  Do not over cook.  Cool on wire rack for 30 minutes

Losen edges of torte with a dull knife, remove sides of springform pan and cool for additional hour, cover with plastic wrap and chill for 6-24 hours
Notes
To Serve:
Heat Nutella and chocolate chips in microwave set on high for 1 minute, stir to combine, heat additional 30 seconds if chocolate chips are not melted completely.  Pour chocolate over top of cake. 
Serve with drizzle of strawberry and chocolate sauce
A perfect Valentine's Day dessert for your special someone! Filled with rich decadent flavors, this creamy, chocolaty treat will set the mood for a night filled with desire.