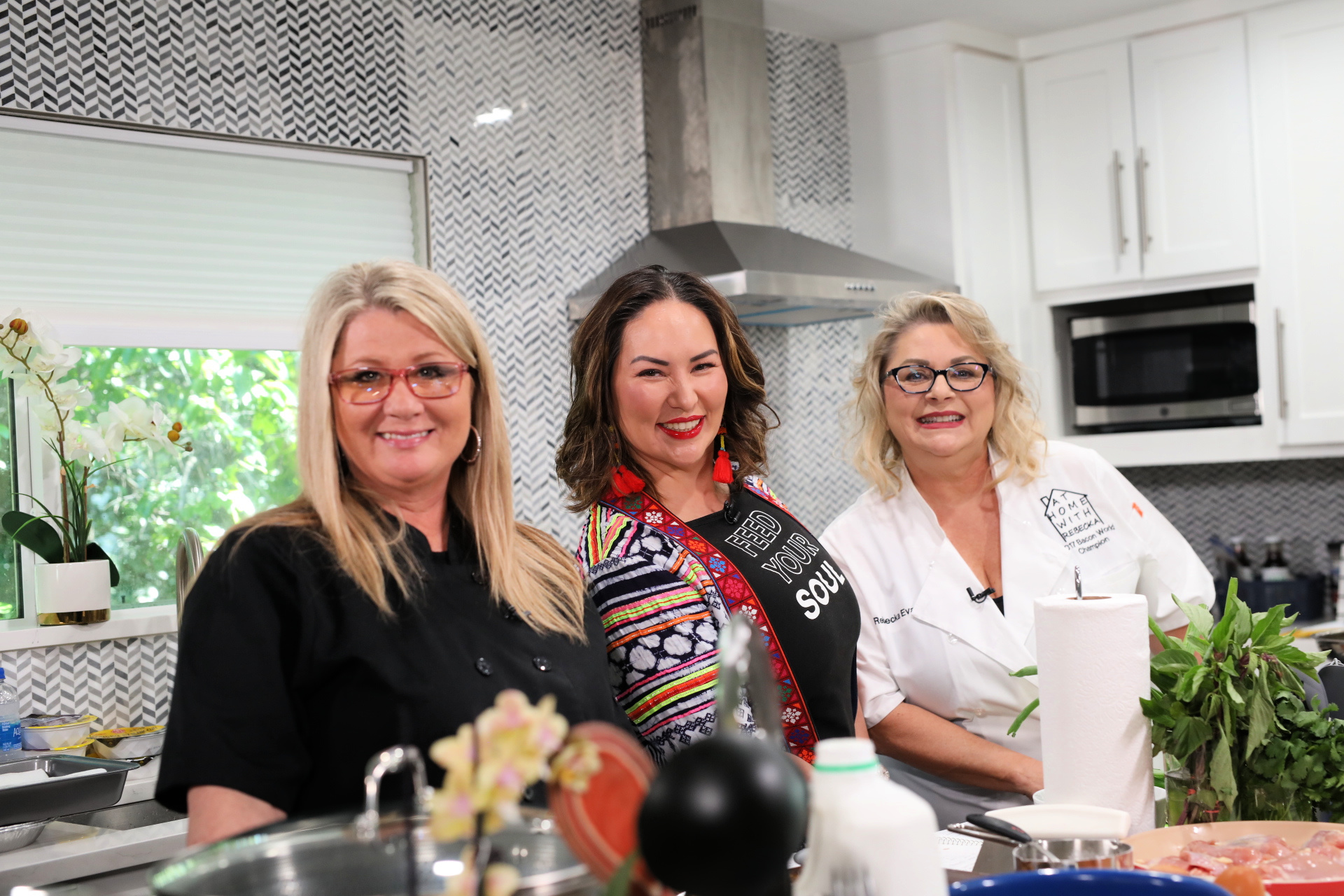 Nikky's Thai Takeover Contest Part 1
I recently had the honor of competing against one of my dearest friends, Sherry Anglen Blacketer, Owner of Are You Hooongry, and Dallas, Texas celebrity chef, Youtube sensation, and restauranteur, Chef Nikky in a two-part series of Nikky's Thai Takeover "Contest Series".
The regular format for Nikky's Thai Takeover is where Chef Nikky comes to take over your kitchen with just her sauces and wok and cook with anything she finds in your kitchen that inspires her. This time was a bit different.
Chef Nikky invited Sherry and me to compete in the two-part Youtube series with our Thai-inspired breakfast recipes featuring Nikky's amazing sauces. The winner of the first round then goes head-to-head with Nikky in the second round. How cool is that?
You'll want to watch all the action in the Part 1 video below to find out whose Thai-inspired breakfast wins then stay tuned, as you don't want to miss part 2 of the youtube series to see who takes home first place bragging rights.
Part 2 of Nikky's Thai Takeover Contest coming in mid-November 2022!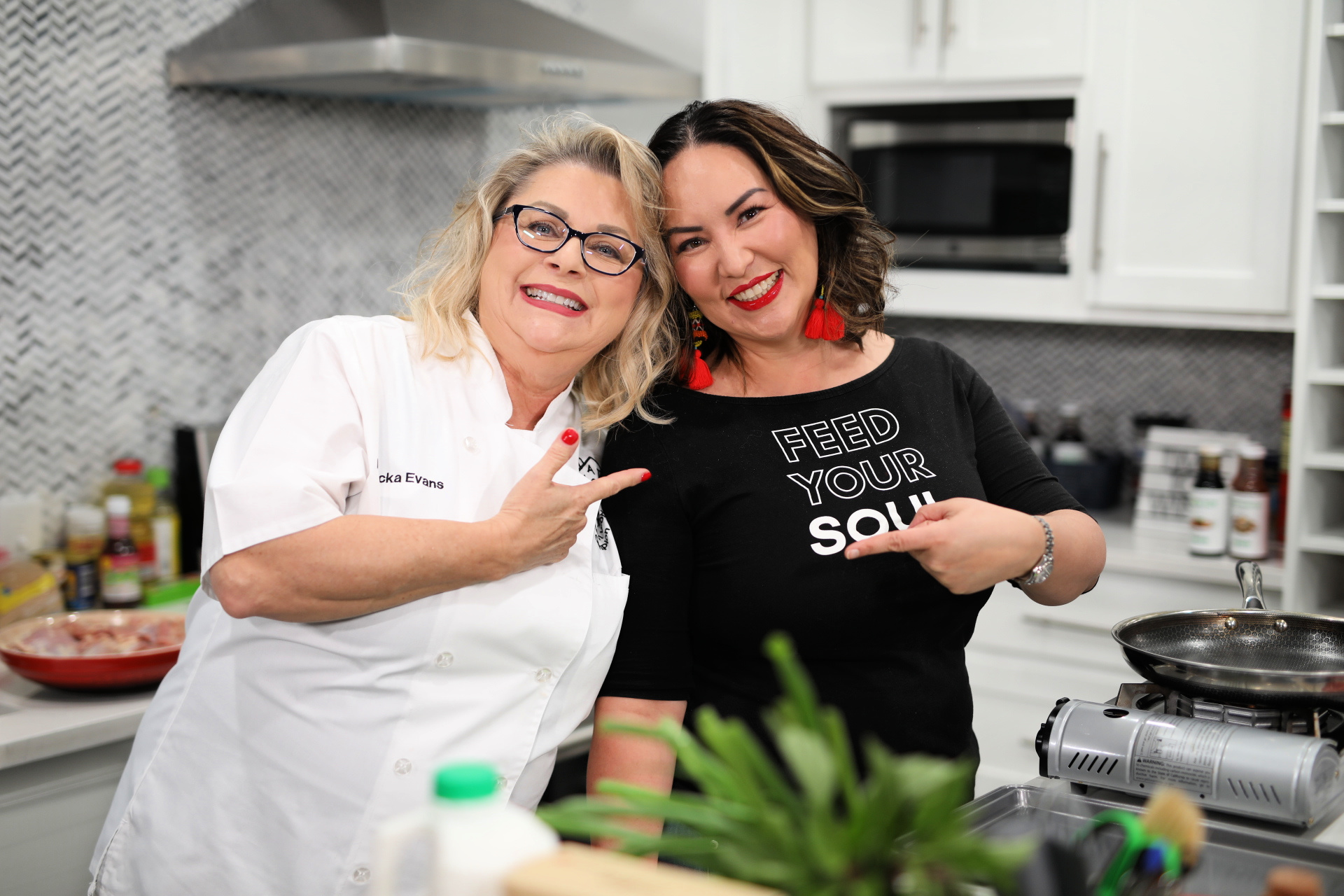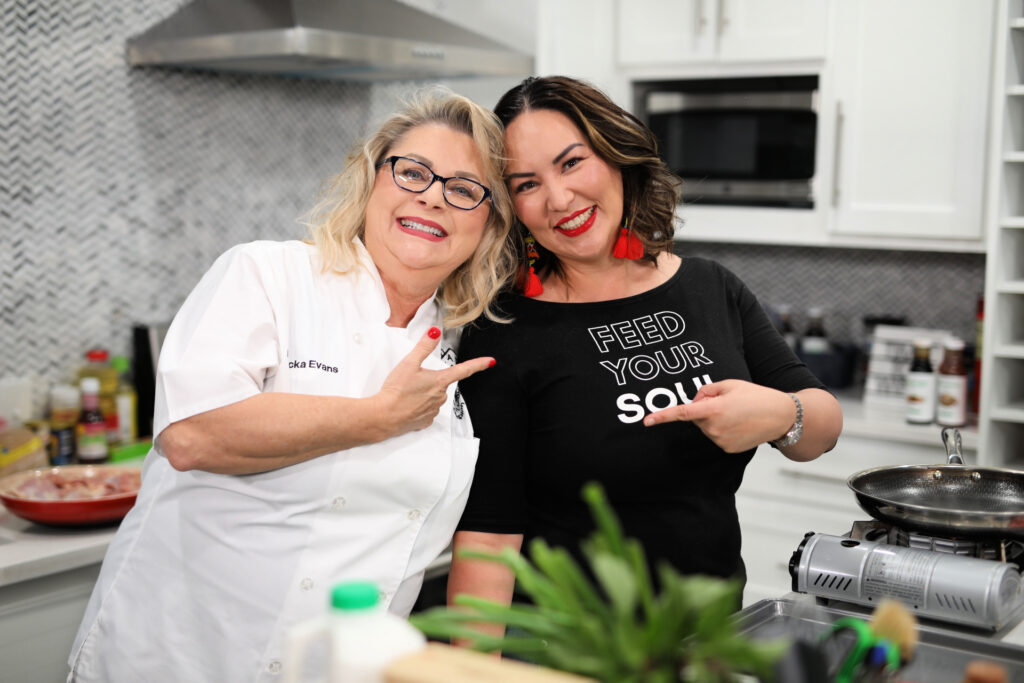 ABOUT CHEF NIKKY
Nikky Phinyawatana is a visionary entrepreneur – the creator and owner of Dallas' highly acclaimed, award-winning Asian Mint Restaurants. Asian Mint was awarded Dallas Eater's #1 Best Thai Food and Culture Map's Top 100 Restaurants. Asian Mint has
received accolades from USA Today, Zagat, Dallas Observer, and D Magazine. Chef
Nikky infuses love and passion into her innovative Asian Fusion menus, as well as her
dedication to philanthropic work. She is a member of Les Dames d'Escoffier
International, which provides mentorship and scholarships for the next wave of women
culinary students, as well as serving as Vice President of the Greater Dallas Restaurant
Association and Board of Trustee of the Texas Restaurant Association Education
Foundation.

https://asianmint.com
Video Nikky's Thai Takeover
FEATURING CHEF NIKKY'S SAUCES
My recipe for the first round of the contest: THAI CRINKLE BENEDICT WITH PORK BELLY AND SESAME HOLLANDAISE featuring, Chef Nikky's Black Soy Sauce, Pad Thai, and her scrumptious Hot Sauce. All of her sauces are delicious and filled with an authentic Thai flavor.
You can order Chef Nikky's sauces online HERE. (This is not a sponsored post).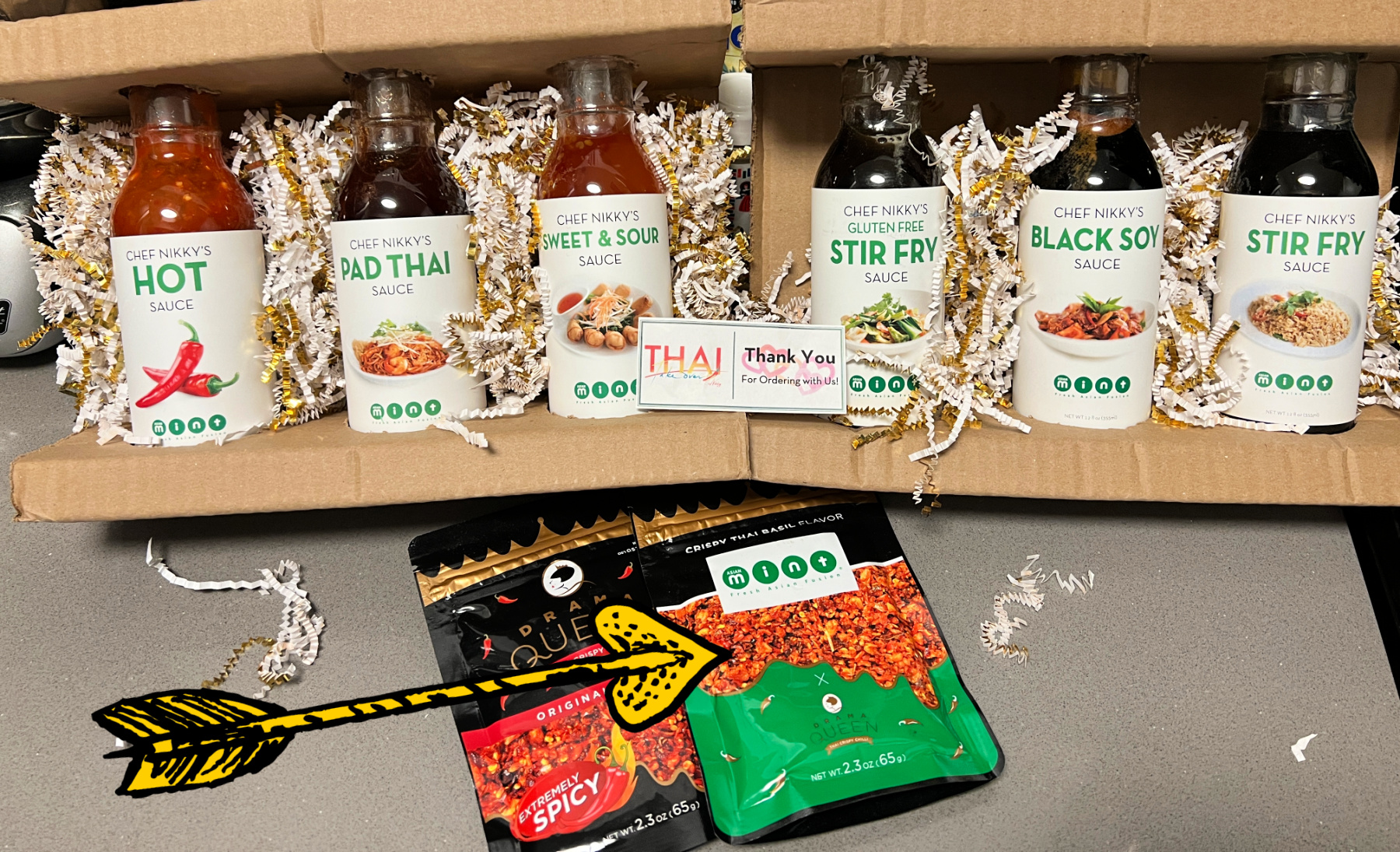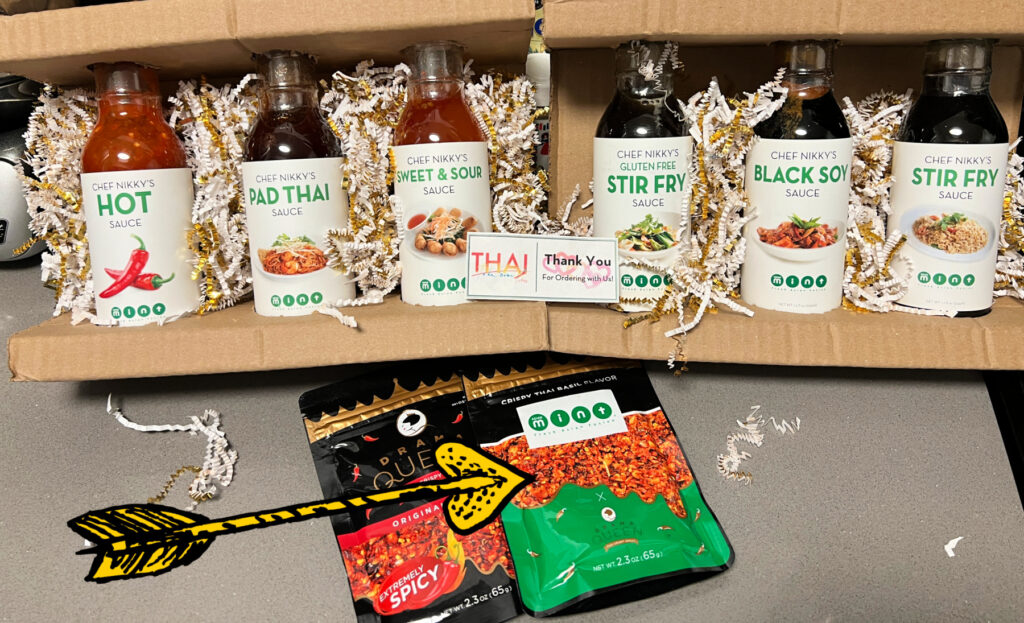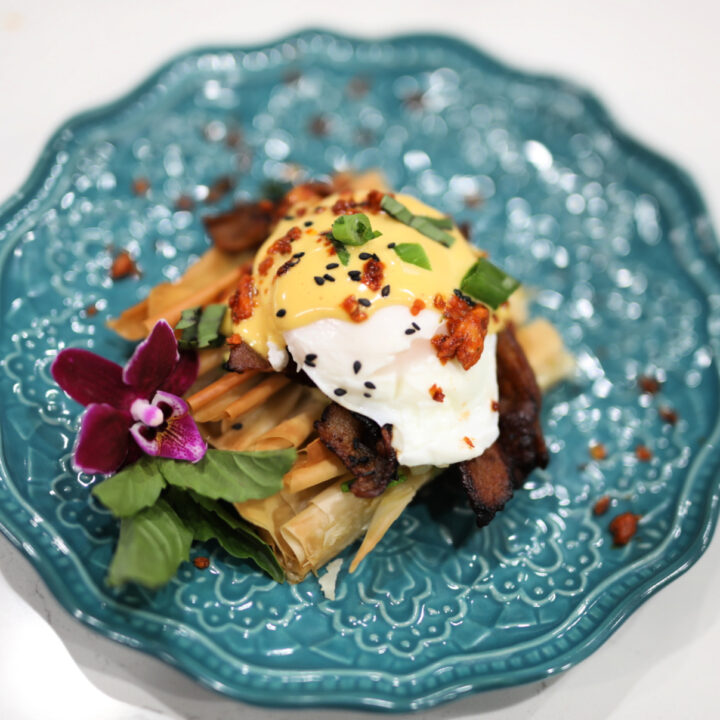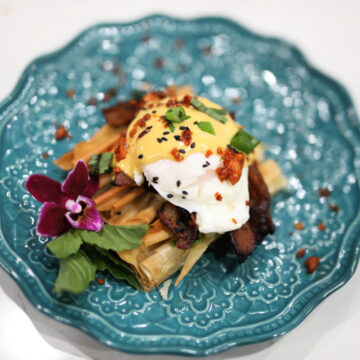 Thai Crinkle Benedict with Crispy Pork Belly and Sesame Hollandaise
Ingredients
PHYLLO EGG BAKE
1

package frozen phyllo pastry sheets

thawed

2

sticks melted butter

2

teaspoons

sesame seeds
CUSTARD FILLING
2

eggs

1

cup

green onions

divided

1

cup

milk

1

teaspoon

Nikky's Black Soy Sauce

¼

teaspoon

toasted sesame oil
PORK BELLY
1-

pound

½ inch cut pork belly

2

tablespoons

Nikky's Pad Thai Sauce

2

Tablespoon

Nikky's Hot Sauce

1

teaspoon

toasted sesame oil
EASY SESAME HOLLANDAISE
3

egg yolks

½

cup

melted butter

1 stick

1

Tablespoon

lemon juice

¼

teaspoon

Nikky's Black Soy Sauce

½

teaspoon

toasted sesame oil

1

teaspoon

Nikky's Hot Sauce
POACHED EGGS
6

large eggs

6

cups

water

½

teaspoon

vinegar
Instructions
PASTRY
To make the crinkle base, preheat the oven to 350 °F. Melt the butter and take a brush, and put a thin layer of butter on the sheet pan. Unwrap the phyllo dough after it's defrosted.

Take two pieces of phyllo dough and hold them horizontally. Use both hands to hold up the phyllo dough in front of you so that it's hanging. Gently take your fingers and begin to fold or crinkle the phyllo dough from the top down like an accordion, so that you end up with a scrunched-up piece of phyllo dough. They should be about the height of the sheet pan.

Locate the shorter end of the sheet pan (aka the length of the sheet pan should match the length of the scrunched-up phyllo dough) and place the phyllo dough layer at the edge of the pan. Repeat scrunching the next two phyllo layers and butt it against the first scrunch of phyllo layers. Continue to add more layers until it's full.

Place the sheet pan in the oven for ten minutes to get the phyllo dough crispy. Remove the pan and then add the melted butter over the layers of phyllo dough, sprinkle top of the sheets with sesame seeds and place the pan into the oven for another ten minutes.
CUSTARD
In a mixing bowl, combine all the custard ingredients and whisk until incorporated. Remove the pan from the oven and evenly coat the phyllo with the custard mix. Place it back in the oven for about 15 minutes and then turn the pan around to get adequate heat distribution. Bake for another 10 to 15 minutes until it's golden brown.
PORK BELLY
In a large skillet heat sesame oil over medium high heat.

Cook the pork belly in batches, in sesame oil until just cooked. Keep cooked pork belly on a plate until it's all done.

Return the pork belly to pan and add sauces. Stir to combine and cook until pork belly is caramelized. Keep on a clean plate until ready to serve.
SESAME HOLLANDAISE
Melt butter in a microwave safe bowl

Combine egg yolks in the blender container

Blend eggs until yellow and smooth, about 30 seconds

Add lemon juice, black soy, sesame oil, and hot sauce. Blend another 30 seconds

Set Blender on high then drizzle the melted butter in a small stream over the egg mixture. Continue blending until the mixture is thick and creamy, about 2 minutes

Taste and add more sesame oil if needed
POACHED EGGS
Bring water and vinegar to a boil, reduce heat. Swirl water to create a vortex. Add eggs one at a time and poach till soft, about 4 minutes. Drain eggs on a paper towel and keep on a plate until ready to serve
Notes
GARNISH
1 bunch green onions, chopped and divided
1 bunch cilantro for garnish
2 teaspoons Nikky's Thai Basil Chili
1 teaspoon Pad Thai
1 teaspoon toasted sesame oil • Cut cooked egg crinkle into squares
• Serve family style with cooked pork belly, hollandaise, green onions, toasted sesame oil and sprinkle of Nikky's Thai Basil Chili. Add a drizzle of pad Thai sauce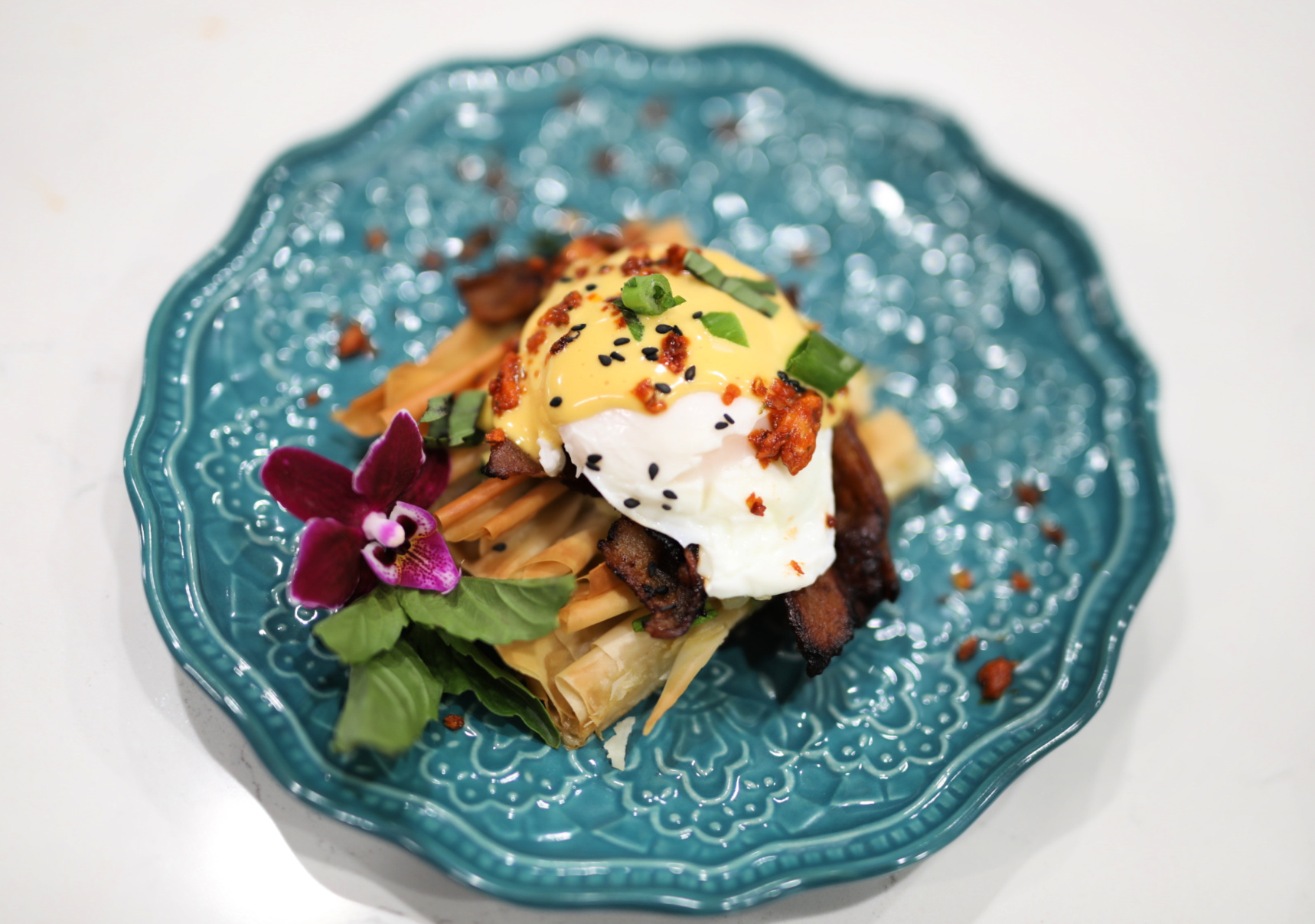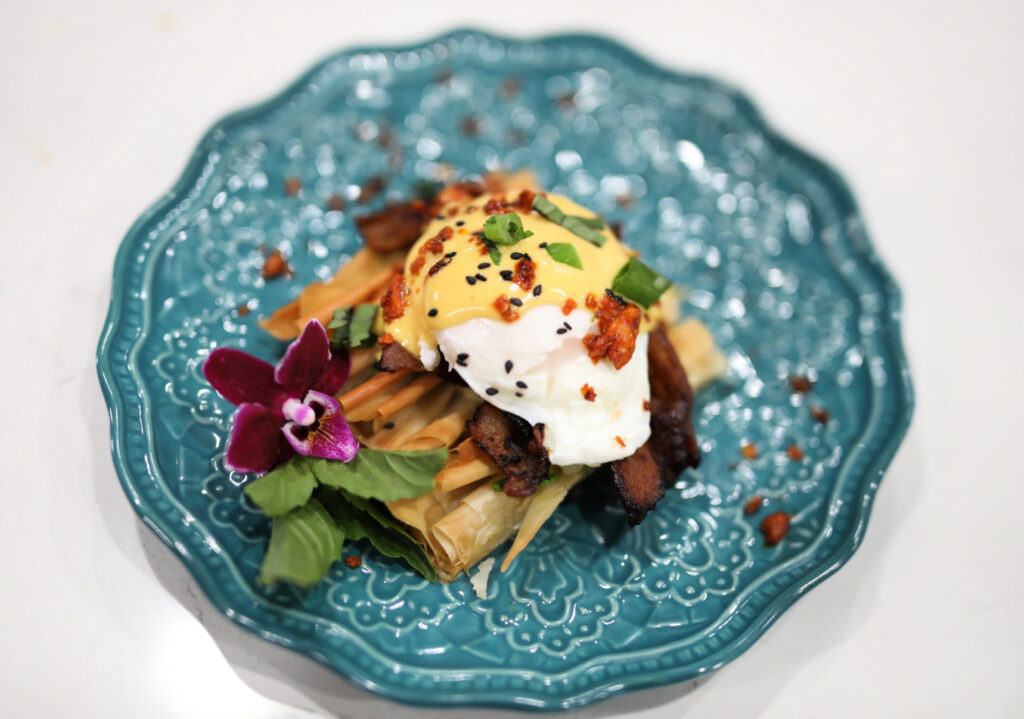 For More Asain Inspired Recipes Click HERE