Bacon shrimp spiral dumplings were my entry into the structured build round of the Bacon World Food Championships. The recipe proved to be a success!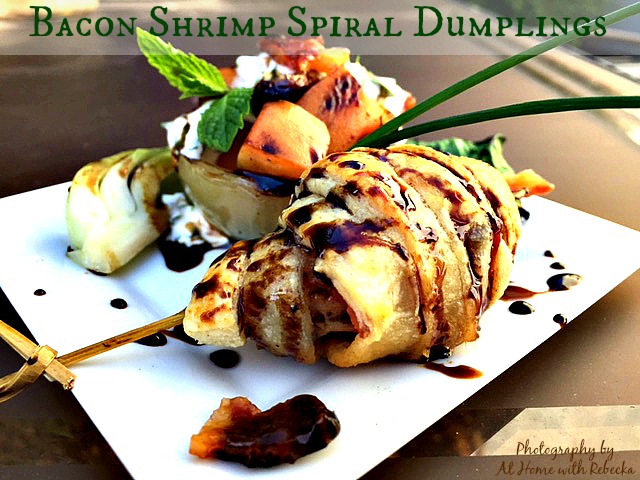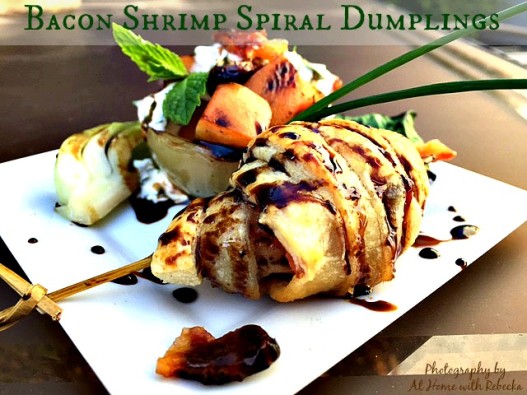 Bacon Shrimp Spiral Dumplings with Cheesy Peas and Bacon Salad.
The Bacon World Championship presented by Wright® Brand Bacon features three different builds: Structured Build, Signature Dish, and Infused Ingredient.
As part of the OPENING ROUND of competition, competitors are asks to create a Structured Build for the Bacon World Championships; this year the build was a "Dumpling". The Structured Build creates an even footing, or structure, within which all competitors must create.
"The competitors who set themselves apart from the field will have proven their culinary skills. Competitors will be required to use Wright Brand Bacon in their Structured Build. Everyone was required to make a Dumpling using their own ingenuity and Wright Brand Bacon, the official sponsors for #WFC2015 Bacon Category." Source: WFC 2015 Handbook
"As defined, Dumplings consist of small pieces of dough wrapped around a filling. They can be based on flour, potatoes or bread, and may include meat, fish, vegetables, or sweets. Dumplings may be cooked by boiling, steaming, simmering, and/or frying."
I found the dumpling build to be the most difficult recipe to create for the competition. I began by making traditional Asian dumplings accompanied by broth; they were super tasty, but executing the perfect dumpling wrapper proved to be very challenging. After a lot of trial and error, I eventually created 8 different Asian dumplings recipes. I also created 3 bacon apple dumpling recipes as well as, 2 chicken and dumpling recipes. Unfortunately, I didn't feel that any of the recipes would take me to the Top Ten in my category!

I finally came up with a recipe utilizing some of my favorite flavors from the South; Bacon Shrimp Spiral Dumplings with Cheesy Peas and Bacon Salad.
This recipe captured all the goodness of Southern comfort food with a few twists and turns. Applewood smoked, apricot candy bacon, wrapped around jumbo shrimp and dressed with a spiral of puff pastry, to form a dumpling with layers of tasty flavor. The crisp, spiral pastry, and sweet-savory bacon, combine beautifully with the succulent shrimp, to create the perfect bite. The tasty dumpling rested on a side dish of cheesy, green peas and bacon, to facilitate the perfectly balanced meal. The final touch, a sweet apricot Jezebel sauce brings sweet-heat, with a drizzle of balsamic reduction to add rich acidity. Folks...I think we have a winner.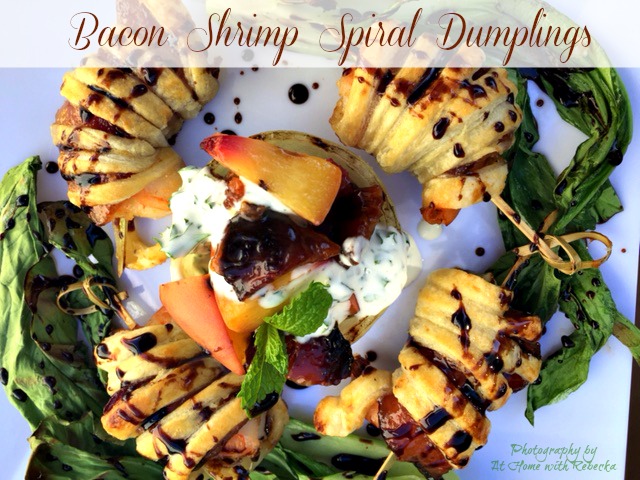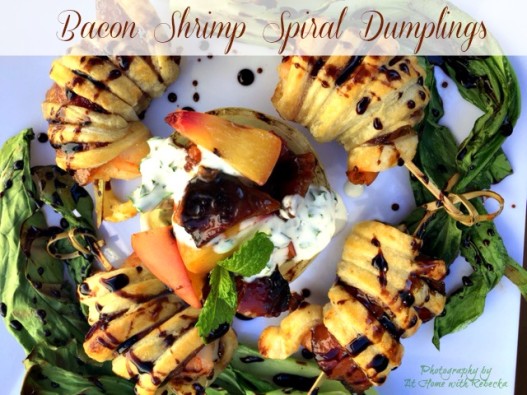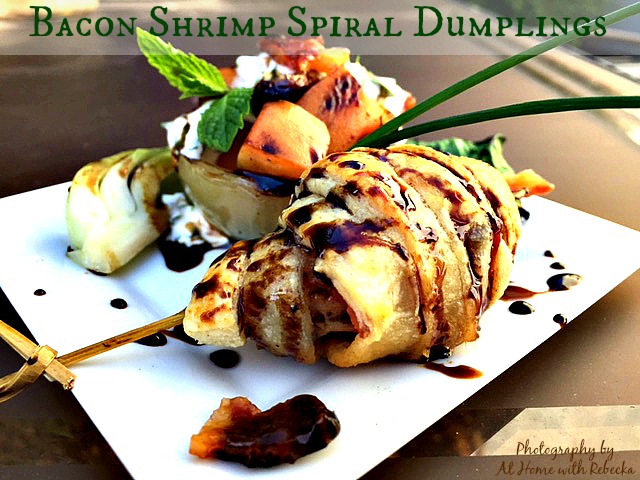 Bacon Shrimp Spiral Dumplings with Creamy Cheesy Peas and Bacon
Ingredients
Preheat Oven 400 Degrees F.
You will need
12

long fancy tooth picks

skewers or optional, rosemary branches

1.5

pounds

Wright Brand Applewood Bacon

1

pound

large pink shrimp

about 12, peeled, deveined, rinsed and paper towel dried

½

package 17.3 ounce package Puff Pastry Sheet

1 sheet thawed

1

cup

apricot jam

plus 4 tablespoon, divided

4

tablespoons

brown sugar

plus more

4

tablespoons

Saucy Mama Apricot Ginger Mustard

divided

¼

cup

water

juice ½ lemon

zest lemon for garnish

1

egg

1

teaspoon

water

2

tablespoon

flour

1

teaspoon

Saucy Mama Creamy Horseradish Sauce

1

cup

balsamic vinegar

¾

cup

soy sauce

divided

½

pound

sharp cheddar cheese

cut into small cubes

2

cups

frozen baby peas

1 ½

cup

mayonnaise

1

bunch fresh thyme

1

bunch fresh dill

1

bunch scallions

white and green parts

Salt and Pepper to taste
Instructions
Pre-heat oven to 400 degrees F.
For the Marinade
In a medium mixing bowl, combine 2 tablespoons Saucy Mama Apricot Ginger Mustard, and juice from ½ lemon, and 1 teaspoon soy sauce. Salt and pepper to taste

Rinse shrimp in cold water and pat dry with paper towel

Toss shrimp in marinade, rest until ready to use

Beat egg with water in a small bowl, set aside
For the Dipping Sauce
Blend ½ cup apricot jam, 1 teaspoon soy sauce, and 1 tablespoon Saucy Mama Horseradish Sauce. Set aside
For the Balsamic Reduction
In a small saucepan combine, balsamic vinegar and soy sauce. Cook over medium heat until reduced by half or sauce coats the back of a spoon.
For the Pastry
Sprinkle work surface with flour. Unfold pastry sheet on work surface. Roll the pastry sheet into a 10-inch square. Cut into 12 - ½ to 1 inch strips.
For the Apricot Bacon
In a small bowl, blend together, ½ cup apricot jam, 2 tablespoons brown sugar, 2 tablespoons saucy mama apricot ginger mustard.

Line baking sheet(s) with bacon, place strips close together but try not to overlap. Brush about 1 teaspoon of jam mixture over each bacon strip, turn and repeat. Sprinkle 1 tablespoon brown sugar over each strip of bacon. Bake at 400 degrees F. for 20 minutes. Remove from oven and set aside to cool. Bacon will crisp up as it cools.
For The Shrimp Dumplings
Skewer each marinated shrimp on fancy picks. Starting at the tail, wrap each shrimp with a slice of cooked, candied bacon (about 12 slices). If bacon is too long, cut to size (this is a messy job). Continue until all shrimp are wrapped in bacon. Wash hands

In the same manner, wrap one strip of puff pastry around each bacon wrapped shrimp, starting at the tail. Lay flat on parchment line baking sheet.

Brush each dumpling with egg wash

Bake for 15 minutes or until pastry is golden brown. Let dumplings rest for 2 minutes until ready to plate
For the Creamy Cheesy Peas and Bacon
Chop remaining slices of apricot bacon into bite size pieces. Separate out 1 cup crumbles and put aside for garnish

In a medium bowl combine, cheese, 2 cup frozen peas, ½ cup fresh minced dill, ½ cup fresh minced thyme, 1 cup diced scallions, 1 ½ cup mayonnaise, bacon, and salt and pepper to taste. Add more mayonnaise if mixture is too dry
Notes
To Plate:
Drizzle with balsamic reduction
Serve with Apricot dipping Sauce
The combination of flavors and appearance of the dish, combined with my scores from my Signature Build Dutch Apple Baby with Blackberry Hoisin Bacon placed me 8th in the Top Ten Bacon Category. As a Top Ten Finalist, I had to bring another winning recipe to the Infused Round, for a chance to win 10K as the First Place winner. Stay tuned for my final WFC 2015 post and my 4th Place Winning Dish recipe.
Here' a bit more about JUDGING: Eat methodology

EAT Method is the criteria our judges will be instructed to follow as they score each of your entries. It is smart to understand what they are being asked to do as you consider your Execution, Appearance and Taste!

The EAT Method is the World Food Championships' own proprietary scoring system and methodology that allows any WFC competition category to be judged on the same criteria in a consistent manner. Each entry will be judged on three key evaluation criteria: Execution, Appearance and Taste.

EXECUTION: Within a category, "Execution" may be defined specifically to the category it belongs in. However, in general, Execution will be evaluated by overall and specific judge's interpretations of dish structure, edibility, potential featured ingredients, category specifications, design and preparation.

Specific category requirements/challenges will be detailed to the judges in the same manner that they have been detailed to the competitors. It will be up to the judges to determine the success of the competitor at accomplishing the requirements of the round.

APPEARANCE: Within a category, "Appearance" may be defined specifically to the category it belongs in. However, in general, Appearance will be evaluated on two criteria: the product to be sampled which is presented for judging, as well as the overall appearance of the turn-in tray. EAT judges will be instructed to more heavily weight their assessment based on the product itself, but to also consider overall presentation appearance.

TASTE: Within a category, "Taste" may be defined specifically to the category it belongs in.
During WFC Judging each criteria will be judged on a scale of 1 (inedible) to 10 (perfect), with 5 being a mid-point (average) score.

Each of the EAT category scores will be weighted according to their importance to the overall dish. The weighting is as follows: Taste – 50%, Execution – 35%, Appearance – 15%.