World Food Championships 2015 Part 3: Top Ten Bacon recipes. The Super Bowl of Food Sport. My recipe for American Red Snapper Bacon Mushroom Hash and Bacon Parsnip Porridge ranked 4th in the WORLD.
To enter the Super Bowl of Food Sport is not for the faint of heart; it requires serious skill in the kitchen and a deep desire to WIN! From start to finish, WFC is a marathon food sporting event, and like any athlete in training...conditioning starts months before stepping onto the field. Even with mad cooking skills there is no guarantee for entry into such a prestigious cooking competition. In the effort to gain entry, competitors must qualifying with a winning recipe by earning a highly coveted Golden Ticket!
I had the honor of qualifying by winning not 1...but 2 Golden Tickets, in online competitions. The first winning qualifier was Penobscot McCrum #TaterTalent Recipe Contest. My Sweet & Savory Clam-Baked, Twice Baked Potato with Apricot Jezebel, got me a Golden Ticket and qualified me for the Seafood Category.
However, as First Runner-Up, fees and expenses are not paid by the sponsor. That honor goes to the First Place Winner, which happened to be my friend and food competitor, Adam Feinberg, owner of Feintasting Foods!
My second Golden Ticket and cash prize of $200.00 for WFC entry fees, came from Just A Pinch® online community. Janet Tharp and her Kitchen Crew picked my Dutch Apple Baby with Blackberry Hoisin Bacon recipe, as a Blue Ribbon winner to represent their company in the Bacon Category. I presented the winning recipe at WFC 2015 as my Signature dish and received 91.75%, placing me in Bacon Top Ten Round.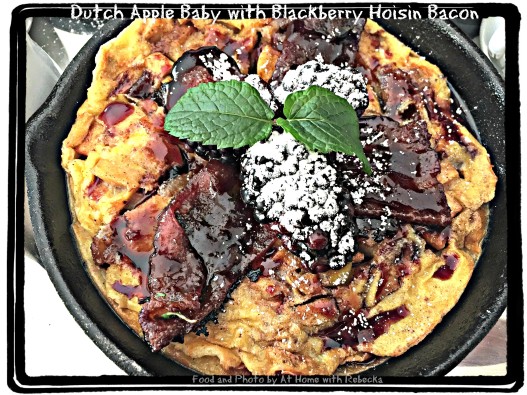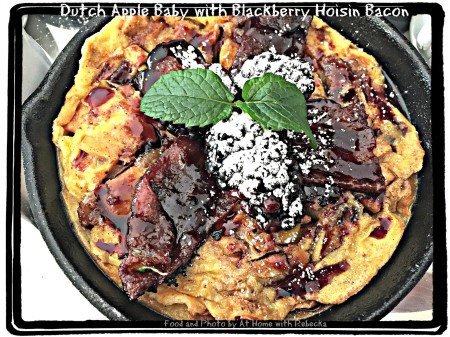 Once the Food Competitor has received a Golden Ticket, endorsements, sponsorship and support from brands are in order. I was so proud to be sponsored by Hammer Stahl Cutlery with a set of glorious chefs knives, backpack, and knife case. The Boning Knife was my saving grace when it came to deboning the beautiful American Red Snapper, for my Top Ten Round, Infused Bacon Recipe. The exceptional quality and workmanship of the blade was like cutting with a laser beam; sliding through the fishes flesh like butter.
The next step for me was to find a "Team" of qualified sous chefs to support me in Kenmore Kitchen Arena. God had a plan!! As a first timer to WFC, I had no idea who, how, what, where and when. I did, however, have an online support group of friends in the food competitor community. Kim Banick, food competitor an award-winning home cook, owner of The Prize of Cooking, and seasoned World Food Champion, offered to be my sous chef for the opening round. She reached out to me without knowing anything about me except through social media groups. God knew I needed help competing in such a prestigious event for the very first time. Kim shared her wisdom as a competitive cook as well as, her sweet spirit and gracious attitude. She also, brought with her a team of sous, Mark Banick and Kasey Brown. We cooked together, we prayed together, and we took TOP TEN in the Bacon Category!
Kim and her team were also competitors at #WFC2015 in the Chili Category and scheduled to compete the next day during my Top Ten Round....I had to find another sous, and fast! Enter my little dynamite, Kc Quaretti, owner of Chat 'n Dish and food competitor in the Dessert Category the day before. KC graciously accepted my plea for help and became my sous for Top Ten Bacon Round. Kasey Brown from the Banick team also showed up to help while the Chili-Heads were in a holding pattern.
With help from my friends and family, #WFC2015 Game Day found me and my team, belly deep in fish scales and up to our eyeballs in the most delicious BACON in the World, Wright Brand Bacon. My two sous, KC and Kasey lifted me up both physically and spiritually as we churned out one of the the best tasting recipes I've ever created; I couldn't have asked for a better team or winning result. For a first time competitor, 4th place in the World is pretty darn respectable!
Below you'll find a video produced by Wright Brand Bacon featuring a few of my bacon competitors and me, the list of Top Ten WFC 2015 Official Scores, and my winning recipe for American Red Snapper Bacon Mushroom Hash and Parsnip Porridge.
Top Ten winners, in all the categories are pre-qualified to compete at the World Food Championships 2016. I'll be returning as a veteran "Food Sport" athlete to compete in the Bacon category and ready to take home a 1ST place win in the next Super Bowl of food sport.... World Food Championships 2016!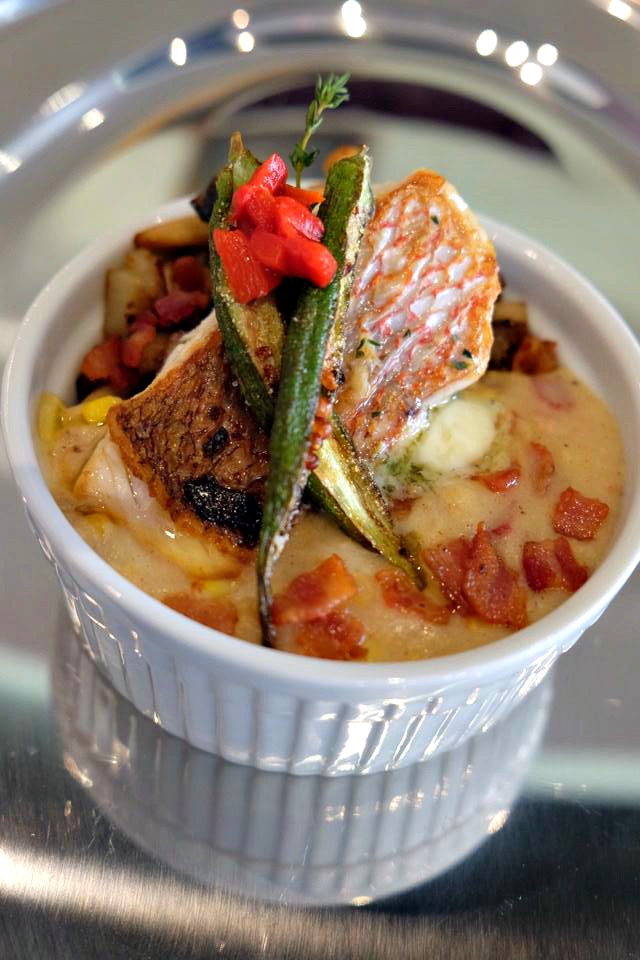 American Red Snapper Bacon Mushroom Hash and Bacon Parsnip Porridge
Perfectly cooked American Red Snapper, accompanied by a crisp mushroom hash, in a creamy bacon parsnip porridge; makes for the perfect bite of comfort food. The woody favors of the crispy sautéed mushrooms are the perfect crunch paired with the creamy parsnip bacon broth. American Red Snapper is cooked to perfection with just a hint of salt and served with a thyme and lemon compound butter. My recipe placed me 4th in the Top Ten of World Food Championships 2015 Bacon Category.
Ingredients
1 3

pound

whole American Red Snapper

1

pound

Applewood Smoked Wright Brand Bacon

divided

2

large 1 large russet potato

skins on (about 2 cups) peeled and diced Optional: Penobscot Potato Skins

4-5

parsnips

(about 1/12 cups) peeled and diced

1

ear fresh corn

1

cup

canned creamed corn

⅔

cups

chopped leeks

white part only

5

clove

garlic

minced, divided

1

cup

Challenge European butter

divided

2

cups

chicken stock

plus ½ cup more if necessary for consistency

½

cup

heavy cream

3

cups

mixed mushrooms

Enoki, Shiitake, Beech cleaned and rough chopped

½

medium onion diced

3

tablespoons

olive oil

divided, and more if needed,

2

cups

vegetable oil for frying

Juice from ½ lemon

3

tablespoon

fresh thyme

divided

1

tablespoon

fancy pimientos

chopped

6

each

whole okra, sliced

½

cup

corn meal

salt and pepper to taste
Instructions
For the American Red Snapper
Scale and clean whole red snapper, leaving skin on. Optional: remove skin

Cut into 4-3 once portions, dry fish with paper towel. Season with salt and pepper
For the American Red Snapper
To make compound butter, combine 1 ½ sticks room temperature butter, juice from ½ lemon, 2 tablespoon fresh or dried thyme. Refrigerate until ready to use

In a medium sauté pan, heat 1 tablespoon olive oil and 1 tablespoon butter

Place seasoned American Red Snapper skin side down in hot pan and cook on first side for 3 minutes, gently flip fish and cook until done. Remove fish from pan and rest until ready to plate
For the Bacon Corn Porridge
Cook ½ pound diced Wright Brand Bacon in a saucepan over medium heat until crisp, remove bacon and set aside (reserve out ¼ cup cooked bacon crumbles for garnish)

Pour off bacon fat

Cut fresh corn from cob

In the same pan, dry roast fresh corn, remove from pan and set aside

Add 1 tablespoon butter

Chop leeks using white parts only, sauté leeks, and garlic until translucent

Add chicken stock and deglaze pan

Add diced Penobscot potatoes, and diced parsnips

Cook until potatoes and parsnips are fork tender

Using an immersion blender, blend potato and parsnip until smooth

Add creamed corn and fresh roasted corn, add additional stock if mixture is too thick (should be the consistency of clam chowder) bring to a boil, cook for 2-3 mounts

Reduce heat, and simmer over medium heat until ready to serve, about 30 minutes

About 5 minutes prior to serving stir in, ½ cup heavy cream, cook another 2-3 minutes
For the Bacon Mushroom Potato Hash
Using two sauce pans, prepare mushrooms and potatoes separately, you will combine later.

Rough chop mushrooms
Mushrooms
In a medium statue pan, melt 1 tablespoon olive oil and 1 tablespoon butter over medium high heat

Add mushrooms and sauté until juices release

season with salt and pepper, taste

Continue cooking until mushroom are caramelized, add more oil as necessary, cut the heat and set aside until ready to combine
Potatoes
In separate sauce pan, cook remaining ½ pound bacon until crisp, remove bacon and set aside, remove excess bacon fat.

Add 1 tablespoon olive oil and 1 tablespoon butter to pan

Cook diced onion, and potatoes for 15 minutes or until crispy and caramelized, season with salt and pepper. Taste for seasoning.

Add 2 tablespoons chopped thyme and stir to combine.

Combine cooked mushrooms with cooked potatoes and cook over medium heat until all ingredients are hot. Cut heat to low

Okra: In a small bowl, combine corn meal, ¼ teaspoon salt, ¼ teaspoon pepper. Slice Orka in half, lengthwise, dredge in corn meal mix. Add 1 vegetable cup oil to pan and sauté over medium heat until crisp. Light salt and use for garnish
To Plate
Divide hash into half of each bowl/plate

Pour porridge in the other half of bowl/plate. Some of the porridge will run into the hash, this is ok

Place a piece of cooked American red Snapper over the plated ingredients.

Place a teaspoon of compound butter on top of each fish filet, right before serving

Garnish with chopped bacon crumbles, fresh chopped thyme, lemon zest and slices of lemon and chopped pimientos
World Food Championships 2015 - OFFICIAL TOP 10 SCORES
BACON WORLD CHAMPIONSHIP
BACON

WORLD CHAMPIONSHIP 2015

Official Scores

Place

Competitor

Signature Dish

Structured Build

Round 1

Top 10

Final Score

1

Mirbeau (Coe, Stephen)

96.625

95

95.8125

93.875

94.65

2

Cuisine with Colleen (Curley, Colleen)

94.625

85.5

90.0625

86.5

87.925

3

Sugarfire Smokehouse (Johnson, Mike)

89.5

90.375

89.9375

86.5

87.875

4

At Home with Rebecka (Evans, Rebecka)

91.75

84.5

88.125

86.75

87.3

5

Katherine Foster (Foster, Katherine)

90.75

90.625

90.6875

81.75

85.325

6

Apple Valley BBQ (White, Justin)

92.875

90.125

91.5

80.375

84.825

7

Q Borough Culinarians (Ashby, Adrian)

93

91.75

92.375

78.5

84.05

8

Farleys (Trumpold, Elizabeth )

92.875

81.5

87.1875

81.75

83.925

9

Blazin' Blues BBQ (Richard, Dan)

90.125

91.25

90.6875

78.5

83.375

10

Two Smokin Guys,NY (Galuski, Dave)

85.875

89

87.4375

77.375

81.4