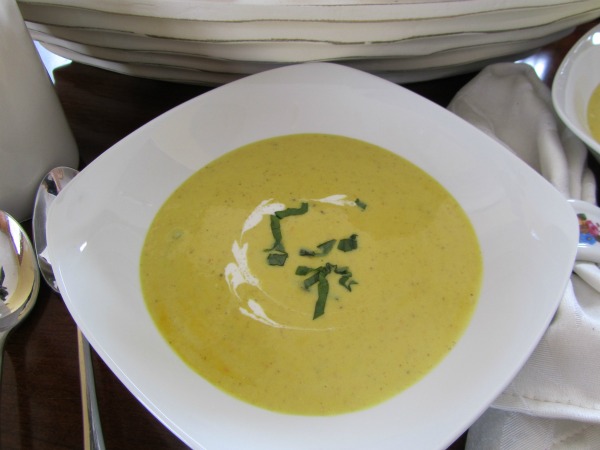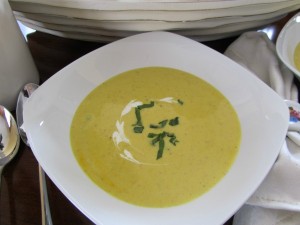 When my in-laws are in town for a visit, they're always gracious enough to buy BBQ for a big family get together.  The BBQ comes from their favorite joint in Idaho Springs, CO.   Smokin Yards.  The restaurant has won many awards for their fare and make some of the best smoked BBQ brisket and hot links I've ever tasted.  The family is always excited to dig in to the delicious dinner. 
I hosted the meal this time around and made several side dishes to accompany the feast.  Baked Beans, Chili Con Queso with chips, Cheddar Biscuits, and fresh Yellow Tomato and Basil Salad.  After dinner everyone was stuffed to the gills, then we ate Brownie Sundaes for dessert.  Now that's my kinda meal!!
So what does BBQ and side dishes have to do with my recipe for Tomato Bisque?  After feeding thirteen people piles of BBQ, my Yellow Tomato and Basil Salad was put away to be reborn a few days later into this flavorful Tomato Bisque.  As much as I hate leftovers this rebirth was nothing short of wondrous.
I had 4 cups of salad leftover.  The salad consisted of sliced yellow grape tomatoes and about 1 teaspoon freshly sliced basil leaves, salt and pepper.  
A side note: I would not add the basil to the bisque until the last 10 minutes of cooking as it will give off a green tint to the end product. 
Recipe
Make 4 cups
4 cups sliced yellow grape or heirloom tomatoes
1 teaspoon minced white onion
1 teaspoon vegetable oil
enough water to cover tomatoes
1-½ cups half and half cream
pinch red pepper flakes
1 teaspoon fresh chopped basil leaves
salt and pepper to taste
Method
On stove top heat vegetable oil in a heavy bottom sauce pan on medium heat, add minced onion, red pepper flakes and sweat for 1 minute

add tomatoes, add enough water to cover tomatoes

cook on medium heat until boiling, reduce heat to low and simmer for 30 minutes

Puree cooked liquid in small batches until smooth

strain hot liquid through sieve and return to sauce pan

raise heat to medium and bring liquid back to a boil

add ½ teaspoon fresh chopped basil, stir to blend

reduce heat to low

add half and half, stir to combine and continue cooking for 10 minutes

salt and pepper to taste and garnish with remaining basil
 Simple yet elegant, the yellow tomato is the star of this dish.