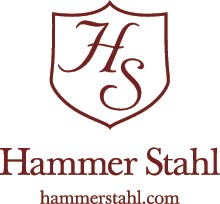 At Home with Rebecka, Sponsored by Hammer Stahl for the 2015 World Food Championships. This home cook and food blogger is counting her blessings for winning 2 Golden Tickets to the most prestigious culinary competition in the World! I can now say, I'm also sponsored by one of the oldest cookware manufactures in North America, Hammer Stahl!
Hammer Stahl is a premier brand of New Era, Inc., one of the oldest cookware manufacturers in North America. New Era's legacy began as the direct-to-consumer division of the Vollrath Company in 1874. In 1982, Donald Henn purchased the consumer division of Vollrath and established the New Era Cookware Company, which has a long history of innovation in the kitchenware industry. New Era introduced the first 7-ply, multi-clad, surgical stainless-steel cookware to the marketplace as well as one of the first induction ready products. The company's primary focus over the last 35 years has been on manufacturing private label and OEM lines for companies throughout the United States and abroad. Today, New Era is proud to bring a line of top quality kitchen products that will showcase exceptional performance, value and quality to the retail marketplace.The Hammer Stahl Kitchen series includes American-crafted, 7-ply, surgical stainless-steel cookware, German steel cutlery and a full assortment of stainless-steel bakeware and accessories. As a family owned business, New Era's goal is to provide customers with exceptional quality at a fantastic value and to provide retail partners a program that makes them competitive and profitable in the marketplace. New Era's success is a direct reflection of forming partnerships with retailers as well as creating and continuing a high level of trust with the customer.
Did you catch the part that the cookware is manufactured in AMERICA? Not to mention; the Knives are German steel with handles finished in China! I love that!!
I fell in love with Hammer Stahl after purchasing a 5.5 Santoku during a one of the companies 30% Off promotions. I use it almost exclusively when chopping vegetables for its balance and sharp edge; it also fits perfectly in my small hands. I'm ecstatic that Hammer Stahl will sponsor me with a set of chef knives for my upcoming competition at the WFC! I've posted a list below of the knives Hammer Stahl is providing: to view detailed information and see photos, click the product name for more information.
I'll be posting a review of the Hammer Stahl knives once they arrive in the mail in a few days, it will include photos of me in action, in the kitchen, wielding these beauties.
I will also be sharing an exclusive Hammer Stahl discount CODE for ALL At Home with Rebecka readers. How much of a discount you ask? You'll just have to check back in a few days to find out! I know you'll want to buy some of these quality manufactured knives for yourself so stay tuned for more details!! Until then, special thanks to Bobby G and the folks at Hammer Stahl!
I'm happy to say that this is a sponsored post! It doesn't get any better than that!!!