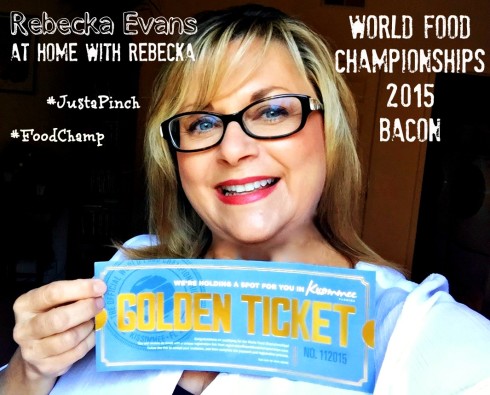 I've won a SECOND Golden Ticket to the World Food Championships with my Dutch Apple Baby with Blackberry Hoisin Bacon via Just A Pinch! A big thanks to the Kitchen Crew at Just A Pinch for choosing my dish and sponsoring me at the World Food Championship in Category BACON!! WOOT!!
I earned my first WFC Golden Ticket from the lovely people at Penobscot McCrum. They chose my Sweet & Savory Clam-Baked, Twice Baked Potato with Apricot Jezebel, as the First Runner-Up, in their WFC qualifying, #TaterTalent Recipe Contest. The winner of the contest is my dear friend, Adam Feinberg from Denver Colorado.
Although, I've already won a place in the Seafood category with my earlier runner-up win, my Just a Pinch win is a paid sponsorship. I'm over the moon with excitement and honored to be a part of the Just A Pinch Team. They are covering my WFC entry fees and sending me a second Golden Ticket to the World Food Championships 2015. In honor my new sponsors, I've chosen to switch categories from Seafood to BACON.
I've got some amazing recipes in my line-up for the competition so stay tuned for more announcements and loads of event photos and fun.
My life as a food competitor is off the chain the past few months! After years of hard work and dedication, I can't believe that I've won TWO Golden Tickets to the most sought after, and illusive cooking contests in the culinary world. I'm so blessed!