....THE POLL IS OPEN AND IT'S TIME TO VOTE....to vote click here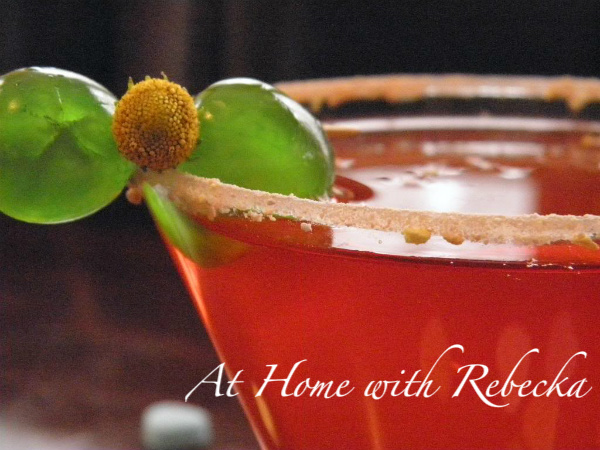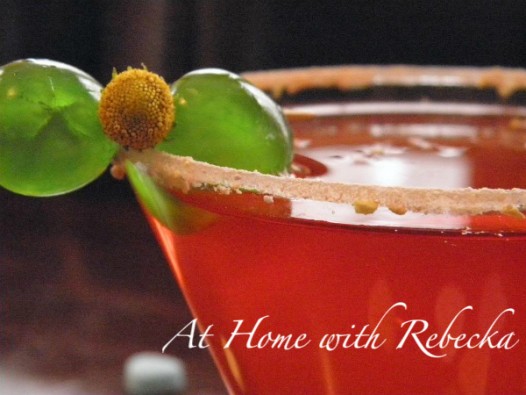 Please visit the MarxFoods link and vote for me...polls are open until Feb. 15, 2011MarxFoods Bite My Sweet Tarts-tini ♥~♥~♥ ♥Szechuan Button♥ ♥Mixology Challenge♥
My recipe is complete and the MarxFoods Szechuan Button mixology challenge is on! Over the past 6 months MarxFoods has been gracious enough to send me several of their companies fine herbs, spices and kitchen products, all of which have been truly fabulous!
Thanks to Justin Marx, I'm being given another chance to experiment with one of MarxFoods exceptional quality exotic ingredients, Szechuan buttons. Excerpt from MarxFoods description...
"Szechuan Buttons (aka Sechuan Buttons, Sichuan Buttons, Toothache plant) are an unusual food in that their primary use is not nutrition or flavor but rather to impart a sensation to food and drink. They possess a slightly bitter, herby flavor that isn't unusual, but a few seconds after consuming them something very interesting begins to happen in the mouth." I braved the Colorado Arctic cold front and sub-zero temperatures today to do some cocktail recon at my local grocery store. It turned out to be a very successful foray with the exception of the frigid temperatures! The moment I walked into the market I was overcome by the large Valentine display at the store entrance. Volumes of pink balloons, flowing pink and white crepe paper, and several life-sized heart displays, beckoned me into their trap! Like a magnet, I was drawn to rows and rows of shelves, laden to the brim with all manner of sweet candies! I'm a corporate marketer's dream! A pretty pink box caught my eye...Sweethearts! This was exactly what I'd been looking for but didn't know it until I saw the box. What a delightful ingredient for a perfectly playful cocktail; add some Szechuan buttons and you've got Bite My Sweet Tarts-tini!
...BiteMySweetTarts... is one of my favorite avatar gaming names. It is the pseudonym by which I'm known on YouTube and Facebook. So, it seemed a fitting name for my challenge entry.
Bite My Sweet Tarts-tini Recipe ♥~♥~♥
Drink Mix
2 Szechuan Buttons
1-⅔ ounce Orange Flavor Vodka
1-⅔ ounce Ceren Vodka
½ ounce Grand Marnier
⅔ ounce Galliano
⅔ ounce Angostura Bitters
2 ounces sour mix
1 12 ounce bottle Strawberry Soda (I used CRUSH Soda)
Tonic Water
Garnish
2 Szechuan Buttons
1 package Smarties
1 package sugar cured green cherries
1 box Sweethearts
Fill 2 cocktail glasses with ice to chill,
fill large shaker ¼ full with ice, pour vodkas, Grand Marnier
Galliano, Angostura Bitters, sour mix over ice, shake vigorously.
Remove ice from glasses, run a lime wedge around the rim of glasses and dip rim in sugar mixture, pour half of the cocktail mixture into glasses distributing liquid evenly, the top half of glass will be empty, fill ¼ of the empty space with Strawberry Soda and other ¼ with Tonic Water, drop 3 whole Sweet Tarts into each drink.
Garnish Preparation
using a clean coffee grinder, pulse Smarties (about 10-12 pieces) until resembles course powder, pour into a saucer, cut entire head of 2 Szechuan buttons into fine pieces and add to Smarties sugar, toss gently to combine.
Garnish drink with 2 Sun-Ripe green cherries and 1 whole Szechuan Button
Recipe Serves 2
Drinking protocol
When trying something new it's always a good idea to add something that's familiar too, so I added the green candied cherries. Their sweet flavor aids the drinkers experience by masking the Szechuan Buttons initial taste of metal, preparing the palate for the sweet crisp flavor of the drink.
If your are the adventurous drinker, start your Szechuan Button drinking experience by eating the two cherries and Szechuan button at the same time, before sipping the drink.
For the more timid drinker, sip the drink from the glass rim to enjoy a mild tingly sensation from the Szechuan Button infused sugar.
The flavors of the sour Smarties and sweetness of the strawberry soda accent the tingly sensation of the Szechuan Buttons perfectly. It's also a fun drink to watch as the Sweethearts dance on the bubbles from the soda.

Bite My Sweet Tarts-tini is a dangerously delicious drink!