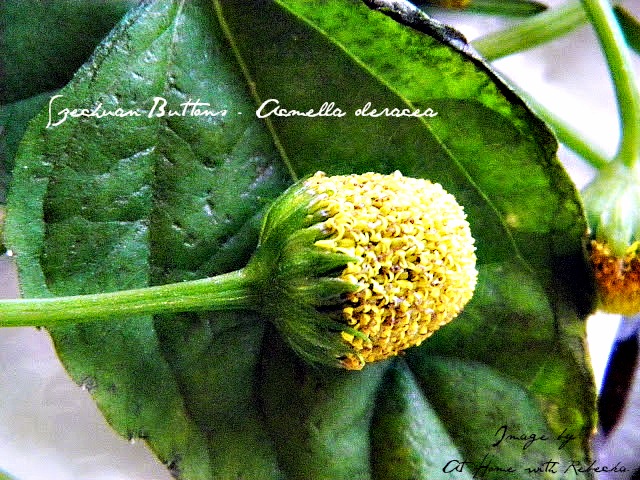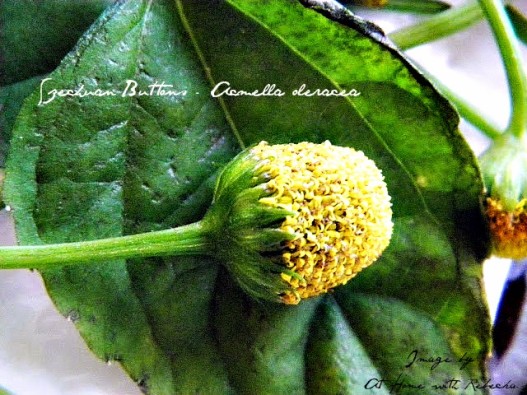 I received a tiny package from MarxFoods today that came with the warning... "eat at your own risk"! Now that's my kind of adventurous ingredient! Marx Foods Mixology Challenge is on!
This unassuming delicate flower looks harmless enough but in this case it's fragile look is very misleading! Famous for it's "Electric" sensation on your tongue and lips the Szechuan Button is getting a big name around town with master mixologists.
Enlisting the help of my younger children, I split half of one bud between us for a first-time taste test!
Each consumed their portion and sat very quietly waiting for the effects to kick in. The initial prominent flavor was metal. MarxFoods describes the taste like sticking your tongue on a live battery. Yup! That's pretty much the gist of it! What came next is the feeling of numbing, akin to the swab of the numbing agent from the dentist before having a cavity filled; anesthetic like, with a bit of citrus after taste. The full effect comes several seconds later with a full-on oral 'tingling' sensation.
Half a button split between four people was quite enough to feel the impact of these "funny" buttons. The kids were not impressed with the 'weird' sensation and commented it was way too much like going to the dentist! As for me, I'm poised to begin another competition using this unusually anesthetic ingredient...I've already been putting together several recipes in my mind and hope to bring a fancy, tingly cocktail to the table for this competition.
To learn More bout Szechuan Buttons visit MarxFoods.
I'll be posting my recipe on February 3, 2011, and voting will go live on the MarxFoods website February 7-11. The winner will be announced on February 15, 2011.
Wish me luck!!