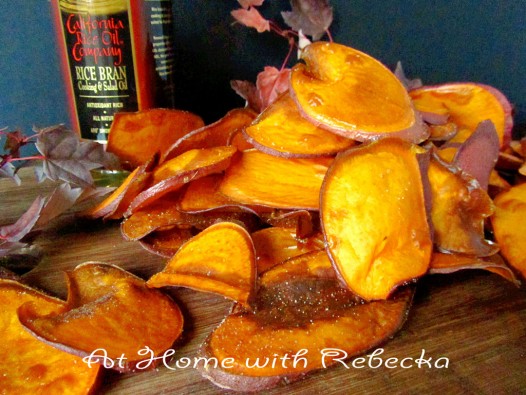 Have you ever noticed that after deep-frying or sautéing foods there's a heavy oily smell on your clothes, and even after a thorough clean up the smell of cooked oil still lingers in the air?  As a result of the awful odor associated with deep-frying and experiencing a personal battle of eaters remorse, I've put away my Fry Daddy hoping to keep deep-fried temptations at bay and that nasty oily film out of my house.  Although, I've backed away from serving deep-fried foods to my family, I still find myself drawn to them despite the smell and the health risks of the trans fats associated with most cooking oils.  With all the health issues related to deep-frying foods it's no wonder that home cooks like myself and restaurants are looking for alternatives to traditional cooking oils.
The Mayo Clinic states that when it comes to fat, trans fat is considered by some doctors to be the worst type of fat. Unlike other fats, trans fat — also called trans-fatty acids — both raises your "bad" (LDL) cholesterol and lowers your "good" (HDL) cholesterol.  Trans fat is made by adding hydrogen to vegetable oil through a process called hydrogenation, which makes the oil less likely to spoil. Using trans fats in the manufacturing of foods helps foods stay fresh longer, have a longer shelf life and have a less greasy feel.  Scientists aren't sure exactly why, but the addition of hydrogen to oil increases your cholesterol more than do other types of fats. It's thought that adding hydrogen to oil makes the oil more difficult to digest, and your body recognizes trans fats as saturated fats.
It's always a pleasure to review a new product so I was thrilled when Ellen, from the California Rice Oil Company asked me to review their Rice Bran Cooking and Salad Oil.   I was eager to try the product hoping to learn first hand if this cooking oil not only tasted good but was a healthful alternative to traditional canola, corn and vegetable oils.
California Rice Oil Company boasts that Rice Bran Oil, a naturally healthy alternative to other products on the market, that is 100% natural, contains no cholesterol, no GMO (genetically modified food) and preservative free. Like many assertions made by companies trying to sell a product I was skeptical however, I hope to reveal the accuracy  of their claims with my personal test of the product.  My hope, to finally find a cooking oil that doesn't alter the flavor or color of my recipes or leave an oily residue on my clothes or icky smell in my home.   This cooking oil could be the one that ushers in a new era of fry daddy cooking in my kitchen!  source Wikipedia:
ABOUT THE COMPANY:
California Rice Oil Company, is a joint venture, founded eleven (11) years ago and is located in Fairfield California.
THE ORIGINS OF THE COMPANY:
Co-Owner of Californian Rice Company, Ellen Davenport discovered the healthful benefits of Rice Bran Oil while she was an investor of an equestrian feed company.  While selling the product to horse farmers, equine and tact suppliers, she found that rice oil is as a non genetically modified oil, and was used in horse feed for its natural healing and immune boosting benefits. The products natural nutrient rich properties soon lead her away from the horse feed business and into a new industry.  Finding the product to be sustainable agriculturally, hypo allergenic and trans fat-free, she decided to sell her business and take her knowledge of Rice Bran Oil into the food service and retail industries; culminating in the lucrative venture, California Rice Oil Company.
Over a period of time a natural transition occurred in Ellen's home. She began to remove trans fats from her families diet! A difficult task at the time, Ellen realized how few trans fat-free foods were available to consumers prompting her to join a collaborative effort in 2003, to ban trans fats in the food industry.  The organization bantransfats.com was the first of its kind and was integral in the movement that launched the national and international trans fat campaign by suing Kraft in 2003 to eliminate trans fat in Oreos.  Result: Kraft eliminated trans fat from Oreos and reduced or eliminated it in about 650 other products. Click here and here for information.  The Oreo lawsuit had a huge "domino" effect. The publicity that the lawsuit received created public awareness about the trans fat issue and triggered an avalanche of events including the FDA labeling rule. source: Bantransfats.com

ABOUT THE PRODUCT:
Rice Bran Oil is extracted from paddy rice bran coats and germ to produce, "The World's Healthiest" edible oil, containing vitamins, antioxidants, nutrients and trans fat-free. It's not just delicate and flavorful, it can help lower cholesterol, fight diseases, enhance the immune system, fight free radicals and more. Rice Bran Oil is extremely light, versatile and delicious."    source: California Rice Oil Company.
THAT NASTY SMELL:
I knew there had to be a scientific reason for the lingering smell of cooking oils.  Answer: Rice polymers form a thick sticky film that is tough to clean from vents, fryers (and we can assume clothing, household furniture and carpeting). Rice Bran oil produces less polymers than canola, soybean cottonseed or peanut oil, this provides extended fry life and superior flavor, less polymers means easier and less clean up.  source: California Rice Oil Company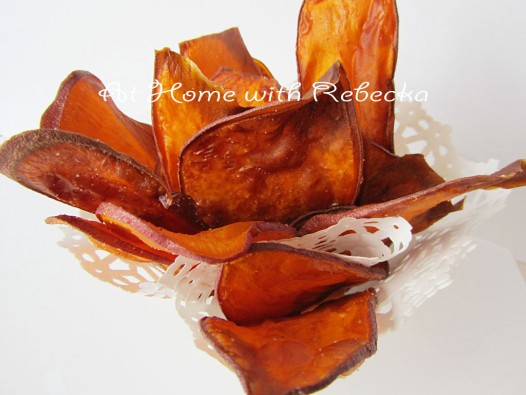 I decided to go with a simple recipe to test the product.
To produce a delicious crisp chip, sweet potatoes require a cooking oil that has a very high smoke point. Rice Bran Oil has a smoke point of (490°), the closest comparison to soy oil unfortunately, many people have allergies to soy products thus, Rice Bran Oil becomes beneficial to those suffering from allergies associated to traditional oils.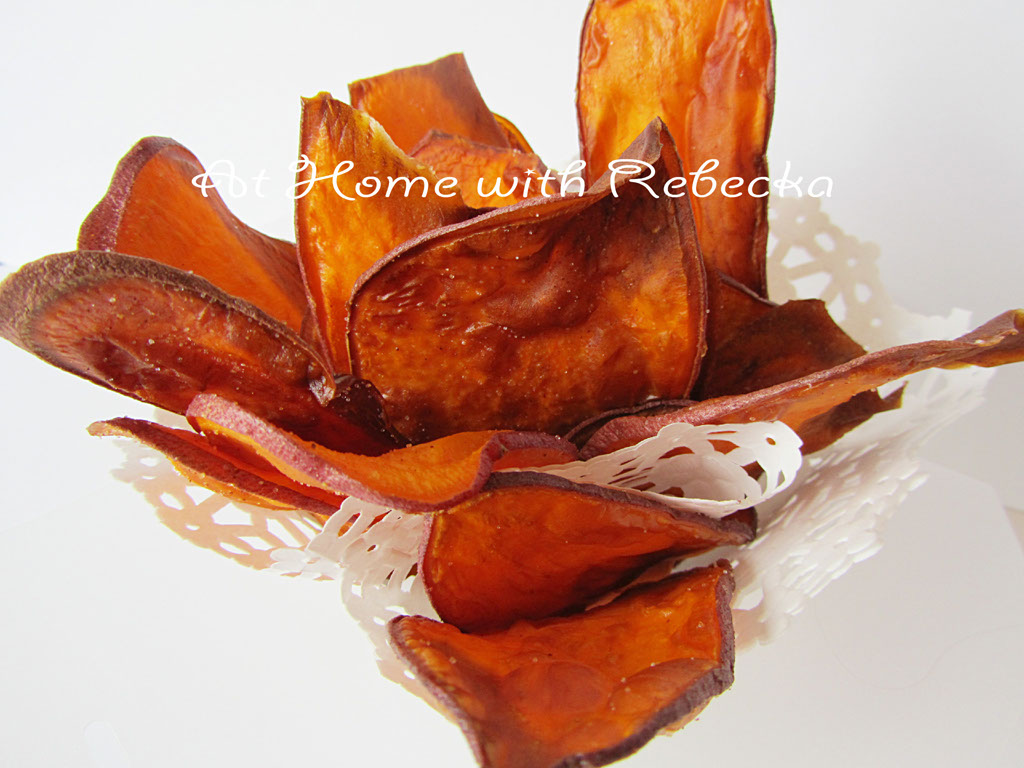 California Rice Oil Company, Rice Bran Oil~Product Review~Fried Sweet Potato Crisps
Ingredients
•3-4 Cups California Rice Oil Company

Rice Bran Oil

•4 large sweet potatoes

•season salt or sea salt to taste
Instructions
•Using a large cast iron skillet heat 3 cups of oil on medium high heat

•Thinly slice sweet potatoes using a mandolin or very sharp knife

•Using a kitchen thermometer, test hot oil. Oil is ready when it reaches 490°

•In small batches, cook potatoes until golden brown, turning often

•drain on a paper towel

•Sweet Potato Crisps can be kept warm in a 200 degree oven until ready to serve

•Salt right before serving

Serve with homemade Aioli made with Rice Bran Oil for dipping
REVIEW RESULTS
PROS:
I was shocked to see no smoke rising from the pan as I kept the temperature steady during the duration of frying. A very good start
There were no brown or burned particles collecting at the bottom of the pan.
After the excess oil drained from the potatoes they still retained their bright orange color
The leftover oil didn't have the offensive oder I associate with deep-frying.  I strained the cooled oil into a glass jar and have used it to cook grilled cheese sandwiches and pancakes with no after taste from the previous use
I was concerned the rice bran oil would over power the sweet potato but was pleasantly surprised by the nutty taste that actually enhanced the crisps flavor.
 After taking photos for an hour the potatoes remained crisp and very tasty, no oily residue
The big test for Rice Bran oil was when I walked in the house after collecting the children from school later that day. I opened the door and sniffed the air...NO smell!  Glory be!
CONS:
I will need to buy more!
MY RATING:
All of the company's assertions proved true.  The oil tastes delightful and it's good for me and my family!! I give California Rice Oil Company's, Rice Bran Oil an A!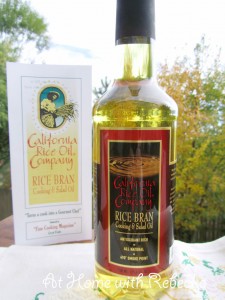 Rice Bran Oil can also be used in marinades, baking, dipping sauces and salad dressings.  Visit California Rice Oil Company for more recipes using Rice Bran Oil
Spicy Foccacia Bread

Beer Battered Fish
If you live in Colorado you can find California Rice Oil Company's, Rice Bran Oil in your local Sprouts market.
For more information about the company click this link, ordering on-line: contact the company at this link.
Testimonial:  One of Ellen's clients, Barbara's Fish Trap in Half Moon Bay, shared that staff members had been complaining about headaches associated with the cottonseed oil used to deep fry fish and chips.  After switching all of their deep fat fryers to Rice Bran Oil the staff ceased to have headaches.
NOTE: Rice Bran Oil is also being used in the cosmetic industry to promote healthy vital skin
Disclaimer: I was not compensated for writing this review post. Sponsor provided product for review but my review and opinions are mine alone and were not influenced by outside sources. I make no claim that said product will perform the same for everyone; other individuals may have differing results/opinions.