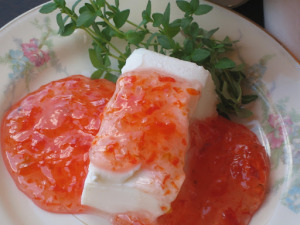 I've decided to share a few of my favorite recipe posts from the At Home with Rebecka Recipe Vault, while I'm vacationing with family in Philadelphia, New York and Washington DC next week. 
To begin the week...Pepper Jelly. 
Pepper Jelly is not only a great Christmas gift but a delicious summer treat. I find it difficult to stop eating this addictive snack, and crave the sweet hot flavors with a creamy block of Philadelphia Cream Cheese.  I's that time of year so I think it's time to head out the farmers market to buy a bunch of peppers!  Enjoy
 
Hot Pepper Jelly
When socializing during the Holidays or attending parties, and special events anytime of the year, I never arrive empty-handed. Popular hostess gifts such as a nice bottle of wine or fresh-cut flowers are a nice touch, but I try to take a different approach and make my gift a little more personal. I share a sweet jar of one of my homemade jellies, jams or chutney's
The bright red color of the crisp peppers is deliciously inviting, so I choose red, orange and yellow sweet peppers for my Pepper Jelly recipe.
Tasting the combination of sweet, hot pepper jelly on a crisp Water Cracker brings back memories of Christmas' long past and summer canning projects with my children.  Canning Pepper Jelly each year has become my signature Christmas gift for family and friends alike.
I also prefer my jelly very hot and add 3-4 Habanero peppers to the hot pepper mix. It's easy to adjust the heat by using jalapeño instead. I generally use two or three different varieties to bring a fuller flavor to the recipe.
Recipe
4 to 6 red or green sweet peppers
6 to 10 hot peppers Habanero, jalapeño
6 cups sugar
1 ⅓ cups white vinegar (5% acidity)
2 3-ounce packages liquid pectin
2-3 drops food red or green coloring (optional)
Method
Wash the peppers and remove seeds and ribs, and cut into chunks. Process each type of pepper in batches, in a food processor until coarsely ground.

Measure 1 cup ground sweet red pepper and ⅓ cup ground hot peppers.

Combine ground peppers, sugar, and vinegar in a large saucepan; bring to a boil.

Boil 6 minutes stirring frequently.

Stir in pectin and boil 3 minutes, stir frequently.

Remove from heat and skim off foam.

Pour hot jelly into hot sterilized jars, leaving ¼ inch. Wipe jar rims with clean damp cloth. Cover with metal lids and screw on bands; Process in water bath for 5-10 minutes. Makes 6 half pints.
My recipe has been adapted throughout the years but it's origins are founded in the Household Search Light Recipe Book and Fannie Flagg's Whistle Stop Cafe Cookbook.
Pictured: Recipe Extra Hot Habanero Pepper Jelly
Click photo for recipe
You might also like to readMount Vesuvius Erupts in my kitchen .  A tale of canning gone wrong, with a happy ending!