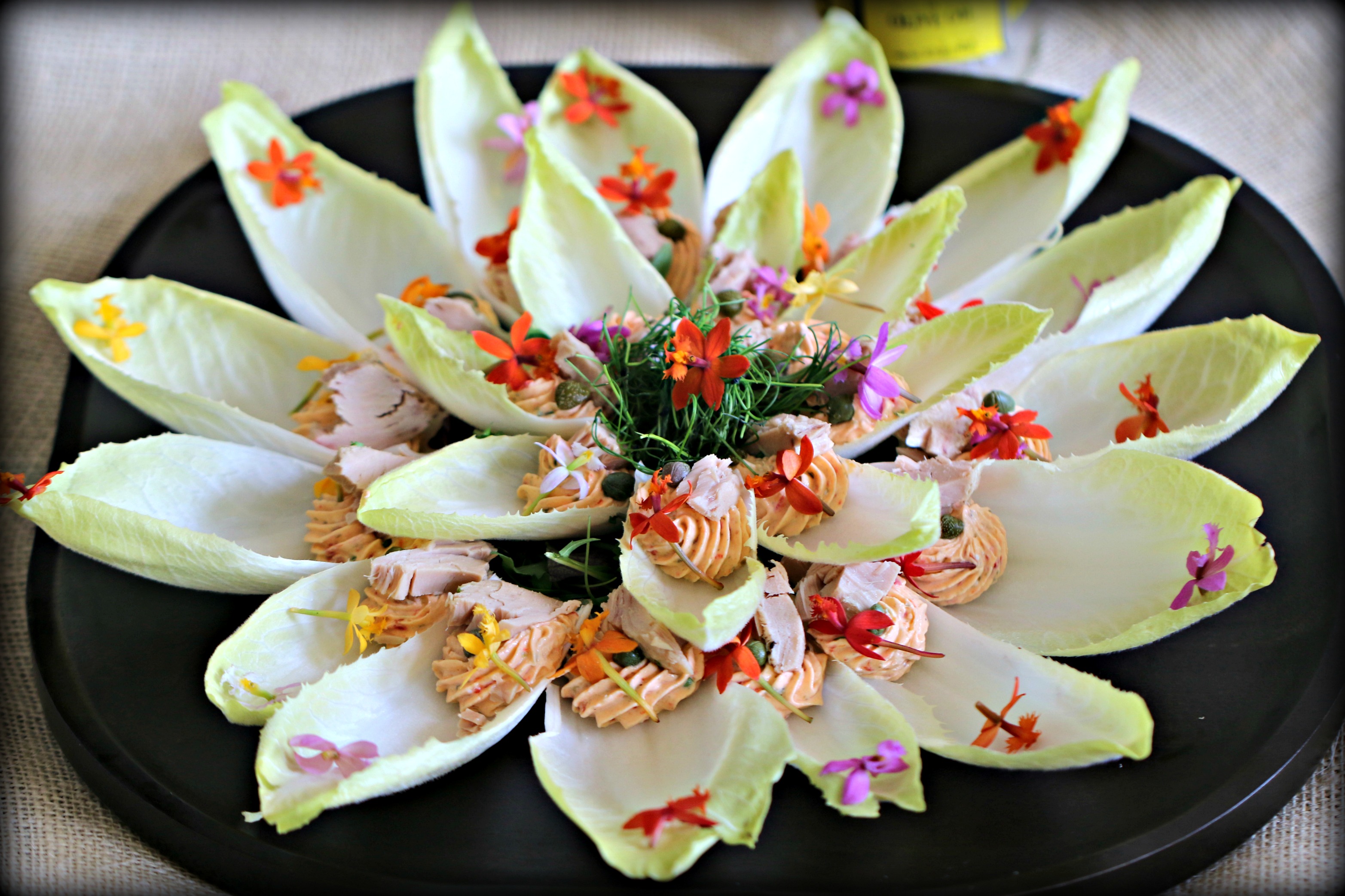 Dressed to impress, my Creamy Lemon Pepper Tuna on Endive are garnished with edible mini orchids and capers. This original recipe is my first submission for the Appetizer Category of the Tonnino Tuna Blogger Recipe Challenge.
UPDATE:
It's a pleasure to announce that my Creamy Lemon Pepper Tuna on Endive won the Appetizer Category of the Tonnino Tuna Blogger Recipe Challenge. Special thanks to Tonnino Tuna for supplying the contestants with their amazing products and choosing my recipe for the win.
Impressive yet easy to make:
Impress your guests with this STAR of an appetizer and savor the flavor of wild-caught tuna by Tonnino Tuna. The recipe is simple to put together and it only takes thirty-minutes to make and is the perfect bite for family gatherings or your next summer fling.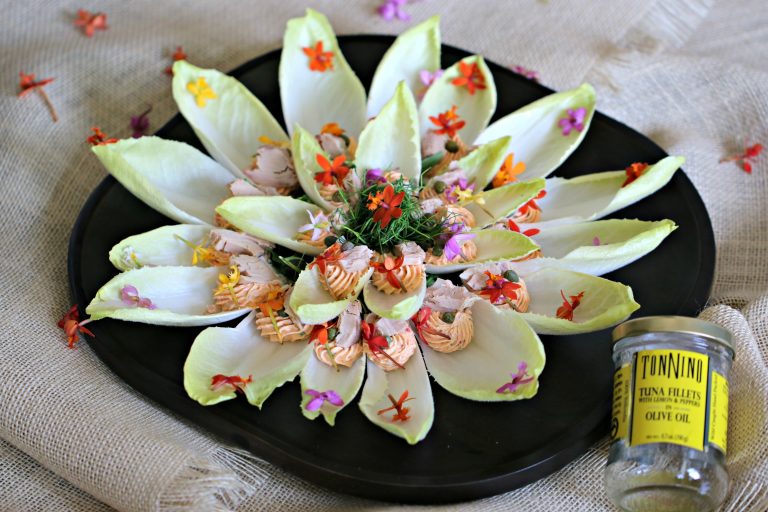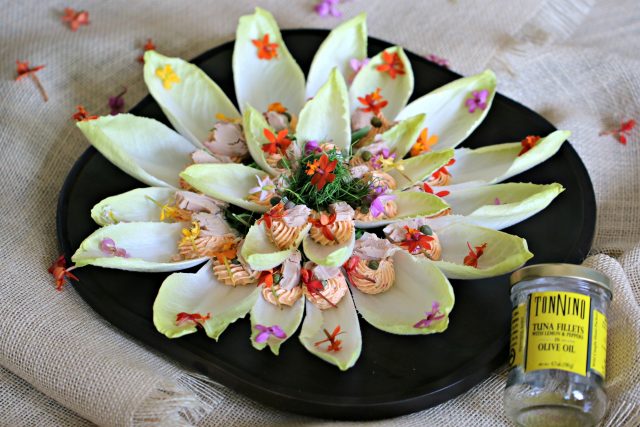 Getting the Recipe Right
I wanted to preserve the perfect yellowfin filets I found in the jar to offer a formative bite of this delicious tuna, so I gently sliced them into bite sized pieces after draining off the oil. I also included some of the flaked tuna in the creamed mixture to create this perfect appetizer bite.
Not Your Momma's Tuna Salad
Tonnino Tuna is looking for inspirational ideas to create "Simply Better Tuna Recipes" that occur when creativity is fused with unexpected flavors and ingredients that are made with the best tuna served either hot or chilled that makes everyday dishes into gourmet dishes.

Tonnino Tuna
I can honestly say, this is not your momma's tuna salad recipe, it's simply a better tuna recipe!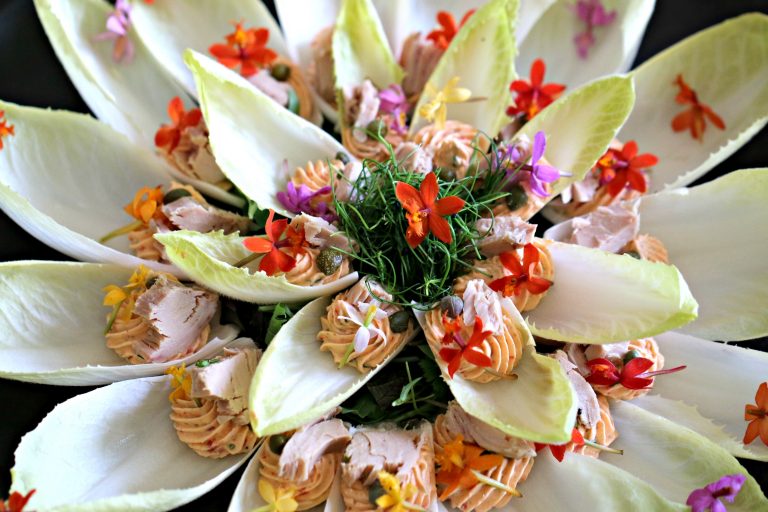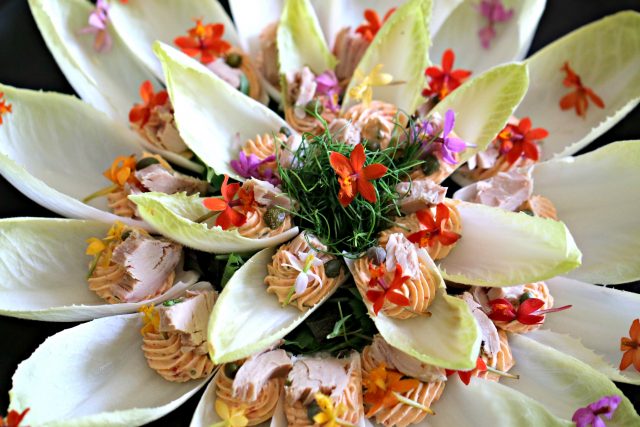 About Tonnino Tuna
Tonnino Tuna®, the leader of the finest cuts of wild-caught yelllowfin tuna are made from 100% Yellowfin tuna. Our tuna is low-mercury, dolphin safe, wild-caught and available in eight delicious flavors made from high quality, Mediterranean-inspired ingredients.

Tonnino Tuna
The flavor of Tonnino Tuna packed in olive oil is unmatched by similar brands. I loved the chunks of yellowfin tuna filets found in the 6.7 ounce jar, as they worked perfectly for my recipe. I chose to use the Tonnino Lemon & Pepper flavored tuna for my dish, but Tonnino's diverse set of flavors affords their customers the ability to blend their gourmet tuna with a variety of ingredients.
About the Challenge
Tonnino Tuna will send qualified applicants:

One jar of Tonnino Olive Oil Tuna

One jar of Tonnino Garlic Tuna

One jar of Tonnino Lemon & Pepper

One winner will be selected from each category and be awarded $500.00. The winning recipes from each category will then compete to see who will become the $1,500.00 grand prize winner of the "Tonnino Tuna Blogger Recipe Challenge."

Tonnino Tuna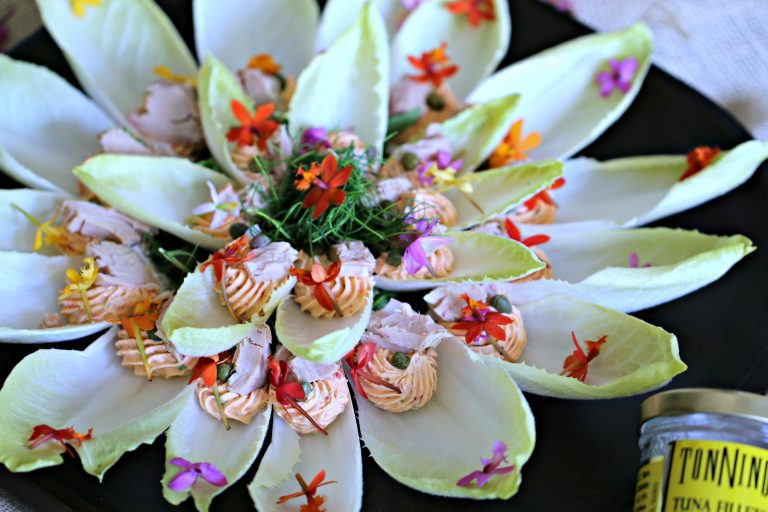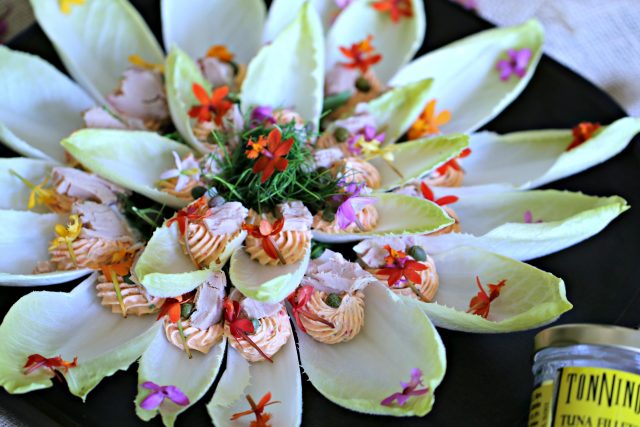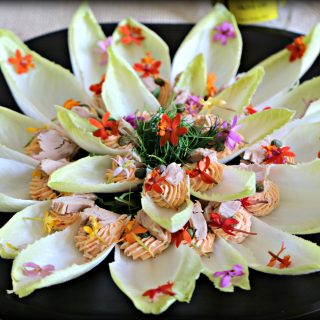 Creamy Lemon Pepper Tuna on Endive
Tonnino Tuna Blogger Recipe Challenge Recipe Submission Appetizer Category
Ingredients
1 6.7-

oz

jar Tonnino Tuna with Lemon & Pepper

divided

8

oz

block cream cheese

room temperature

2

large endive bulbs

leaves removed

1 4

ounce

jar sweet chopped pimiento peppers

1

teaspoon

capers

more for garnish

1

tablespoon

prepared horseradish

½

teaspoon

fresh lemon juice

¼

teaspoon

sea salt

1

teaspoon

fresh ground black pepper

2

tablespoons

finely chopped chives

1

cup

micro greens or fresh herbs
Instructions
Using a fine sieve, drain Tonnino Tuna over a medium bowl. Gently slice the whole tuna filets. Reserve 2 tablespoons flaked tuna for creamed mixture

Combine room temperature cream cheese, sweet chopped pimientos, with liquid, lemon juice, capers, prepared horseradish, 2 tablespoons flaked Tonnino tuna, salt and pepper, in a medium sized food processor.

Process mixture until smooth, about 3 minutes. Using a spatula, scrape the sides of the bowl to pick up any large clumps of cheese and process for another 3 minutes. When mixture is smooth, stir in finely chopped chives.

Using the spatula, remove mixture to a medium piping bag fitted with a large hole pipping tip.

Gently remove all the leaves from the endive bulb. Remove and discard any damaged endive leaves. If the leaves become too difficult to remove, cut the root end with a knife to release them.

Lay the larger endive leaves on a large serving plate in the shape of a star. Fill the round space in the middle with a layer of micro greens or herbs.

Pipe a dollop of the creamed tuna mixture onto the lower portion of the endive leaf. Continue until all the lower leaves are done. Garnish each dollop of creamy tuna mixture with a piece of sliced tuna filet, edible orchids and capers.

Once the lower layer is completed, continue with the smaller leaves and place them on top of the micro greens in a star shape. Garnish each accordingly and serve immediately.

The appetizer can be made ahead and stored in the refrigerator, covered loosely with plastic wrap.

 
Notes
You will need one piping bag and one large piping tip
I used mini mixed greens to fill the hole in the middle of the plate as a base for the top star shape. Any chopped lettuce, herbs or greens can be used.
Garnish: Edible mini orchids, mini chives shoots, capers
My source for edible flowers and micro greens http://gourmetsweetbotancals.com
By Rebecka Evans
Follow and Purchase Tonnino Tuna
You can purchase Tonnino Tuna at Whole Food Markets and follow Tonnino Tuna on Instagram and Facebook: https://www.instagram.com/tonnino.tuna/ https://www.facebook.com/TonninoTuna/
For more amazing tuna recipes check out my CHILI-LIME TUNA CAKES
#temptingyourtaste #tonninobloggerchallenge