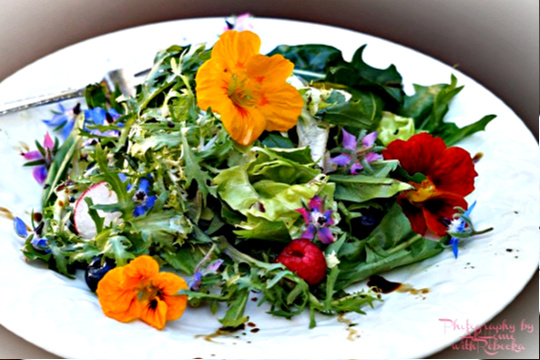 Summer's bounty is ripe with opportunity to create fresh edible flower and herb salads. I wrote this post several years ago and love the recipe so much it bares repeating. I hope you enjoy the information I've learned over the years associated with gathering and eating edible flowers.
Edible flower salad with herb vinaigrette is a fresh garden salad that is almost too beautiful to eat! This salad will make a delicious and elegant salad, perfect for brunch, ladies luncheon, or a bridal shower.
my mother's garden
My mother's garden was the birthplace for all sorts of fresh vegetables and herbs which she used to create many family recipes. It was also the origin of my love for edible flowers. Using herb flowers and other edible petals in cookery during the 1960's was a benchmark in gourmet eating, setting my mother light years ahead of her contemporaries. After years of sampling flowery, gastronomic delights such as pansies, squash blossoms, spicy nasturtiums, and sweet borage, my youthful palate was introduced to flavor profiles most adults have yet to experience.
a delight to the senses
The consumption of edible flowers also fostered my imagination as a child. With every flowery recipe mom put on the table, I created a fantastic imaginary story resplendent with visions of fairies floating around the dinner table. The imagery of blue and deep red flowers combined with food stuff at an early age, was the fuel for my current food blogging experience.
precautions and guidelines
When eating and gathering edible flowers some precautions are in order.
First and foremost, I'm not a dietician, herbalist or professional doctor of natural medicine. All content on this blog are the author's personal views and opinions. The information provided is solely for entertainment and does not constitute any legal, medical, or other professional advice. It is not to be taken as fact nor absolute truth and it is not the author's intention to do harm or to injure others. The author will not be held responsible for advice, tips, techniques, and recommendations used. Readers of this blog are to use it at their own free will and at their own risk.
That being said, here are a few guideline to follow:
Asthmatics, if you're prone to allergic reaction, introduce edible flowers in small amounts to judge the effects
Stay away from flowers that have been treated with pesticides, herbicides and insecticides
Collect flowers from known sources and refrain from gathering near roadways where car exhaust is present
Consume only edible flowers. Follow this link to the Edible Flower Chart
Purchasing edible flowers can be difficult, so growing your own is a very easy alternative.
flavor profile
The recipe uses borage and nasturtiums; both flowers have distinct flavor profiles and medicinal attributes.
nasturtiums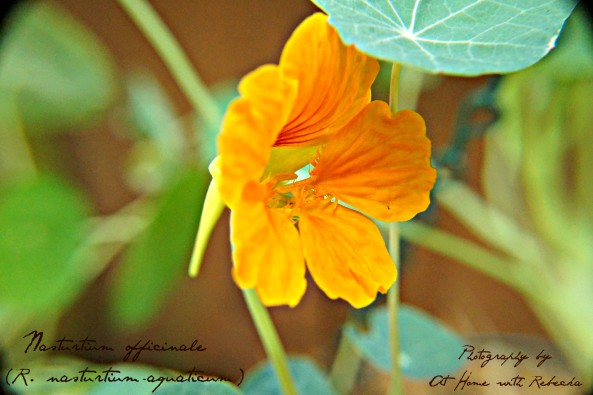 Nasturtium range in color from dark red, orange, to bright yellow. The word nasturtiums literally translates to "nose-twister" or "nose-tweaker", due to their sharp peppery taste. When eating a nasturtium for the first time, you may note a flavor finish with hints of sweet honey or nectar. Eating flowers is like sampling fine wine, there are layers and layers of flavor.
medicinal uses
Some people take nasturtium in combination with other herbs for urinary tract infections(UTIs), swollen airways, cough, and bronchitis. Nasturtium is sometimes applied directly to the skin in combination with other herbs for mild muscular pain. Nasturtium contains vitamin C and might help fight bacteria, fungi, viruses, and tumors. Source WEBMD
borage flowers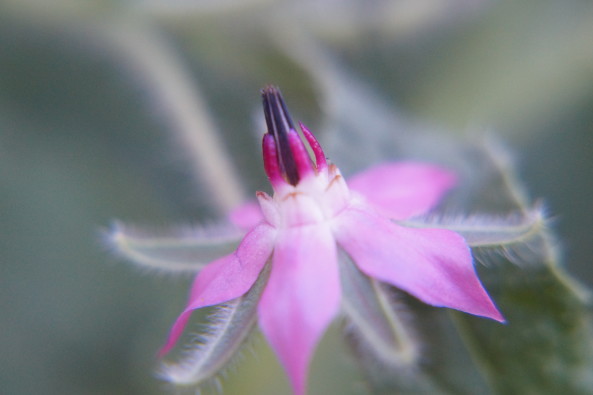 Borage flowers have a delicate cucumber-like flavor and are very tender on the teeth. They are star-shaped with five-pointed purple or pink petals, most commonly used in salads, soups and pastries for their superb color and texture.
Cautions: Borage has been known to have a laxative or diuretic effect, so it's important to introduce small amounts into your diet.
Borage can also affect lactation and not recommend for mother's who are breast-feeding.
The leaves are also edible but are covered with a fine silvery hairs. As the plant matures the hairs become bristly but when cooked they are almost non-existent. The leaf, stem are also covered in these fine hairs which contain small traces of silica that may irritate the skin. Wear gloves when harvesting and use leaves from early growth cycle for salads. Added to soups, steamed or lightly sautéed in extra virgin olive oil, borage leaves have a hint of cucumber-like flavor and are similar in texture to cooked spinach.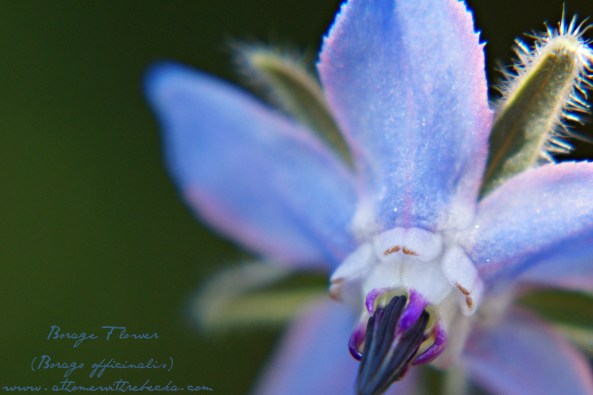 MOOD ENHANCER
It is said that borage gladdens the heart. Taken as a tea borage has been known to elevate mood, help those afflicted with anxiety and sleep disorders. To make tea, steep the leaves and blooms in hot water and drink one cup either hot or cold during periods of moodiness or stressful situations.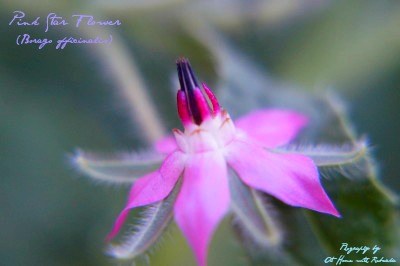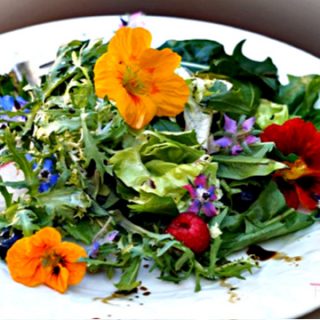 Edible Flower Salad-Herb Vinaigrette
It is said that borage gladdens the heart. Taken as tea borage has been known to elevate mood, help those afflicted with anxiety and sleep disorders. To make tea, steep the leaves and blooms in hot water and drink one cup either hot or cold during periods of moodiness or stressful situations.
Ingredients
For the Salad
1

bunch dandelion greens

1

bunch frisee lettuce

2

heads bibb lettuce

½

pint

raspberries

½

pint

blueberries

10-12

borage flowers

10

nasturtium flowers

½

cucumber sliced thinly
For the Dressing
½

cup

good olive oil

¼

cup

champagne vinegar

⅛

cup

balsamic vinegar

4

tablespoons

fresh basil leaves

1

teaspoon

fresh thyme

1

teaspoon

fresh rosemary

1

pinch

granulated sugar
Instructions
Directions for Vinaigrette
Using a mini food processor, blend all the ingredients until smooth, add pinch sugar, salt, and pepper to taste, pulse for a few seconds to combine

Refrigerate until ready to use
Directions for Salad
Wash and spin dry lettuce, pull into bite-size pieces, and toss in a large salad bowl

Pinch borage and nasturtium flowers from the plant, shake to dislodge dust, dirt, and any little insects that might still be present. Flowers can be rinsed in cold water and drain on paper towels

Add flowers to cleaned greens, toss a handful of raspberries, blueberries, and cucumber slices into the bowl right at the last minute, dress the salad and serve
Notes
~Serve salad with grilled fish or chicken
~Grow edible flowers from seed in containers. Start plants in small containers a few weeks before spring, transfer to a large container when the chance of freeze is past. Seeds can also be planted in soil.