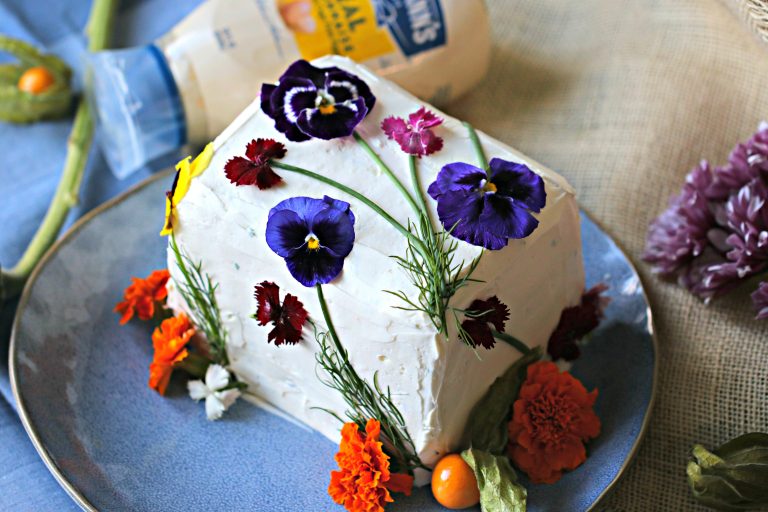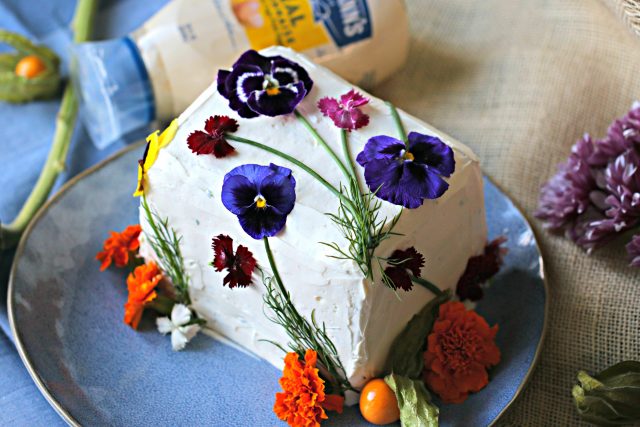 Hellmann's Deli Club Contest
When Hellman's Deli Club announced their current contest, Update a Vintage Recipe, I knew immediately what I was going to make: my Mom's Women's Auxiliary Luncheon Sandwich Loaf.
The humble name might fool you, but anyone that was anyone at the Women's Auxiliary Luncheons was standing in line for a slice of mom's layered sandwich loaf.
Heirloom Recipe
Layered sandwich loaves have a long history of being served at church functions, funerals, weddings and ladies luncheons. The sandwiches are always decorated beautifully with edible flowers or vegetables. Each is made with cream cheese and Hellmann's Mayonnaise, then filled with an assortment of creamy salads, making them decadent and rich with flavor.
Not Much to Update
It's difficult to update an heirloom recipe that's already so delicious and beautiful. Using ingredients I already had in my kitchen, I filled my sandwich loaf with layers of tuna and caper salad, pimento cheese and curried egg salad; all of which are made with Hellmann's Real Mayonnaise. My mom always served her sandwich loaf with a layer of ham or deviled salad with Hellmann's Mayonnaise and sweet pickles. I really missed the sweet-saltiness of the ham salad, so I plan on incorporating it the next time I make the recipe.
This is an incredibly easy and fun recipe to create with so many options for fillings and decoration.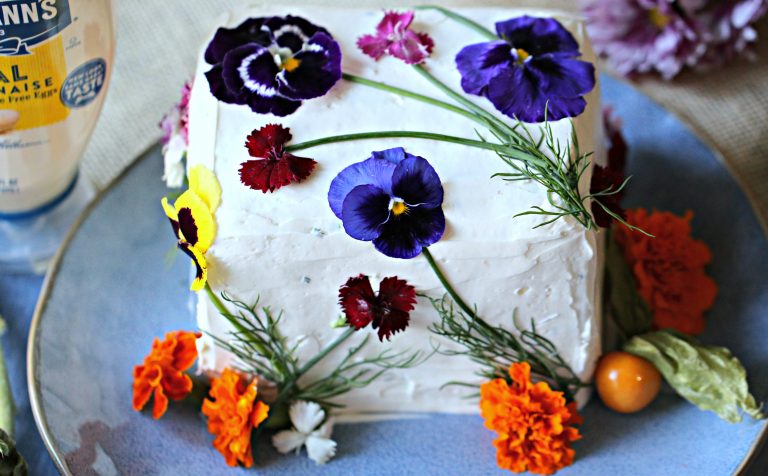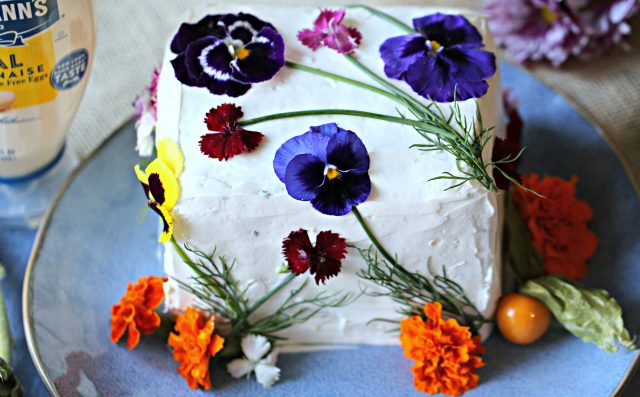 The Household Searchlight Recipe Book
One of my favorite antique cookbooks is The Household Searchlight Recipe Book. I found the cookbook at a resale bookstore in Denver, Colorado almost 13 years ago. I love the hard cover and the lovingly worn tabs that display it's years of use.
The inscription warms my heart, as I imagine Faye a newly wed, receiving the cookbook from her mom or a lovely gift from her mother-in-law. I'm sure it was used well and cherished for many years.
You'll find a simple recipe for Sandwich Loaves on page 253 in the 1941 edition, published in Topeka, Kansas. If you look closely you'll see the recipe calls for 1 ½ cups of mayonnaise; which shows that Hellmann's Mayonnaise is a long lived tradition in American kitchens. As my family calls it, Hellmann's is edible liquid gold!
The Magnificent Slice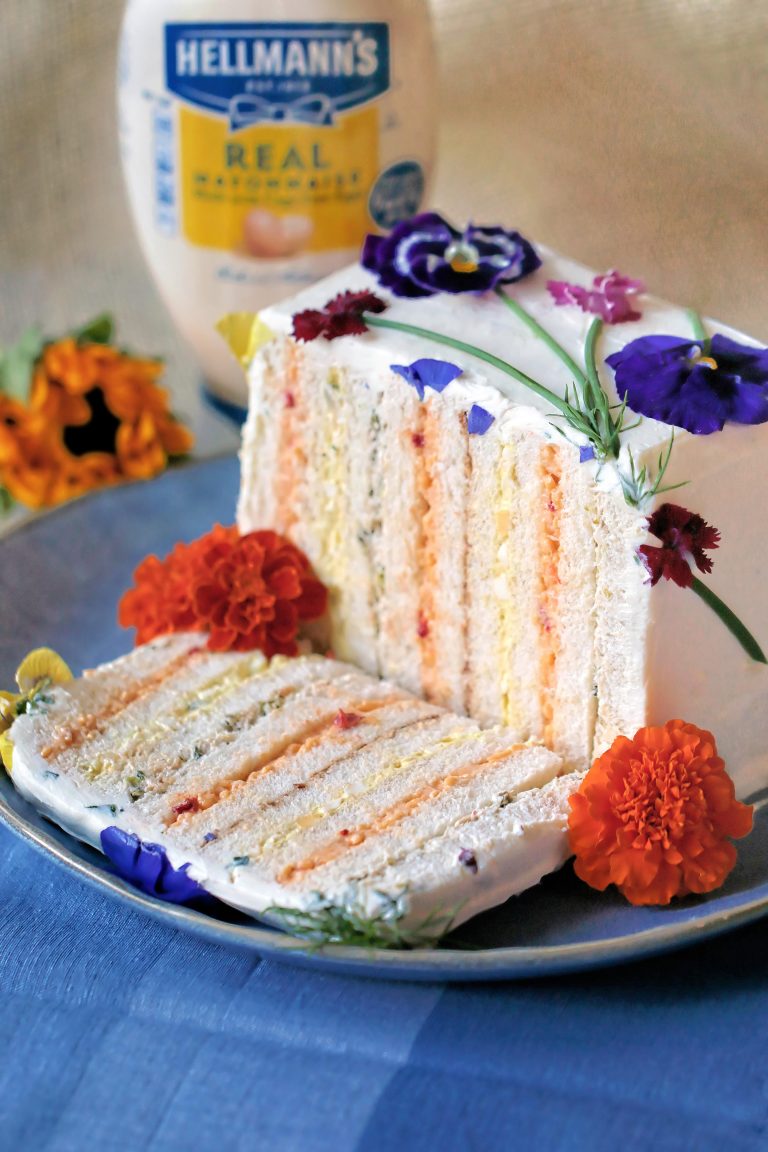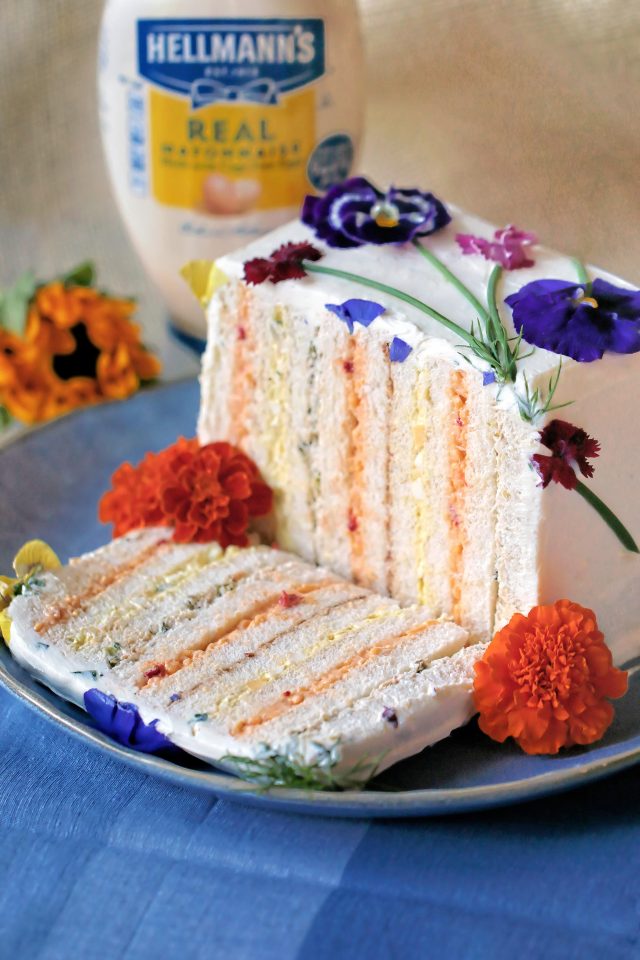 There's nothing better than seeing the first slice cut from the loaf, as it reminds me of the times I spent watching the ladies faces brighten with admiration towards my mother's expert construction of the sandwich.
Savor the Flavors
Your first bite will be tastier than the next as the sandwich changes flavor with ever layer. My favorite is the pimento cheese layer but tuna and capers salad take a close second.
A Few Pointers
Always cut the crust from the bread, keeping the bread as square as possible. If you have an H.E.B. grocer near you, try using their BARE Bread (photo below) it's delicious and comes un-crusted
Chunky filling is not a good thing. Salad fillings need to be very creamy to create the perfect slice. I add 1 tablespoon cream cheese to all my fillings to help the consistency
If the sandwich starts to lean: refrigerate for at least 10 minutes before adding more layers.
Once the sandwich loaf is done and has been refrigerated for an hour or more, it can be transferred to another plate using an offset spatula, but it's best to decorate the loaf on the plate you want to serve it on.
The loaf can be made a day ahead, and holds up very well for several days in the refrigerator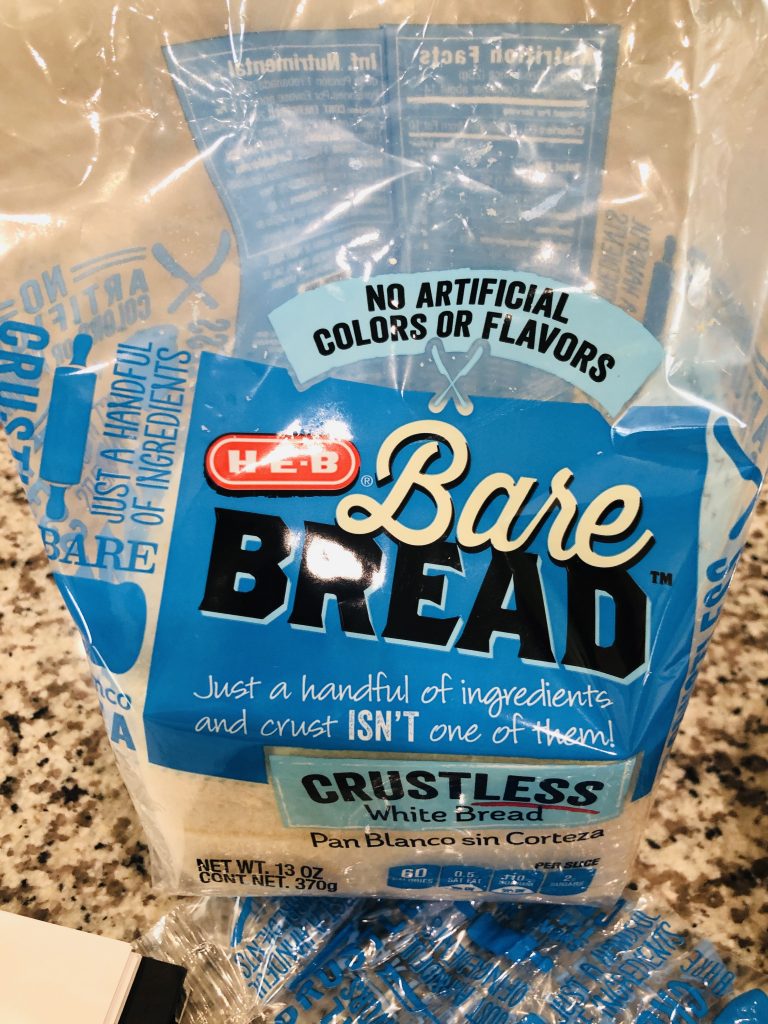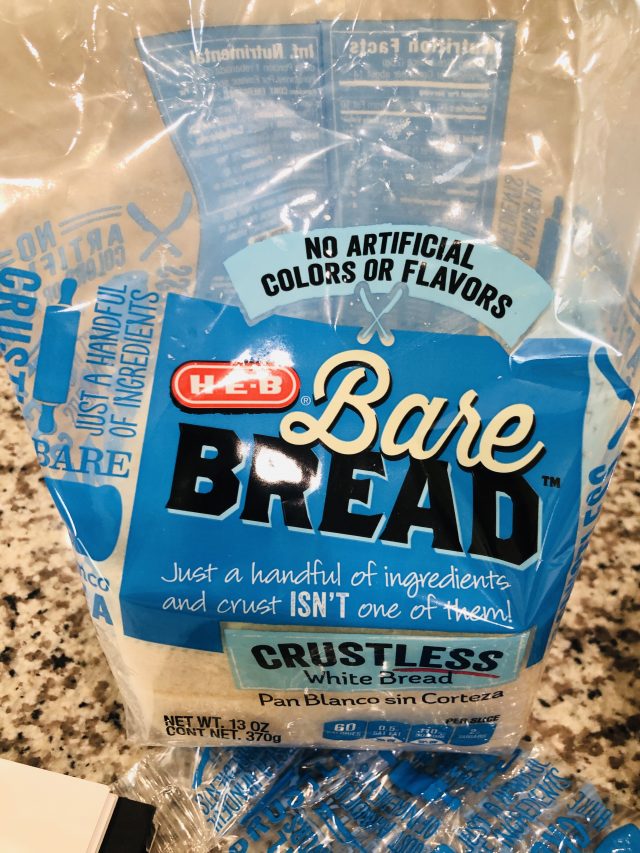 The Recipe
I hope you try your hand at making this heirloom recipe. It's by all means a crowd-pleaser, and is sure to be a hit at your next gathering.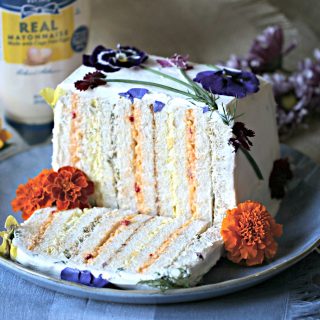 Women's Auxiliary Luncheon Sandwich Loaf
I hope you try your hand at making this heirloom recipe. It's, by all means, a crowd-pleaser, and is sure to be a hit at your next gathering. 
Ingredients
Curry Egg Salad:3 hard-boiled eggs1 tablespoon Hellmann's Real Mayonnaise½ cup whipped cream cheese½ teaspoon curry powder¼ teaspoon turmeric1 teaspoon sweet pickle relishpinch saltpinch pepper

Directions:Chop eggs very small. Mix with remaining ingredients until smooth

Tuna Salad with Capers1 6 oz. can albacore white tuna in water2 tablespoon finely chopped capers1 tablespoon Hellmann's Real Mayonnaise1 tablespoon cream cheesepinch saltpinch pepper

Directions:Drain tuna and capers. Chop capers fine. In a medium bowl

mix ingredients together until smooth

Pimento Cheese¼-pound block yellow cheese such as sharp cheddar

Colby Jack, or your favorite variety2 heaping tablespoons cream cheese½-3/4 cups mayonnaise¼ teaspoon prepared horseradish1 teaspoon Tabasco sauce½ cup chopped roasted red peppersalt and pepper to taste

Directions

Shred cheese and chop the red peppersPlace first 5 ingredients in a food processor

pulse until well combined, open processor several times scraping down the sidesAdd peppers and pulse until mixture is creamyTest consistency, additional mayonnaise may be added to make the mixture creamierSalt and pepper to taste

Sandwich Loaf1 loaf of white bread1 cup mixed edible flowers1 small bunch of fresh chives for garnish1 bunch dill

Cream Cheese Frosting2 8 oz packages cream cheese

room temperature, divided1 tablespoon finely chopped chives2 tablespoons Hellmann's Real Mayonnaise, divided

Directions

Remove crusts from bread. Place in a plastic bag until ready to build the sandwichChop chives finely. Place 1 8 oz block of cream cheese in a medium bowl with chopped chives and 1 tablespoon Hellmann's mayonnaise.Using an electric mixer

mix until cream cheese is very smooth. Keep at room temperature

In

another medium bowl

combine 1 8 oz block of cream cheese with 1 tablespoon Hellmann's mayonnaise. Mix on medium speed for 3 minutes until fluffy and smooth. Keep at room temperature
Instructions
To Build the Loaf:
Lay a piece of bread on a large serving plate. Start with one of your three fillings, spreading about 1 ½ tablespoon of the mixture evenly over the bread. Add another slice of bread and add the next flavor of salad filling, continue adding slices of bread and filling, alternating flavors. If the loaf becomes wobbly, refrigerate for 5-10 minutes before continuing. 

Once the loaf is filled use an offset frosting spatula to spread a thin "crumb" layer of the chive and cream cheese mixture over all the sides of the loaf like you are frosting a cake.Lay the loaf on its side by placing the flat edge of the offset spatula on one side of the loaf. Gently push the loaf over with a butter knife or your finger and guide the loaf onto the plate. Pull the knife out and refrigerate the loaf for 15 minutes.

Frost the loaf with the remaining cream cheese mixture.Garnish the top and sides of the loaf with edible flowers, chives, etc.Refrigerate the loaf for 1 hour before slicing. 
Notes
The loaf can be made up to 24 hours before serving.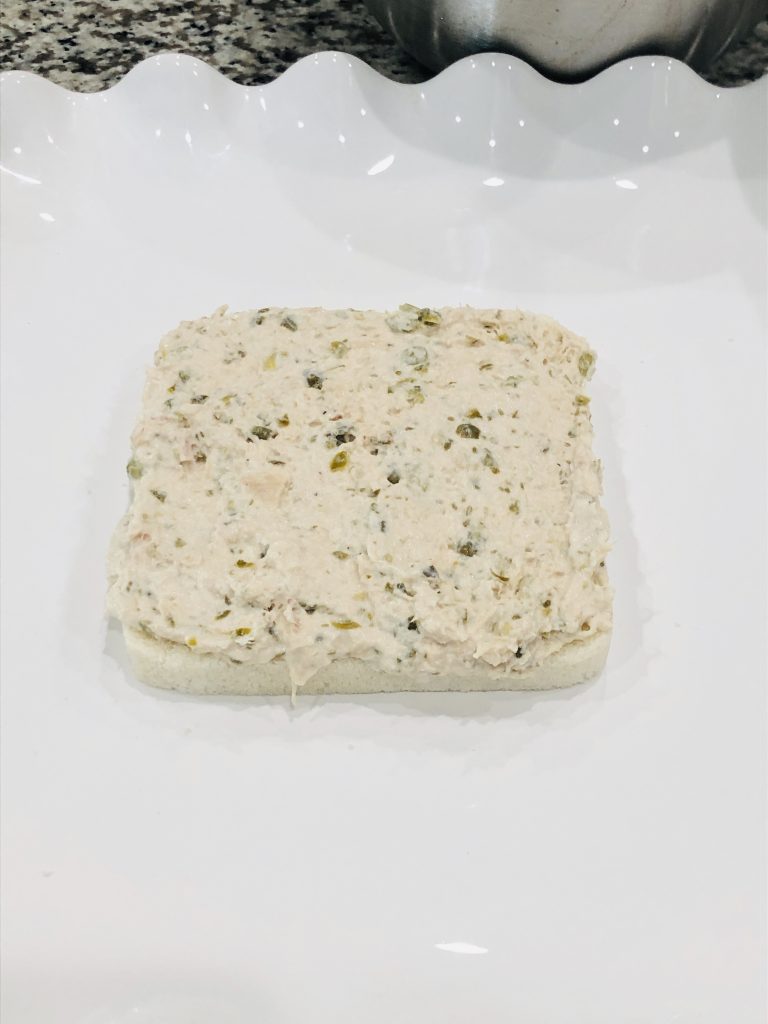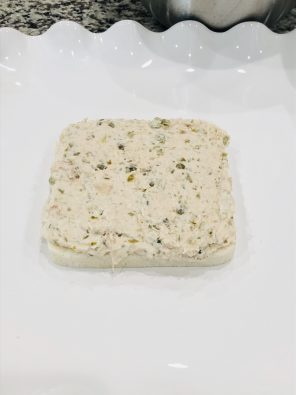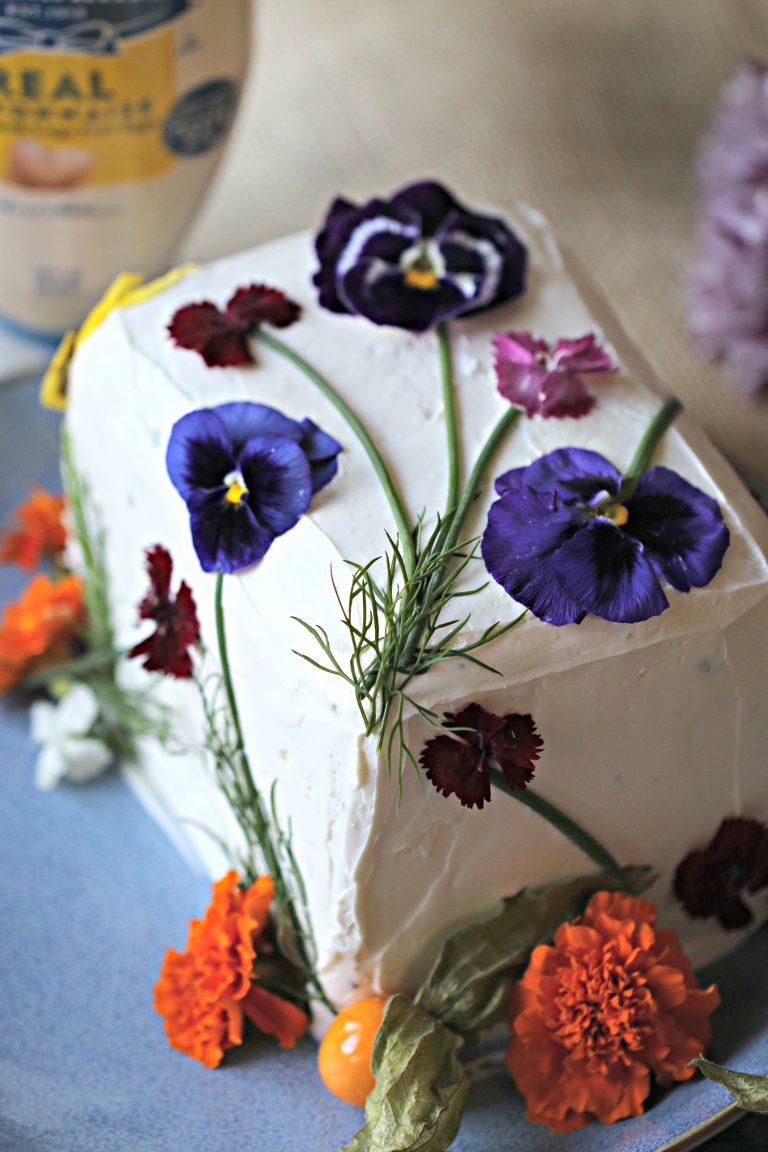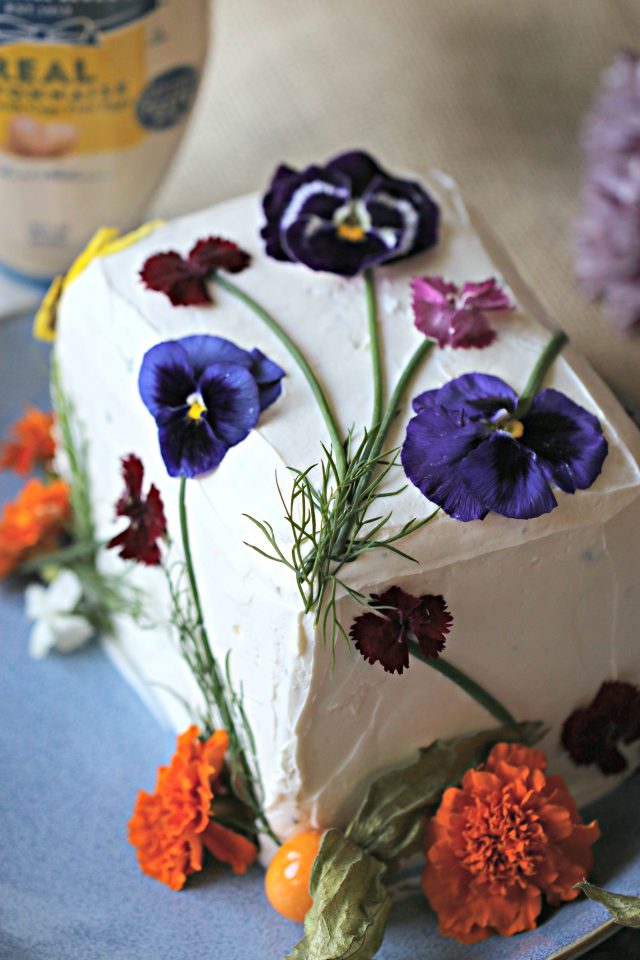 Out With The Old In With The New