The folks at Fortune Noodle Company are at it again with a new blogger recipe challenge! I was invited to participate with several food bloggers to #takethechallenge and create easy, gluten-free recipes using the Fortune Gluten Free noodles. The noodles are new to the market, shelf-stable, and can be found in the Asian dry grocery section at your local grocery store.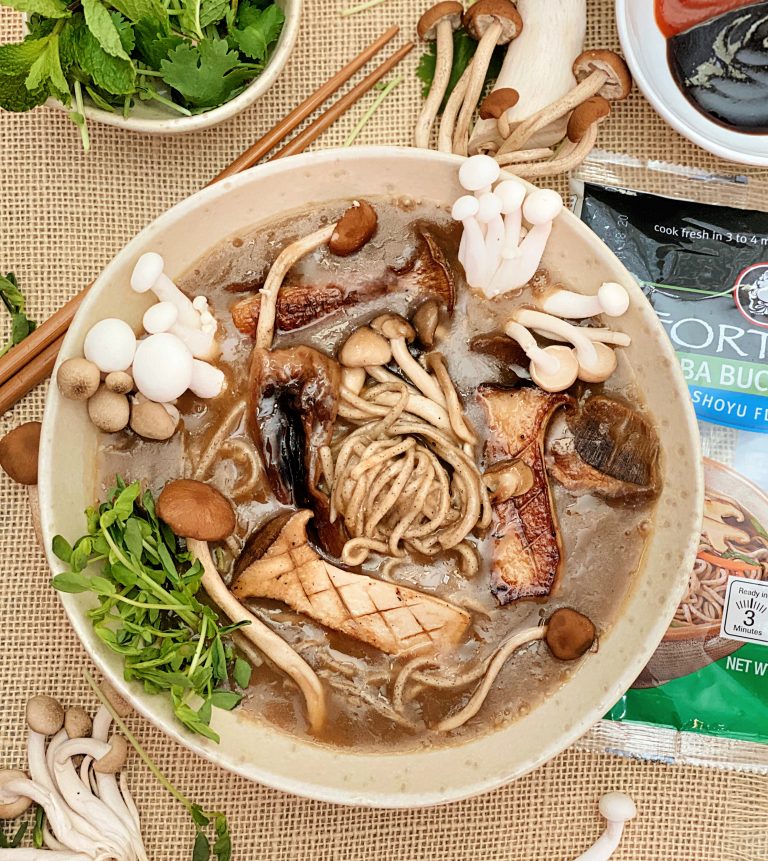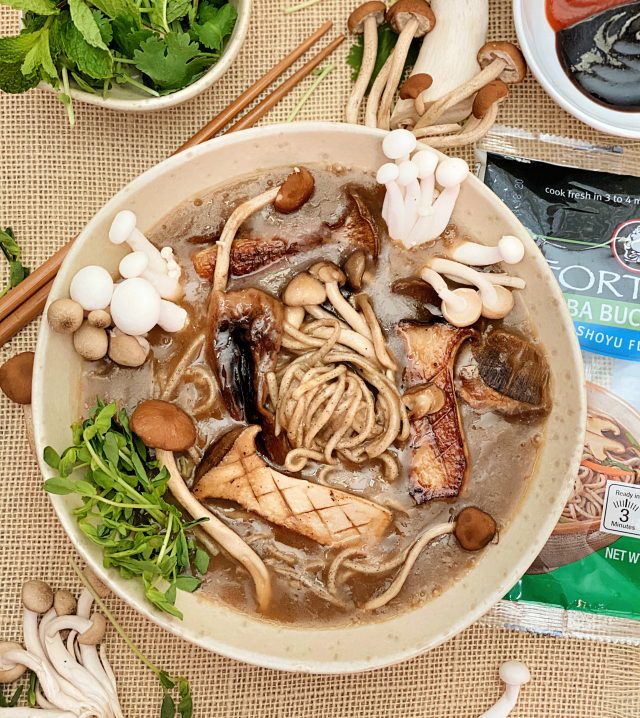 I'm using the Soba Buckwheat Noodles with Shoyu Flavor for my Mushroom Soba Buckwheat Ramen.
The recipe is Gluten Free and Vegetarian.
The noodles are deliciously light and pair perfectly with the earthiness of the mixed mushrooms. I used dried shiitake mushrooms to add more mushroom flavor to the broth then topped the noodles with pan-seared trumpet mushrooms and brown and white enoki. This bowl of warm and earthy mushroom noodle soup is a delight.
Note:
It's important that you follow the directions with this product, as the noodles are Gluten free and highly glutinous. The rice noodles need a good rinse under cool water after boiling and prior to being added back to the soup mixture. This extra step removes any stickiness which results in a thicker broth.
My Mushroom Soba Buckwheat Ramen is entered in the Soup category of this competition.
About the Challenge
Fortune's new "GLUTEN FREE" noodles and soup bases are an authentic "Asian Fusion" friendly food choice for Celiacs and health-conscious consumers that enhances their eating experience by personalizing their favorite "GLUTEN FREE" foods in spontaneous ways to create restaurant-quality Asian inspired meals in the comfort of their homes!

Fortune Noodles' new GLUTEN FREE noodles come in 4 delicious flavors: Ramen Noodles with Miso Pork Flavoring, Udon with Garlic Chicken Flavor, Soba Buckwheat with Shoyu Flavor, Red Rice Ramen and Shoyu Flavor.

JSL – Fortune Noodle.com
Prizes
Stir Fry Category: 1st – $1,000.00 Cash Prize 2nd – $500.00 Cash prize (2) – 3rd – $250.00 Cash Prize (2 Winners)
Soup Category: 1st – $1,000.00 Cash Prize 2nd – $500.00 Cash prize (2) – 3rd – $250.00 Cash Prize (2 Winners)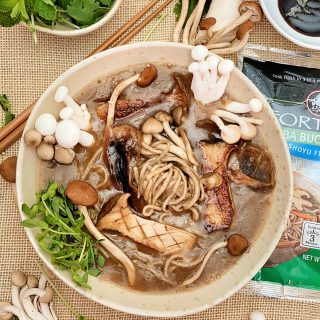 FORTUNE - Mushroom Soba Buckwheat Ramen
Ingredients
1

package Fortune Soba Buckwheat Noodles Shoyu Flavor

½

pound

mixed mushrooms such as enoki

trumpet, baby portabella, etc.

3

ounces

dried shiitake mushrooms

2

teaspoon

soy sauce

2

teaspoons

sesame oil

1

teaspoon

vegetable oil

1

teaspoon

Sriracha Sauce

1

teaspoon

Hoisin sauce
Instructions
Follow the package "Stove Top" cooking instructions.

Heat a second pot of water to boiling and add shoyu flavor packet and dried shiitake mushrooms

Rinse or wipe the dirt away with a clean towel from all the mushrooms and set aside on a paper towel to drain

Cut the trumpet mushrooms lengthwise and score the white flesh with a sharp knife

Heat the sesame oil and vegetable oil in the non stick pan over medium high heat

Lay Trumpet mushrooms in the pan cut side down.

Cook the cut side of trumpet mushroom until toasty brown. About 3 minutes. Flip the mushrooms over and cook the other side additional 3 minutes. Season with salt and pepper and remove from heat

Once noodles are cooked and rinsed, add them to a pot of boiling broth

Stir the noodles into the broth and season with salt and pepper

Pour mixture into a large soup bowl

Serve with green onions, pea shoots, mint, basil

Add sriracha and hoisin sauce to taste
Find JSL Foods
Website: http://www.jslfoods.com/
Facebook: https://www.facebook.com/JSLFoods/
Twitter: https://twitter.com/JSL_Foods
Instagram: https://www.instagram.com/jslfoods
You can Purchase Fortune Gluten Free Noodle products at…
Albertsons, Von's, Safeway, Dierbergs Markets and Cub Foods