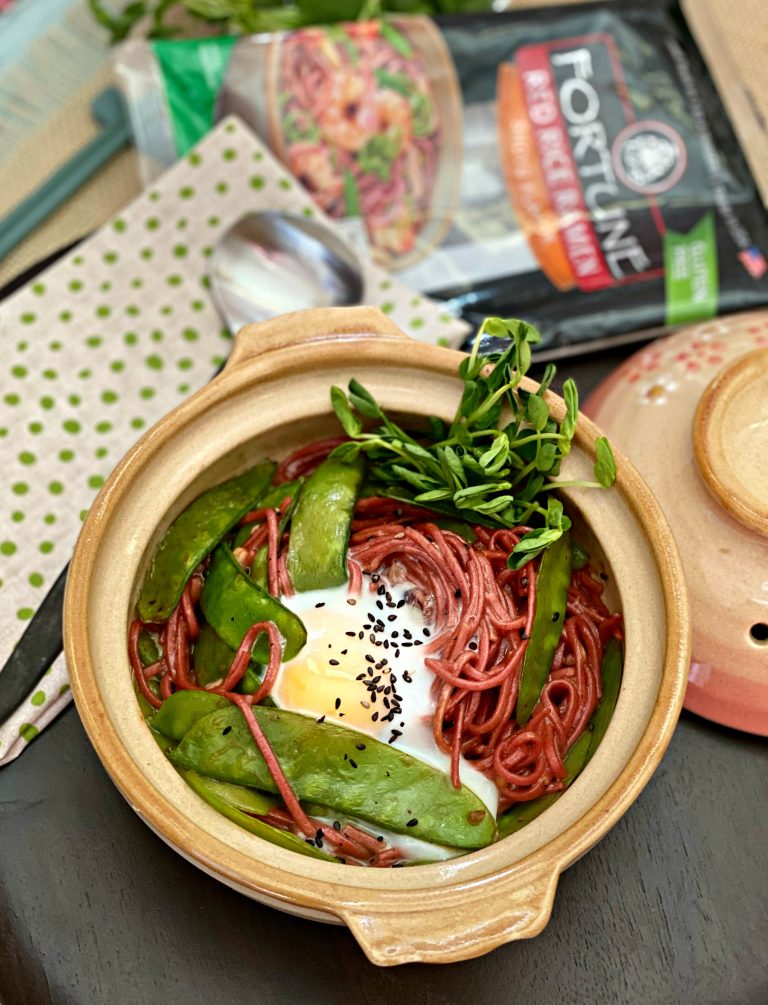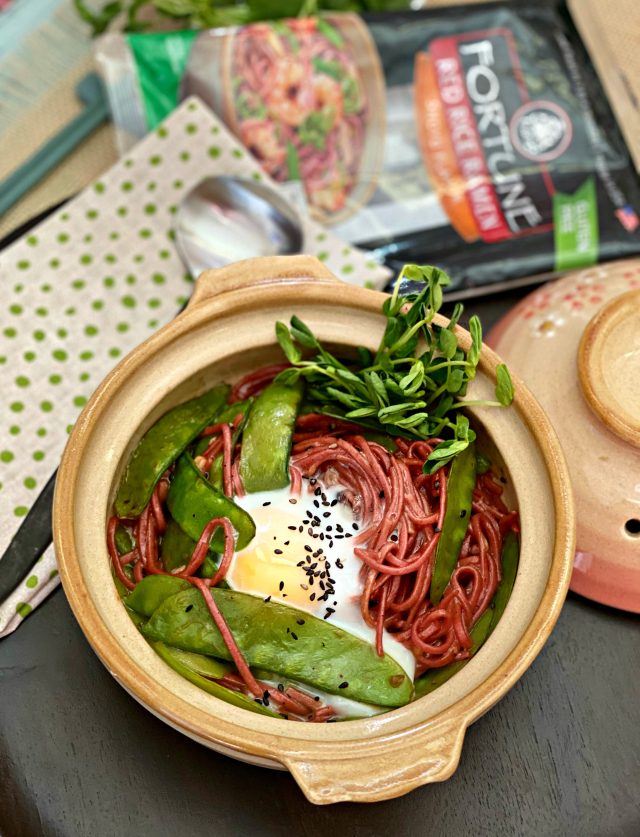 Fortune Asian Noodle Blogger Recipe Challenge
The folks at Fortune Noodle Company are at it again with a new blogger recipe challenge! I was invited to participate with several food bloggers to #takethechallenge and create easy, gluten free recipes using the Fortune Gluten Free noodles. The noodles are new to market, shelf stable and can be found in Asian dry grocery section at your local grocery store.
I'm using the Shoyu flavor red rice noodles for my snow pea and pea shoots stir fry.
The noodles are deliciously light and pair perfectly with the earthiness of the crisp snow peas and pea shoots; while a steamed soft-cooked egg adds a delicious creaminess to the dish.
My Red Rice Ramen Stir Fry Snow Peas and Pea Shoots is entered in the Stir Fry category of this competition.
About the Challenge
Fortune's new "GLUTEN FREE" noodles and soup bases are an authentic "Asian Fusion" friendly food choice for Celiac's and health conscious consumers that enhances their eating experience by personalizing their favorite "GLUTEN FREE" foods in spontaneous ways to create restaurant quality Asian inspired meals in the comfort of their homes!

Fortune Noodles new GLUTEN FREE noodles come in 4 delicious flavors: Ramen Noodles with Miso Pork Flavoring, Udon with Garlic Chicken Flavor, Soba Buckwheat with Shoyu Flavor, Red Rice Ramen and Shoyu Flavor.

JSL – Fortune Noodle.com
Prizes
Stir Fry Category: 1st – $1,000.00 Cash Prize 2nd – $500.00 Cash prize (2) – 3rd – $250.00 Cash Prize (2 Winners)
Soup Category: 1st – $1,000.00 Cash Prize 2nd – $500.00 Cash prize (2) – 3rd – $250.00 Cash Prize (2 Winners)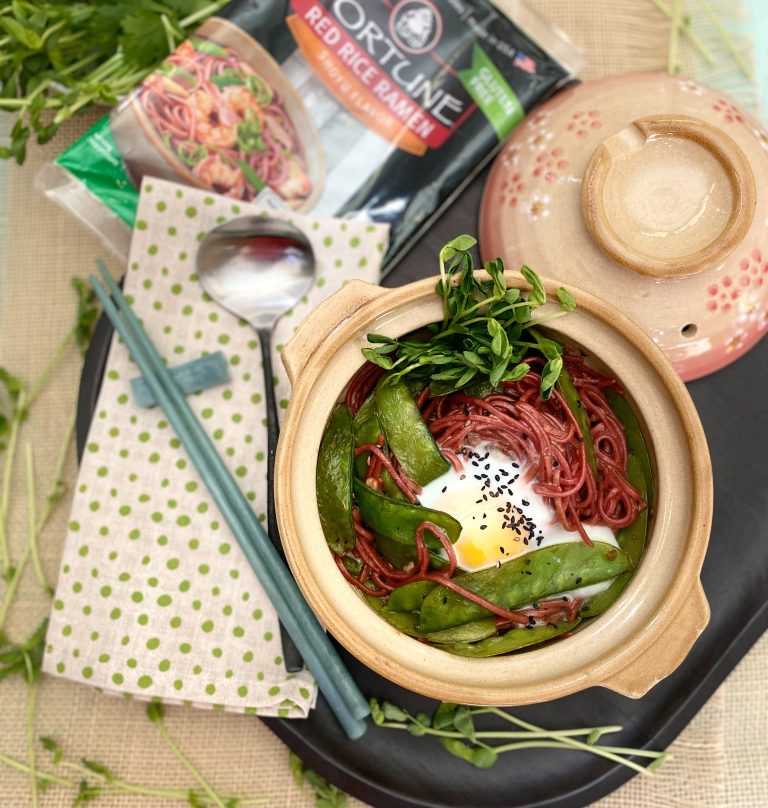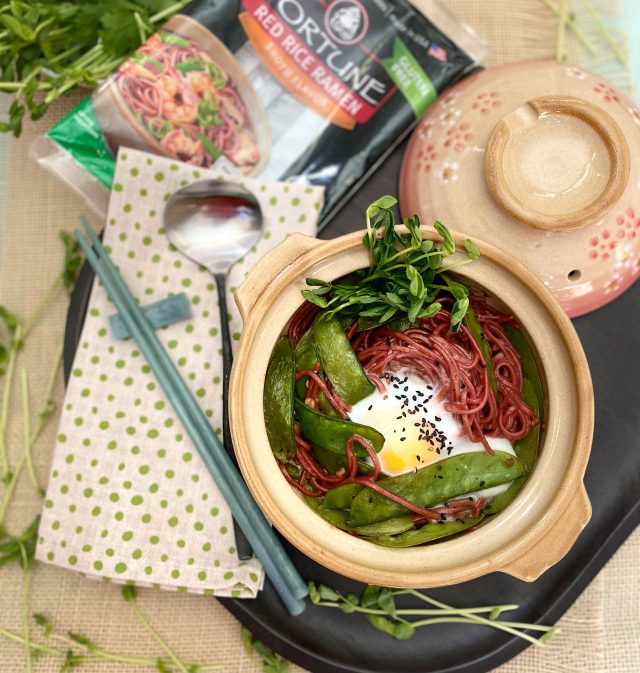 Red Rice Ramen with Snow Peas and Pea Shoots
2019-09-30 18:14:08
Serves 1
Ingredients
1 - 4.98 oz. package Fortune Red Rice Ramen Shoyu Flavor
1/4 pound snow peas
1/4 cup pea shoots
1 teaspoon toasted sesame oil
1 tablespoon vegetable oil
1 teaspoon minced garlic
1 teaspoon minced ginger
1/4 cup water
1 egg
1/4 teaspoon black sesame seeds
Garnish with peas shoots, cilantro and mint
Instructions
1. Follow the stove top directions for Red Rice Ramen
2. Once Ramen is tender rinse with cold water and set aside
3. In a small bowl whisk Shoyu Flavor packet with 1/4 cup water
4. Heat olive oil in large skillet over medium high heat until smoky. Add snow peas, garlic and ginger and toss together for 3 minutes. Add the noodles and sesame oil. Toss noodles in hot oil to coat. Add shoyu and water mixture, stir to combine. Continue cooking for 1-2 minutes.
Plate the noodles immediately in a heat proof bowl. Crack one egg over noodles and cover. Allow egg to steam in the bowl. Optional: Heat bowl under a broiler to soft cook the egg.
Serve with a pinch of black sesame seeds, more pea shoots, and your favorite hot sauce
AT HOME WITH REBECKA https://athomewithrebecka.com/
Find JSL Foods
Website: http://www.jslfoods.com/
Facebook: https://www.facebook.com/JSLFoods/
Twitter: https://twitter.com/JSL_Foods
Instagram: https://www.instagram.com/jslfoods
You can Purchase Fortune Gluten Free Noodle products at…
Albertsons, Von's, Safeway, Dierbergs Markets and Cub Foods