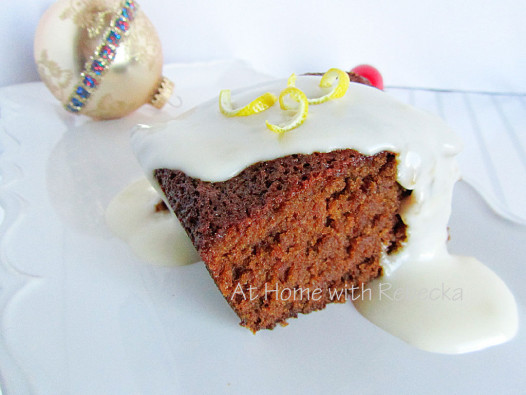 Gingerbread Cake with Lemon Cream Glaze
Long family traditions of cooking sweets reserved just for the holidays, bring to my mind recipes that embody the warm and comforting flavors of ginger, and cinnamon spice. Gingerbread cake, filled with a warmth of holiday flavors, enhanced by a tart lemon cream, its classic characteristics are vital to my Christmas dessert table.
This recipe produces a tender, fluffy cake, paired perfectly with the creamy tart flavor of the lemon glaze; another great recipe to add to your arsenal of holiday favorites.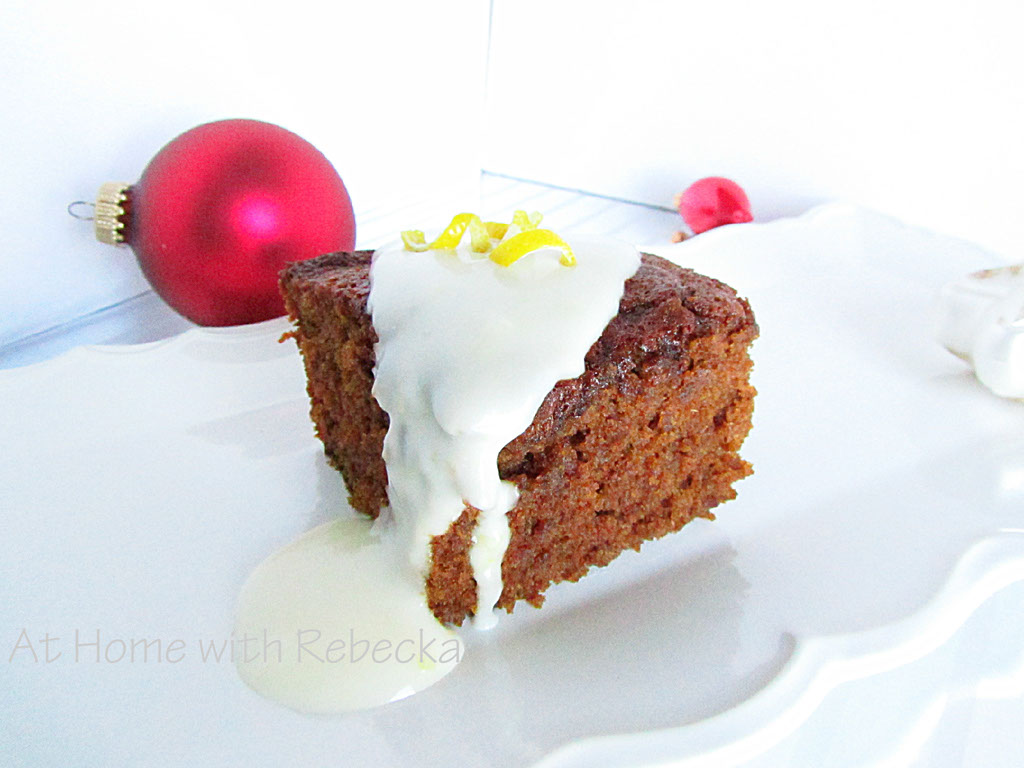 Gingerbread Cake with Creamy Lemon Glaze
Ingredients
For the Gingerbread Cake

½

cup

granulated sugar

½

cup

butter

1

large egg

beaten

1

cup

molasses

2 ½

cups

all-purpose flour

1 ½

teaspoons

baking soda

1

teaspoon

ground cinnamon

1

teaspoon

ground ginger

½

teaspoon

ground cloves

½

teaspoon

salt

1

cup

very hot water
For the Glaze
1

cup

confectioners sugar

¼

cup

milk or cream

1

tablespoon

fresh lemon juice

1 teaspoon lemon extract
Instructions
For the Gingerbread Cake
Preheat oven to 350 degrees F. Grease a 9x13'' pan with cooking spray.

In a large mixing bowl cream together the sugar and butter until smooth and light.

Add the egg and molasses and mix well. In a separate bowl mix the dry ingredients together: flour, baking soda, cinnamon, ginger, cloves and salt.

Add dry ingredients to the wet mixture and stir to combine. Slowly pour in the hot water and stir until smooth (batter will be thin).

Pour batter into prepared pan and bake for 35-40 minutes or until a toothpick inserted in the center of the cake comes out clean.
For The Lemon Glaze
Mix confectioners sugar with milk and lemon juice until smooth
Notes
Serve warm, topped with Creamy Lemon Glaze
Adapted from Betty Crocker Cookbook 1998