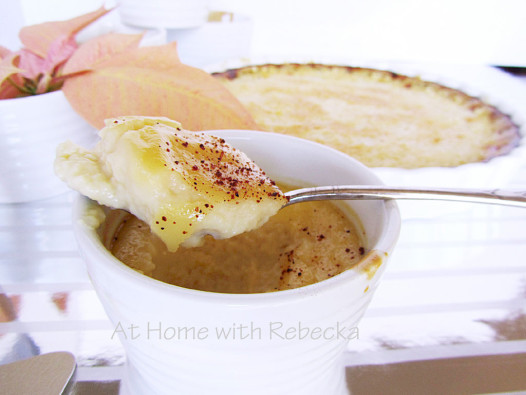 Nothing says the Holidays like a traditional egg custard. This year I decided to use a new recipe from one of my favorite cook books, Fannie Flags Whistle Stop Cafe Cookbook. I've always had good luck with her recipes and couldn't wait to taste the dreamy, delicious dessert.
The barometric pressure must have been wacky that day because this batch was a bust. I cooked the custard the right amount of time and tested the consistency; it was perfect. I didn't forget to add the tablespoon of flour and I refrigerated the custard for 24 hours. Sadly, the custard never set up!
I generally just dump a failed recipe into the trash but the flavor of the custard was so delicious I didn't have the heart to toss it out. In the attempt to save the dish I pulled out a tart pan, added a baked pie crust and emptied half of the failed custard into the shell. The remaining custard went into ramekins. I re-baked the tart for 35 minutes at 350 degrees and promptly burned the top!! Ugh! Thank goodness, the ramekins fared better with a shorter baking time (about 20 minutes).
Still, unwilling to lose the battle with the tart, I scrapped off the burned top, sprinkled powdered sugar over the pie and ta-dah, recipe saved!
Stay tuned for my mom's delicious custard pie recipe! I'll try not to mess that one up!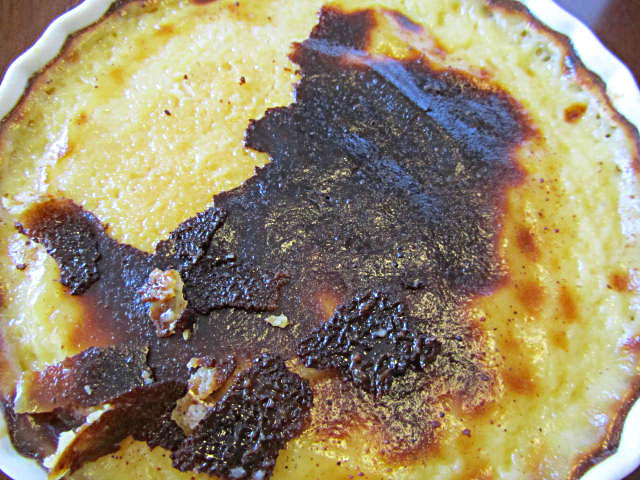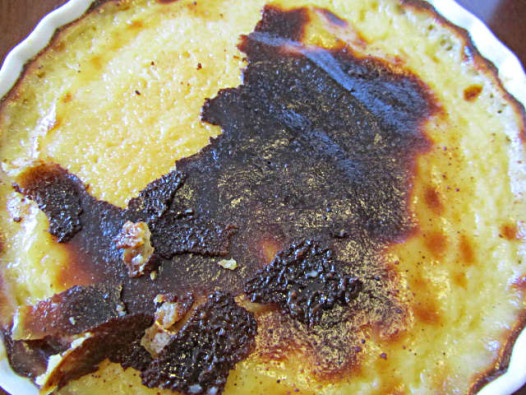 Egg Custard Pie Recipe by Fannie Flagg
1 unbaked 9-inch pie shell
3 eggs, beaten
1 12-ounce can evaporated milk
1 cup sugar
3 tablespoons flour
1 teaspoon vanilla extract
½ teaspoon ground nutmeg
bake pastry shell 400 degrees F. for 5 minutes. Leave oven on. Combine remaining ingredients in a bowl and mix well with wire whisk. Pour into pie shell and bake 400 F. For 10 minutes; reduce heat to 325 F. And bake 25-30 min. longer. Let cool at room temperature before serving. Store in refrigerator. Yields one 9-inch pie.