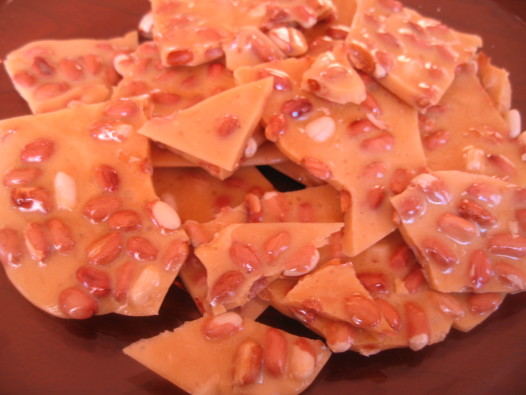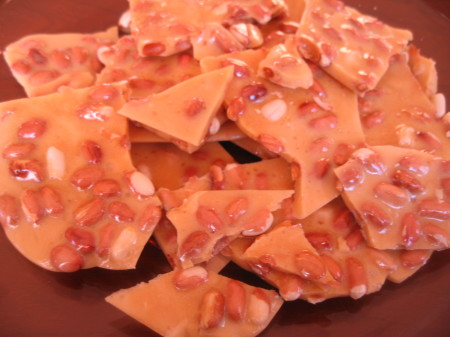 I drew my inspiration for this recipe from one of my favorite food bloggers, girlichef! Her recipe for Habanero Honey looked so amazing and I love spicy foods so, the logical course of action was to make some for my kitchen pantry! My only problem was thinking of how to use the darn stuff after making it. You see...it could peel the paint off the walls!!
Just a whiff from the jar and I could feel the heat from the chili in my throat! It looked so inviting and without hesitation, I stuck my finger in the jar for a little taste!! Holy Crap!! I got some really spicy stuff in that jar!! Thank God, I didn't stick my finger in my eye after I licked it!!
After a few moments and a few tissues, I recovered. I love spicy foods, the kind that bring that "burn so good" feeling to your mouth! This honey certainly did the trick, it's just a little too spicy by itself.
My husband loves peanut brittle so I made my first batch two nights ago and just about cooked it to death....as you'll see in the picture below. However, it got me thinking about girlichef's Habanero Honey and how tasty it might be added to the peanut brittle.
Lord in the Heavens!! It's the best peanut brittle I've ever made or tasted...don't mind me while I toot my horn! The famous combination of sweet and salty with the blazing hot chili was smashing!!
You can substitute Scotch Bonnet Peppers...which to me, are almost the same thing as Habanero but grown in different regions, honestly, I can't tell the difference.
Side
Notes: Test for thermometer inaccuracies:
To test your candy thermometer, place in a saucepan full of tap water, at sea level it should reach 212 degrees F. at the hard boil stage. If it reads above or below the number make adjustments in your cooking times. Most recipes are based on sea level measure. For higher altitudes subtract 1 degree F. for every listed temperature for each 500 feet above sea level.For the cold water test; before adding the peanuts, and after the thermometer reads 310 F. place a few drops of hot liquid in a cup of ice-cold water, wait a few seconds, the candy should hard and crack when broken. Be careful not to burn your fingers when testing the hot liquid.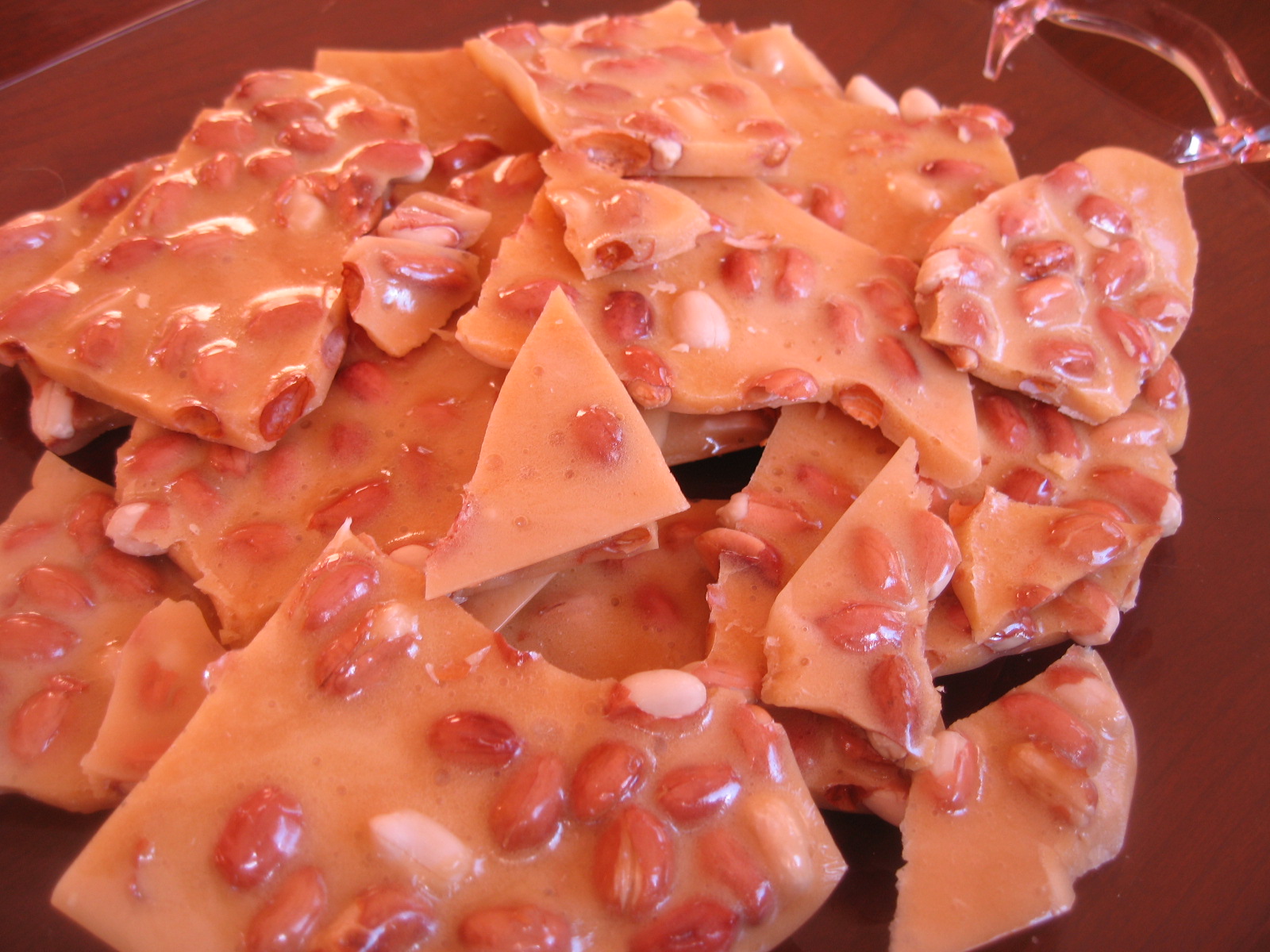 Recipe Habanero Peanut Brittle
Ingredients
For the Brittle
1

cup

raw peanuts

½

cup

sugar

½

cup

Karo Syrup

¼

cup

water

¼

cup

Habanero Honey

recipe below

1

tablespoon

salted butter

½

teaspoon

baking soda

1

candy thermometer

Prepare a non stick cookie sheet with butter or vegetable spray

set aside
Recipe Habanero Honey
10-12

Habanero peppers

2-3

Cups

Honey

Pretty jar with an air tight cover

Gloves
Instructions
In a medium saucepan on medium heat, mix sugar, Karo syrup, water and Habanero Honey together until just blended, place the candy thermometer into the saucepan and bring mixture to a rolling boil.

Don't stir the mixture! It will take 25-30 minutes to reach the hard crack stage or 302-310 degrees F. on the candy thermometer.

When the candy thermometer reads 250 degrees or soft ball stage

1. add the peanuts,

2. cook until the thermometer reaches 302 - 310 F degrees or hard crack stage,

3. remove from heat,

4. add butter and stir to blend,

add baking soda.

Remember to use a wooden spoon to stir the hot syrup or you'll melt your spatula like I did !  Duh!

The baking soda will make the mixture froth and double in size, stir for about 30 seconds then...

Pour the syrup out onto a prepared baking sheet, spread into a thin layer and allow to cool at room temperature for 30 minutes, break the hardened brittle into pieces,  store in an airtight container.
Directions For the Habanero Honey
Thinly slice the Habanero and place in the jar, pour honey over to cover the chilies and let them steep at room temperature. The chilies will expel their juice and oils so you must stir the mix a few times during the steeping process. Mixture ripens over time however, can be used immediately.

Honey is a natural preservative and will keep the chilies preserved at room temperature indefinitely.
Notes
The last few minutes are crucial when making brittle. (300 degrees F to 310 F.) It's best to stay with the hot liquid watching carefully not to burn the mixture. Sometimes wet weather can play a role in candy making, as well as rapid barometric pressure change. The science of candy making can get real tricky. The best way to get the desired hard crack is to make the recipe several times allowing for more cooking time, and do a cold water test. Most of all…don't get discouraged if your brittle doesn't turn out the first time.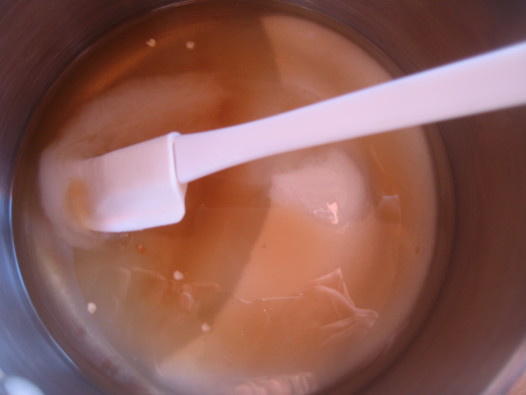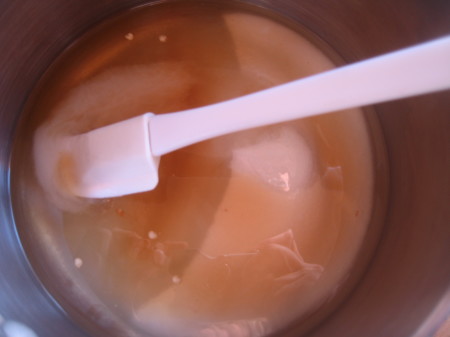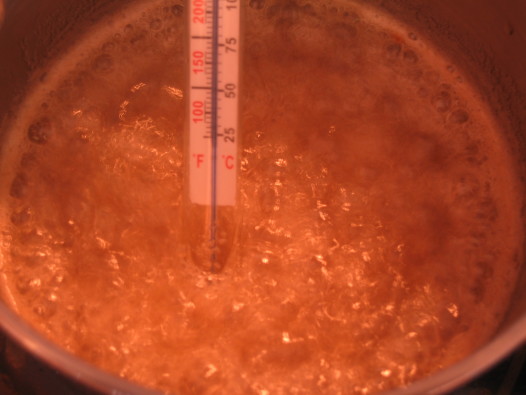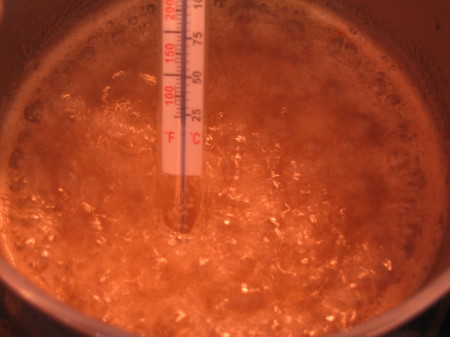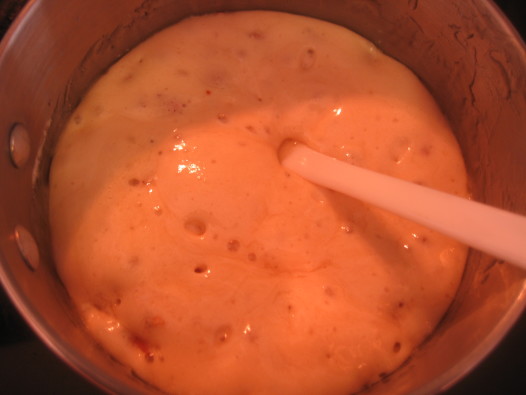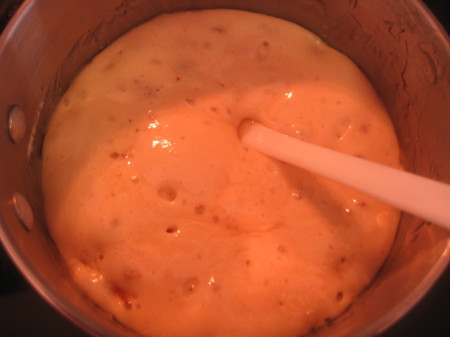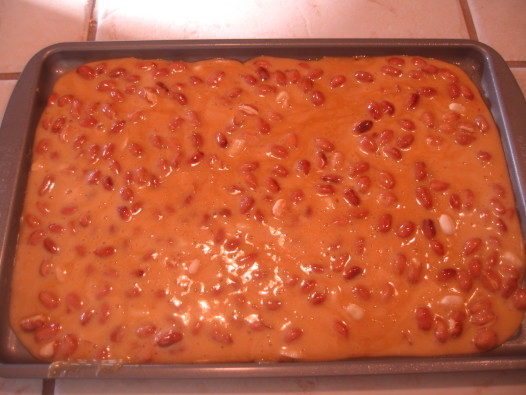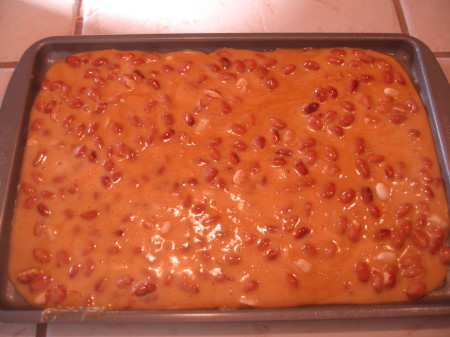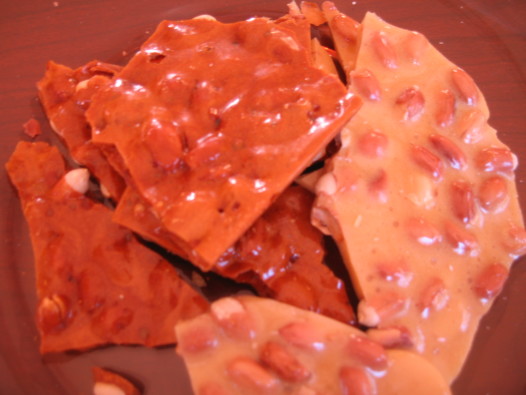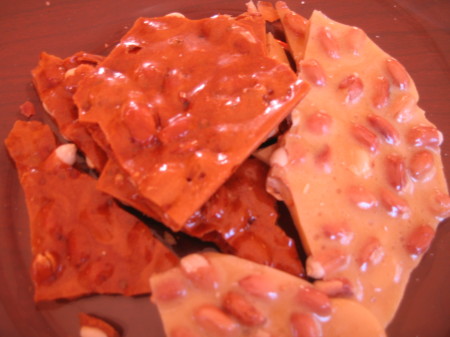 Here's a photo of my "almost burnt peanut brittle" from my first batch...the over cooked, darker brittle is the one in back...it was still tasty but I prefer the taste of brittle that has less color. Luckily, my husband likes it either way and the first batch will not go to waste!
I was very pleased with the spicy, sweet peanut brittle! However, I ate more than I should and had a raging sugar high for a few hours.
Another Habanero Honey recipe I'd like to try is, pan seared scallops in garlic brown butter and Habanero honey drizzled over...yum! Or maybe I'll just pour the honey over a brick of cream cheese and eat it with crackers.