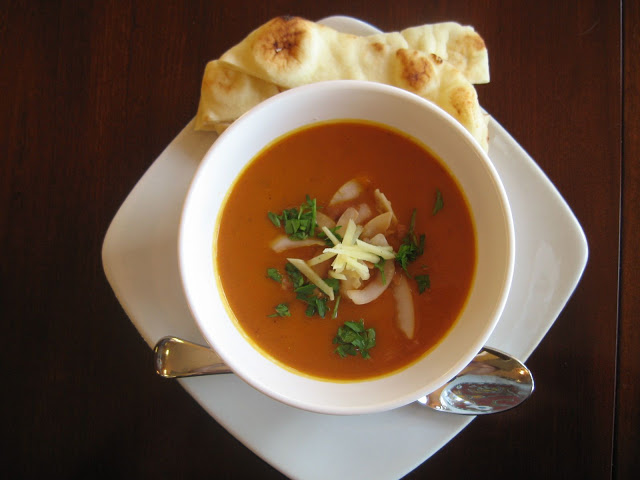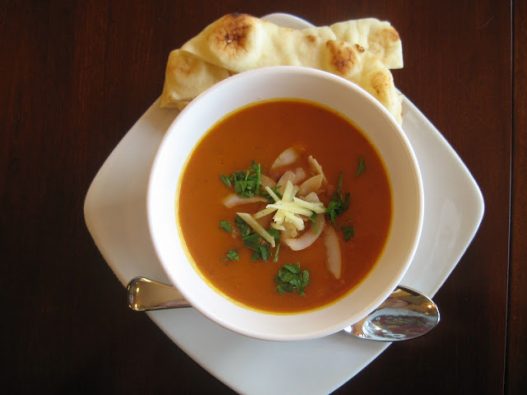 Tandoori Pumpkin Soup featuring KozyShack Pumpkin Pudding and Pie Filling
When I was working on creating my signature dish for the Kozy Shack cooking challenge I came up with this recipe. I chose to enter my second dish, Pumpkin Chicken Sate and Roasted Brussel Sprout Basmati Rice, instead of the soup recipe.
Unfortunately, I wasn't chosen to move on to the next round of judging. 🙁
Although, I didn't make it into the finals, I'm proud of my two new recipes using Kozy Shack Pumpkin Pudding. You can visit Kozy Shack to view recipes from the 20 finalists.
I was pleasantly surprised, how nicely the Pumpkin Pudding complemented my Tandoori Pumpkin Soup and my Pumpkin Chicken Sate recipes. The pudding is delicious right out of the tub and makes a smashing pumpkin pie, but added as a flavor component to my recipes, brought a rich creamy depth and tons of flavor to these dishes.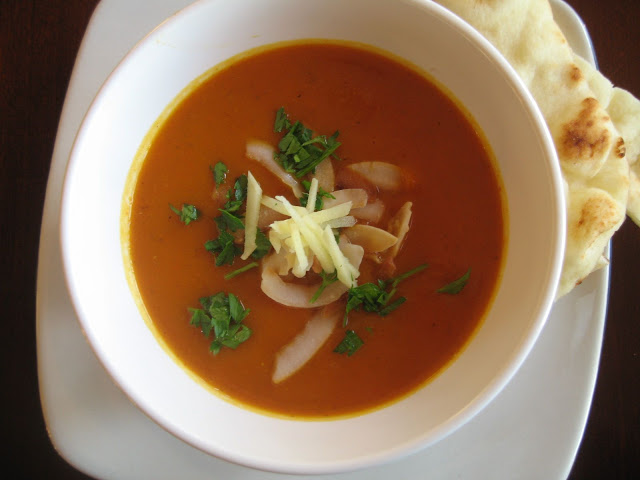 Tandoori Pumpkin Soup
Ingredients
Recipe
1 22

ounce

tub of Kozy Shack Pumpkin Pudding

1

butternut squash 4 cups peeled and diced

1

medium baking pumpkin peeled and diced or 2 acorn squash

may substitute any variety squash

1

large yam or sweet potato skin on cubed

1

medium onion cut into quarters

6

carrots

skin on cut large pieces

4

cloves

garlic

1-2

tablespoons

vegetable oil

4

tablespoons

low sodium chicken base/stock

7-8

cups

water

2

tablespoons

Tandoori Spice

2

tablespoons

Allspice

1

tablespoon

Hot Curry powder

2

tablespoons

Lawry's season garlic salt

1

table cinnamon

1

tablespoon

nutmeg

2

table sliced fresh ginger for garnish

1

teaspoon

black pepper

1

teaspoon

sea salt

5

tablespoons

flat leaf parsley for garnish

½

cup

unsweetened roasted coconut

for garnish
Instructions
Peel squash and pumpkin and dice, wash and roughly cut carrot, onion and sweet potato. Peel garlic leave whole.

Mix Tandoori, hot curry powder, cinnamon, allspice, nutmeg, garlic salt, ½ teaspoon salt, ½ teaspoon pepper in a small bowl, set aside

In a large bowl, toss veggies in 1-2 tablespoons olive oil and 1 teaspoon of spice mixture, roast in a 400 degree oven until golden brown, turn every 5-8 minutes. Remove and set aside.

On the stove top, toast coconut until light brown set aside, chop parsley and set aside for garnish, slice ginger very thinly and julienne, set aside for garnish

In a medium stock pot, add all veggies cover with chicken stock and add the remaining spices, bring to a boil then reduce heat to low, add Kozy Shack Pumpkin Pudding and mix well.  Using a hand blender or power stand blender, puree the hot mixture in batches until smooth.  Return to stock pot and cook for 35 minutes on medium low heat.  Salt and pepper to taste

Garnish soup with coconut, parsley and a few slices of ginger, serve with Naan bread.