Poached white fish, drizzled with carrot onion cream, nestled between sweet French lentils and a bed of sautéd purple kale, YUM... sounds delicious, doesn't it?
If you base your decision solely on the photo, you might think it turned out delicious unfortunately, after all the trouble I went through to prepare and photograph the dish, the recipe was inedible. My re-creation of one of my favorite restaurant meals turned out Hell-a BAD! I had to trash the mess because of one nasty piece of fish! It was not a good day in the kitchen!
When trying to recreate a dish it's always best to seek out like or same ingredients as the original recipe. I've experienced good results in the past using substitutions but I didn't want to pay $32.00 a pound for fresh Halibut Cheeks so, I substituted Corvina at the advice of my local fishmonger. The recommendation was a bad idea given the difference in texture and flavor of the two fish. I'm sure Corvina is a lovely tasting fish when freshly caught. Sadly, the piece I purchased was mushy in the middle. What a disappointment!!
I've planned to recreate this dish ever since late summer 2013, when I chaperoned my youngest sons Ultimate Frisbee Tournament, in Corvallis OR.
Even before packing my bags for travel to the beautiful city of Corvallis, I searched the internet to find a special restaurant to experience during my visit; I found Luc.
LUC. 134 Sw 4th St, Corvallis, OR is an American Bistro. The unassuming store front opens to a small but adequate space, dressed with light blue walls, natural wood tables with crisp white linens. I was especially engaged by the old black and white film playing on the wall adjacent to my table, featuring Humphrey Bogart and Lauren Bacall. A nice touch!
I ordered a glass of rose to begin my meal. I suppose it was the movie playing on the wall that threw me off; I forgot to note the name of my wine selection however, I can tell you the wine was delicious and a perfect pairing to my meal!
My dinner selection: Halibut cheeks with French lentils with light curry cream! Best dish I've had in years!! To round out my nights meal, I ordered Halibut Fume with lemongrass and cilantro, Blue Mussels in white wine butter with toasted baguette, and for dessert, rhubarb tart with fresh Oregon berries and French press coffee! A dinner to die for!
The photo below is of the original dish prepared at Luc. Taken with my iPhone the dish is beautifully plated and truly one of the best meals in my dining experience!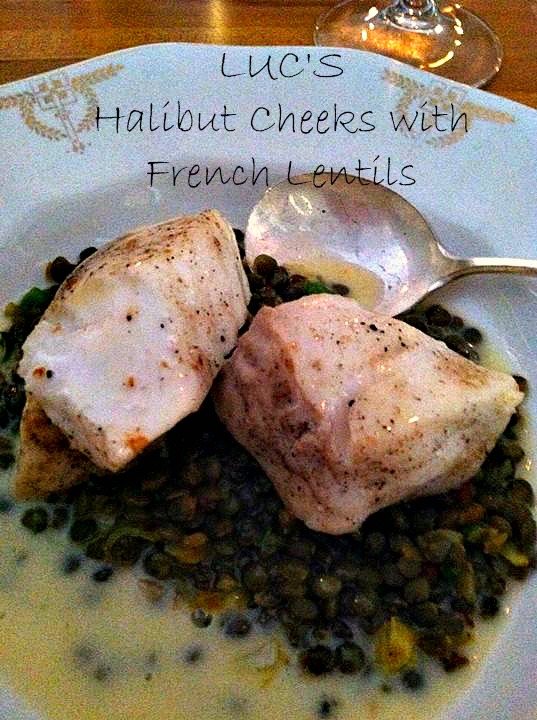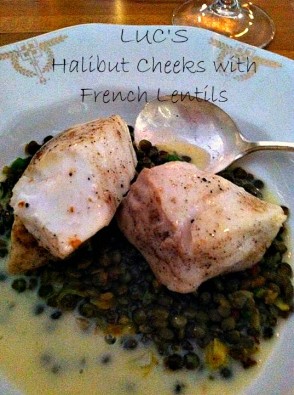 I won't be sharing my recipe here today however, I will share elements of my recreation until I can closely replicate the meal .
I poached the fish in olive oil, water, rosemary, thyme and lemon. During the course of poaching the fish, I taste tested the broth finding the poaching liquid to be pleasant and flavorful. The memory of the restaurant version hung in my mind as well as the light, nutty flesh of the halibut cheeks. I remained hopeful that the Corvina would be a good substitute.
After plating and photographing the dish, I took an eager bite. I spit the entire mouthful back out onto my plate! To make matter worse, I used the poaching liquid to cook my lentils, imparting the fishy flavor into their delicate meat, and after munching down on the unpleasant mushy fish, I just couldn't stomach the rest. YUCKY! The entire dish was ruined. There's nothing worse than bad tasting fish!
A far cry from the result I'd hoped for, I will try again. Damn!!
Hungry and disappointed, I opened the refrigerator to find something to kill the hell-a bad taste in my mouth. Last nights dinner was the answer to my failed moment in the kitchen and flavorful enough to drown out any aftertaste. Loose Meat Sandwiches and a vanilla yogurt!! Their flavor is reminiscent of a White Castle Burger, really tasty. I reheated the meat, added a squeeze more yellow mustard and went to town! You can find my adapted recipe here next week!
The definition of Hell-a Nasty/Bad:
Slang term used by California teens to depict something that's really horrible; conversely used to describe something absolutely amazing ie. Hell-a Good. A term picked up by my teenagers and now being used by me!