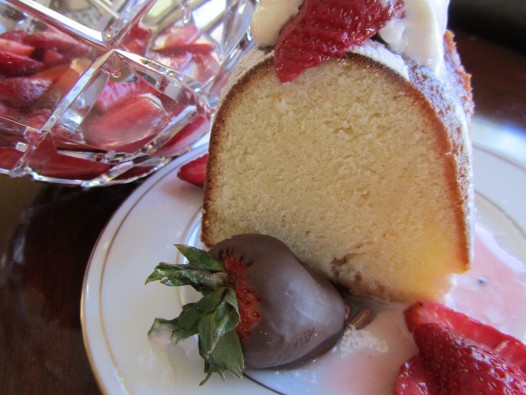 This moist and delicious cake is a real winner with fresh sliced strawberries and whipped cream. This recipe is a must try for Easter Brunch.
I used
"Mama's Pound Cake"
from Paula Deen at the Food Network as my base; and per usual I've made a few adjustments. Follow the link above to see Paula's version!
½ pound (2 sticks) butter, plus more for pan

¾ bar cream cheese

3 cups sugar

5 eggs

3 cups all-purpose flour, plus more for pan

½ teaspoon fine salt

½ teaspoon baking powder

1 cup half and half cream

2 teaspoon vanilla extract
Preheat oven to 350 degrees F.
With a mixer, cream butter and cream cheese together. Add sugar, a little at a time. Add eggs, 1 at a time, beating after each addition. Stir dry ingredients together in a bowl and add to mixer alternately with milk, starting with the flour and ending with the flour. Mix in vanilla. Pour into a greased and floured tube pan and bake for 1 to 1 ½ hours, until a toothpick inserted in the center of the cake comes out clean.
Fresh Strawberry Compote
Rinse 1 pound of fresh strawberries under cold water, drain on paper towel, slice berries and place in a medium glass bowl. Add 1 cup sugar and 1 teaspoon lemon juice. Allow to stand at room temperature for 1 hour. Serve over pound cake with fresh whipped cream. Optional: dip fresh strawberries in candy chocolate per manufactures instructions, use as garnish.