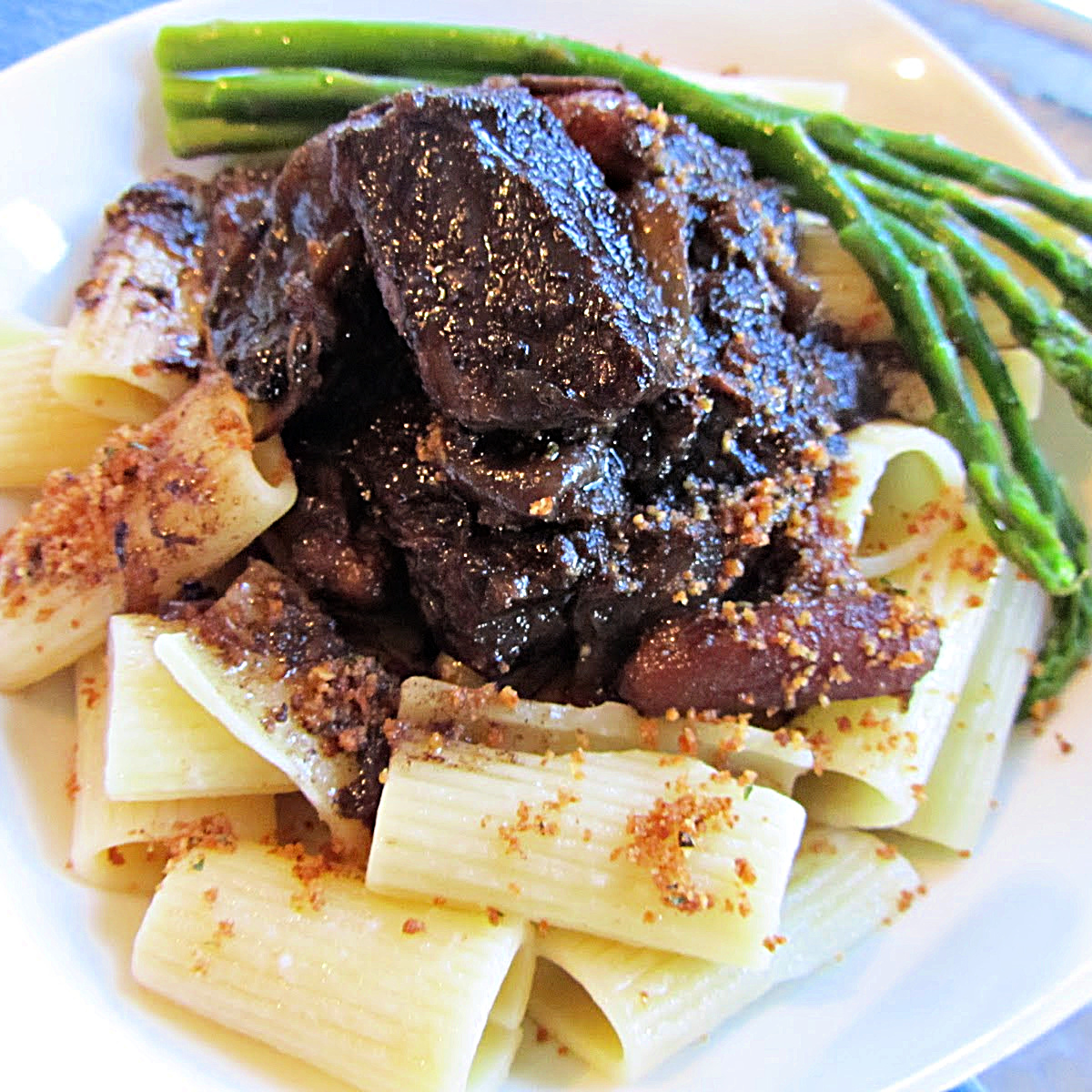 Braised Beef Ribs with Buttered Rigatoni served with Asparagus and Toasted Bread Crumbs
I make braised meat dishes a lot during the cold winter months. They are always a family favorite and so satisfyingly delicious. Here's one of my most recent recipes for braised beef ribs, utilizing Cabernet Sauvignon as the braising liquid.  The flavor of the wine is rich and dark and the toasted breadcrumbs offer a nice crunch to the buttered rigatoni.  Asparagus brings bright tones of green, balancing the richness of the dish.  Next time, I may add some ripe tomatoes to lend a bit more acidity to the dish.  
So Many Flavor Combinations
The joy of this dish is trying different flavor combinations of braising liquid such as veal stock, beef stock, or adding some honey or plum jam for sweetness; a vast variety of flavors await, as well as a choice of vegetable.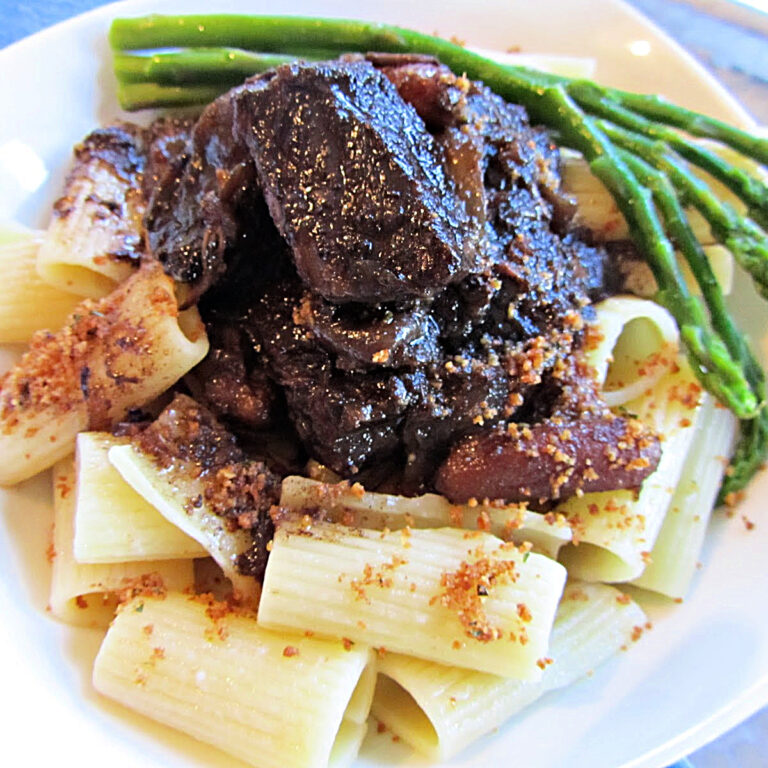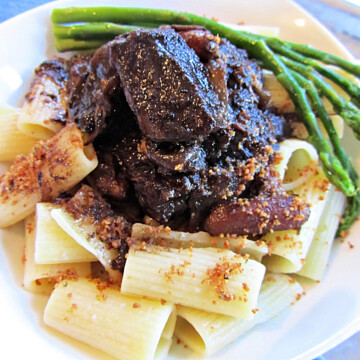 Braised Beef Ribs over Buttered Rigatoni
Ingredients
2 ½

pounds

of beef short ribs or other rib-cut meat

1 750

mil bottles of red wine

¼

cup

veal of beef stock

4

tablespoons

peanut or vegetable oil

salt and pepper to taste

1

bay leaf

2

carrots

1

medium white onion

4

ripe tomatoes

optional

4-6

cups

hot water

1

16-ounce

package of dry rigatoni noodles

any large noodle will do

1

cup

butter

1

cup

plain or seasoned bread crumbs

1

bunch fresh steamed asparagus
Instructions
If using beef rib meat off the bone, cut it into chunks and season it with salt and pepper.  Beef short ribs can remain whole during the browning process, the bones bring additional flavor to the dish.

Cook beef in 2 batches making sure not to over-crowd the pan.  Heat a  heavy bottom stock pot on the stove, on medium-high.  Add 2 tablespoons oil and heat until pan is smoking hot, add seasoned beef and brown on all sides. Repeat until all meat is browned and remove from pan.

Chop onion and carrot to medium to large dice, add to the same pot, and cook until onions are translucent.  Remove vegetables to a plate and set aside.

De-glaze the pan with 1 750 ml. bottle of red wine, reduce by ¾.  This will take about 20-30 minutes.  Be sure to scrape the bottom of the pan to loosen brown bits, and stir frequently.

Add browned beef, vegetables, bay leaf, and stock to the pan, and pour just enough hot water over the meat to cover.  Place the lid on the pan.  Cook covered in a 350-degree oven for 2-4 hours or until meat is tender.
Toasted Bread Crumbs
Melt ½ cup butter in a small pan, add bread crumbs, and stir until combined.  Continue stirring until bread crumbs are browned, about 2-3 minutes. Remove from pan and set aside.
Buttered Rigatoni
Cook pasta as recommended by manufacturer instructions, drain, and return to pan, pour remaining ½ cup melted butter over pasta and toss

Serve braised beef over pasta, sprinkle with 1 tablespoon of bread crumbs