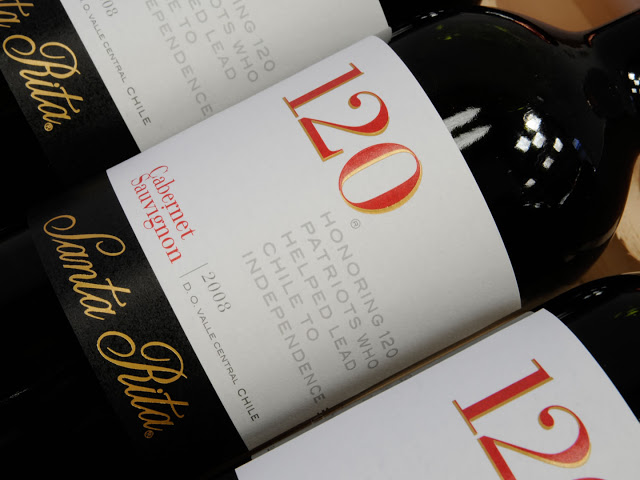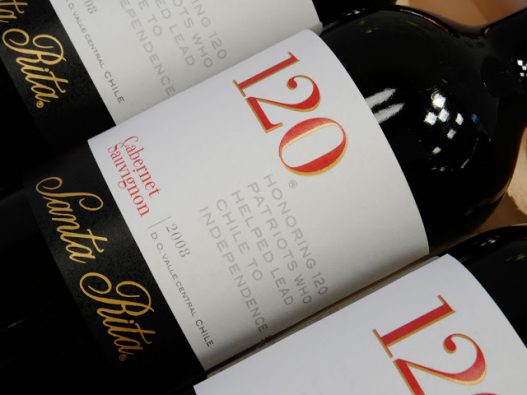 My father recently gifted our family with a case of 120 Santa Rita Wines, handcrafted in CHILE. The case was filled with an assortment of 120 wines, and so impressed me that I decided to do an impromptu history and review before the holidays.
This is not a sponsored post.
Historical References; According to legend, 120 patriots, exhausted after a long, hard battle during the fight for Chile's independence, reached the land belonging to Santa Rita. On that fateful night in 1814, these forces of liberty found refuge in the estate cellars. Today, within these same cellars, our award-winning 120 wines are crafted to honor their heroic character. These are young, elegant, and fruity wines, perfectly balanced with soft tannins and good acidity. Exceptional value makes "120" an outstanding line of wines for everyday drinking.

www.120wines.com

Limarí Valley - Casablanca Valley - Leyda Valley - Maipo Valley - Colchagua Valley - Apalta Valley - CuricóValley

Today, the Santa Rita vineyards are located in the best and most diverse Chilean terroirs in order to ensure the best growth and development of each and every variety.
The winery now has more than 3,000 hectares planted to vine in the country's most highly esteemed valleys, such as Limarí(134 hectares), Casablanca (312 hectáreas), Leyda (80 hectares), Maipo (1.282 hectáreas), Rapel (1.273 hectares), and Curicó (186 hectares).
This tremendous geographic diversity allows our growers and winemakers to create a wide range of very high-quality wines from specific terroirs.
Over the past decade, Santa Rita's viticulturists have adopted a number of practices to enhance the site and varietal character including sustainable agriculture, better clone material, improved trellising and irrigation techniques, balanced vine viticulture, restricted yields, leaf and canopy management, later harvesting, individual block farming, and small-lot vinification.
Viña Santa Rita's vast experience, in conjunction with the latest technology, is reflected in the making of high-quality wines that have earned major awards and distinctions in Chile and abroad over the course of its 120 years of history.
I began my wine tasting adventure with the Carménère paired with All'Amatriciana spaghetti dinner and Ratatouille.
The fruit and spicy overtones went deliciously with both meals, holding true to the winemaker's comment..."Its silky, deep tannins make it very easy to drink, and very versatile to pair with a broad diversity of foods." I really loved this wine so much so, the other wines paired in comparison however, I really enjoyed the others as well.
Santa Rita 120 Wine List
120 Wine Selection120 Cabernet Sauvignon: is an intensive red violet wine, on the nose red and black fruit are dominant with a touch of spice, distinctive of this variety intermingled with aromas of vanilla, clove, and tobacco from wood. On the palate, it is well-rounded, with sweet, elegant tannins that remain strong providing a juicy, fresh lingering finish.
120 Sauvignon Blanc: is a fresh, fruity wine dominated by tropical and citric fruit such as grapefruit, lime, and lemon peel complemented by white peach notes and distinctive variety herbs increasing complexity and lifting fruity sensations, a very interesting aftertaste amid smooth fruit and fresh acidity with a lingering and persistent finish.
120 Merlot is a red-violet-colored wine, with intense fruity aromas reminiscent of red fruit and flower, vanilla, and tobacco. It is a full-bodied, elegant wine, well-balanced in acidity and mature tannins developing a fresh, fruity finish.    
120 Carménère is an illustrative variety of Chilean wines, dominated by aromas of black and red fruits and spices. Its silky, deep tannins make it very easy to drink, and very versatile to pair with a broad diversity of foods.  
120 Chardonnay: (no winemakers notes) Potential Aging 3-4 years
120 Syrah: Intensely red with violet hues and great depth. The aroma is dominated by a combination of red and black fruit governed by raspberry and notes of pepper with the characteristic flavors from wood such as vanilla and chocolate. Medium-bodied wine, good fruit concentration, sweet at the first try, well-balanced with a splendid finish.

120 CCC: is an intense ruby-red colored wine, with violet hues supplied by Carménère. Intense aromas of red and black fruit elegantly intertwined with wood provided by Cabernet. On the palate, it is a medium-bodied wine, soft tannins, and a long finish.
120 Rosé: Intense violet-red color. This Rosé is reminiscent of its variety, dominant notes of cherry, plums, and certain fruits of the forest; it is a light wine, easy to drink, with refreshing acidity, on the palate, it is abundantly perfumed.
My Picks
120 CCC, 120 Carménère, Sauvignon Blanc,
Visit santarita.com to learn more about the 120 wines and their other fine wine collections.
Photo courteous of santarita.com