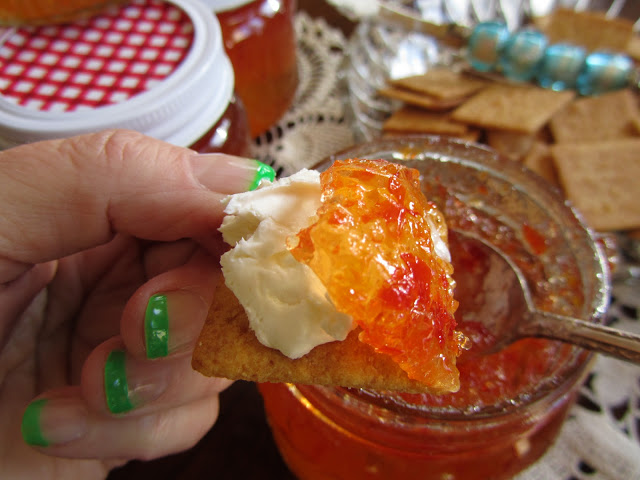 Canning Pepper Jelly each Spring has become an annual event and the fruits of my labour my signature Christmas gift for family and friends alike. I try to add something new each year to keep everyone interested so my Pepper Jelly is always the crowd favorite.
When socializing during the holidays or attending social gatherings or special events, I never arrive empty-handed. Popular hostess gifts such as a nice bottle of wine or fresh-cut flowers are a nice touch, but I try to take a different approach and make my gift a little more personal. I share a sweet jar of homemade Hot Pepper Jelly.
After receiving a call this week from my oldest daughter Tanya, I knew it was time to teach her how to make Pepper Jelly in her kitchen. You see, she craves the stuff and was inquiring if I had any jars left from last years batch. Sadly, I had to break the news that all the jars had been given away as gifts during the holidays, resulting in last nights canning festivities. Tanya was my student, as I shared the technic for canning Pepper Jelly. Very pleased with her efforts, she left with six jars of the sweet, hot jelly. Our trade, newly polished nails for St. Patrick's Day. Too cute!!
I like the bright red color of red peppers for the Holiday season so I generally choose red, orange and yellow sweet peppers for my recipe. I prefer my jelly very hot and add 3-4 Habanero peppers to the hot pepper mix. This year we went even hotter, adding 1 whole cup of ground Habanero. It's easy to adjust the heat by using jalapeno instead but there's something tantalizing about the powerful Habanero in this recipe.
Recipe:
1 cup ground red, orange and yellow sweet peppers
1 cup ground Habanero peppers
2 cups white vinegar (5% acidity)
4 3-ounce packages liquid pectin
Optional: 2-3 drops food red or green coloring
12 half pint canning jars, lids and rims
Method:
Wash the peppers and remove seeds and ribs, and cut into chunks.

Process each type of pepper, in batches, in a food processor until coarsely ground. Use rubber gloves when working with Habanero and jalapeno.

Combine ground peppers, sugar, and vinegar in a large saucepan; bring to a boil.

Boil 6 minutes stirring frequently. During the boiling process it's imperative you stand by and watch the hot liquid as it has a tendency to flow over. You do not want an eruption of hot liquid in your kitchen.

Stir in pectin and boil 3 minutes, stir frequently.

Remove from heat and skim off foam.

Pour hot jelly into hot sterilized jars, leaving ¼ inch head space.

Wipe jar rims with clean damp cloth.

Cover with metal lids and screw on bands; Process in hot water bath for 15 minutes. Makes 12 half pints.
Hot Water Bath
: in a large stock pot add enough water to submerge filled sealed jars, boil filled jars on medium high heat for 10-15 minutes, remove to a dry towel. Jars will make a distinctive "ping" sound when they've sealed correctly.
Serve on crackers with a smear of cream cheese.