Spiced pork salad with celery, watermelon and a creamy garlic chili dressing. This deconstructed spiced pork salad recipe makes the perfect refreshing, light dinner!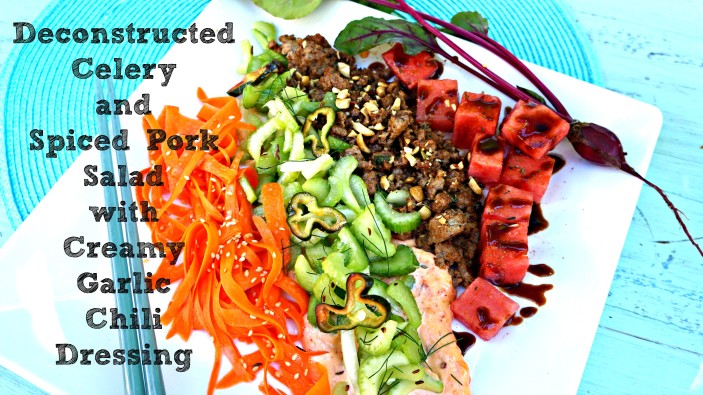 California's weather has been glorious this Spring and has me dreaming of the bounty my garden will produce in just a few short weeks. Thankfully, I don't have to wait for my garden to mature with fresh garden vegetables and fruits plentiful in my neck of the woods; making fresh and fruity salads a staple year round.
Here's a recipe I created last summer for Duda Fresh Farms Recipe Challenge. The addition of the spiced pork elevates the dish from accompaniment to hearty meal.
I hope you enjoy the deconstructed Celery and Spiced Pork Salad with Watermelon and Creamy Garlic Chili Dressing as much as I do!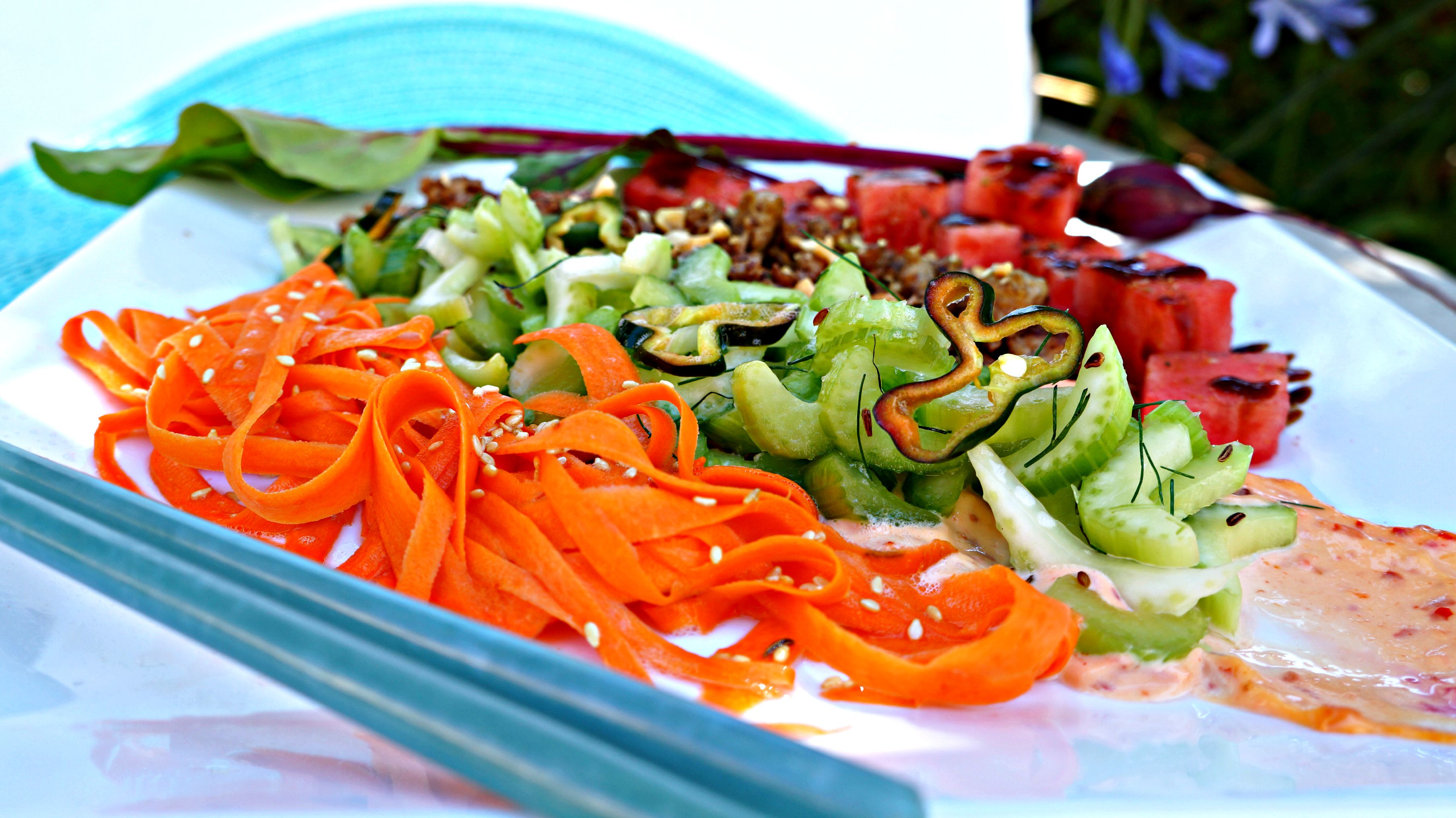 Celery and Spiced Pork Salad with Creamy Garlic Chili Dressing
Ingredients
For the Spiced Pork
1

pound

ground turkey

½

pound

ground pork

1 ½

tablespoon

fresh minced garlic

1 ½

teaspoon

fresh grated ginger

½

cup

panko crumbs

2

teaspoons

dried Chinese Five Spice

½

cup

minced scallions

1

large egg

2

tablespoons

soy sauce

1 ½

teaspoons

sesame oil
For the Celery, Carrots and Watermelon
1

bunch celery

4

large carrots

3

cups

cubed watermelon

⅓

cup

sugar

1

tablespoon

salt

1

cup

distilled white vinegar

2

cups

water

5

slices

fresh ginger

1

teaspoon

fish sauce
Balsamic Glaze
2

tablespoon

Hoisin sauce

2

tablespoon

balsamic vinegar

¼

teaspoon

caraway seed
Seasoned Salt
1

tablespoon

onion powder

1

tablespoon

garlic salt

1

teaspoon

Chinese Five spice

¼

teaspoon

ground clove

¼

teaspoon

ground nutmeg

½

teaspoon

cayenne pepper

For the Garlic Chili Dressing

1

cup

mayonnaise

2

tablespoon

Chili Garlic Sauce

found in Asian food section of local market

1

tablespoon

lemon juice
Garnish
2

tablespoon

roasted peanuts

2

Thai chilis
Instructions
Ground Pork
In a large mixing bowl combine ground meats

Peel ginger and grate, peel garlic and mince, and finely chop scallions

Once this is done, add the ingredients to the meat mixture

Add Chinese Five Spice, panko crumbs, egg, soy sauce, sesame oil to the meat mixture, and mix well, using hands if necessary to distribute spices evenly

Heat a large skillet over medium high heat and sauté mixture until golden browned, remove from heat and spoon off liquids, set aside
To make pickling liquid for Celery and Carrots
In a small sauce pan over medium heat, combine sugar, salt, vinegar, water, ginger and fish sauce. Cook until sugar is dissolved. Remove from heat and refrigerate for 10 minutes

While the tickling liquid is cooling, wash and thinly slice celery. Add celery to a medium bowl and set aside

Wash carrots in cool water and remove butter skin, using a vegetable peeler cut into ribbons. Place cut carrots in a small mixing bowl, set aside.

Once pickling liquid is cooled, spoon 1 cup over carrots, cover and refrigerate until ready to plate

Likewise, add 1 cup liquid to celery as well as, ¼ teaspoon caraway seeds. Cover and refrigerate until ready to plate
For the Garlic Chili Dressing
Mix ingredients in a small bowl and set aside
For the Spice Mix
Mix ingredients together in a small airtight container. Leftovers can be stored in a dry cool place for later use
To Plate
Cut watermelon into small chunks. Smear about 4 tablespoons garlic dressing onto large salad plate. Arrange celery, carrots, watermelon, and cooked spiced pork mixture into individual lines on plate. Blend Hoisin sauce and balsamic together in a small bowl. Transfer a small amount to a small zip bag, and pipe over watermelon. Sprinkle watermelon with a pinch of seasoned salt. Sprinkle chopped peanuts over pork mixture and toasted sesame seeds over carrots. Add sliced Thai chili and enjoy
Notes
This deconstructed salad comes together once the individual flavors are married together on the plate, creating a superbly flavored dish reminiscent of vietnams Bánh mi. The creamy garlic dressing blended with the pickling liquid on the celery make this dish sing with freshness and authentic Asian flavors.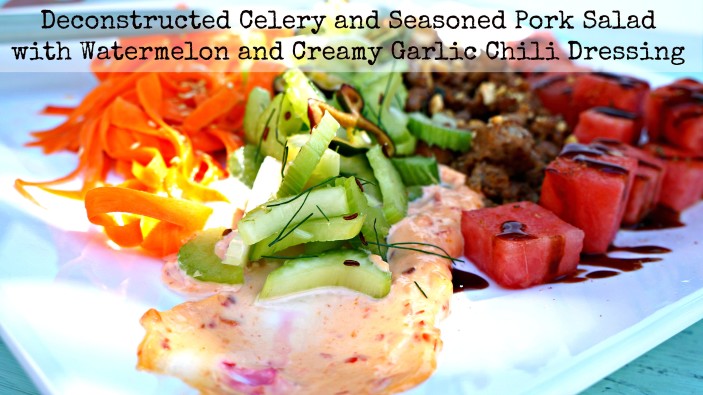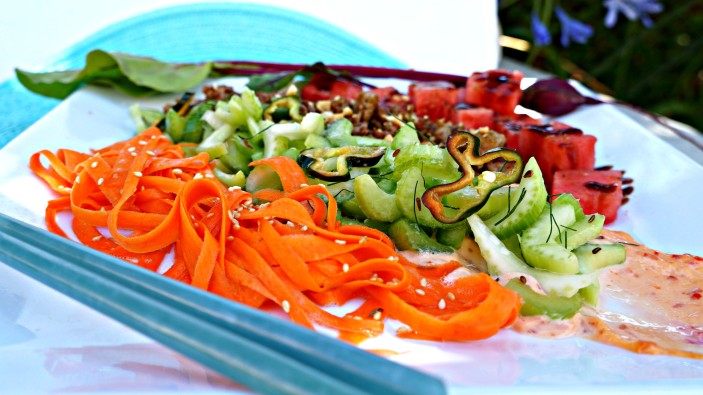 If you enjoy the spiced pork salad recipe, I bet you will love these, too:
Fresh Strawberry Vinaigrette, Mixed Greens and Tuna Salad