A perfect dish for anytime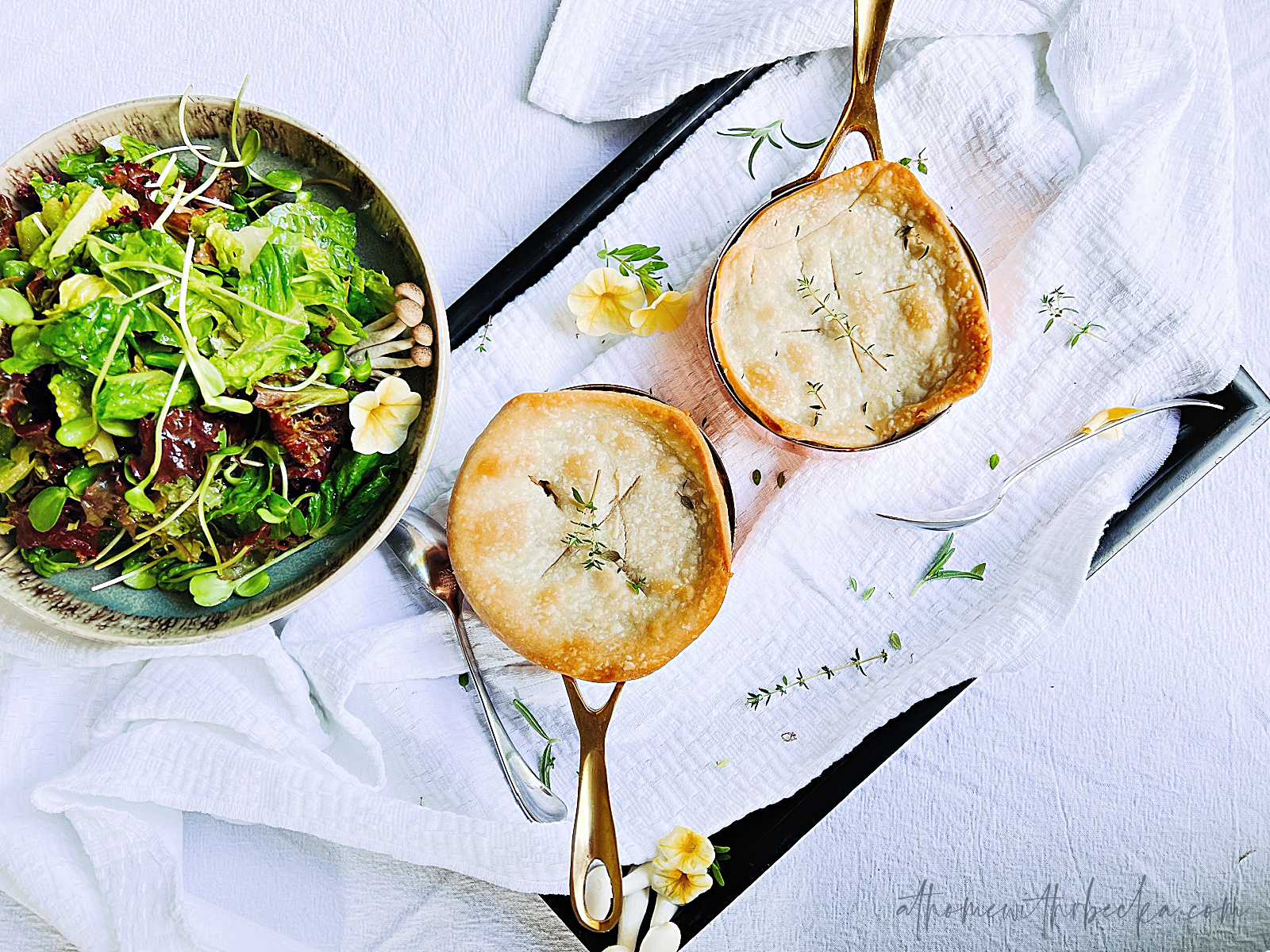 Savory Comfort Food
My savory Mushroom Pot Pie recipe is the perfect comfort food, made with a medley of fresh mushrooms, leeks, and thyme.
This dish will delight your tastebuds with its flaky crust and earthy, creamy mushroom filling. A premade pie crust makes this quick and easy to enjoy with family and friends. Serve with a crisp white wine. Or, for a special winter treat, try serving the meal with a warm mulled spiced wine-decadent!
You can also find this recipe featured in the incredibly informative publication, fyi50+ Magazine a Senior Life Magazine committed to inspiring, informing, and entertaining the 50+ audience. To read my monthly recipe article(s), subscribe to the online magazine, or order the hard copy version, visit this LINK. And of course, you can always visit me here at At Home with Rebecka.com.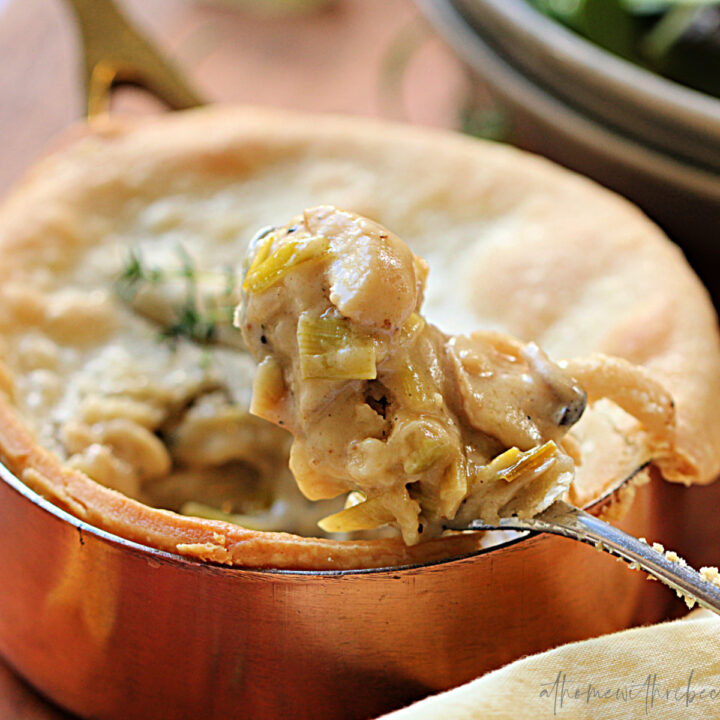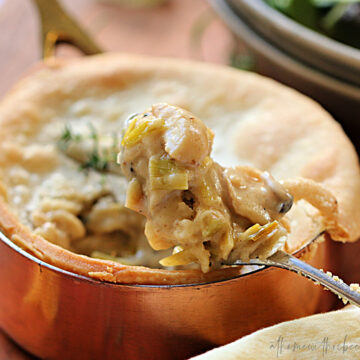 Mushroom Pot Pie Recipe
My savory Mushroom Pot Pie Recipe is made with Wick's pre-made pie crusts, a medley of fresh mushrooms, leeks, and fresh thyme. The combination of Wick's flavorful and flaky pie crust and the earthy creaminess of the mushroom filling is out of this world.
Ingredients
2

Wick's 9 in Pie rounds

room temperature

2

Tablespoons

butter

1

teaspoon

olive oil

4

cups

mixed mushrooms

trumpets, clamshell, white button, cremini,

¼

cups

celery, chopped

1

cup

leeks, chopped

thoroughly  wash leeks to remove sand and dirt

1

teaspoon

garlic, minced

2

teaspoons

fresh thyme, more for garnish

¼

teaspoon

nutmeg

2

tablespoons

all-purpose flour

½

cup

vegetable or chicken stock

more can be added if the filling becomes too thick

½

cup

heavy cream

salt and pepper to taste
Instructions
For the Pie Crust
Bring your Wick's pre-made pastry rounds to room temperature and set your oven to 400 degrees.

For the top crust: Cut smaller rounds using the bottom of individual cast iron or copper pan as a guide. Cut ¼ inch wider than the bottom of the pan so the crust drapes slightly over the top of the pan

For the bottom crust: Using remnants of the remaining crust, pinch or press them together to form another large round and cut smaller rounds using the bottom of individual cast iron or copper pan as a guide. Place the bottom rounds into each individual pan.

Poke a hole using the tines of a fork. Put dishes onto a baking tray and bake at 400F. for 8 minutes or until the crust is lightly golden. Remove from oven and set aside unit ready to fill.
For the Filling
Reduce the heat of the oven to 350F.

In a sauté pan, add butter and olive oil to the pan and cook your leeks, garlic, celery, and mushrooms. Season with salt, pepper, thyme, and nutmeg, and cook for about 10 minutes.

Next, add flour and stir to combine. Cook stirring for 2 minutes to remove the floury taste. Add chicken stock and stir until mixture is creamy and thickened. Reduce heat and simmer for 10 minutes.

Add heavy cream to the mushroom filling. Stir to combine

Pour equal amounts of filling not the individual baking dishes and top with your pastry rounds to cover the bowl entirely. Some of the crust should go over the edge.

Use a brush to spread oil over the top. This should make 2-3 small pot pies or 1 large. Make small cuts in the top to allow air to flow through. Bake for about 20-30 minutes until the pastry is cooked throughout. Top with thyme and enjoy!
Notes
Serve this delicious meal with a simple salad and crisp white wine. ENJOY!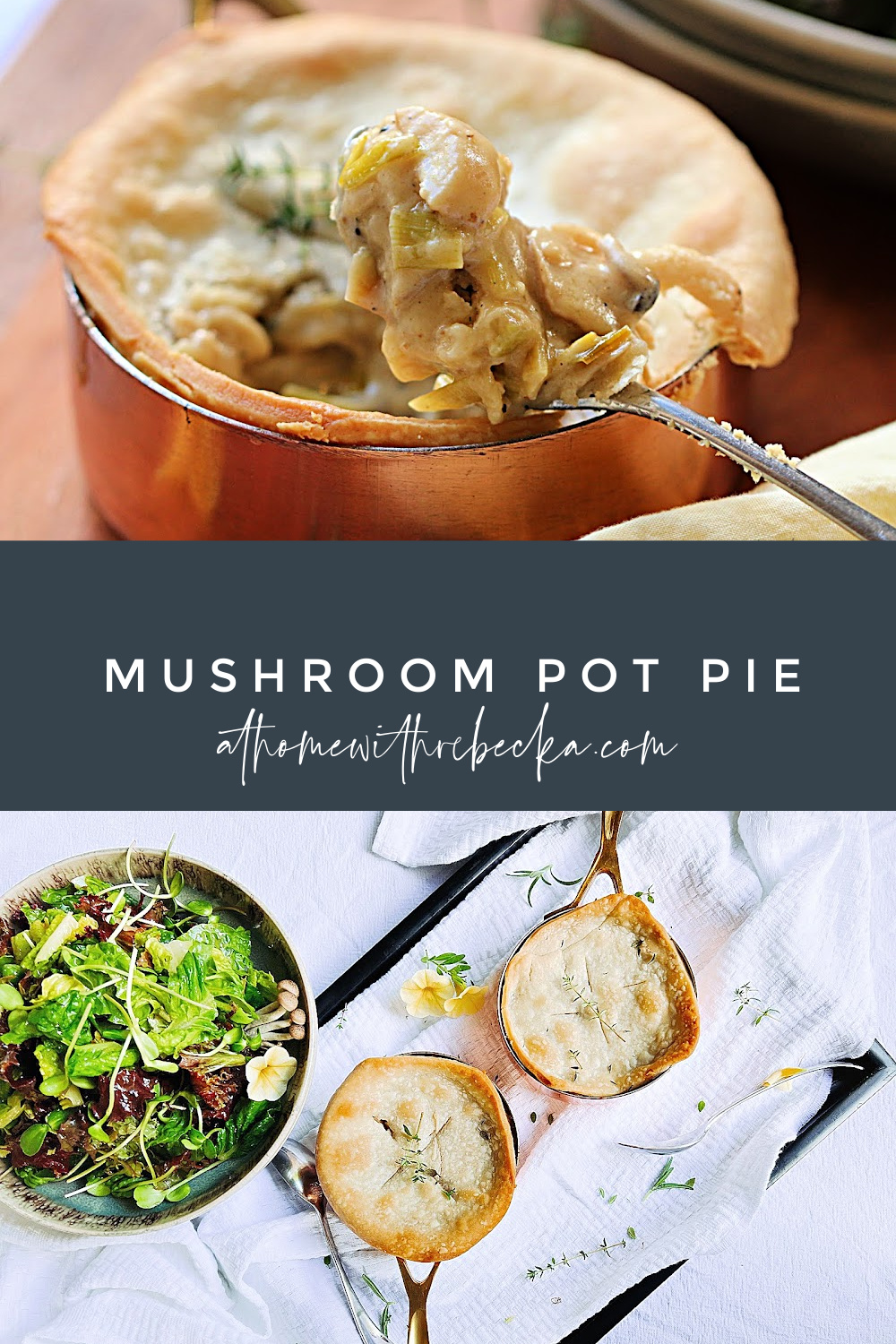 More Mushroom Recipes...