---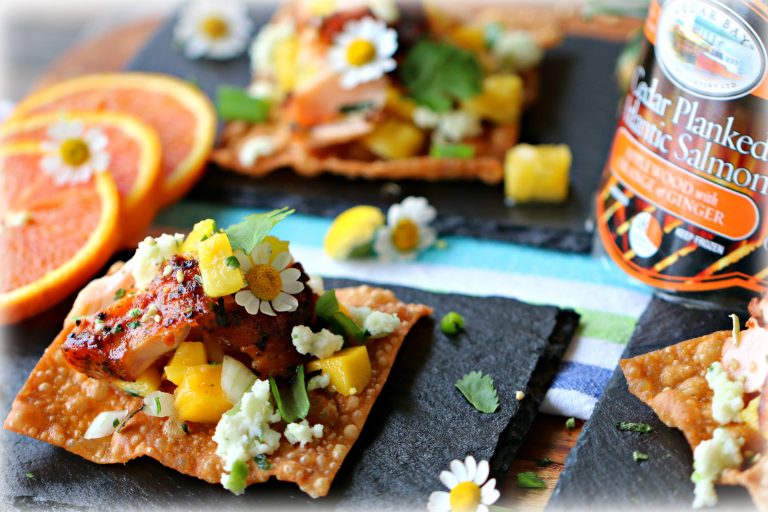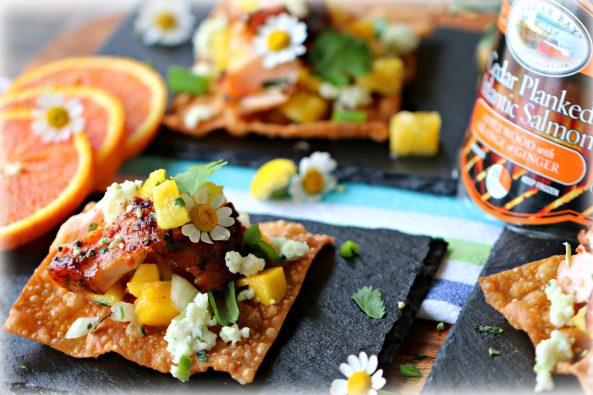 Cedar Bay Grilling Company
Located in a tiny South Shore hamlet of Blandford, Nova Scotia, Cedar Bay Grilling Company is an award-winning producer of frozen Salmon products that bring the best of Atlantic Canada to homes around the world. Cedar Bay Grilling Company's Cedar Planked Atlantic Salmon products are easy to prepare, yet have a "gourmet" appeal to suit all lifestyles and tastes.

Source: Cedar Bay Grilling Company
I'd like to thank Ethan Casucci, VP of Client Services at Thought For Food and Son, for giving me the opportunity to try this wonderful product in my dishes. I can honestly state that Cedar Bay Grilling Company's Planked Atlantic Salmon products are one of the finest products I've ever had the pleasure to test and use for recipe creation in over three years of participating in Blogger Recipe Challenges. Better yet, Cedar Bay Grilling Company takes all the guess work out of preparation when it comes to seasoning and grilling planked salmon. Cedar Bay salmon products come pre-seasoned and ready to be placed directly into the oven or onto the BBQ with little-to-no preparation required.
About the Challenge
The inaugural Cedar Bay Grilling Blogger Recipe Challenge is open to 50 spectacular bloggers. I was honored to be chosen to create up to three recipes and compete for a chance to win up to $1500.00 cash.
Listed below are the three categories within the challenge:
One Grilling Category Winner: $500.00 Cash Prize
One Entree Category Winner: $500.00 Cash Prize
One Entertaining / Appetizer Category Winner: $500.00 Cash Prize
Finest Quality Product
The folks at Cedar Bay Grilling Company have really out done themselves producing the highest quality and flavors for their pre marinated and planked salmon.
At Cedar Bay, we do extensive research and recipe testing to establish flavor selections that will appeal to varying taste preferences. Only the best grade of Atlantic Salmon passes our quality assurance testing – we hand-select every piece that makes it into our production process.

Source: Cedar Bay Grilling Company
Bloggers received two free samples for testing and recipe creation: Sugar & Spice 24 oz Cedar Planked Atlantic Salmon and one 24 oz Applewood with Orange & Ginger Cedar Planked Atlantic Salmon. Both flavors are absolutely delicious and a breeze to make.
---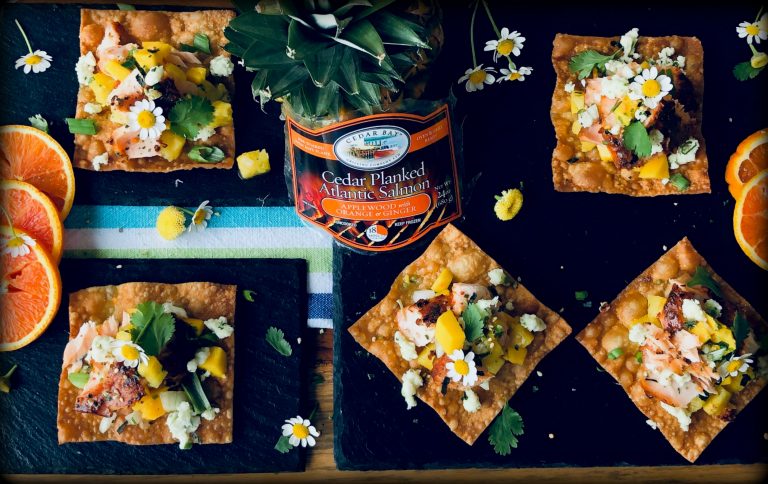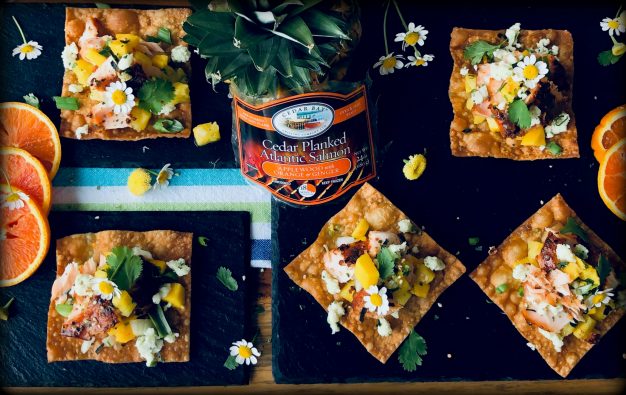 I created a show stopping recipe for the Entertaining/Appetizer and Grilling Categories as my first entry for the contest, Orange Ginger Salmon Nachos with Mango Pineapple Orange Salsa. My restaurant quality recipe is a showman in appearance, and pops with gourmet appeal to suit all lifestyles and tastes for your entertaining needs.
Wonton wrappers give the recipe an Asian flare, and crunchy texture that accentuates the flavor of the mango, pineapple and orange salsa. The Cedar Bay Grilling Company Applewood with Orange & Ginger Cedar Planked Atlantic Salmon is perfected with crumbled Queso Blanco Jalapeño cheese, and a sprinkle of Furikake Rice Seasoning.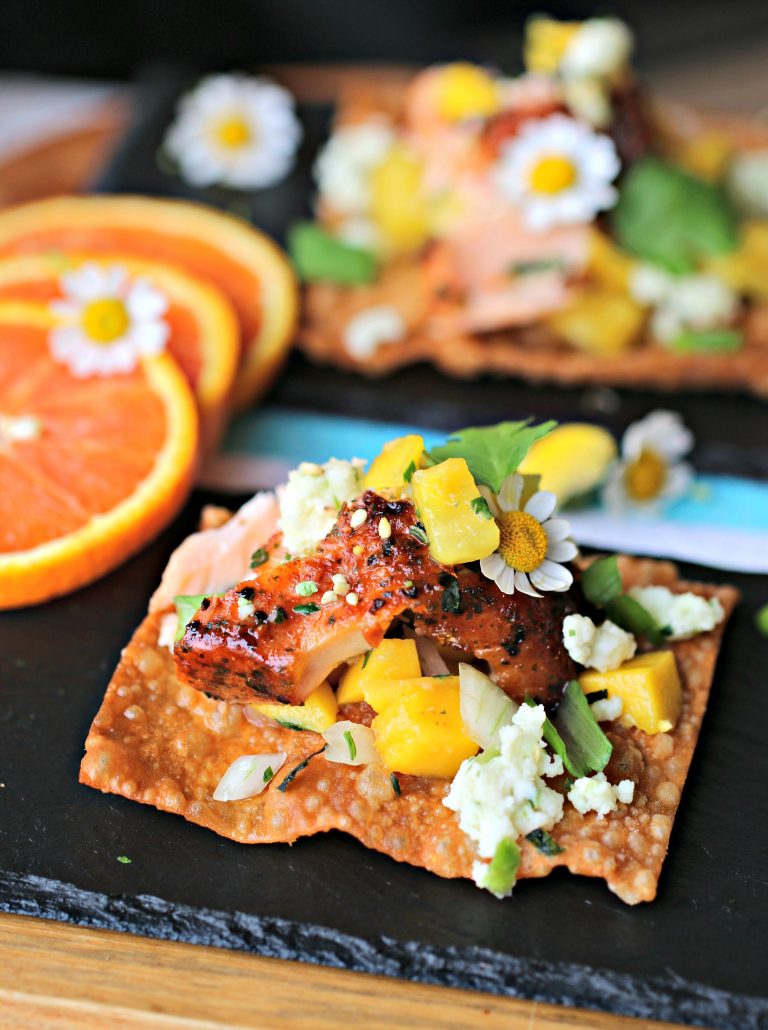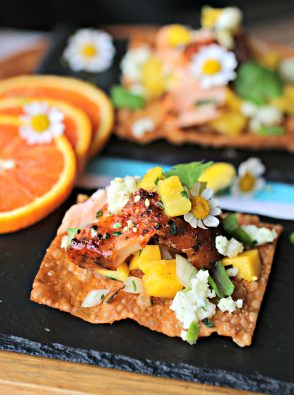 Orange Ginger Salmon Nachos with Mango Pineapple Orange Salsa
2019-05-31 21:28:42
Cedar Bay Blogger Recipe Challenge
Ingredients
1 24 oz Cedar Bay Grilling Company Applewood with Orange & Ginger Cedar Planked Atlantic Salmon
1 12 ounce package wonton wrappers (12)
1 1/2 cups vegetable oil for frying wontons
1 cup chopped mango
1/4 cup chopped white onion
1/2 cup fresh chopped pineapple
1 tablespoon sweet orange marmalade
1 teaspoon fresh lemon juice
1 teaspoon fresh orange juice
1 tablespoon sweet Mirin rice vinegar
1 teaspoon fresh grated ginger
1 tablespoon fine chopped jalapeño (add more for more heat to taste)
1 teaspoon chopped cilantro, more for garnish
1/2 cup queso blanco with jalapeños
Instructions
Heat Grill following the Cedar Bay Grilling Company instructions found on the back of the package
Open Cedar Bay Grilling Planked Salmon product. Drain. Place planked salmon directly on the hot grill and cook for 18 minutes.
While salmon is cooking, Heat oil in a large sauce pan and cook 12 individual wonton sheets until crispy and browned (about 2 minutes). turn them several times to prevent over cooking. Drain on paper towel. Set aside until ready to plate
Salsa: In a medium mixing bowl combine mango, pineapple, onion, orange marmalade, lemon juice, orange juice, mirin vinegar, ginger, jalapeño, and cilantro. Stir to combine. Set aside until ready to plate
Remove cooked salmon from grill. Using a fork, flake salmon into large pieces
Build Nachos
Lay a cooked wonton on plate. Add a teaspoon of salsa. Add flaked salmon and top with a little more salsa. Crumble queso blanco over the top and season with Furikaki rice seasoning or toasted sesame seeds
Notes
1. I used a cookie sheet to transport the planked salmon to the grill to keep drips at a minimum
2. Be sure to check on the salmon from time to time to keep from having any flair ups. I didn't have issues with flair ups but checked the hot grill several times just to be sure.
AT HOME WITH REBECKA https://athomewithrebecka.com/
Packaged and ready to cook

Before Grilling

Grilled to perfection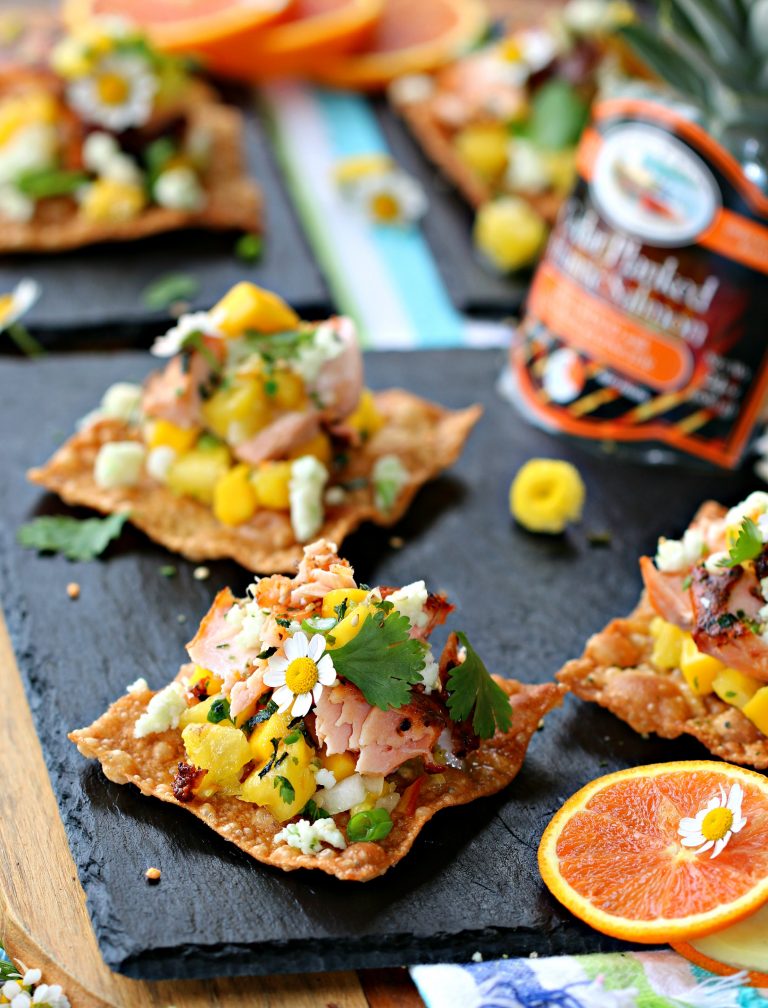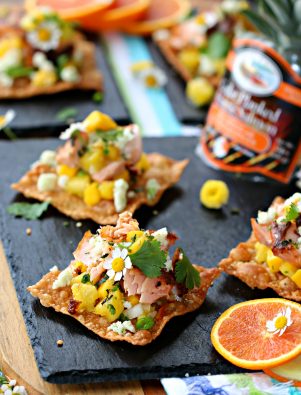 At A Grocer Near You
You can find Cedar Bay Grilling Company products at these local area markets: Kroger, Publix, Hannaford, Safeway, Albertsons, Fred Meyer, Ralph's, Giant, Giant Eagle, Stop n' Shop, and Roche Bros.
Follow Cedar Bay Grilling Company
Facebook: https://www.facebook.com/cedarbaygrilling/
Twitter: https://twitter.com/cedar_bay
Instagram: https://www.instagram.com/cedarbaygrillingcompany/
#cedarbaygrilling #cedarbaysalmon and #cedarbayrecipechallenge